If you're anything like Ron Swanson, you love riddles. But you don't have to wait on Leslie Knope to design your next intricate scavenger hunt; just contact Watson Adventures! Whether you're looking to join up on one of their public hunts, or you have a private or corporate event, Watson will deliver challenging clues designed to send you on an exhilarating two-hour journey. Their New York division has an abundance of hunts for kids, teens, and adults, from the Bronx Zoo to Brooklyn Heights and plenty of places in between.


Watson Adventures: The Basics
Watson Adventures are based on certain locations, such as museums or small neighborhoods. Your team will meet with a Watson staffer at a predetermined meeting place, receive your clues, and then you'll be off! Many of the clues are transmitted via cell phone. You won't be looking for objects so much as public oddities around the city, hiding in plain sight, that will give you the answers to the clues. For public hunts (as opposed to private parties and corporate outings), your team should be 2-6 people. Ideally you'll have 5-6 for the best advantage to win the prize at the end of the hunt! 
Watson Adventures: Museum Hunts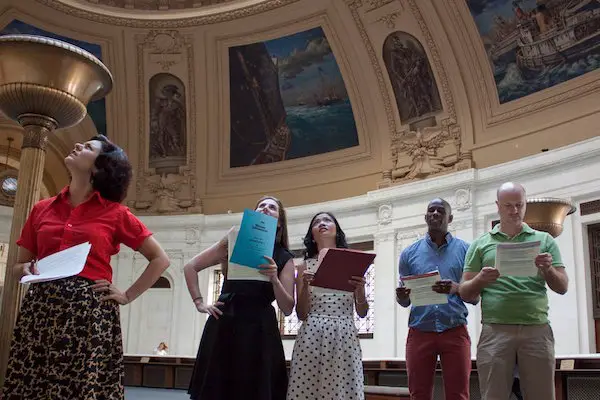 Find wizards at the Met, solve a murder at the Museum of Natural History, and soak up some MoMA mania with Watson Adventures' museum-themed scavenger hunts. With several unique themes and a variety of landmark NYC museums (plus the Newark Museum for good measure), Watson has an impressive slate of hunts to help you see New York's cultural institutions in a new way. In case you need more convincing, there's even a "The Museum Strikes Back" hunt at the Museum of Natural History. That's right: it's Star Wars-themed and tailored for young Hans Solos in the making. 
Watson Adventures: Neighborhood Hunts
Some of Watson's most popular hunts are held at Grand Central Terminal. These crowd-pleasing hunts, for curious kids or adults, direct you to the often-overlooked aspects of the transportation hub. The Secrets of Central Park hunt will also send your team running around Manhattan's Backyard in a frenzy to find clues. Other hunts will send you around Chinatown, Greenwich Village (there's a ghost hunt here!), Brooklyn Heights, and a Hamilton-themed caper through the Financial District.
Watson Adventures: Munch Hunts
They had us at Chocolatey Scavenger Hunt. Watson's Munch Hunts incorporate the wild and wonderful world of New York food into the scavenger hunt. Your team won't always have to buy the food featured in the clues (it'll be around $10 per person while on the hunt), but you'll certainly find century-old knishes in the Lower East Side and bubble tea in Chinatown as part of your tour through these diverse neighborhoods full of fabulous fare.
Watson Adventures: Corporate and Private Hunts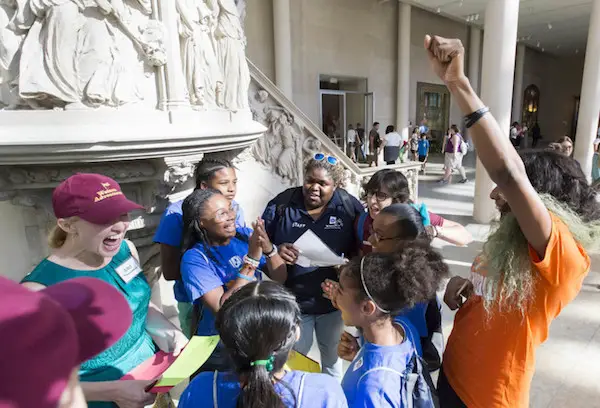 Watson Adventures scavenger hunts are a natural fit for corporate team-building and parties with your friends and family. Watson can cater one of their hunts to your groups' needs, no matter when and no matter how many people. Each scavenger hunt relies on the strengths of every person in the group, with its tricky questions and things like photo challenges for an added dose of fun. Watson Adventures has also been known to set up trivia/murder mystery parties for corporate events. From bachelorette parties to school trips to company outings, consider Watson for your next group adventure!
Call 877-9-GO-HUNT or visit watsonadventures.com for tickets and more.