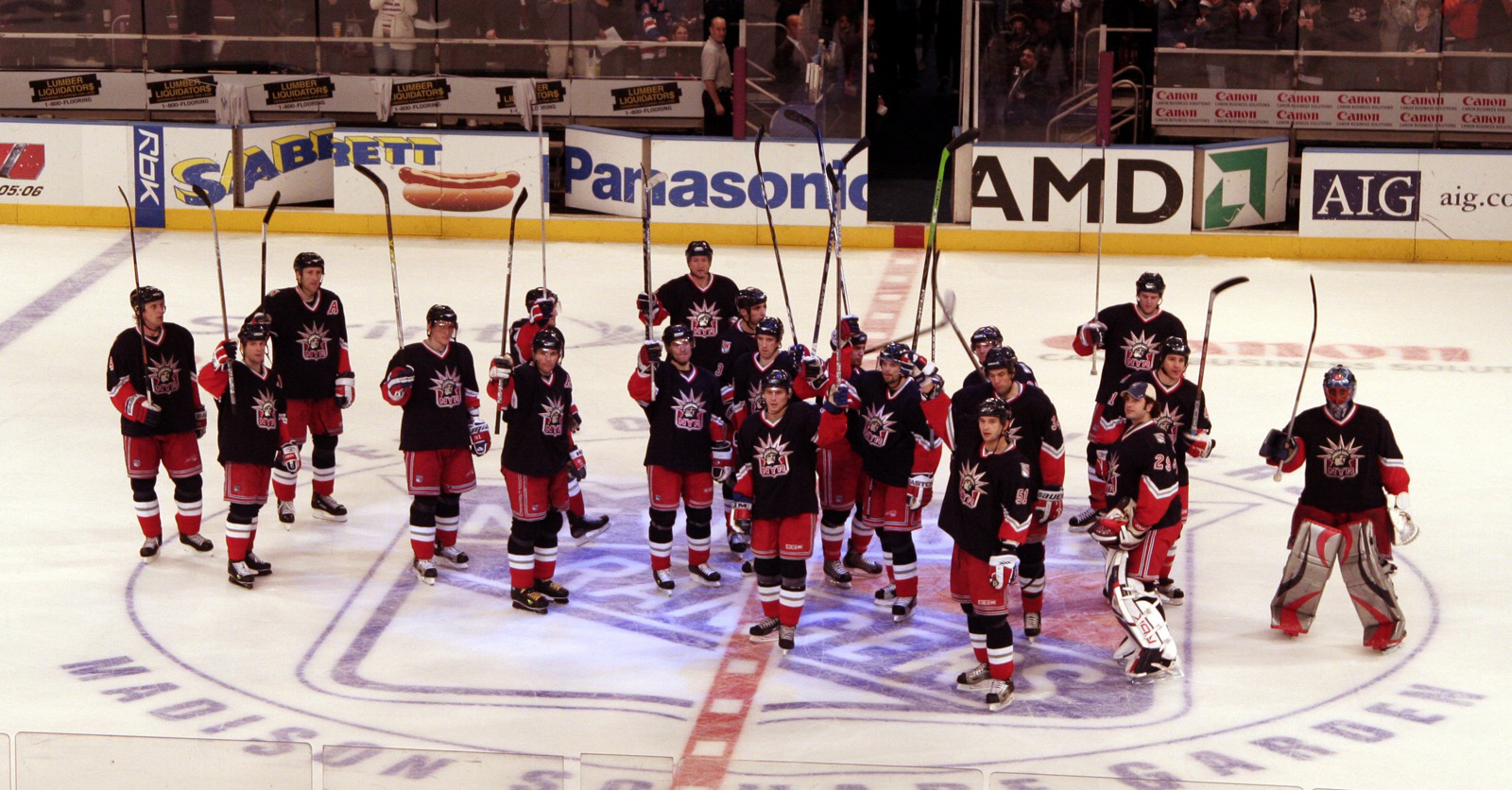 Photo: Joseph O'Connell/Flickr

Sometimes you just want to get out in the stands and cheer on your team. In New York City, you can do that! No matter what your preferred sport is (basketball, hockey, baseball, etc.), the City Guide calendar is filling in all the blanks. Don't miss a game this season, from college to the minor leagues all the way up to the pros.


NYRR Jingle Bell Jog (5K) - Prospect Park
December 01, 2018 - Brooklyn
A Holiday Gift Wrapped as a Race Now a 5K, this festive family favorite is more than just a road race, it's also a celebration and a fundraiser for NYRR's youth programs. Not only does your entry fee snag you a holiday souvenir and post-race hot chocolate, the proceeds from this race fund youth running programs in schools all over the city! Proceeds from the NYRR Jingle Bell Jog (5K) benefit NYRR's Youth Programs, which provide running programs and events for more than 267,000 children in schools across the United States. Event hashtag: #JingleBellJog—use it in your tweets, Instagrams, and Facebook posts! Course Info The 3.1-mile course takes place entirely within Prospect Park. Mile 1: Start on Well House Drive and turn onto West Drive. Follow West Drive around Prospect Park Lake and continue on East Drive. Mile 2: Head north on East Drive, reaching the two-mile mark just beyond the hill near Grand Army Plaza. Mile 3: Follow East Drive as it becomes West Drive. Near the end of mile three, continue down the hill and turn left toward the finish just inside of Center Drive. Entry Fees *The NYRR Specialty Members category includes NYRR members in the followin... (read more)
45TH ANNIVERSARY COLGATE WOMEN'S GAMES TRACK AND FIELD SERIES - Pratt Institute
December 01, 2018 - Brooklyn
REGISTER for the 45th Anniversary Colgate Women's Games Participation is FREE! Girls and young women from first grade through college and beyond! (Even those who have never competed in organized track before) - FREE T-SHIRTS & BACKPACKS TO ALL REGISTRANTS - FREE COLGATE-PALMOLIVE COMPANY PRODUCTS - GREAT MUSIC AND FREE PRIZES FROM "POWER 105.1" - Sprints and distance runs, hurdles, high jump and shot put - Preliminary meets held at Pratt Institute winter weekends - Ribbons and medals awarded weekly - Finalists compete at The New Balance Track and Field Center at The Armory Track, NYC for trophies and educational grants-in-aid For a complete Schedule of events or more information visit colgategames.com (Participants can also register at the first three preliminary meets; during the first two hours of their own division's competition only) ABOUT THE GAMES: The Colgate Women's Games is the nation's largest amateur track series open to all girls from elementary school through college and beyond. Competitors participate in preliminary meets and a semi-finals to determine finalists who will compete for trophies and educational ... (read more)
Tissot Meet-and-Greet with New York Knicks Rookie KEVIN KNOX - Tissot
December 02, 2018 - New York
Tissot, Official Watch of the NBA, invites fans to a meet-and-greet with New York Knicks rookie Kevin Knox. Fans can line up for a meet-and-greet and autograph from Knox along with the chance to win amazing merchandise, including autographed items and exclusive Knicks memorabilia (no purchase necessary)!* *no outside items for signing; autograph cards will be provided*
New York Rangers vs. Winnipeg Jets - Madison Square Garden
December 02, 2018 - New York
The New York Rangers will play the Winnipeg Jets at Madison Square Garden. The Ultimate teammate. A Legendary Ranger. Join us as we honor Rangers great Vic Hadfield and raise his #11 banner to the Garden rafters.
New York Knicks vs. Washington Wizards - Madison Square Garden
December 03, 2018 - New York
The New York Knicks will play the Washington Wizards at Madison Square Garden
Triumph Kombat 5: Night of Champions - Hulu Theater at Madison Square Garden
December 07, 2018 - New York
Triumph Kombat, New York's premier combat sports promotion, returns to the Theater at Madison Square Garden on Friday, December 7th for "Triumph KOmbat 5 – A Night of Champions". Ten new Muay Thai Kickboxing Champions will be crowned during this explosive evening of fast paced Muay Thai Kickboxing action. This event brings world-class talent to the big stage, as #1 Ranked U.K. fighter and Thai Fight/Max Muay Thai star Charlie Guest makes his long awaited US debut facing off against American sensation and Max Muay Thai Champion Nathan Ward in a battle for the vacant 154lb Triumph Kombat World Title.
Battle in the Apple Basketball Showcase - Barclay Center
December 09, 2018 - Brooklyn
The next generation of basketball stars are bound for Brooklyn as Gold Level Sporting Events presents the First Annual Battle in the Apple Basketball Showcase on Sunday, December 9 at Barclays Center. Six high school and prep teams will take the court featuring nationally ranked high school players.
New York Islanders vs. Vegas Golden Knights - Barclays Center
December 12, 2018 - Brooklyn
Parm, an acclaimed casual Italian restaurant, is the perfect place to start your Barclays Center experience. Make your dinner reservation for Parm by calling 917.618.6340 or online through RESERVE. For information on individual suites, please call 718.BK.SUITE. LIRR TRAIN TIME APP Download the LIRR Train Time app to get real-time information. Pick your station, check a countdown to your train's arrival and easily search for your destination. Basic train information is available even without cellular service. Download the Metro-North App LIRR SCHEDULE Plan your trip to Barclays Center with a quick search of the schedule online. View Schedule LIRR SCHEDULE UPDATES Before you leave Barclays Center, check our screens in the arena's main concourse for the latest information on LIRR schedules and service alerts. LIRR EXPANDED SERVICE The Long Island Rail Road has enhanced service to make Islanders games in Brooklyn easily accessible for fans from Long Island. View Details For hotel information, please visit New York Marriott at the Brooklyn Bridge. For special rates, check "corporate/promotional code" and then enter W85.
New York Rangers vs. Arizona Coyotes - Madison Square Garden
December 14, 2018 - New York
The New York Rangers will play the Arizona Coyotes at Madison Square Garden on December 14th, 2018. Join us for Garden of Dreams Night! Join us in celebrating the impact Garden of Dreams has on children facing obstacles in our community.
Harlem Globetrotters - Madison Square Garden
December 27, 2018 - New York
New this year, you can download the Globetrotters' interactive mobile application with exclusive features, including an augmented reality (AR) basketball toss game. You can also use the app to participate in an extended world record by spinning a ball on your finger. The world famous Harlem Globetrotters, with some of the most electrifying athletes on the planet, feature a star-studded roster that includes Big Easy Lofton, Ant Atkinson, Hi-Lite Bruton, Hammer Harrison, Thunder Law, Bull Bullard and Cheese Chisholm – plus women stars TNT Lister, Torch George and Hoops Green*. Back by popular demand are the Flying Globies acrobatic trampoline dunk team. (*player availability subject to change) The Globetrotters' one-of-a-kind show is unrivaled in the world of family entertainment. Don't miss out –get your tickets today! Before the game, take part in a once-in-a-lifetime Harlem Globetrotter experience with "Magic Pass." The unique 30-minute pre-show event will provide unprecedented access to the stars of the team, as you learn tricks, shoot hoops, and take photos on the court. To purchase Magic Pass tickets, click here.
A Whole Different Ball Game: Playing through 60 Years of Sports Video Games - Museum of the Moving Image
Through March 10, 2019 - Astoria
Tennis for Two was the world's first video game. When it debuted at the Brookhaven National Laboratory's public exhibition in 1958, its goals and actions were familiar to visitors because it simulated a sport they already understood. Though rudimentary, the ball and net depicted on an oscilloscope were enough to intuit a game of tennis. Yet the experience of playing Tennis for Two was completely different from playing an actual tennis match. Tennis for Two did not directly influence the video game industry, but it marks the beginning of a long relationship between sports and video games. A Whole Different Ball Game presents a selection of more than 40 playable sports video games spanning the last six decades, examining the complex relationships between game, sport, media, and culture. Despite the widespread prevalence of video games today, sports are still the games that Americans most regularly encounter, whether on television, via apparel and other consumer goods, or through play, including organized leagues and pickup games. Video game developers leverage this familiarity by producing some of the highest grossing titles on the market. The most lucrative professional sports le... (read more)
Harlem & Bronx Bike Tour - Brooklyn Giro Bike Tours
Through December 30, 2020 - New York
A 25 mile, cyclist dream ride through areas of NYC most do not dare to see - Upper Manhattan, Harlem & The Bronx - with stops at Yankee Stadium, some of the most beautiful, unseen parks in NYC, Green-ways, Historic Homes, and breathtaking water views. Explore the unexplored in one of NYC's overlooked boroughs and feel like a local.