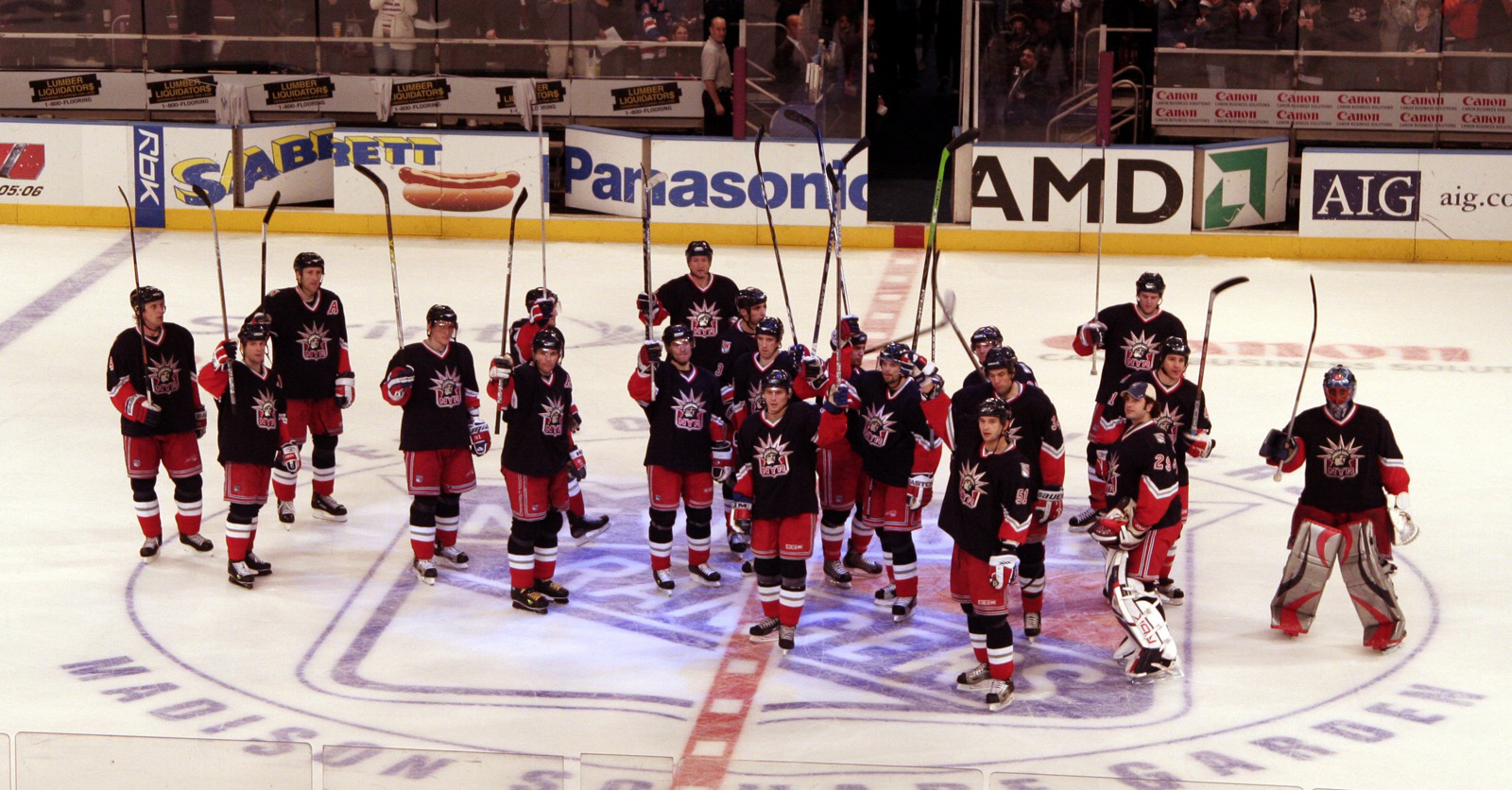 Photo: Joseph O'Connell/Flickr

Sometimes you just want to get out in the stands and cheer on your team. In New York City, you can do that! No matter what your preferred sport is (basketball, hockey, baseball, etc.), the City Guide calendar is filling in all the blanks. Don't miss a game this season, from college to the minor leagues all the way up to the pros.


New York Knicks vs. Brooklyn Nets - Madison Square Garden
December 08, 2018 - New York
The New York Knicks will play the Brooklyn Nets at Madison Square Garden
Girls on the Run NYC Fall 5k - Icahn Stadium on Randall's Island
December 09, 2018 - New York
Join us on December 9 at Icahn Stadium for the Girls on the Run NYC Fall 5k! At Girls on the Run, we inspire girls to be confident, healthy and joyful through a 10-week running based curriculum that ends in our celebratory 5k. Registration is now open to run/walk or volunteer at the event! Pre-5k Activities and day-of registration open at 9 am and the 5k begins at 10:30 am. RUNNERS/WALKERS: Participate in this fun run/walk 5k that starts and finishes at Icahn Stadium. You can sign up as a "Sparkle Runner" (females age 18+) to be paired with a GOTR team for the 5k! VOLUNTEERS: Help support our girls with pre-5k fun activities, at the Start/Finish, and along the course! Pre-5k activity stations include our photo booth, "happy hair" hairspray station and "bling your bib frame" decorating station!
Battle in the Apple Basketball Showcase - Barclay Center
December 09, 2018 - Brooklyn
The next generation of basketball stars are bound for Brooklyn as Gold Level Sporting Events presents the First Annual Battle in the Apple Basketball Showcase on Sunday, December 9 at Barclays Center. Six high school and prep teams will take the court featuring nationally ranked high school players.
New York Islanders vs. Vegas Golden Knights - Barclays Center
December 12, 2018 - Brooklyn
Parm, an acclaimed casual Italian restaurant, is the perfect place to start your Barclays Center experience. Make your dinner reservation for Parm by calling 917.618.6340 or online through RESERVE. For information on individual suites, please call 718.BK.SUITE. LIRR TRAIN TIME APP Download the LIRR Train Time app to get real-time information. Pick your station, check a countdown to your train's arrival and easily search for your destination. Basic train information is available even without cellular service. Download the Metro-North App LIRR SCHEDULE Plan your trip to Barclays Center with a quick search of the schedule online. View Schedule LIRR SCHEDULE UPDATES Before you leave Barclays Center, check our screens in the arena's main concourse for the latest information on LIRR schedules and service alerts. LIRR EXPANDED SERVICE The Long Island Rail Road has enhanced service to make Islanders games in Brooklyn easily accessible for fans from Long Island. View Details For hotel information, please visit New York Marriott at the Brooklyn Bridge. For special rates, check "corporate/promotional code" and then enter W85.
New York Rangers vs. Arizona Coyotes - Madison Square Garden
December 14, 2018 - New York
The New York Rangers will play the Arizona Coyotes at Madison Square Garden on December 14th, 2018. Join us for Garden of Dreams Night! Join us in celebrating the impact Garden of Dreams has on children facing obstacles in our community.
Harlem Globetrotters - Madison Square Garden
December 27, 2018 - New York
New this year, you can download the Globetrotters' interactive mobile application with exclusive features, including an augmented reality (AR) basketball toss game. You can also use the app to participate in an extended world record by spinning a ball on your finger. The world famous Harlem Globetrotters, with some of the most electrifying athletes on the planet, feature a star-studded roster that includes Big Easy Lofton, Ant Atkinson, Hi-Lite Bruton, Hammer Harrison, Thunder Law, Bull Bullard and Cheese Chisholm – plus women stars TNT Lister, Torch George and Hoops Green*. Back by popular demand are the Flying Globies acrobatic trampoline dunk team. (*player availability subject to change) The Globetrotters' one-of-a-kind show is unrivaled in the world of family entertainment. Don't miss out –get your tickets today! Before the game, take part in a once-in-a-lifetime Harlem Globetrotter experience with "Magic Pass." The unique 30-minute pre-show event will provide unprecedented access to the stars of the team, as you learn tricks, shoot hoops, and take photos on the court. To purchase Magic Pass tickets, click here.
A Whole Different Ball Game: Playing through 60 Years of Sports Video Games - Museum of the Moving Image
Through March 10, 2019 - Astoria
Tennis for Two was the world's first video game. When it debuted at the Brookhaven National Laboratory's public exhibition in 1958, its goals and actions were familiar to visitors because it simulated a sport they already understood. Though rudimentary, the ball and net depicted on an oscilloscope were enough to intuit a game of tennis. Yet the experience of playing Tennis for Two was completely different from playing an actual tennis match. Tennis for Two did not directly influence the video game industry, but it marks the beginning of a long relationship between sports and video games. A Whole Different Ball Game presents a selection of more than 40 playable sports video games spanning the last six decades, examining the complex relationships between game, sport, media, and culture. Despite the widespread prevalence of video games today, sports are still the games that Americans most regularly encounter, whether on television, via apparel and other consumer goods, or through play, including organized leagues and pickup games. Video game developers leverage this familiarity by producing some of the highest grossing titles on the market. The most lucrative professional sports le... (read more)
Harlem & Bronx Bike Tour - Brooklyn Giro Bike Tours
Through December 30, 2020 - New York
A 25 mile, cyclist dream ride through areas of NYC most do not dare to see - Upper Manhattan, Harlem & The Bronx - with stops at Yankee Stadium, some of the most beautiful, unseen parks in NYC, Green-ways, Historic Homes, and breathtaking water views. Explore the unexplored in one of NYC's overlooked boroughs and feel like a local.