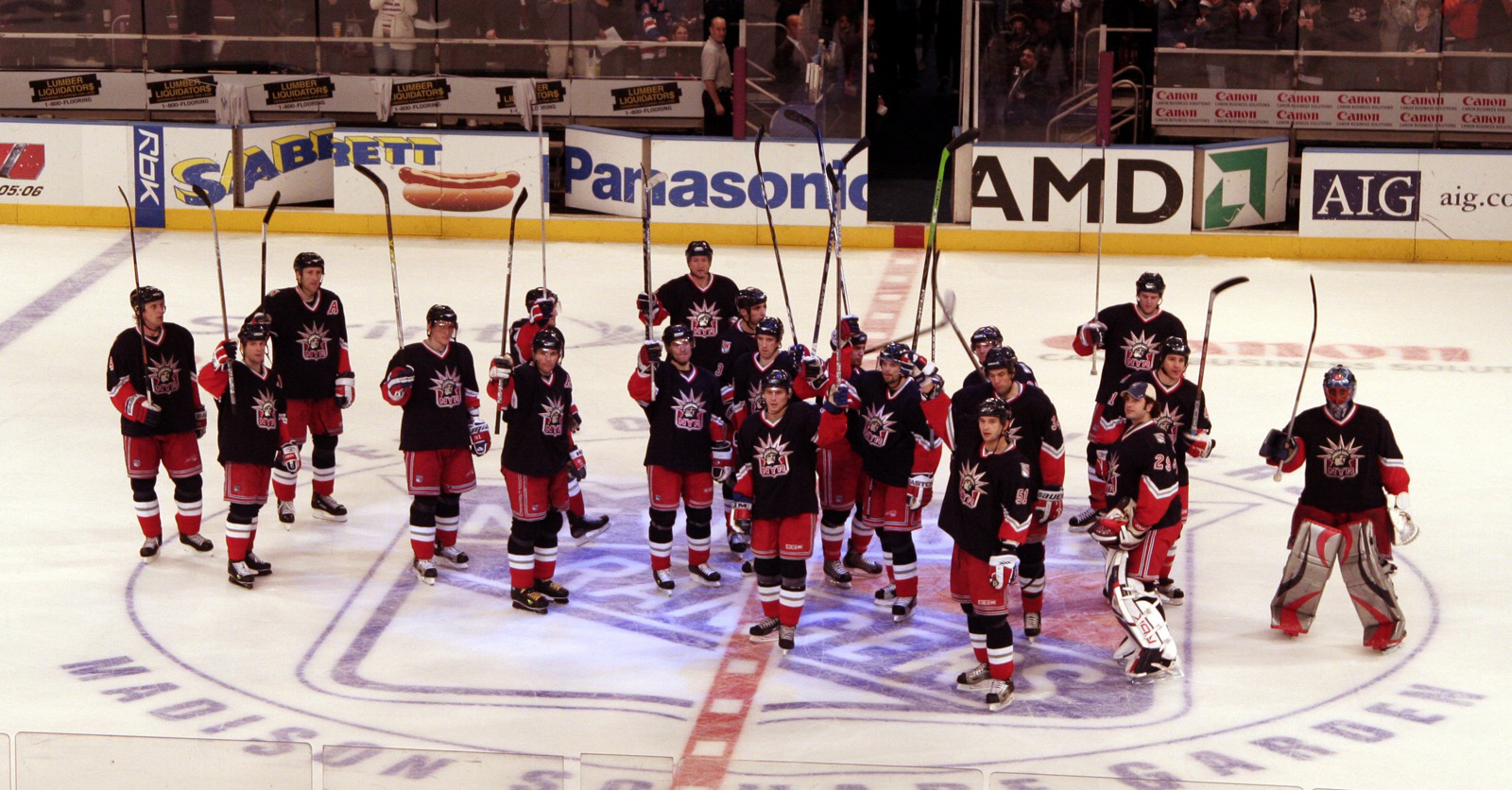 Photo: Joseph O'Connell/Flickr

Sometimes you just want to get out in the stands and cheer on your team. In New York City, you can do that! No matter what your preferred sport is (basketball, hockey, baseball, etc.), the City Guide calendar is filling in all the blanks. Don't miss a game this season, from college to the minor leagues all the way up to the pros.


Adam Sanford Invitational - Randalls Island Park
July 13, 2019 - New York
USATF Membership: A current (2019) USATF membership is required to enter and participate. Check your membership status here Join/Renew here Age: Athletes must be 14 yrs. (girls) 16 yrs. (boys) or older to compete Rules: USATF competition rules for Open competitions will be followed. Implements for field events must configure to those described for Open athletes in the USATF rule book (youth and masters implements are not permitted). Hurdle heights will be as described for Open athletes in the USATF rule book).
Power 105.1 Presents big3 - Barclays Center
July 14, 2019 - Brooklyn
Power 105.1 presents BIG3, the 3-on-3 league that's bringing all your favorite basketball stars back to the court, returns to Brooklyn on Sunday, July 14.
Power 105.1 Presents Big 3 - Barclays Center
July 14, 2019 - Brooklyn
Power 105.1 presents BIG3, the 3-on-3 league that's bringing all your favorite basketball stars back to the court, returns to Brooklyn on Sunday, July 14.
SPIN New York 23 Ping Pong Celebrates Wimbledon with 3-Day SPINBLEDON Event - SPIN New York 23
Through July 14, 2019 - New York City
We are kicking off the week with a Ping Pong Tournament on Monday, July 8th from 7PM - 10PM that is sure to get you excited for the Wimbledon matches! Then we'll celebrate with an exclusive White Party on Friday, July 12th from 9PM - 12AM, serving strawberries and cream to its guest. We'll finish off the tennis-themed week with a Kid's Day on Saturday, July 13th from 12 PM to 3PM that will be fun for the whole family!
West Virginia Black Bears at Brooklyn Cyclones - MCU Park - Coney Island
Through July 15, 2019 - Brooklyn
West Virginia Black Bears at Brooklyn Cyclones
Midwest United FC - Christian Athletic Complex
Through July 19, 2019 - New York City
Looking for recreational soccer for your son or daughter? Looking to help your player become a soccer future star? Register for Midwest United FC Future Stars today with Summer Camps and Training Session all year long!
Kayaking in Red Hook - Louis Valentino Jr. Park & Pier
Through July 25, 2019 - Red Hook
With a mission is to help people get on the water and enjoy the New York Harbor, The Red Hook Boaters provide free kayaking in Red Hook. First come, first serve; no reservations necessary. Wear a bathing suit or shorts and a T-Shirt, use lots of sunscreen and bring water to drink. Note: For minors to paddle a legal guardian must be present.
2019 Game Devs of Color Expo - Schomburg Center for Research in Black Culture
July 27, 2019 - New York
Join us for the 4th annual Game Devs of Color Expo - an inclusive games expo and conference creating a new normal in games by putting creators of color at the forefront, showing off their games, building conversations, and pushing games forward as an artform. #GDoCExpo
City of New Rochelle Celebrates Yankees Legend Mariano Rivera with Key to the City & Pinstripe Parade to Celebrate Mariano's Hall of Fame Induction - City Hall
July 27, 2019 - New Rochelle
The City of New Rochelle will celebrate former resident & relief pitcher Mariano Rivera's unanimous selection into this year's baseball Hall of Fame with `Mariano Rivera Day' on Saturday, July 27, featuring a pinstripe parade and culminating with a celebration at the Hudson Park Bandshell. Nicknamed 'Mo' and 'Sandman,' Rivera is Major League Baseball's greatest closer of all-time, recording 652 career saves including 42 post-season saves. In his 19-year celebrated career all with the New York Yankees, Rivera was a 13-time All-Star, World Series MVP (1999) and five-time World Series Champion. The Panamanian right-handed closer is the first player in MLB history to be elected into the Hall of Fame unanimously. Residents, baseball fans and the general public are invited to line the streets of New Rochelle to cheer on and celebrate the local baseball legend and soon-to-be Hall of Famer. The one and a half mile parade route begins at City Hall on 515 North Avenue (southbound), continuing to Pelham Road and concludes at Hudson Park. The parade route is in close proximity to the New Rochelle Metro North Train Station, and City Hall is a less than ten minute walk from the station.
Zumba with Dodge YMCA - Brooklyn Bridge Park, Pier 2
Through July 28, 2019 - Brooklyn Heights
ZUMBA is a fusion of Latin and International music, utilizing dance themes that create a dynamic, exciting, effective fitness program. The routines feature aerobic training with a combination of fast and slow rhythms that tone and sculpt the body. Sneakers are recommended! A few notes: Registration begins at 4 pm before each class. Children under 18 must be accompanied by an adult. All participants must sign a waiver each afternoon before participating.
Lawn Games - Lefferts Historic House
Through July 28, 2019 - Prospect Lefferts Garden
Get out and and play with Prospect Park Alliance in the Lefferts yard every weekend in July! Enjoy badminton, rolling hoops, horseshoes and more historic lawn games.
Kayaking - Brooklyn Bridge Park
Through July 28, 2019 - Brooklyn Heights,
Glide along the water while kayaking with the Brooklyn Bridge Park Boathouse at the Pier 2 floating dock. Children under 18 must have an adult guardian present. All levels are welcome and no experience is necessary.
Basketball Clinics - Brooklyn Bridge Park
Through July 30, 2019 - Brooklyn Heights,
Join the 2-hr basketball clinics at Pier 2 led by NYC youth basketball organization KING Hoops for children ages 7 and older. Learn basketball basics as head coaches lead participants through drills and games.
Premier Boxing Champions: Adam Kownacki vs. Chris Arreola - Barclays Center
August 03, 2019 - Brooklyn
Brooklyn's rising unbeaten heavyweight contender Adam "Babyface" Kownacki returns to Barclays Center on Saturday, August 3 to take on former world championship challenger Chris "the Nightmare" Arreola. Plus, former world champion Andre Berto faces off against Miguel Cruz in a welterweight clash and unbeaten interim WBA Light Heavyweight Champion "Sir" Marcus Browne battles former world champion Jean Pascal.
The Northern Trust - Liberty National Golf Club
Through August 11, 2019 - Jersey City
The world's top golfers, the best skyline in sports and an unmatched fan experience. THE NORTHERN TRUST (formerly "The Barclays") is the first of three golf tournaments in the FedExCup Playoffs, the culmination of the PGA TOUR's season-long competition. This tournament features do-or-die drama as the top 125 players compete to advance. The 2019 tournament will take place August 6-11 at one of the world's most picturesque golf courses, Liberty National Golf Club, which is located right along the Hudson River in Jersey City and provides unrivaled views of the Statue of Liberty, Ellis Island and Manhattan skyline. With strong ties to the essential elements of New York culture, this golf tournament is a celebration of food, lifestyle, the very best golfers on the PGA TOUR and a fan experience that is unmatched. Many of the world's top golfers have won THE NORTHERN TRUST including Sergio Garcia, Adam Scott, Jason Day, Matt Kuchar, Patrick Reed, Dustin Johnson and 2018 champion Bryson DeChambeau, who captured a four-stroke victory and became the tournament's youngest winner in the FedExCup era. In addition, THE NORTHERN TRUST is about so much more than the incredible golf com... (read more)
Wendy Hilliard Gymnastics Foundation Summer Session - HCZ Armory
Through August 16, 2019 - New York
The WHGF Summer Training camp is an opportunity for campers to improve and learn new gymnastics skills. In addition, there will be fun workshops, activities and trips including rock climbing, dance and more! The camp runs July- 8 -August 16 for 6 weeks. The camp also consists of outside community groups that come in for one hour of gymnastics. Current scheduled day trips include a movie, the HCZ Summer Games Performance, the Spy Museum and more! This year, parents can come every Friday at 3 pm to observe camp. Summer program is also available for a one week session, four week session and five week session.
Roving River - Hudson River Park
Through August 25, 2019 - New York
Every Sunday Keep an eye out for the Roving River tricycle – an exhibit of live Hudson River wildlife on wheels. Observe river animals up close and interact with smaller critters in a touch tank.
Yoga in Bryant Park - Bryant Park
Through August 29, 2019 - New York
Stop by the park and join a Tuesday morning or Thursday evening class in this flagship series presented by Kevita. Gaiam provides a colorful selection of mats for the first 1,200 participants. If you would like to secure one of their mats, please arrive at least 30 minutes before class begins. Otherwise, feel free to bring your own!
Healthy on the Hudson X Tai Chi - Pier 84 in Maritime Entertainment District
Through September 09, 2019 - New York
Hit the water and the turf this summer at our outdoor fitness series, with new workouts added at more locations along Hudson River Park's four-mile footprint.
Mets & Yankees Baseball Season - Luma Hotel
Through September 29, 2019 - New York
Enhance your New York experience by visiting the iconic Mets or Yankees Stadiums for America's favorite pasttime! Let LUMA Hotel's concierge help you select a game and plan your transportation to the stadiums.
Connecticut Tigers at Staten Island Yankees - Richmond County Bank Ballpark
Through June 18, 2109 - Staten Island
Connecticut Tigers at Staten Island Yankees

Want free advice on what to see and do in NYC? Join our Facebook group Everything to Do NYC, a place for people to ask questions and get tips on how to make the most of the city.