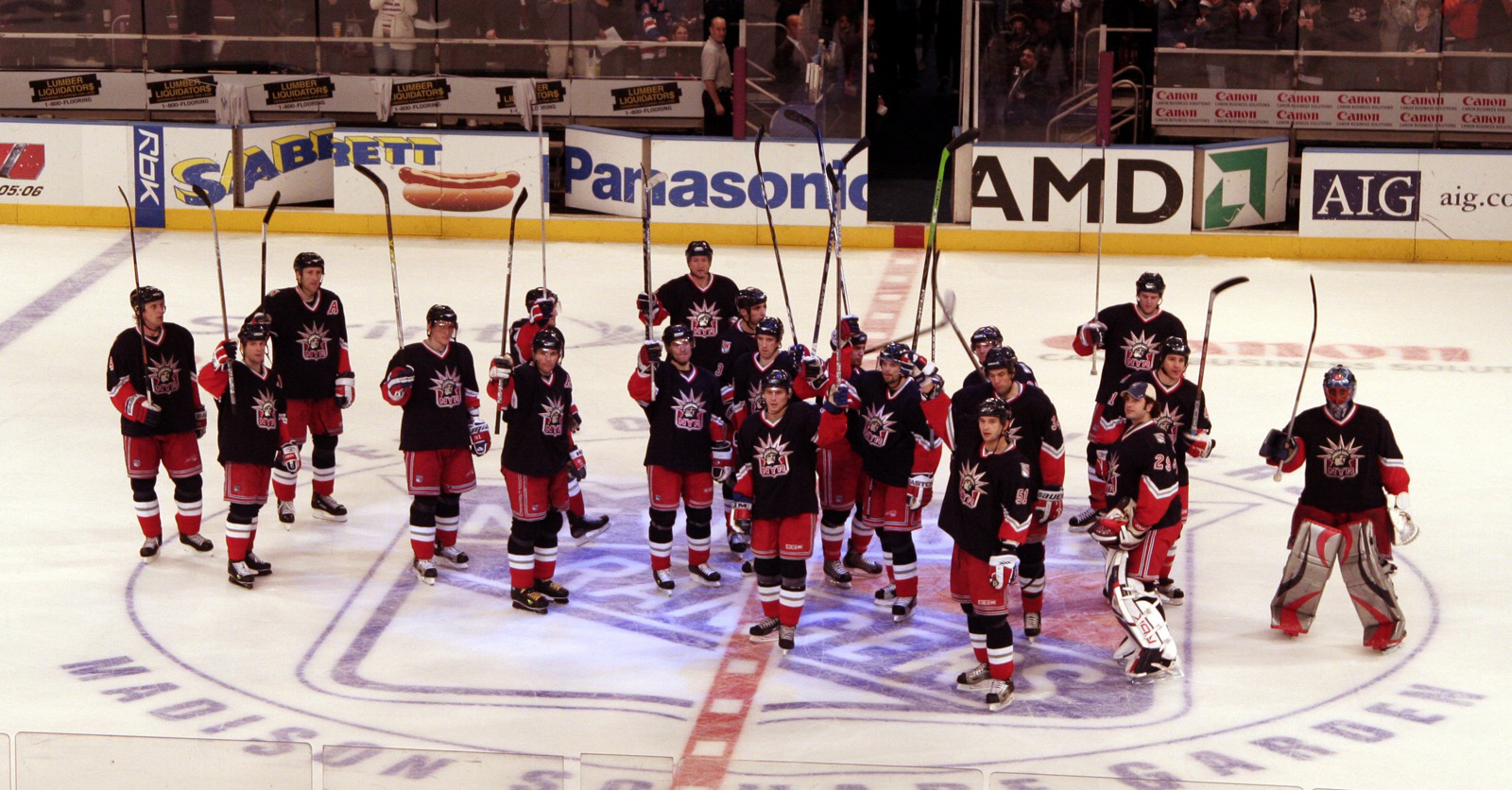 Photo: Joseph O'Connell/Flickr

Sometimes you just want to get out in the stands and cheer on your team. In New York City, you can do that! No matter what your preferred sport is (basketball, hockey, baseball, etc.), the City Guide calendar is filling in all the blanks. Don't miss a game this season, from college to the minor leagues all the way up to the pros.


Summer Fitness Series - Brookfield Place
May 18, 2019 - New York
Get fit at Brookfield Place! Our fitness series returns this summer with a variety of fun and challenging classes taught by instructors from top NYC fitness studios. The series kicks off and concludes with run clubs in May and the last two weeks of September.
White Dress Dance Party - Bohemian National Hall
May 18, 2019 - New York
[4th Floor] Our popular dance party is back! Come out and spend the evening with us as we dance the night away - this time dressed in all white. Ballroom dance music with popular Paul Errico Band, Latin, Chacha, Fox Trots, Tango, Waltzes, Swing. Dress code: all white. Food buffet, wine bar, and dance show by Alexandra & Stefan.
Cycle for Suz 2019 - NYC Event - SoulCycle - West Village
May 18, 2019 - New York
Cycle for Suz is an energetic and very pink annual cycling event that raises awareness and funds for Bright Pink. We cycle for the powerful, strong, beautiful women in our lives, many of whom have fought breast and ovarian cancer. We cycle to empower our generation with the awareness and knowledge they need to live a proactive, healthy, cancer-free life. Not only does Cycle for Suz provide a significant contribution to support the organization's mission, it supports all participants with information and resources to support this life saving mission. Our New York ride will be on Saturday, May 18th. The date for our Chicago ride is still TBD, but we will be sure to share it once we have it. We are also very excited to share that we are working to host a ride in the South Florida this year. We will provide more details about that ride as well once they are confirmed.
Welcome To My World - The Sheen Center for Thought & Culture
Through May 19, 2019 - New York
Actionplay presents Welcome To My World, an original musical devised in Actionplay's inclusive AIMS program about a teenage autistic girl named Aliza who is visited by an unexpected guest from another planet. After Party – Please join us directly after our May 18th show to mingle with the cast for our Encore After Party at the Sheen Center with food, drinks, music & fun. Actionplay is a non-profit organization dedicated to providing children, teens, and adults on the autism spectrum and related conditions equal access to education, arts, and culture. Actionplay's creative and compassionate learning environments, professional development, and training modules teach respectful ways of inviting people on the autism spectrum to experience education, arts, and culture.
Tampa Bay Rays at New York Yankees - Yankee Stadium
Through May 19, 2019 - The Bronx
Tampa Bay Rays at New York Yankees
The Gotham Games - Randalls Island Park
May 20, 2019 - New York
THINGS TO SEE & DO Activities Events Kids Run – Walk – Bike Tours Art Schools: Educational Programs Park-as-Lab Volunteers
New York Mets vs. Washington Nationals - Citi Field
Through May 23, 2019 - Flushing
New York Mets vs. Washington Nationals
Monaco Grand Prix Screening - Classic Car Club Manhattan
May 26, 2019 - New York
Join us at CCC to watch the full schedule of F1 championship races. Sunday we'll watch the teams take on the Monaco Grand Prix. We'll press play at 1pm - come enjoy the race with us over brunch and a pint.
Lose Weight Smarter with Balance 3H Plus® - Balance 3H Plus®
Through May 27, 2019 - Harrison
Join the thousands of everyday women transforming our bodies through Dr. Siobhan Kealy's Medically-Supervised Weight Loss Program for Women 40+… Balance 3H Plus®! Now you can melt away stubborn fat, tone troubled spots and lose up to 25 pounds or more in just 8 weeks. You can look and feel better than you did 10 or even 20 years ago! The Balance 3H Plus® Program is part of the new and exciting paradigm shift that is devastating some of the most iconic names in weight loss and leaving other generic diet programs lagging behind… Balance 3H Plus® Westchester Office 450 Mamaroneck Ave #413, Harrison, NY 10528 914-703-4811 Monday-Friday 9PM-5PM • Saturday & Sunday 9PM-1PM For more information, visit balance3hplus.com
World Championship Boxing: Anthony Joshua v Jarrell Miller - Radio City Music Hall
June 01, 2019 - New York
Heavyweight Boxing's biggest star, ANTHONY "AJ" JOSHUA, will make his long-awaited U.S. debut at "The World's Most Famous Arena" when he defends his WBA Super, IBF, WBO and IBO World titles against Brooklyn's undefeated, hard-hitting challenger JARRELL "Big Baby" MILLER on Saturday, June 1st. Global superstar and Olympic hero, Joshua (22-0, 21 KOs), from Watford, England will put his perfect record on the line at "The Mecca of Boxing." AJ will follow in the footsteps of Heavyweight greats such as Joe Louis, Joe Frazier, Evander Holyfield, and Muhammad Ali when he steps into The Garden's famed Boxing ring to challenge 'Big Baby' Miller. Brooklyn's knockout artist, Miller (23-0-1, 20 KOs), will fulfil a lifelong dream of fighting for the World Heavyweight crown in his hometown.
NY Giants Saquon Barkley & Teammates to Bowl at 5th Annual "Children of the City" David Tyree Charity Bowl - Lucky Strike
June 05, 2019 - New York
The Fifth Annual "Children of the City" David Tyree Charity Bowl will be held on Wed, June 5 at Lucky Strike in NYC. NY Giants Saquon Barkley will be joined by many of his NY Giants Teammates at this charity bowling event in support of "Children of the City", a non-profit organization which supports NYC's disadvantaged children. NBC-TV's Lead Sports Anchor Bruce Beck will MC. Guests will have the opportunity to chat with their favorite Giants players and other celebrity guests who will join in support of Children of the City's important mission. The evening will include a Cocktail Reception w/unlimited premium drinks, gourmet buffet, live and silent auctions to include a Yogi Berra autographed baseball, luxury resort stay in Manzanillo, Mexico & many other great items. Enjoy a memorable evening while you socialize and bowl with your favorite NY Giants! Whether you choose to bowl or not, everyone is sure to have an great time! "Children of the City's" mission is to Change the Culture of Poverty through Education and Outreach. For more info & to purchase a sponsorship or individual tickets, please visit: www.childrenofthecity.org or contact Carmen Camacho: info@childrenofthecity... (read more)
New York Mets vs. San Francisco Giants - Citi Field
Through June 06, 2019 - Flushing
New York Mets vs. San Francisco Giants
Dance Party Cruise NYC feat. Zumba® - Pier 36
June 08, 2019 - New York
ARE YOU READY FOR a Dance Party Cruise?!?! Our first Dance Party Cruise NYC feat. Zumba® was an incredible and memorable experience - we just had to do it again! Only this time, it's BIGGER & BETTER... We've traded in 2018's yacht for the luxurious LIBERTY BELLE - one of the biggest in the fleet. It has four levels and multiple outdoor decks, air conditioning, four cash bars, two large dance floors, plus other luxury amenities. On this twilight cruise, you'll be able to enjoy the gorgeous Manhattan skyline against the backdrop of night, while DJ Raymond and his crew light up the dance floors! Everything that made our first event a sell-out is part of the package again: a 3-hour NYC cruise feat. dance fitness and Zumba® masterclasses packed with all of your favorite rhythms: latin, dancehall, hip-hop, afrobeats and more, a delicious, hot dinner catered to you, four bars with water, soda, and adult beverages available for purchase. ALL 11 instructors from our first cruise are back: Ylliannis "LeLe" Ramirez, Donny Mendez, Kevin Garcia, Anthony Califano, Evelyn Ramos Hernandez, Marissa Tonge, and Alvarito Arguello. Your sponsors and organizers bringing you this 2nd Annual Zumba Ex... (read more)
New York Mets vs. Colorado Rockies - Citi Field
Through June 09, 2019 - Flushing
New York Mets vs. Colorado Rockies
New York Yankees vs. New York Mets - Citi Field
Through June 11, 2019 - Flushing
New York Yankees vs. New York Mets
Girls on the Run NYC 5k - Randalls Island Park
June 13, 2019 - New York
Join us on Thursday, June 13, at Icahn Stadium for the Girls on the Run NYC 5k! At Girls on the Run, we inspire girls to be confident, healthy and joyful through a 10-week running based curriculum that ends in our celebratory 5k. Registration is now open to run/walk or volunteer at the event! Pre-5k Activities and day-of registration open at 4:30 pm and the 5k begins at 6 pm. RUNNERS/WALKERS: Participate in this fun run/walk 5k that starts and finishes at Icahn Stadium. The tangible items each girl receives with her program fee include: 20 lessons delivered by trained Girls on the Run coaches Official Girls on the Run t-shirt 5k finisher's medal Entry to end of season celebratory 5k and pre-5k activities All curriculum materials and supplies 10 weeks of fun, dynamic lessons Community service project End of season awards and celebration Comprehensive insurance VOLUNTEERS: Help support our girls with pre-5k fun activities, at the Start/Finish, and along the course! You can bring friends and colleagues and sign up as part of a Volunteer Team! Find out more information and register at gotrnyc.org/5kinfo. Have questions? Reach out to us at 5k@gotrnyc.org.
New York Mets vs. St. Louis Cardinals - Citi Field
Through June 16, 2019 - Flushing
New York Mets vs. St. Louis Cardinals