NYC Sporting Events This Month - October 2018
October 6, 2018 - by CG Directory Editor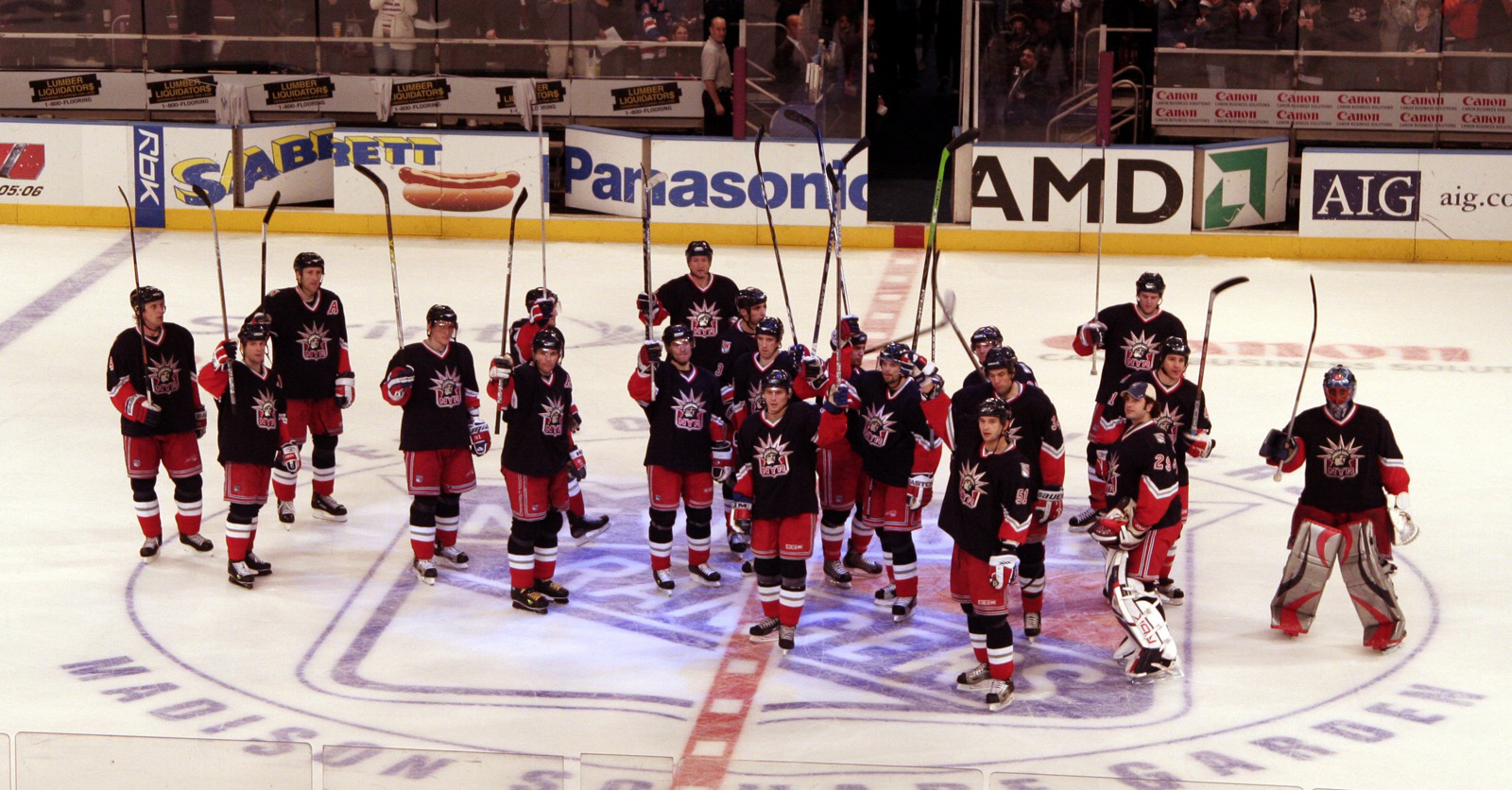 Photo: Joseph O'Connell/Flickr

Sometimes you just want to get out in the stands and cheer on your team. In New York City, you can do that! No matter what your preferred sport is (basketball, hockey, baseball, etc.), the City Guide calendar is filling in all the blanks. Don't miss a game this season, from college to the minor leagues all the way up to the pros.


NYRR Grete's Great Gallop (10K) - Central Park
October 06, 2018 - Manhattan
Celebrate the legacy of Grete Waitz with a run through Central Park. Race for a new 10K PR over the same ground where she won her five NYRR New York Mini 10K titles—setting road world records in 1979 and 1980—and where she ran the final miles of her nine New York City Marathon victories. Need some more pre-race inspiration? Read through this collection of Grete Waitz quotes, as the first-ever IAAF World Championships Marathon gold medalist shared her thoughts on racing, training, and more. Event hashtag: #GretesGreatGallop—use it in your tweets, Instagrams, and Facebook posts! Live Results Live unofficial results are available during the race at liveresults.nyrr.org and in the NYRR app. Features include leaderboards, map tracking, and an individual runner search that can be shared on Facebook and Twitter. Tell your friends and family to follow your progress, and because the system works great on mobile devices, you can get unofficial results right after the race! AKTIV Against Cancer In 2007, Grete co-founded AKTIV Against Cancer (AKTIV) with Executive Director Helle Aanesen. The foundation works to ensure that physical activity will become an integral part of can... (read more)
New York Islanders vs. Nashville Predators - Barclays Center
October 06, 2018 - Brooklyn
Parm, an acclaimed casual Italian restaurant, is the perfect place to start your Barclays Center experience. Make your dinner reservation for Parm by calling 917.618.6340 or online through RESERVE. For information on individual suites, please call 718.BK.SUITE. LIRR TRAIN TIME APP Download the LIRR Train Time app to get real-time information. Pick your station, check a countdown to your train's arrival and easily search for your destination. Basic train information is available even without cellular service. Download the Metro-North App LIRR SCHEDULE Plan your trip to Barclays Center with a quick search of the schedule online. View Schedule LIRR SCHEDULE UPDATES Before you leave Barclays Center, check our screens in the arena's main concourse for the latest information on LIRR schedules and service alerts. LIRR EXPANDED SERVICE The Long Island Rail Road has enhanced service to make Islanders games in Brooklyn easily accessible for fans from Long Island. View Details For hotel information, please visit New York Marriott at the Brooklyn Bridge. For special rates, check "corporate/promotional code" and then enter W85.
Watson Adventures' Gangsters' New York Scavenger Hunt - Columbus Park
October 06, 2018 - New York
Discover the bygone haunts and battlegrounds of gangs and gangsters in Little Italy and Chinatown on this unique scavenger hunt. You'll explore the streets where Tongs waged war and wiseguys got rubbed out, the notorious Five Points spot that inspired the book and movie, Gangs of New York, and locations featured in The Godfather. You'll also discover cafes, bakeries, teahouses, colorful stores, exotic sidewalk markets, historic buildings, and the street where Irving Berlin sang and the Sex in the City Girls strolled in this unique neighborhood. Advance purchase is required.
Wendy Hilliard Gymnastics Foundation Going for Gold Gala with Nadia Comaneci - NATIONAL GEOGRAPHIC ENCOUNTER: OCEAN ODYSSEY
October 11, 2018 - New York
ABOUT: The Wendy Hilliard Gymnastics Foundation (WHGF), a not-for-profit organization that has provided free and low-cost quality gymnastics programs for more than 17,000 urban youth since 1996, is hosting their annual fundraising gala which will feature photo & interview opportunities with the above mentioned honorees along with dozens of supporting professional athletes, elected officials and WHGF board members, performances by the WHGF Competitive Team, a silent auction, and much more. The WHGF is committed to helping underserved youth achieve improved physi¬cal, emotional and mental health through the sport of gymnastics. In 2016, the Foundation expanded to Wendy's hometown of Detroit and recently completed its second successful season of gymnastics pro-gramming. If you are unable to attend the event, you may still make a contribution through the donation page or by mailing your donation to the WHGF office at: Wendy Hilliard Gymnastics Foundation, 550 West 155th Street, New York, NY 10032 WHO: Wendy Hilliard, Founder WHGF, Hall of Fame rhythmic gymnast and the first African-American to represent the US in international competition; Nadia Comaneci, five-time Olympic Gold... (read more)
17th Annual Totten Trot 5K Foot Race & Kids' Fun Run - Bayside Historical Society
October 28, 2018 - Bayside
Date: Sunday, October 28, 2018 Time: Check-in: 7:30am . Start: 9:00am Entry Fee: $25 until September 1; $30 until October 13; $35 until October 27; $40 on race day Bayside Historical Society's annual Totten Trot is on a waterfront course in historic Fort Totten Park on Little Neck Bay, a pristine stretch surrounding a preserved Civil War fortress. The Fort is situated in Bayside, Queens, where the Long Island Sound meets the East River at the Throgs Neck Bridge. The start and finish are located at the landmarked Officers' Club, home of Bayside Historical Society. The course includes a loop out onto Little Bay Path to the Throgs Neck Bridge and back to the Fort. Runners will pass through the Historic District, which consists of buildings dating to the late 1800s. Timing and scoring are provided by elitefeats on a USATF Certified Course. Halloween costumes encouraged! The KIDS' FUN RUN at 10:00am (costumes suggested) is a short-distance sprint for tiny tots and kids up to 12, grouped by age category. Special "Cookie Medals" for participants in the Fun Run! Free to children of registered 5k runners; $5.00 for other children (register on race day). Amenities & Awards for the... (read more)
Tcs New York City Marathon Health & Wellness Expo Presented by New Balance - Jacob K. Javits Convention Center
Through November 03, 2018 - New York
The TCS New York City Marathon Expo Presented by New Balance is the largest running exhibition in the country, and one of the top 10 health and fitness expos in the world. New York Road Runners invites your company to become a part of the excitement leading up to the world's largest marathon.
Looking for Free Group Planning Services?
Get free advice on planning your group's trip to New York.
MORE Activity Planner ARTICLES
RESTAURANTS

Brings together the character of Hell's Kitchen past with th...

THEATER

Gaston Leroux's famous period thriller is now one of Broadwa...

SHOPPING

The sweetest experience in Times Square!...

SIGHTSEEING

Manhattan's premier all-glass, European-inspired dining crui...