Souvenirs are a tricky thing, whether you're gifting others or simply procuring something for yourself. Most souvenirs are best left in the places they hail from, considering their usual fate involves collecting dust once brought back home. In New York City, however, the souvenir market is a treasure trove of unique finds and keepsakes you'll actually want to keep. There are exclusive products (hello 1-pound chocolate Kiss!) and only-in-NYC things aplenty. For the best souvenirs to get, gift, receive and enjoy, read on.
1.) For a truly NYC-centric gift, look no further than this puzzle of Lady Liberty drawn by famed local artist Keith Haring, available at the Museum of the City of New York. We love the bright colors that make this worthy of framing once complete.
Museum of the City of New York, 1220 Fifth Avenue. shop.mcny.org


2.) For nearly four decades, Dean & Deluca has been a Manhattan institution, peddling gourmet snacks and boutique groceries. Any snacker will adore the six-piece grab-and-go set that includes assorted chocolates, nuts, and gummies all in minimalist reusable containers.
Dean & Deluca, 560 Broadway. deandeluca.com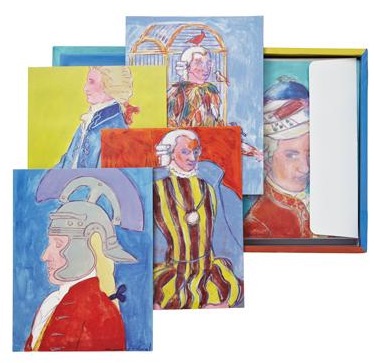 3.) Opera aficionados and novices alike will appreciate these chic Mozart-themed greeting cards, available at The Met Opera Shop. Each one depicts the master composer as a character from a variety of his famous operas.
The Met Opera Shop, 140 West 65th Street. metoperashop.org
4.) Only in NY: the Hershey's Chocolate World Times Square offers up a 1-pound Kiss sure to make any recipient smile. It even comes in a presentation box, worthy of display—until it is eaten, of course.
Hershey's Store, 1593 Broadway. hersheys.com
5.) A favorite among New Yorkers, perfume purveyor Byredo has a meticulously curated storefront in SoHo that peddles divine candles. Their Bibliothèque is a wintertime favorite that smells as good as it will look when lit at home.
Byredo, 62 Wooster Street. byredo.com
6.) Beloved Upper East Side coffee house and restaurant Serendipity 3 is a must stop for their signature Frrrozen Hot Chocolate. Now you can enjoy the sweet drink anytime you want with their exclusive cocoa mix.
Serendipity 3, 225 East 60th Street. serendipity3.com