New Year's Eve NYC 2019-2020. The clock will strike midnight, the ball will drop, kisses will be exchanged, and the promise of a New Year will light up the night sky. New Year's is a time to reflect on all that's happened and set ambitious goals for the future. It's also a time let our hair down and celebrate. If there's any town that can be trusted to get New Year's right, it's New York City, where Times Square provides a focal point for the world on December 31st. What follows are some great opportunities for meals, cruises, comedy, parties, and general merrymaking on the 31st. Happy 2020!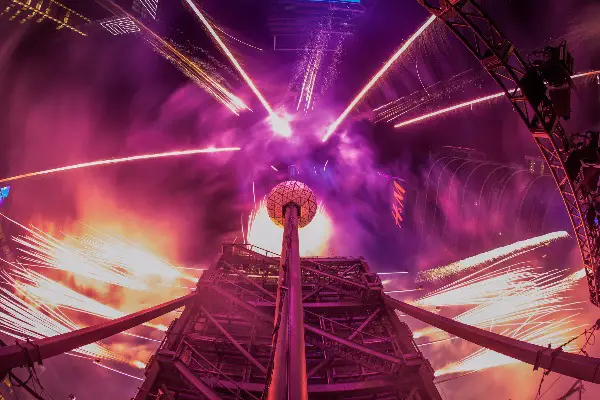 Image: Anthony Quintano/Flickr

There is no minute of the year quite as exciting as 11:59pm on December 31st in Times Square. The Times Square New Year's Eve Celebration and Ball Drop is easily the most famous NYE celebration in the world. A million people join together to celebrate this event, and over a billion people will watch it on television. If you're planning to go, dress warmly, bring something to eat, and be sure to get there early (before 5pm). The famous ball is a 12-foot geodesic sphere weighing 11,875 pounds, covered in 2,688 Waterford crystals, powered by 32,256 Philips Luxeon Rebel LED lights, and capable of creating a palette of more than 16 million vibrant colors. Ryan Seacrest marks his 15th year hosting Dick Clark's New Year's Rockin' Eve with Ryan Seacrest on ABC; this year he'll cohost with actress Lucy Hale, Pose's Billy Porter will helm festivities in New Orleans, and Ciara will host the LA telecast. Guests will include BTS, Post Malone, and others.
CNN's Anderson Cooper & Andy Cohen will be hosting their second annual NYE show from Times Square as well.
Times Square Before the Ball Drop
The Times Square Alliance lets New Yorkers and visitors put their wishes out to the world with the New Year's Eve Wishing Wall. Write your wish and it will become some of the actual confetti released at midnight on New Year's Eve. The Wishing Wall is on the Times Square Broadway plaza (btw. 46th & 47th Sts.) and available every day but Christmas from 11am to 8pm Dec. 3 until December 29th. Every wish becomes part of the 3,000 pounds of confetti released at midnight over the one million-plus revelers in Times Square.
On the opposite side of wishes, come Friday, December 28th, you can shred your bad memories from 2019 at the 13th Annual Good Riddance Day in Times Square. From noon to 1pm, a Shred-it mobile truck will be on-site to destroy the worst of paper memories, giving participants a fresh start in 2019. Paper will be available; Times Square Plaza (btw. 45th & 46th Sts.). TimesSquareNYC.org/NewYearsEve
New Year's Eve in NYC: Comedy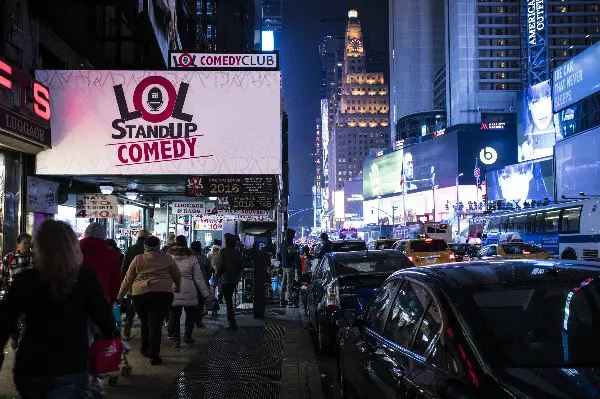 Don't stay out on the cold waiting for the ball to drop. Join the party at LOL Times Square Comedy Club in the heart of it all with package options for a cash bar, well bar, or even a premium all-included bar. Party, drink and laugh at the best New Year's Eve Celebration in the world: Times Square. You can see the ball drop in simultaneous translation on the screens inside the club and hear the New Year's Eve Countdown happening live at the front of LOL Times Square. Hosts from the club will help you navigate right to the door of the 2020 LOL Times Square New Year's Eve Bash.
Celebrate New Year's Eve with the Gotham Comedy All Stars at Gotham Comedy Club. Show at 8pm. Starts at $30.
New Year's Eve in NYC: Music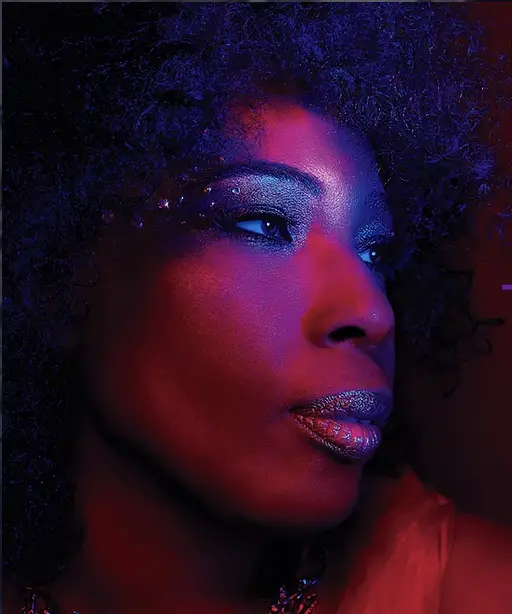 Award-winning, multi-platinum-selling singer, songwriter, and actress Macy Gray plays The Iridium on New Year's Eve (with additional shows on Monday, December 30th). New Year's Eve you'll find a NYE Ball Drop Party that includes a three-course prix fixe meal with open bar and champagne toast, as well as an escort to watch the ball drop at midnight.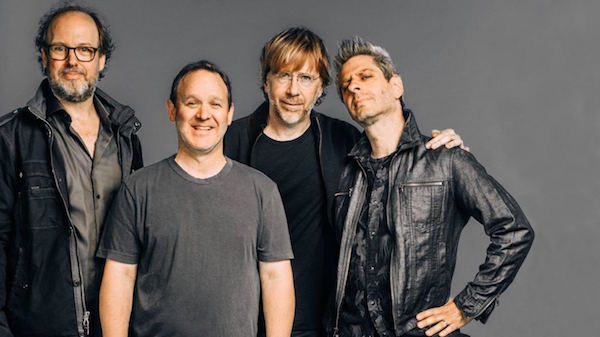 Phish bring their annual New Year's jam to Madison Square Garden (12/28-31).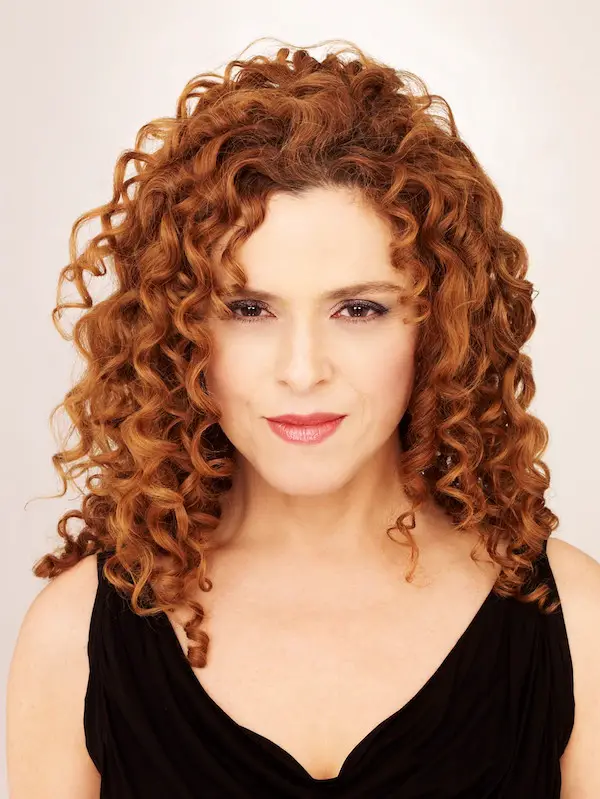 The New York Philharmonic hosts New Year's Eve: Celebrating Sondheim with Tony award winner Bernadette Peters at Lincoln Center. "Considered by many to be the premier interpreter of [Sondheim's] work" (The New York Times), Peters starred in the original productions of the Pulitzer, Tony, Oscar, and Grammy winner's Sunday in the Park with George and Into the Woods as well as the revivals of his Follies, A Little Night Music, and Gypsy. The performance will be telecast nationally on Live From Lincoln Center on PBS stations at 8pm (check local listings).
Dec. 26-New Year's Eve, Sandra Bernhard presents Sandy's Holiday Extravaganza: A Decade of Madness and Mayhem at Joe's Pub. She's back for the 10th year in a row, where she'll weave her year-end tapestry, kick out the old, ring in the new and prepare you for 2020. Along with the Sandyland Squad Band, she'll lift you up and soothe your frazzled holiday nerves.
On New Year's Eve, Annaleigh Ashford returns to 54 Below for Annaleigh Ashford on New Year's Eve. Join Annaleigh Ashford, Tony Award-winning star of the most recent revival of Sunday in the Park with George, Kinky Boots, and You Can't Take it With You, along with Will Van Dyke and the Whiskey 5, to welcome New York to its 2020s. A little glam rock, glitter, gay magic, and some singalongs will help you ring in this fabulous new year. Bring your dancing pumps and some sequins; prices starting at $300.
New Year's Eve in NYC: Alternatives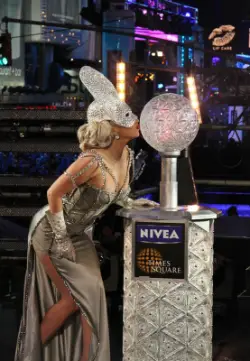 Ripley's Believe It or Not! Times Square. Believe it or not, you can see the official Times Square New Year's Eve Ball every day of the year at Ripley's. The ball on display here, lighting up in millions of color combinations and just waiting for your best selfie, is made of Waterford Crystal and was the real 2007 Centennial Countdown Ball. ripleysnewyork.com
Madame Tussauds in the heart of Times Square will be hosting a night of fun, food, and cocktails. Madame Tussauds is home to 200+ lifesized wax figures, plus several themed experiences including the Marvel Superhero Experience, A-List Party Room, and Music Zone, plus its brand new interactive Fashion Experience, starring VS model Alessandra Ambrosio. Festivities begin at 7pm and family and VIP packages are available. madametussauds.com
This year's New Year's Eve theme at the McKittrick Hotel is The World's Fair. There's an open all night bar, musicians, one-night only dazzling performances and much more. Guests are to arrive dressed in their finest, most decadent and dazzling celebratory attire for new beginnings, new findings, and a new year. Guests seeking a most special, complete evening will start with a sumptuous three-course supper filled with live entertainment, a performance of Sleep No More, all followed by the epic party and transformative takeover of the entire hotel.
Stop by Rosé Mansion for a glam pre-game party before you hit the town. Midtown's favorite rose wine funhouse will be kicking off the last night of the year with sparkling cocktails, tinsel-topped photo ops, and plenty of confetti. Tickets after 6pm are $45 and include a wine-cocktail at the bar.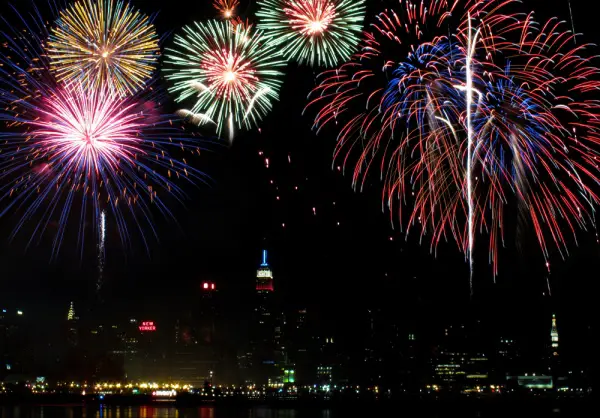 Image: mamojo/Flickr.
NYRR Midnight Run. Kick off the New Year at Central Park's favorite Midnight Run! Join the fun and celebrate with music and dancing (starting at 10pm) as 2019 comes to a close. With a countdown to midnight beginning at 11:59pm, the four-mile run will begin on the stroke of midnight, as will a spectacular fireworks display to light up the night and the start of 2020. nyrr.org
Finish out 2019 on a peaceful note at the New Year's Eve Concert for Peace, an annual concert at the Cathedral of St. John the Divine that was started by Leonard Bernstein in 1984.
New Year's Eve in NYC: Cruises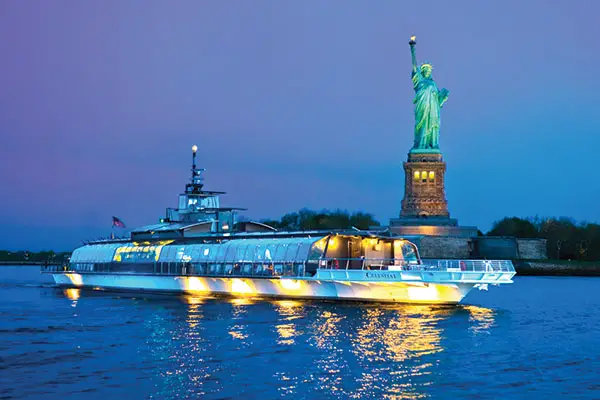 Spirit Cruises will stop the boat in front of the Statue of Liberty for a dazzling fireworks show at midnight. Spirit is offering dinner cruises departing from both Chelsea Piers and from New Jersey on one of their Spirit of New Jersey vessels. Both cruises provide dinner, dancing, an open bar, access to the outdoor rooftop lounge. Spirit of New York starts at $399.90, and Spirit of New Jersey starts at $269.90. Spirit of New York: Chelsea Piers, 212-727-2789; Spirit of New Jersey: Lincoln Harbor, 201-333-8600; spiritcruises.com Sister company Bateaux New York offers, in addition to a New Year's Eve Fireworks Cruise, a New Year's Day Bottomless Mimosa Cruise, as well as a New Year's Day Dinner Cruise.
This year, Circle Line Sightseeing Cruises promises a front-row seat to the fireworks. Departing from Pier 83 in midtown, this special cruise will be the party boat you don't want to miss, with dinner, drinks, and a DJ. There will be a bar and buffet dinner, plus hors d'oeuvres and a complimentary glass of champagne for your midnight toast to the new year. Plus, the ship is climate-controlled for frosty weather, so no worries about freezing in Times Square! Boarding begins at 9:15pm, and the boat will return at 1am. Tickets are from $229, and guests must be at least 21 years old. Pier 83 at West 43rd St., circleline.com
On Hornblower's luxury yachts, you can enjoy a wide range of nautical New Year's festivities. The Hornblower Hybrid will take guests to see fireworks from the comfort of this luxury yacht. You'll also enjoy a four-course dinner with dessert, open bar, and a DJ. The Hornblower Sensation will take guests on for New Year's as well for the Manhattan Fireworks Cruise. This option includes a dinner buffet, open bar, and DJ, starting at $300. If you're keeping the party going on New Year's Day, book a seat on the Jazzy Champagne Brunch Cruise January 1. You'll receive unlimited mimosas and live jazz, plus a brunch buffet with all the eggs and french toast you can handle. Tickets start at $82. Cruises leave from Pier 15 at South Street Seaport & Pier 40 in the West Village, hornblowernewyork.com
---
New Year's Eve in NYC: Bars & Restaurants
Sink your teeth into something delicious this New Year's. At American Cut, enjoy a signature a la carte menu and champagne toasts. At the midtown location, dining is from 5:30-9:30pm and in Tribeca 5:30-11pm. Click on links for additional location promotions. Tribeca: 363 Greenwich St., 212-226-4736, americancutsteakhouse.com/tribeca; Midtown: 109 E. 56th St., 212-388-5277, americancutsteakhouse.com/midtown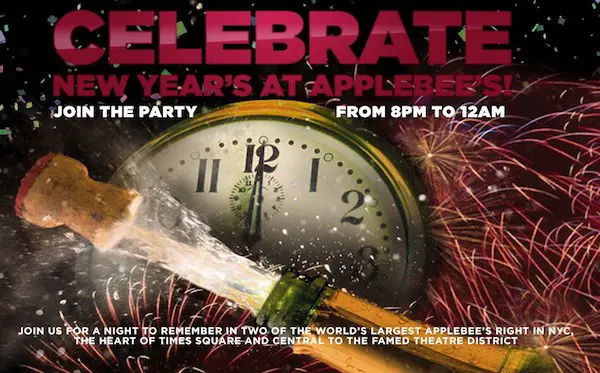 Applebee's in NYC will be ringing in 2020 with special festivities at both their 42nd Street and 50th Street locations. Their 42nd Street location is just steps from the NYE Ball Drop. Be in the center of it all – and feel the electricity and excitement of a "real" Times Square New Year's Eve experience! The party begins at 8pm, with access to a Chef's Selection Buffet, Premium Open Bar, DJ and dance floor, and runs through their signature champagne toast at Midnight. Use City Guide's coupon and get 10% off your meal. Make reservations at applebeesnye.com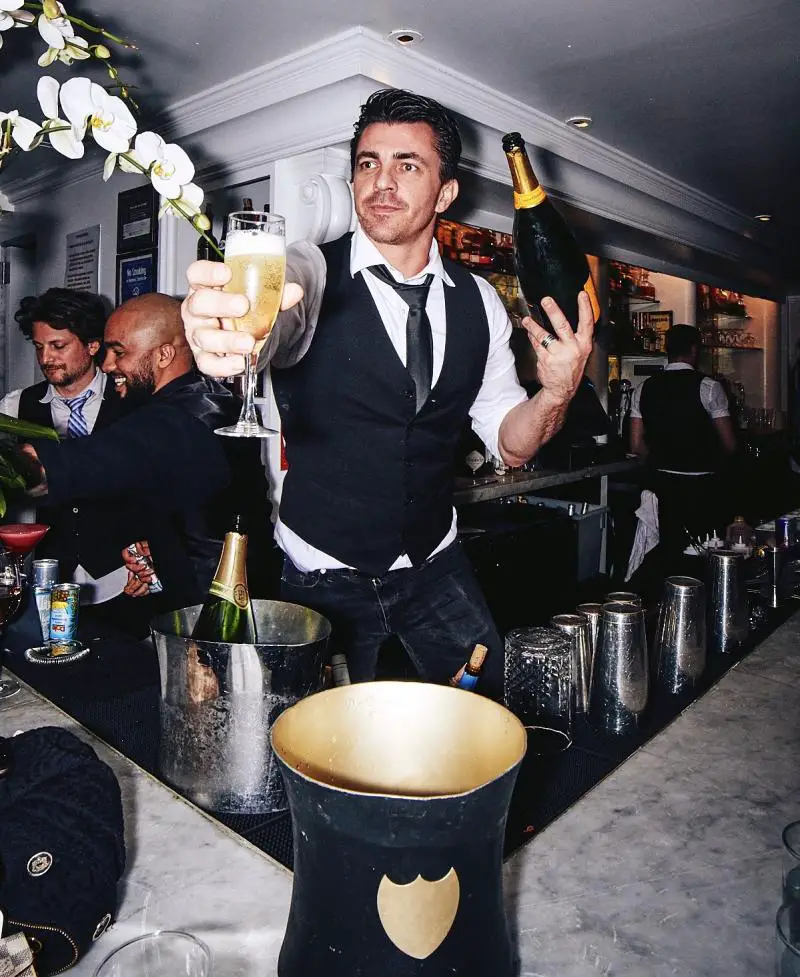 Bagatelle NYC in the Meatpacking District will be celebrating New Year's Eve and New Year's Day with lavish menus and parties. On New Year's Eve guests will enjoy a Roaring '20s-themed event with music from DJ Stan Courtois. Reservations are available beginning 8:30pm for the prix fixe menu ($380/person or $550/person for Dom Perignon Brut pre-order only). Decadent menu selections include lump crab and caviar, Hudson Valley Foie Gras with roasted pineapple rose and porto reduction, Maine lobster and tarragon risotto sprinkled with trout roe, truffle wagyu beef Wellington with mashed potato and mixed greens, and for dessert, Mont Blanc with chestnut cream, meringue and blueberry. The party starts up again on New Year's Day with Bagatelle's "Hangover Brunch" featuring music by DJ Stan Courtois and menu staples such as the truffle pizza, croque madam with Parisian ham, and homemade truffle gnocchi. 1 Little W. 12th St., 212-488-2110, bagatellenyc.com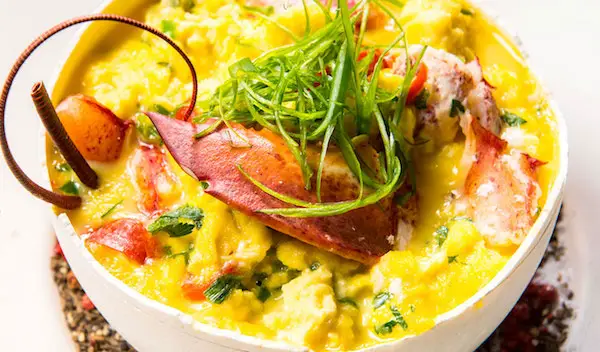 David Burke Tavern is a modern American restaurant by award-winning celebrity chef David Burke. A stately Upper East Side townhouse setting showcases Burke's creative, contemporary approach to classic fare—often with show-stopping presentations. On New Year's Day, take advantage of their Champagne & Brunch Happy Hour, $42 served from 11am-4pm, plus 50% off wine bottles. 135 E. 62nd St., 212-988-9021, davidburketavern.com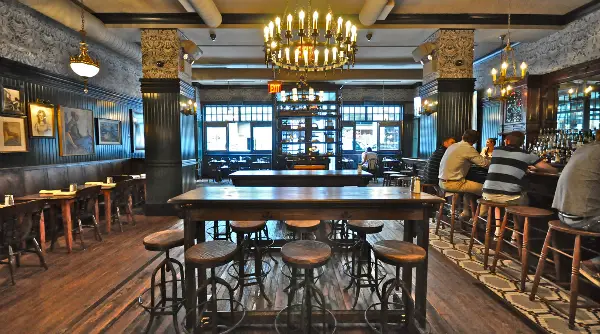 Celebrate New Year's Eve at Flatiron Hall: you can dance the night away at this beloved beer hall with a four-hour open bar from 9pm–1am, live DJ, hors d'oeuvres platters, a champagne toast, and party favors. Take your pick from the extensive list of hand-crafted beers and cocktails; Ball Drop streamed live. Tickets are available on Eventbrite.com for $84 including tax & tip. 38 W. 26th St., 646-790-3200, flatironhall.com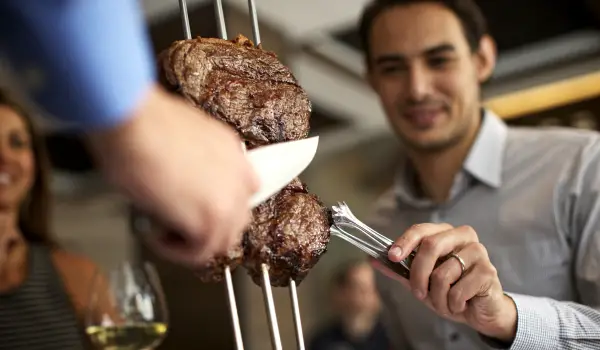 Fogo de Chão's first churrascaria (Brazilian steakhouse) in New York City is a three-level sophisticated stunner. New and seasonal menu items are included as a part of the regular full churrasco price on New Year's Eve and New Year's Day. Look for fire-roasted meats carved tableside, indulgent bone-in cuts of cowboy rib-eye, lamb chops, and beef ribs among other favorites, plus a Vegas-cut New York strip, sweet potato casserole, butternut squash soup, and a winter citrus salad. The Fogo Churrasco Experience for children 6 and under is complimentary; children 7 to 12 are half price. Dinner pricing will apply all day. 40 W. 53rd St., 212-969-9980, fogodechao.com
Havana Central is offering a five-course Cuban feast on New Year's Eve, with adult and kid pricing. The evening features an exclusive 5-course meal, open bar, champagne toast, and party props. Tickets are required for entry and can be purchased here. The 9pm seating, featuring live Latin music by Conjunto Guantanamo, is limited, so act fast. There will also be regular lunch until 2:30pm, but reservations are highly recommended as police enforce strict rules this day and access to the block may not be granted without proof of reservation. Call 212-398-7440 to reserve or click here. 151 W. 46th St., 212-398-7441, havanacentral.com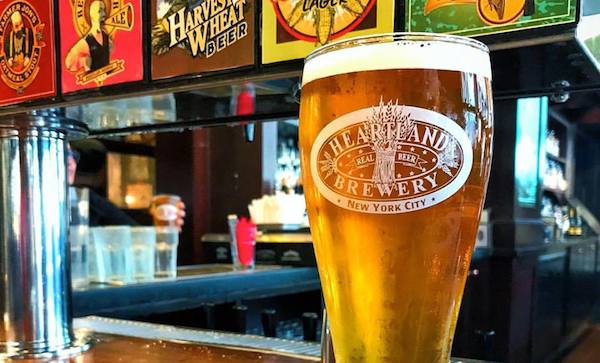 Celebrate New Year's Eve at Heartland Brewery & Rotisserie in the Empire State Building! Ring in the New Year in one of NYC's most famous landmarks. Dance the night away with a four-hour open bar from 9pm–1am, live DJ, hors d'oeuvres platters, champagne toast, and party favors. Take your pick from an extensive list of hand-crafted beers and cocktails. The Ball Drop and countdown to 2020 will be streamed live. Tickets are available on Eventbrite.com for $74 including tax & tip. 350 Fifth Ave., 212-563-3433, heartlandbrewery.com
Where will you be to ring in 2020? Join the biggest party at the biggest beer hall in all of Manhattan, the West Village's Houston Hall. The evening features a Roaring '20s theme and you'll be able to dance the night away with a live DJ while enjoying light bites, a champagne toast, and party favors. Count down to 2020 as the Ball Drop is streamed live. $25 tickets available on Eventbrite.com. 222 W. Houston St., 212-675-9323, houstonhallny.com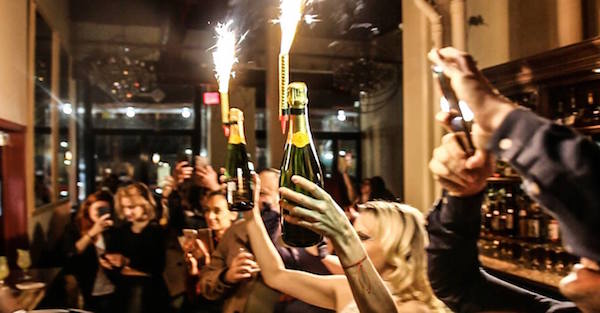 Come celebrate New Year's Eve with a delicious meal and a Roaring Twenties theme at Le Privé, the Theater District's home for "French dining, redefined." A la carte is available or you can opt for the prix fixe which starts off with an appetizer choice of soupe à l'oignon, coquilles Saint-Jacques, or steak tartare. That's followed by entrees like paella, steak frites, whole grilled branzino, or house signature magret de canard. Dessert brings beignets for the table, served with homemade chocolate sauce. $75 per person (excluding tax and gratuity). 626 10th Ave., 212-837-2795, lepriveny.com
Monarch Rooftop gets an early start on the first breakfast of 2020 with their NYE Ball Drop Breakfast, just after the Ball Drop and running from 12:30–2:30am. Look for a hearty breakfast buffet bar filled with breakfast sandwiches, eggs, pancakes with all the fixings, bagels, French fries, and hash browns. Unlimited Bloody Mary's and mimosas will be available until 2am. Tickets are available here and are $59. 71 W. 35th St., 212-630-9993, monarchrooftop.com
Offering a contemporary twist on sophisticated Greek dining, TripAdvisor ranked Nerai one of the top 100 restaurants in New York City. It boasts a menu of flavorful fresh seafood-focused dishes. To celebrate NYE with an elegant seated dinner, head to Nerai for an epicurean meal with the choice between a four-course prix fixe menu at $115 per person, or Executive Chef Moshe Grundman's seven-course tasting menu at $145 per person. The four-course menu includes lobster pasta with squid ink linguine in a metaxa bisque, a black truffle spaghettoni with creamy truffle sauce, pan-seared Mediterranean sea bass with wild mushroom farro, and lamb loin with lemon potato gnocchi. The tasting menu can be found here. 55 E. 54th St., 212-759-5554, nerainyc.com
Head over to The Oyster House at Pier A for the biggest final celebration of 2019. Celebratory cocktails, scrumptious food, live music, a midnight champagne toast, and riverside views of the fireworks are all on offer. Limited tickets available! 22 Battery Pl., 212-786-0153, piera.com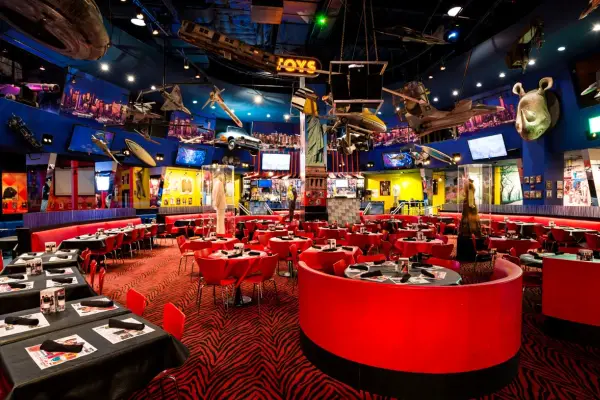 Dine among the stars and immerse yourself in Hollywood history at Times Square's Planet Hollywood. Now through Jan. 2, the restaurant gets in the spirit of the season with "Holidays in Hollywood," featuring festive decorations (among the memorabilia you'll find The Ghost of Christmas Past's Taxicab Operator's License from Scrooged, Santa Hat from Jingle All the Way; Santa Claus' costume from The Santa Clause, and more! There's also classic holiday film clips, the songs everyone loves, and featured "Naughty or Nice" holiday beverages. The menu boasts an eclectic mix of favorites, including pastas, salads, sandwiches, and award-winning burgers. Enjoy it on New Year's Eve! 1540 Broadway, 212-333-7827, planethollywoodintl.com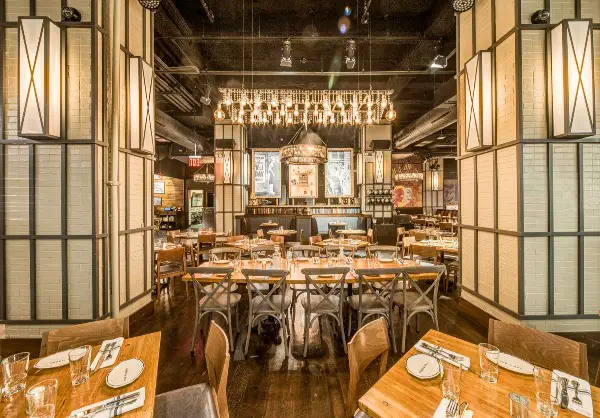 Celebrate New Year's Eve at Times Square favorite The Ribbon! The night includes an open bar, a four-course dinner, dancing with DJ Nick Russo, and an escort to nearby Times Square to watch the ball drop. The perfect spot to ring in 2020! 220 W. 44th St., 212-944-2474, 44.theribbonnyc.com
The original location of The Ribbon on the Upper West Side is also getting in on the fun. A $379 prix fixe (tax and tip are included) comes with free-flowing champagne. The night runs from 8:30pm to 1am and will feature the music of the Harlem Blues Project. 20 W. 72nd St., 212-787-5656, theribbonnyc.com
If you feel like stepping out just beyond Manhattan, take a trip across the river to Brooklyn's Water Tower at The Williamsburg Hotel. From 9pm-1am, sip on speciality cocktails, enjoy delicious food stations, and get a front row seat to fireworks while dancing to live jazz and a special DJ set. Tickets start at $250 and include premium open bar; specialty cocktails upon arrival; food stations such as a raw bar, crudite, a selection of cheese and dips; hors d'oeuvres; a champagne toast at midnight; live jazz and dj; and masks and party swag for photos and dancing. 96 Wythe Ave., 718-362-8100, thewilliamsburghotel.com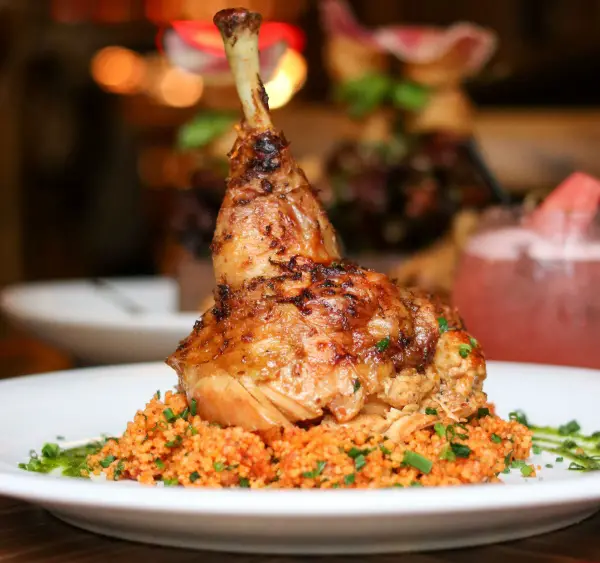 Famed chef, artist, and innovator David Burke will be serving up a full New Year's Eve and New Year's Day menu at Woodpecker by David Burke. Dishes feature creative takes on roasted meats, fish, pastas, and wood-fired pizzas. You'll find it open on New Year's Eve from noon to 1am and back again with brunch all day on New Year's Day, running from 11:30am to 8pm. 30 W. 30th St., 646-398-7664, woodpeckerbydb.com
---
New Year's Day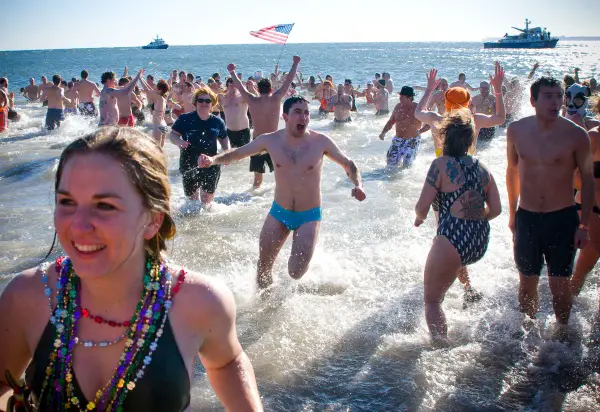 Image: Richard Feliciano/Flickr
Brave souls will dive into the new year at the beloved Coney Island's Polar Bear Club New Year's Day Swim. Swim time is 1pm sharp, on the boardwalk at Stillwell Avenue. Camp Sunshine, a charity for children with life-threatening illnesses, will be accepting donations (the event is free, but pre-registration is required to swim). polarbearclub.org