Over There: WWI Beyond the Trenches Opens at New-York Historical Society
June 13, 2017 - by Mari Gold
For a beautifully curated, sensitive, and informative exhibition, take yourself to World War I Beyond the Trenches at the New-York Historical Society. The show encompasses paintings, posters, sculpture, photographs, and even sheet music, which together reveal how artists worked to depict, promote, or oppose the conflict. It's a compact exhibit that won't leave you footsore while showing works as diverse as a small painting by Georgia O'Keeffe with a red flag bleeding into a blue sky, to watercolors by John Singer Sargent that have an almost dreamy quality that contrast sharply with the artist's monumental "Gassed," also here on loan from the Imperial War Museums in London, showing gas-blinded soldiers making their halted way to a medical tent. Demonstrating the exhibition's range, you'll also find early in the show the recently acquired "The Fourth of July 1916" by Childe Hassam, all flying flags and patriotic fervor, as well as other works by Hassam, who fervently wanted America to enter the war right away.
John Singer Sargent (1856–1925). Gassed, 1919. Courtesy of IWM (Imperial War Museums), London. Photo: ©IWM Imperial War Museums, Art.IWM ART 1460.
The show is divided into four sections: Debating the War, before the U.S. entered the conflict; Mobilization with the iconic "Uncle Sam: I Want You!" poster and appeals to women to enter the workforce or volunteer, caught beautifully in Jane Peterson's watercolor "Red Cross Work Room." The Waging War section includes the moving "Portrait of Lieutenant Jean-Julien Lemordant" by Susan Macdowell Eakins, while the Celebrating and Mourning section offers works including "Armistice Night" by George Benjamin Luks, providing a positive note as New Yorkers celebrated the end of the war. Other highlights include a look at changing society with a painting of the 1919 subway with ladies in hats, a black soldier, and a Uneda biscuit advertisement attesting to the rise of commercialism, as well as many artworks recalling loss and death. The show, a joy overall, is not without a great deal of brilliantly captured pain—how could it be otherwise in a conflict in which more than 17 million were killed and 20 million wounded worldwide?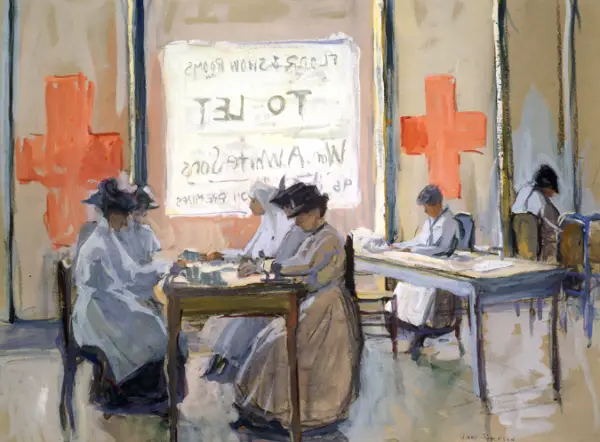 Jane Peterson (1876–1965). Red Cross Work Room 5th Avenue, NYC during the War, c. 1917. Watercolor on paper. Collection of Jonathan L. Cohen.
A Family Guide "tour," available as a booklet at the exhibit entrance, is great for kids who will enjoy looking at the works in detective mode, finding special details and learning without feeling like that knowledge is being forced on them. On Saturdays, families are invited to visit to meet personalities from the home- and war-front with living historians.
This year marks the centennial of American engagement in World War I. NYHS's exhibit, drawing on works belonging to the museum as well as many from other collections, is a wonderful way to understand the conflict and from the perspective of many well-known as well as less familiar artists. (After New York it will travel elsewhere.)
Throughout July and August NYHS presents Centennial Summer, a series of free programs and films on pay-as-you-wish Friday nights. Visit, learn, and remember—this show is a unique way to do it all.
NYHS has an excellent gift shop in addition to Storico, a wonderful restaurant serving lunch, brunch, and dinner (closed Mondays) and Parliament, a new coffee bar offering light refreshment and open when the museum is open.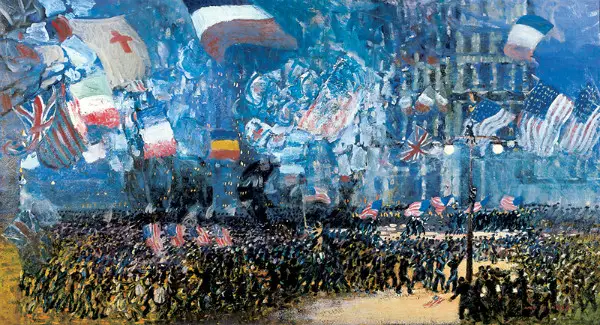 George Benjamin Luks (1867–1933). Armistice Night, 1918. Oil on canvas. Whitney Museum of American Art, New York, Gift of an anonymous donor. Photo: ©Whitney Museum of American Art
World WI Beyond the Trenches runs through Sept 3. For more information visit nyhistory.org.
Looking for Free Group Planning Services?
Get free advice on planning your group's trip to New York.
RESTAURANTS

Beer hall casual meets craft cocktails with a healthy dose o...

THEATER

Gaston Leroux's famous period thriller is now one of Broadwa...

SHOPPING

PANDORA, one of the leading names in jewelry for more than 3...

SIGHTSEEING

Hop aboard these environmentally friendly twin-hulled catama...