Winter has arrived in NYC, and that means chilly air, rain and occasionally snow that puts the "white" in the "Great White Way." Now, the city is lovely in winter—you can get a different perspective on Central Park or the New York Botanical Garden, or go ice skating in Rockefeller Center, at Bryant Park, or in Central Park's rinks. However, many of us want to stay warm, and there are myriad indoor things to do when the temperature drops too low.

For even more indoor fun, including Ripley's Believe It or Not! Times Square, Discovery Times Square, and Madame Tussauds New York, click here.



Fancy a tour of the city on one of the famous double-decker tour buses? You don't have to worry about those open-top vehicles - you can still take a bus tour and see all the great sights. CitySights NY (212-812-2700; www.citysightsny.com) has designed a removable canopy for their open-top buses. Constructed from a clear, see-through material, it allows both warmth and complete visibility during cold weather periods on their top-seating-only vehicles.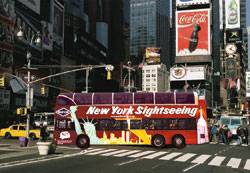 Meanwhile, Gray Line Sightseeing Tours (777 Eighth Ave. btw. 47th & 48th Sts.; Port Authority Bus Teminal, 42nd St. & 8th Ave.; Times Square, Broadway btw. 46th & 47th Sts., 800-669-0051) operates a fleet that includes trolleys, motorcoaches, and vans as well as their famous red double decker buses, which are now equipped with full and partial closed tops to provide additional comfort in addition to their fully heated lower decks.
You can enjoy a cruise around New York Harbor in comfort as well. All three of the boats in the Circle Line Downtown (866-9CLINE1/925-4631; www.circlelinedowntown.com) fleet - not including the Shark speedboat, which "hibernates" in winter - offer two enclosed decks from which to view the skyline, the Statue of Liberty, and the Brooklyn Bridge.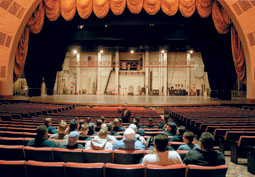 There are several behind-the-scenes tours that offer visitors a different perspective on some of New York's great sights indoors. For fans of the performing arts, there's the Radio City "Stage Door Tour," a one-hour look at the inner workings of Radio City Music Hall (1260 Sixth Ave. at 50th St., 212-307-7171). At the end, you can meet one of the famous Radio City Rockettes! On a tour of Carnegie Hall (57th St. & Seventh Ave., 212-903-9765), you can hear the story of a century-long performance tradition that has showcased the world's finest artists. There are also guided tours of Lincoln Center (212-875-5350).
Some of the best views of the city are from up high - at the Empire State Building and Rockefeller Center. The Empire State Building Observatory (350 Fifth Ave. at 34th St., 212-736-3100) offers a heated, glass-enclosed area of its 86th Floor Observatory, as well as the fully enclosed 102nd Floor Observatory (separate tickets required). Top of the Rock (30 Rockefeller Center, W. 50th St. btw. Fifth & Sixth Aves., 877-692-7625) has an enclosed observation deck on the 67th Floor.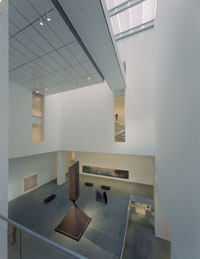 Don't forget the dozens of great museums New York City has to offer. There's of course the American Museum of Natural History (Central Park West at 79th St., 212-769-5100) - for a touch of warmer climes, visit the Butterfly Conservatory. The Metropolitan Museum of Art (Fifth Ave. at 82nd St., 212-535-7710), Museum of Modern Art (11 W. 53rd St. at Fifth Ave., 212-708-9400), Solomon R. Guggenheim Museum (1071 Fifth Ave. at 89th St., 212-423-3500), and Whitney Museum of American Art (945 Madison Ave. at 75th St., 800-WHITNEY) also offer extensive collections.