You're here! You're here! The five (four, seven, three) of you have arrived, and you're going to take New York by storm. As long as you can do it with Sadie, Franklin, and the twins in tow. Where to start? Read on for our suggestions for the best five-day itinerary for families traveling to NYC.
Rent a remote-controlled sailboat around Central Park Pond. flickr/Eden, Janine, Jim
DAY ONE: If the weather is nice, you could do worse than head to Central Park on your first day. Rent a miniature remote-controlled sailboat at the iconic boat pond, have the kids let off steam by playing on the climbing statues, and maybe even walk up to the carousel. (For three dollars a ride, it will be hard to find a better deal.) When you're done, grab a pretzel from a cart (you know, pay for it first, though) and then wander over to the Central Park Zoo. Make sure to visit the penguin house, the red pandas, and the reptile house, which, while steamy, is a huge hit with kids. (Beware the bats flying overhead.) Be sure to check out the sometimes-elusive snow leopards, as well as kids' zoo. (Hint: Bring coins to get food so you can feed the animals.) Next, check out the schedule for the Swedish Cottage Marionette Theater, which features (naturally) fairy tales. And the Victorian Gardens Amusement Park in Wollman Rink (ice skating in colder weather) is there through September. We're partial to the Whac a Mole.
Any Eloise fans? When you leave the park, you can walk over to the Plaza Hotel (in and of itself quite an experience) to gaze at her portrait, and then visit the Eloise store.
If you have the energy (which you probably won't) you can exit the park at East 79thStreet and visit the Metropolitan Museum of Art. It offers kids' programs, or you can bring a sketchbook and head to popular areas like Arms and Armor and the Egyptian Wing. The temple of Dendur with its faux Nile River and the mummy room are also must-sees. The Roof Garden is also great this time of year.
Thecachampsa americana skull replica, in the Crocs exhibit at AMNH © AMNH/C. Chesek
DAY TWO: You'll want to visit the American Museum of Natural History—the dinosaurs are always a treat, but so are the gigantic IMAX movies, the giant blue whale, and Dark Universe, the current space show. The new Crocs exhibit features live crocodiles. (Be sure to allot several hours, and just allow yourself to get lost as you wander.) When you're done, head to the nearby Shake Shack for a burger and a concrete (an ice cream confection). Yes, you will wait on line, and yes, it's worth it. The New-York Historical Society, right nearby, has a good children's collection as well; check out the DiMenna Children's History Museum, which includes interactive exhibits and digital galleries. The Upper West Side has plenty of playgrounds, in both Riverside and Central Park. (There are even some, when not in use by schools, which are open to the public.)
The Lion King on Broadway appeals to kids of all ages. 
DAY THREE: You may as well suck it in and brave Times Square. If you want tickets to a show, someone can wait on line at TKTS, or you might want to bite the bullet and purchase them ahead of time. While waiting for the show (depending on kids' ages and interests, try The Lion King or Wicked) check out Madame Tussauds New York as well as the myriad stores aimed at kids and teens, from Forever 21 to the Disney Store. If you have a comic book fan in your entourage, don't miss Midtown Comics, which has all the latest comics, graphic novels, and a huge selection of back issues. Buca di Beppo's (Italian) and Virgil's (barbecue) restaurants, while both large and touristy, offer decent food and large portions. Another fun choice is Planet Hollywood, an energetic world of motion picture, Broadway, and sports memorabilia. Mobiles of model planes rotate above, two cars hang hood-first from the ceiling, and TV screens flash music videos. If the kids want some straight-up fun (it also works for grownups), don't miss Dave & Buster's, hosting all kinds of video and interactive games—from old-time classics to today's action-packed latest. Ready for dessert? Hershey's Chocolate World is the sweetest experience in Times Square, letting families make their own chocolate bar wrappers, taste the newest temptations, and mix together favorite Hershey products.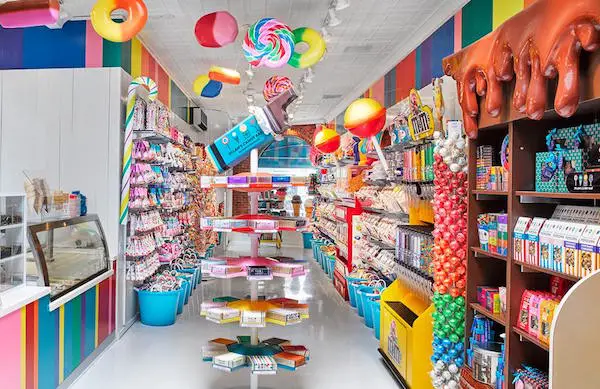 Hike to Build a Bear and/or the American Girl Store. While you're in that neighborhood, St. Patrick's Cathedral and Rockefeller Center are worth a visit—even if it's a quick one. Also in Rock Center is Nintendo NY, where you can shop games, accessories, and exclusive apparel, and play the newest games showcased on the Wii U console and the Nintendo 3DS family of handheld systems. You can venture to the top of the Empire State Building for an unbelievable view. Have dinner that evening at the iconic Serendipity 3; you'll be ordering foot-long hotdogs and sharing several frozen hot chocolates. (You're welcome.)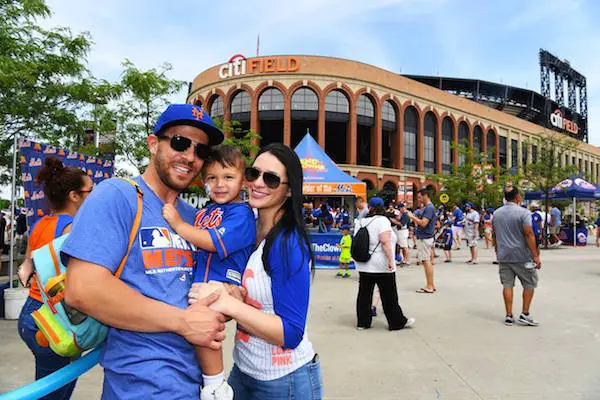 Bring the little ones to a NYC baseball game at one of our various stadiums. Pictured: Citi Field (Facebook)
ALTERNATIVE: PLAY BALL: Depending on their schedule, and your sports preferences, head to Yankee Stadium or Citi Field to watch the Mets or Yankees play. A minor league game can also be great fun—check out the schedule for the Staten Island Yankees or the Brooklyn Cyclones, who play in very family-friendly Coney Island.
Kids 48" and taller can enjoy a thrilling ride on Circle Line's SHARK Speedboat ride.
DAY FOUR: A trip on the Circle Line is great way to see the city and its sights from a different perspective. The Best of New York Sightseeing Cruise will take you to the Statue of Liberty, Yankee Stadium, and more. You can also brave The SHARK Speedboat thrill ride, which is pretty much exactly what it sounds like. The 30-minute ride will also let you gaze at some famous sights--albeit a lot quicker. (Take $5 off your next SHARK ride with this coupon.)
If you still feel like hanging out near the water, head downtown to the Hudson River Park in lower Manhattan for volleyball, a great playground, and mini golf. You can walk around the hip neighborhood of Tribeca and see forever from the One World Observatory. (If it's too much of a trek up to the top for wee ones, just gazing at it is pretty amazing.) Moms and dads can stop for coffee at Laughing Man (owned by Hugh Jackman), for excellent coffee, and then it's on to Balloon Saloon, where everyone will get a kick out of the giant balloons and great toy selection.
DAY FIVE: You need a souvenir for Granny! And something cool that says you've been to New York! Start with a leisurely breakfast at Sarabeth's (eastside and Upper West Side locations). Then wander down Fifth Avenue and pop into a museum you've never visited—maybe the newly redesigned Cooper Hewitt? They've got great design exhibitions and family programs, and museum gift shops are great sources for gifts—as their name implies. The Ancient Playground on Fifth Avenue and 84th is always a treat, and a great place to get out some energy before you pack up and head out. (Grownups: we're talking to you, too.)
Didn't get to see everything you wanted to? No worries. You'll be back.