Nightlife in New York City This Weekend - April 12-April 14
April 8, 2019 - by CG Directory Editor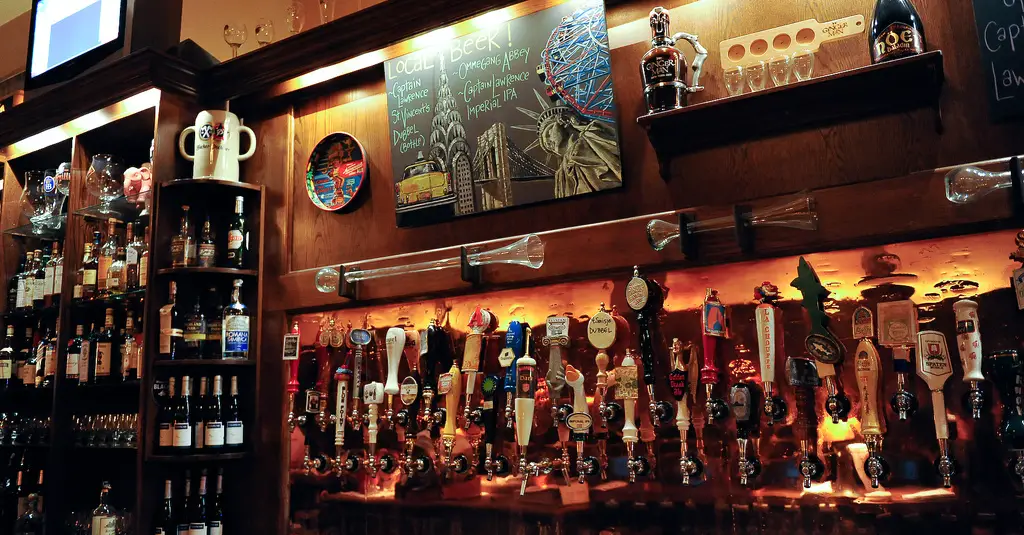 Photo: Jazz Guy/Flickr

New York City is the ideal metropolis for night owls wanting to stay out late long past the setting of the sun. From evening shows and late night performances to bustling bars and packed nightclubs, find exactly what you're looking for on City Guide's weekend nightlife guide to New York City.


Artemisia Foundation's Spring Celebration - Chelsea Wine Vault Events
April 12, 2019 - New York
The Artemisia Foundation and Chelsea Wine Vault Events present a Spring Celebration on Friday, April 12th, 2019 at 7:00pm to celebrate its phenomenal, young, virtuoso pianists in a live performance of W.A. Mozart, Franz Liszt, Chopin, Franz Schubert and Tchaikovsky in The Bunker at Chelsea Wine Vault Events. This unbelievable evening will include a once in a lifetime opportunity to taste wines from Domaine Leroy, art sale with profits benefiting the Artemisia Foundation from artists Deborah Oropallo, Bruce Waldman, Nicola López and more. Specialty hors d'oeuvres from Chelsea Market vendors and of course an extraordinary concert by pianists from around the world now studying at Juilliard, Yale and Curtis. 7pm - Champagne welcome with artists 8pm – Concert 9pm - Wine reception & specialty hors d'oeuvres Come celebrate the arts and support the careers of world-class emerging artists from around the globe! $100/person (tax-deductible with all proceeds going to The Artemisia Foundation) Auction and Items for Sale: (tax-deductible, all proceeds going to the Artemisia Foundation) 5 Bespoke Physio Therapy Sessions Two concerts given by our Artemisia Fellows Concert in home by Hung... (read more)
A Dinner Event Inspired by In Praise of Painting: Dutch Masterpieces at The Met - The Metropolitan Museum of Art
April 13, 2019 - New York
Explore the authentic flavors of Dutch cuisine while taking in a live art installation inspired by the exhibition created by Dutch artist Jeroen Prins. Enjoy thoughtful conversation with Members and fellow art-lovers while sipping memorable wine & spirit pairings carefully chosen to accent each course. Exhibition curator Dr. Adam Eaker will join the dinner, offer informal remarks, and answer guest questions about the exhibition. Guests are also encouraged to enjoy the late nights at The Met, open until 9:30 PM. To book your seat, please contact Meghan Kenny (Private Dining Manager) at Meghan.Kenny@metmuseum.org, or call at 212.396.5532. Please note that reservations are required and space is limited.
Hudson Whiskey Founder Ralph Erenzo Hosts Panel Discussion - Tuthilltown Distillery
April 13, 2019 - Gardiner
Tuthilltown Distillery, home of Hudson Whiskey, will be hosting a lively panel discussion on the topic of Art/Craft on Saturday, April 13th from 6:00 – 9:00pm. The discussion will focus on the dividing line between art and craftsmanship, examining both aspects as unique identities, as well as exploring how the two relate. Led by founder, distiller and partner Ralph Erenzo, the panel includes: • Jay Jochnowitz, Editorial Page Editor – Albany Times Union • Alexandra Baer, Executive Director, artist and sculptor – Unison Arts Center • Greg Glasson, sculptor – Glasson Sculpture Works • Gary Hagberg, Professor of Philosophy – BARD College • Tim Gallagher, mathematician and software engineer
Luxury Whiskeys At Fine & Rare - Fine & Rare
April 13, 2019 - New York
This class features six luxury whiskeys. We consider them 'single ingredient cocktails' – meant to be sipped and savored as they are. You will learn how to nose, taste and appreciate fine whiskey and what makes each expression so unique. This class is a treat for those looking for something a bit more special. Signature cocktail, six whiskeys and light appetizers provided.
Organic Wines - Chelsea Wine Vault Events
April 13, 2019 - New York
Please join us for an organic wine class on Saturday, April 13th from 2:00 to 3:30pm at Chelsea Wine Vault Events in NYC. What makes Organic wines so special? And what is "Biodynamic," anyway? Learn about natural winemaking while tasting five great sustainable wines.
Wines That Won't Tax You - Chelsea Wine Vault Events
April 14, 2019 - New York
Please join us for a fun and inexpensive wine class on Sunday, April 14th from 2:00 to 3:30pm at Chelsea Wine Vault Events in NYC. Tax day is tomorrow, and we're all feeling budget conscious. Join us to taste five delicious wines that'll help you forget about those W2s and 1099s.
Kgb: Sunday Night Fiction - KGB Bar
April 14, 2019 - New York
KGB: Sunday Night Fiction
Game Of Thrones |Final Season Premiere | Viewing Party at Junoon NYC - Junoon
April 14, 2019 - New York
Game of Thrones Final Season Premiere DINNER Viewing Party 630PM to 1100PM SUNDAY APRIL 14th 2019 PATIALA ROOM at JUNOON NYC PROJECTOR SCREENS WITH SURROUND SOUND FOR EPISODE VIEWING Launch of our new GOT inspired cocktail "Dragon Glass" with a short visual showcasing the inspiration behind the cocktail. GOT inspired cocktail menu with 1.5 hours Passed Canapés (7pm-8:30pm) Masala French Fries Served with Ghost Pepper Aioli Lamb Sliders Served with Ghost Pepper Aioli + House Pickles Junoon Spiced Cheese Naan Ghost Pepper Chicken Tikka Butter Pepper Garlic Shrimp Lahsooni Gobhi + Chaat Masala Popcorn (1 serving for each guest) TICKET TYPES House of Stark Ticket: $60 All Inclusive: 2 GOT Cocktails + Passed Canapés Seating Guaranteed Seating in Rows 5-10/ Bar Seating/ Banquet ( 1st come 1st Serve in those rows/areas) House of Lannister Ticket: $75 All Inclusive: 3 GOT Cocktails + Passed Canapés Seating Guaranteed Seating in 1st 5 Rows ( 1st come 1st Serve in those rows)
Simply Starstruck - The Cutting Room
April 14, 2019 - New York
New York cabaret artist, LINDA SUE MOSHIER, weaves a humorous tale of inspiration featuring the music of Barbra Streisand. With iconic songs like "He Touched Me" and "Starting Here, Starting Now" and lesser-known gems like "I'm All Smiles" "When in Rome" and "Sweet Zoo", Linda takes us from her childhood in Kansas through a musical adventure to face what each singer must face - finding her own voice. And with one VERY SPECIAL GUEST she just might find it. Directed by Kevin B McGlynn, Music Direction by Phil Hall w/Aaron Heick, Ed MacEachen, Ray Marchica and Karl Spicer. A must-see musical odyssey that will leave the audience Simply Starstruck!
Trucked 2019 | Relive the Carnival Experience - The Great Hall (Brooklyn Mirage)
April 14, 2019 - Brooklyn
Sunday April 14 | The T R U C K E D EXPERIENCE FEAT: @RealProblemChild @NadiaBatson @farmernappy PLUS Trinidad's BIGGEST "Carnival Truck" DJs Taking over #NYC to Re-live the Carnival Experience Unifying masqueraders and DJs in euphoric unity as one people. SUNDAY APRIL 14th 2019 | 2pm - 8pm POWERED BY: JAY UPSCALE & THC PROMOTIONS PLUSONE NATION
Charlotte de Witte, Monoloc and Victor Ruiz on Saturday, April 13 at Avant Gardner - Avant Gardner
Through April 14, 2019 - New York
Brooklyn's leading nightlife complex Avant Gardner is pleased to present Belgian techno star Charlotte de Witte as she makes a rare appearance in New York on Saturday, April 13 2019 from 10pm-4:30am. Bringing her heavy-hitting techno to the gritty and vast industrial space of the Great Hall, Charlotte will also be joined by two of Berlin's most exciting techno artists on the rise: Dystopian favorite Monoloc and Brazilian-born Victor Ruiz as he makes his debut in the city that never sleeps. With three of Europe's most exciting underground artists on the bill, this is a night sure to please techno tastemakers in New York. Saturday, April 13, 2019 Lineup: Charlotte de Witte Monoloc Victor Ruiz Avant Gardner 10pm-4:30am | 21+ 140 Stewart Avenue Brooklyn, NY 11237 Tickets: https://www.residentadvisor.net/events/1231547
DENTYNE Ultimate Fresh Breath Partnership - New York
Through April 21, 2019 - New York
Beginning March 24th, DENTYNE challenges diners to indulge in Garlicky Noodles or General Tso's Chicken from their favorite Chinese restaurant to then experience the benefits of 60 minutes of fresh breath after takeout. To celebrate its claim of an unprecedented 60 minutes of fresh breath, DENTYNE is offering consumers a chance to have the ultimate in fresh breath by partnering up with over 300 Chinese restaurants in NYC. For 4 weeks, customers that dine at any of the participating restaurants will receive special DENTYNE fortune cookies with their orders. Inside the DENTYNE fortune cookie, customers will find unique fortunes with coupons for purchase at a local Walgreens or Duane Reade, "chewmojis" and some fun tips on "reasons to chew." Restaurants include China Pagoda, Golden Kitchen, Sampan, Dynasty, Food Sing, Empire Express, Super Kew Garden, Lucky Fresh Tortillas, Halal Dynasty, Jing Wah, Peking Express and Golden House among others.
Karaoke at The Rose Room - The Garden City Hotel
Through April 24, 2019 - Garden City
Give a star performance at the Rose Room in the 5-Star Garden City Hotel! Come to Karaoke Night for live music, great company and signature cocktails. Wednesday Nights Underground Bar 7 PM – 1 AM Singing starts at 8 PM The Garden City Hotel 45 Seventh St., Garden City, NY 11530 516-877-9311 • www.gardencityhotel.com
Manhattan Hip Hop vs. Reggae Party Cruise Yacht party - Skyport Marina
Through June 23, 2019 - New York
Friday June 22nd, 2018 – NYC Hip Hop vs. Reggae Yacht Party at Skyport Marinas Jewel Yacht located at East 23rd st & FDR Drive 10010 NY (347) 592-0300. Music by NYC Hottest Djs! Tickets 20$! Boarding 11:45pm, Sailing after midnight! The Only Hip Hop vs. Reggae cruise to be in NYC...Jewel Yacht! www.Gametightny.com (347) 592-0300 info/tickets YACHT PARTIES IN NY - NY'S HOTTEST – YACHT NIGHT PARTY NYC HIP HOP VS. REGGAE CRUISE! The Only Boat Party to be in NY... Skyport Marina Jewel Yacht East 23rd st & FDR Drive 10010 (347) 592-0300 NYC HIP HOP VS. REGGAE BOAT PARTY! 1 DAY - 1 EXCLUSIVE EVENT! MUSIC BY NYC HOTTEST DJS AT SKYPORT MARINA JEWEL YACHT PARTY, NEW YORK!! TICKETS JUST $20 FOR TICKET WHICH INCLUDES:ADMISSION TO THE BOAT SAILING INFO:Boarding Starts at 11:45pm (highly recommend getting there at 10:00pm to avoid long lines & confusion), Sails after midnight. Boat Returns at approximately 4am. For tickets info, birthday parties, table reservations please call (347) 592-0300 or simply log onto www.Gametightny.com Also you can email us at Gametightny@hotmail.com
Looking for Free Group Planning Services?
Get free advice on planning your group's trip to New York.
MORE Activity Planner ARTICLES
RESTAURANTS

Multi-concept restaurant offering modern Japanese cuisine, a...

THEATER

Gaston Leroux's famous period thriller is now one of Broadwa...

SHOPPING

An array of quality branded merchandise showcasing HBO's® aw...

SIGHTSEEING

The only provider of ferry transportation to the Statue of L...