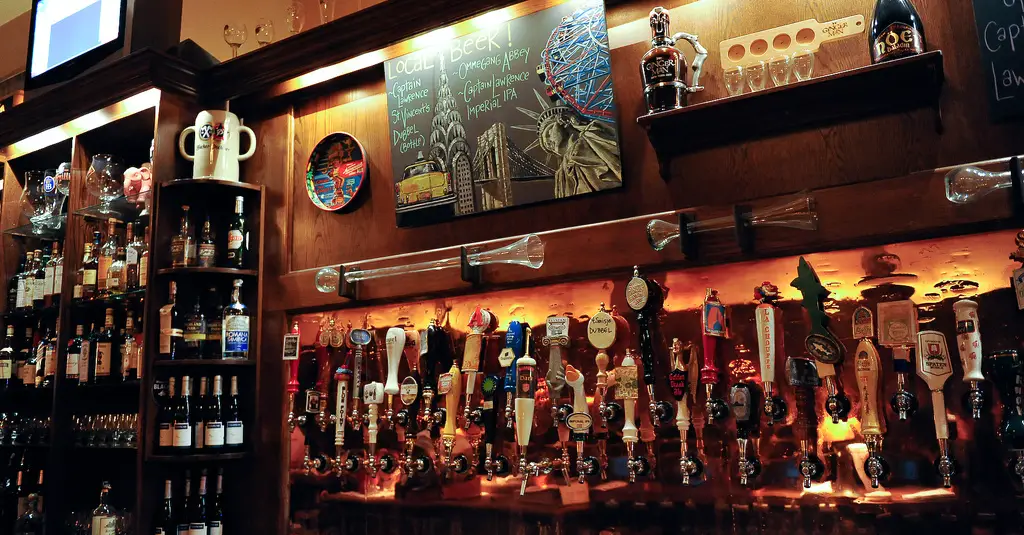 Photo: Jazz Guy/Flickr

New York City is the ideal metropolis for night owls wanting to stay out late long past the setting of the sun. From evening shows and late night performances to bustling bars and packed nightclubs, find exactly what you're looking for on City Guide's weekend nightlife guide to New York City.


Miller High Life Vending Machine @ Ace Bar - Ace Bar
December 13, 2019 - New York
The Miller High Life Vending Machine will be making its way around New York City during the second week of December (12/11-12/13).The first 150 people to arrive at the event (after 5PM) will receive a FREE commemorative Miller High Life Champagne Bottle from the holiday vending machine*.*While supplies last. One bottle per person.RSVP on Eventbrite to reserve your bottle!Must be 21 and over to attend.
Dj Python and Plo Man - Nowadays
December 13, 2019 - Ridgewood
In addition to setting it off on the regular as one of our resident selectors, DJ Python has released music on Proibito, Incienso and Dekmantel. He's teaming up with Acting Press co-founder PLO Man to set the weekend off proper.
Borgore - Lavo Nightclub
December 13, 2019 - NEW YORK
21 & OVERTicket holders must arrive before 12:30AMGuests must bring the credit card with which the ticket was purchased as well as a corresponding valid photo ID. Tickets must be printed at home and brought the night of the event. Lavo is not responsible for lost or stolen tickets.
Late Night DJ - 89 North Music
December 13, 2019 - Patchogue
This Event Is 21 and Over
Merry Mixology: Hella Cocktail Class - Macy's Herald Square
Through December 13, 2019 - New York
Let's get into the holiday spirits! Join us to mix, shake, and taste Hella Cocktail Co.'s best drink recipes. The Brooklyn-based bitters brand shows us how to craft holiday-perfect cocktails for any fete. Raise a glass with these mixology experts! Must be 21+ with ID to join.STORY at Macy's Herald SquareMezzanine151 W. 34th StreetNew York, NY 10001
VICE Night Market - Villain
Through December 13, 2019 - Brooklyn
Were taking the party indoors with VICE Night Market. Most Fridays in Brooklyn well be serving up delicious food and drinks from our carefully curated vendors, plus music and programming from VICE. Whether you start your night with us or come by for a night cap on the way home, we have everything you need for a night out all under one roof. Admission is free and food vendors include Scarrs Pizza, Maos Bao, Oyster Party, Palenque Home Made Colombian Food, Jibarito Shack, Better Pop, Crackd Food Concepts, and more.
Santa Bash at Slate NYC 2019 - Slate NY
December 14, 2019 - New York
Saturday December 14th, 2019 - Santa Bash party at Slate Lounge NYC with NYC hottest radio djs located at 54 W 21st St, New York, NY 10010Join us at the Hottest Santa Bash Party in Downtown New York City on 21st hosted by Slate and Bounce!Limited Tickets are $20 and it includes admission to venueFor more information on Slate NYC Santa Bash, Santacon Party 2019 call/ text 3475920300 or log onto Gametightny.com
Physical Therapy and Jubilee - Nowadays
December 14, 2019 - Ridgewood
Physical Therapy is boss of the Allergy Season label and a resident DJ here at Nowadays. Jubilee is a Mixpak all star, a Miami bass aficionado and a certified dance floor destroyer. Come ready to sweat.
Housequake: Prince Party - The Bell House
December 14, 2019 - Brooklyn
Ages 21+HOUSEQUAKE: PRINCE PARTYWe're here to save you from Another Lonely Princemas.An all-Prince party. All Prince. All night.DJ Steve Reynolds (Party Like It's 1999) will spin all of the hits, deep cuts, remixes, rarities, songs written for other artists, and more from Prince's 35+ year career.We gotta rock this mother.Shock-a-lock-a boom.
Haus of Cumming - Club Cumming
December 14, 2019 - New York
21+ Hosted by Daphne Always with DJ's Darren Dryden and Sammy JoGoGo's, live shows and MORE!
Santa Bash at Slate NYC 2019 - Slate NY
December 14, 2019 - New York
Saturday December 14th, 2019 - Santa Bash party at Slate Lounge NYC with NYC hottest radio djs located at 54 W 21st St, New York, NY 10010Join us at the Hottest Santa Bash Party in Downtown New York City on 21st hosted by Slate & Bounce!Limited Tickets are $20 and it includes admission to venueFor more information on Slate NYC Santa Bash, Santacon Party 2019 call/ text 3475920300 or log onto Gametightny.com
NEFERTITTIES: The Holigay Ball - Littlefield
December 14, 2019 - Brooklyn
Ages 21+NEFERTITTIES brings their acclaimed drag cabaret to Littlefield - a safe space for all to party to their favorite Arabic beats.HO HO HOE! We're back again to celebrate the Yule Tide GAY! Join us on December 14th at Littlefield NYC! Doors at 11PM.Halloqueen was a show, but baby, the HOLIGAYS call for a ball! Sickening performances from: ANA MASREYA, KOKO ROKOKO, RIFY ROYALTY, AND ANYA KNEEZ with DJ FURSA keeping you dancing all night long!
NYC Wolffer Brandy Tasting - Holiday House NYC
December 14, 2019 - New York
Holiday House NYC 2019 (November 14 - December 15), one of New Yorks leading showhouses to benefit the Breast Cancer Research Foundation, presents NYC Wolffer Brandy Tasting. Pre-order a bottle now and we'll have it ready for your pick up and be serving tastings and small bites as well.RVSP Required- Please email INFO@HOLIDAYHOUSENYC.COM with your purchase confirmation and we'll have your bottle ready to take home or give as a gift! Pre-order here: store.wolffer.com/product/w-lffer-estate-brandy-copy
Sky Room Rooftop Fridays - Sky Room
Through December 14, 2019 - New York
PRIVE GROUP Presents:SKY ROOM ROOFTOP FRIDAYSJoin us each and every Friday at the highest rooftop lounge in Manhattan: Sky Room Rooftop!Come enjoy drinks, great music, and dancing, and lounge on our heated outdoor patio and take in breathtaking views of the Manhattan Skyline!Sky Room, which boasts 360 views of Manhattan and the Hudson River from the city's highest rooftop lounge, takes New York City nightlife to new heights! Occupying the 33rd and 34th floors of the newly constructed Fairfield Inn and Suites by Marriott Times Square, the bi-level ultra lounge transports guests to a high energy oasis atop 40th Street and offers five distinct spaces: The Times Square Lounge, The Cube Balcony, The Private Salon, The North Terrace with retractable roof, and The South Terrace with private cabanas.
Horizon Wireless Release, Beard-O-Bees, Matt Carey, Indobeats, Newpy Hundo - The Sultan Room
Through December 14, 2019 - Brooklyn
Horizon Wireless is a duo from NYC ft. Harrison Waxenberg (DJ/Producer) and Daniel Scott Lyons (Drummer/Producer) that blends psychedelic house, lounge, and break-beat music with a variety of other styles including trip-hop, minimal tech and electro/trance in explosive live sets. Between winning the Grassroots California Mixtape Competition; directly supporting acts like The Crystal Method, Hallucinogen, Big Gigantic, The Disco Biscuits, Parov Stelar, BoomBox, The New Deal; and rabidly building a dedicated following all around the Northeast, these guys have become an inseparable and integral part of the jam/electronic scene. 2018 saw the release of Reimaginate, a 15 track jamband remix album which was met with feverish reviews, and 2019 will see the debut of their first original album (due to be released in 2019). With a decade spanning career, Horizon Wireless is one act that should not be missed.Beard O Bees is the solo project of Jesse Mille of Lotusr. Analog synths, grid controllers, real live electronic performance.Multi-Instrumentalist, Producer and Performer. At 30 years of age, Matt has become a fixture in the North East U.S. Festival circuit and is well established int... (read more)
Holiday Disco with Dimitri From Paris - House of Yes
Through December 14, 2019 - Brooklyn
Bring your festive fantasies to the glitter-soaked dancefloor with Christmas realness in fierce flavors, glamour garland and high-fashion holiday hotness. You deck the Halls as we hit the decks, spinning every vibe of disco under the mistletoe. Express yourself. Get lost in a winter disco wonderland.All we want to do is get you hot because baby, it's cold outside.: : : LOOKS : : :Glitz, glam, glitter, retro fashions; ugly xmas sweaters, light up everything, tinsel for days.Creative looks or costumes are required to get in Free before 11pm with RSVP!: MUSIC : : :Dimitri From ParisEyal Rob21+
Laylit With Saphe and Wake Island - C'mon Everybody
Through December 14, 2019 - Brooklyn
Ages 21+LayLit is a party celebrating the diverse music from the MENA region and its diaspora.Stretching all the way back to the 50s and diving into today's contemporary scene, each LayLit party takes you on a genre-spanning musical trip, highlighting the incredible diversity, depth and richness that comes out of the region.
Beauty & Essex Parlor Sundays - Beauty & Essex
December 15, 2019 - New York
Every Sunday, head down to the Lower East Side at 2pm 6pm for Beauty Parlor Sundays The party thats so much more than Brunch! Celebrate with delicious food, divine dcor and of course, flowing Champagne throughout the day! Included with every ticket is a four-course pix fixe menu, with incredible dishes that range from the famous Red Velvet Waffles to the all-new Beautys Brunch Wonder Wheel!
Las Chicas Locas - Chrismas Special - Copacabana
December 15, 2019 - New York
Las Chicas Locas - Chrismas SpecialTwo Rooms: Salsa BachataSHOW BY: CODARI DANCE CO. CHRISTMAS SPECIALMUSIC BY: Alejandro
Broadway At The Pierre Cabaret celebrates PHANTOM - Two E Lounge at The Pierre Hotel
December 15, 2019 - New York
Enjoy an intimate evening of cabaret with the stars of THE PHANTOM OF THE OPERA! Jeremy Stolle (The Phantom), Meghan Picerno (Christine) and John Riddle (Raoul) will share songs and stories from Broadway's longest running musical along with holiday classics in the intimate setting of The Pierre's Two E Lounge. Reserve your table today.
Bicycle Film Festival Holiday Celebration - SPIN New York 23
December 15, 2019 - New York
Lets all get together, celebrate the holidays all for a great cause! This year we have lost 28 cyclists in our city of New York to traffic violence. We should be focusing on actions to make sure there is not another death. Cycling is healthy for those who ride, the city and our planet. In a time of a worldwide climate emergency we should be encouraging cycling as transport and recreation. Cycling is a viable answer to the daunting global ecological crisis. This event will include:Ping Pong Performances from Lea Schaepe and D Blocks Live MusicVintage Bicycle DisplayExclusive Vegan MenuValet Bicycle Parking Provided by Transportation AlternativesAbout BFF: BFF is an art and cultural organization promoting sustainability. In 2001 Brendt Barbur started the Bicycle Film Festival as a platform to celebrate the bicycle and sustainability through music, art and, of course, film. The Bicycle Film Festival has been a major catalyst for the urban bike movement in the last couple of decades. The BFF has held events in 90 cities worldwide to an accumulated audience of over 1 million people. The Bicycle Film Festival has an incredible history of working with th... (read more)
Desi Saturdays - Stage 48
Through December 15, 2019 - New York
Each & Every Saturday Night, come experience the Glamour & Glitz of Bollywood as you Mix, Mingle and Dance at New York City's Hottest Saturday Night DesiParty Stage4, Desi Saturdays is one high society DesiParty. Wow factor everywhere. Beautiful people, beautiful venue, beautiful ambiance, and did we mention beautiful people? High energy, amazing music and a packed house are just some of the traits of what you would expect at this weekly Bollywood party.
Sky Room RoofTop Saturdays - Sky Room
Through December 15, 2019 - New York
Must say BestNYCnightLife LIST TO GET INROOFTOP PARTY SATURDAY NIGHTWITH an UPSCALE AND CLASSY AtmosphereATSKY ROOM Rooftop TIMES SQUARE
Ugly Sweater Party at Hudson Station! - Hudson Station
Through December 15, 2019 - New York
Do you like the Quiet and ugly type? If so, this might be your kind of event! Now that Labor Day has passed, Christmas is around the corner. And nothing says Christmas more than an ugly sweater party; nothing! Whether theyre inspired by pugs, toons, your in-law(s), or whichever memes make the holiday collection, we want to see those jovial jumpers.Chass the night away while indulging in some holiday spirits, if you know what we mean. Hey, some of those ugly sweaters might even start to look a little bit better!Your 3 Live DJs are spinning all night:DJ 1 (Green): Top 40 Dance HitsDJ 2 (Red): 80s, 90s & 2K ThrowbacksDJ 3 (Blue): Hip Hop/R&BYour experience includes: A pair of Quiet Events headphones Glow in the Dark gear 3 live DJs battling for your attentionSpecial notes: 21+ to party Limited tickets available at the door Relaxed dress code: Ugly holiday sweaters encouraged!What to bring: Valid ID You MUST have a credit or debit card for the check-in process. If the headphones are NOT returned, there will be a $100 charge to your credit or debit card after the event. No need to print your ticket, just show the code on your pho... (read more)
Gareth Emery With D-Sol - Lavo Nightclub
Through December 15, 2019 - NEW YORK
21 & OVERGARETH EMERY W/ D-SOL
Magic Eye with Oliver Dollar - House of Yes
Through December 15, 2019 - Brooklyn
Seek the Magic. View the void.Feel the body. Breathe the beat.Taste the tempo. Get your trips through dance.*No LSD required*Look deeper and be the beauty.The magic is moving you.: : : LOOKS : : :Psychedelic styles, Prints and patterns, Power clash, color overload, Mix and match magic, Surrealness, Trippy shit, Art Pop, illusions and alter egos, Fake glasses, real wigs.: : MUSIC : : :Oliver DollarWhitney FierceWill Buck: : : FEATURING : : :Live ArtAV InstallationsBody Art & Beauty BarChill Out LoungePsychedelic PsychicsLive IllusionistsAerial ArtistryReal MagicFake Eyelashes21+ | No Re-Entry
A Cocktail Party Social Experiment - Chelsea Music Hall
Through December 16, 2019 - New York
Is it possible to have a meaningful conversation with a perfect stranger in our fast-paced, increasingly lonely world? This question has inspired the cocktail guru, theatre artist and storyteller Wil Petry to create A COCKTAIL PARTY SOCIAL EXPERIMENT an unconventional hybrid of immersive theater, story slam, and an evening of boozy voyeurism. The guests are asked to turn off their cell phones for the duration of the event; some can just watch and listen while eight volunteers skip the small talk, and get into the good stuff. Ticket price includes one free cocktail; a bar on the premises opens an hour before the show and serves drinks throughout the performance.
The Big Quiz Thing - Q.E.D
Through December 17, 2019 - New York
Since 2002, The Big Quiz Thingas seen on the official TV game show of New York Cityhas grown into Americas greatest source of custom trivia entertainment, for corporate and private clients nationwide. And this fall, the BQT is proud to return to Queens center for unique live entertainment, Q.E.D. Astoria, for a series of special themed trivia game shows. Featuring multimedia puzzles, the Buzzertastic Finale, Smart-Ass Points, a unique digital answer system, and much more, the Big Quiz Thing applies its unique trivia experience to four fantastic themes, including Wednesday, October 2: DC vs. MARVEL The comics, the movies, and more (in honor of New York Comic Con) Tuesday, October 29: HALLOWEEN Horror movies, candy, costumes, and beyond Sunday, November 17: DISNEY The most magical trivia on earth Sunday, December 15: STAR WARS Every aspect of the premier sci-fi franchise
Geoffrey Zakarians The Lambs Club Announces Cocktails on Broadway - The Lambs Club at The Chatwal
Through December 31, 2019 - New York
COCKTAILS ON BROADWAY is a new event series starting on Thursday, July 18th. This program is being introduced by Celebrity Chef Geoffrey Zakarian and his restaurant, The Lambs Club, Grey Goose and six different well known musicals on Broadway: including King Kong, Pretty Woman, Beetlejuice, Chicago, Tootsie and Waitress. Every month from July through December, a new musical will be hosting a fun night to celebrate this program at The Lambs Club. Each show will have cast members in attendance at the event to interact with guests. All of these events will be open to the public and Grey Goose Ambassador, Douglas Graham-Leigh, will be creating specialty Grey Goose cocktails for each show that guests can enjoy. Artist Toby Triumph will produce six pieces of unique art drawn on Grey Goose bottles, and each bottle will feature artwork symbolizing the Broadway show featured that month. There will also be complimentary light snacks offered to all guests in attendance and there will be an opportunity for fans to win tickets to the featured Broadway shows as well as fun door prizes.
LADIES NIGHT - City Point
Through January 28, 2020 - Brooklyn
EVERY TUESDAY NIGHT at 8pm featuring music from Eiko Kikuhashi and special guests at Understudy Bar
SALSA + HUSTLE Fridays at 7pm - City Point
Through January 31, 2020 - Brooklyn
Dekalb Stage presents Salsa + Hustle! No Cover All Night Long Every Friday from 7PM - 12AM Free Dance Lessons from 7PM - 8PM Music by Superstar DJ Woody + Percussionist Ronnie Roc
High Tea at Elsie Rooftop - Elsie Rooftop
Through April 25, 2020 - New york
Enjoy High Tea in high places at Elsie Rooftop. Every Saturday from 2:00pm - 5:00pm with a special High Tea menu. Featuring tiered sandwich and dessert platters along with specialty boozy hot cocktails.
KCBC Beer and Cheese Pairing - Murray's Cheese Shop
Through June 06, 2020 - New York
KCBC Beer and Cheese Pairing
High Tea at Elsie Rooftop - Elsie Rooftop
Through October 19, 2020 - New york
Elsie de Wolfe created the first penthouse in the 20s. Also knownas Lady Mendl, Elsie was an American actress, interior decorator, and author of the influential novel The House in Good Taste,and a prominent figure in New York, Paris, and London society.HIGH TEA SERVICE @ ELSIE ROOFTOPStarting October 19th, Else Rooftop will run High Tea Service every Saturday from 2pm-5pm.
Je Ne Sais Quoi - Bagatelle NYC
Through December 04, 2020 - New York
Starting December 4, Bagatelle NYC is introducing that little something extra to Wednesday nights with the new weekly Je Ne Sais Quoi event. Beginning at 6:30pm, guests are invited to join for an elevated dinner featuring selections such as truffle pizza, lobster and foie gras ravioli and homemade Parisian gnocchi in black truffle sauce, and sip on new signature cocktails including the Le Marseillaise, Top Up Cucumber Tonic and French 75. At 10:00pm, an unforgettable party in true Bagatelle style begins when the DJ turns up I Will Survive, from the French World Cup anthem and a massive French flag is unveiled throughout the restaurant. Je Ne Sais Quoi will bringing the Parisian flair unique to this celebrated evening a tribute to an iconic French culture.
Kest Pizza Making Class - Kest Fulton
Through December 17, 2020 - New York, NY
Keste recreational pizza classes consist of 2 hours of pizza history, techniques, and the actual making and enjoying of your pizza. We also include one glass of our house wine or beer/soft drink. If you want to purchase unlimited wine and beer you can do so with an additional $35 per person. Also included in our recreational classes is a gift bag of Caputo flour, a can of our highly prized Ciao tomatoes and a recipe of our pizza so you can make at home. We host classes every Tuesday and Thursday of the week 7PM-9PM, depending on the availability left. The pricing depends on how many people you would like in your reservation. The class for 1-9 adults is priced at $80/person (not including taxes and tips). However, if you plan on having more than 10 people we do have a group discount of $60 (not including tax + gratuity) per person. It is to be noted that the maximum capacity for our classes is 40 people. Please note we require a 30% non-refundable down payment for us to reserve the spot for you. This does not include sales tax and gratuity. Please keep in mind the rate will change according to the above stated amount should the number of attendees drop from the initi... (read more)

Want free advice on what to see and do in NYC? Join our Facebook group Everything to Do NYC, a place for people to ask questions and get tips on how to make the most of the city.