Nightlife in New York City This Weekend - Jun 23-Jun 25
June 19, 2017 - by CG Directory Editor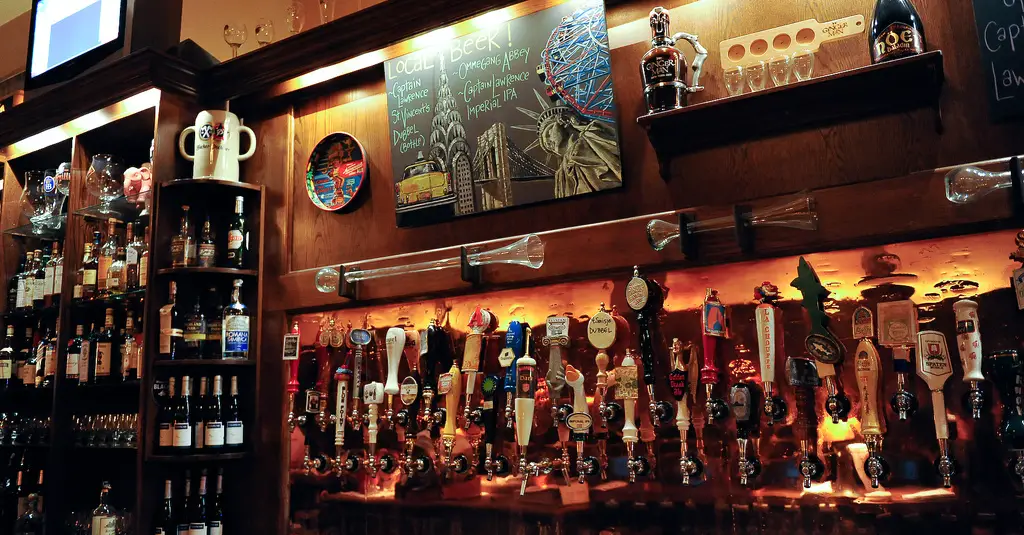 Photo: Jazz Guy/Flickr

New York City is the ideal metropolis for night owls wanting to stay out late long past the setting of the sun. From evening shows and late night performances to bustling bars and packed nightclubs, find exactly what you're looking for on City Guide's weekend nightlife guide to New York City.


Queens: Werq the World Tour – NYC - Stage 48
June 23, 2017 - New York
Your favorite queens from RuPaul's Drag Race are here to "WERQ your world" in OUTtv's Official World Tour! Hosted by Bianca Del Rio with sickening performances by Trinity Taylor, Latrice Royale, Detox, Shangela, Alyssa Edwards and Seaon 9 stars Aja, Peppermint, Shea Coulee. Note: 20% fewer tickets are available for this event then previous shows at Stage 48. Expect more room to #WerqTheWorld!
Rosé on the Rooftop at Davio's Manhattan - Davio's
June 23, 2017 - New York
WHAT: Rosé season is in full effect, which means that it's officially time to think and drink pink! Visit Davio's Manhattan on Friday, June 23rd as we transform our 27th floor rooftop terrace into a garden oasis with sweeping sunset views of Midtown Manhattan. Guests are invited to gather on the terrace from 6:00pm-8:00pm, in their prettiest pink attire (optional) and sip on a selection of hand picked French and Italian rosés such as the Fornas, Rosé of Pinot Grigio, Friuli 2015 and Domaine Du Grand Cros "La Maitresse" Sparkling Rosé Brut. In addition to the specialty wines, the Davio's culinary team will create a selection of hors d'oeuvres to pair perfectly with every sip! For those w... (read more)
Haunted Brooklyn Heights - Boroughs of the Dead
June 23, 2017 - New York
Local Service W/ Kiru b2b A-0 - Sunnyvale
Through June 23, 2017 - New York
In the current landscape of musical culture, we have seen an immense movement of new forms of sound and frenzied approach to the hybridization of music. A-0 epitomizes this form of creation, drawing from the traditions of dub, noise, house, and bass to create a Frankenstein of genre-less sound system artillery. KIRU / ?? / verb 1. to cause the death of (someone or something) Whether chopping and saturating classic breaks, or manifesting broken, sub-driven, rhythms from the ground up, Kiru always places a strong emphasis on generating a product that is not only unquestionably odd but also forward thinking. Kiru creates visceral, auditory landscapes using both natural & electronic elements... (read more)
Dj Menson Alley 810 - Empire City Casino
Through June 23, 2017 - Yonkers
Hester Street Fair's Coffee Cold Brew Thow Down - Hester Street Fair
June 24, 2017 - New York
We love a little friendly latte throw down and cold brew competition, come judge for yourself alongside some of the best coffe shops, roaster and barista's New York City has to offer.
The Breakdown - Empire City Casino
June 24, 2017 - Yonkers
400ppm [Live / Album Release], Olin, Auspex - Sunnyvale
Through June 24, 2017 - New York
400ppm Shawn O'Sullivan, Vapauteen/400ppm, member of Led Er Est/Further Reductions/Civil Duty. A Kansan by birth, Chicagoan by privilege, Olin has been quietly offering up his unique take on dance music. With several recent releases on respected labels such as Argot, Discovery, God Particle, and more, "NYC-based DJ with a distinctly techno POV. Known for layering and creating cacophonous walls of sounds that dissolve into banging dance floor moments, Auspex's love for mind-bending and hammer-throwing is obvious from start to finish."
Dj Aic - Empire City Casino
Through June 24, 2017 - Yonkers
Generation Bridge Summer White Ball - Primary
Through June 25, 2017 - New York
The enchantment begins the moment you arrive. You're swept into world class entertainment and unforgettable soul dining. This yearly jaunt is not for the faint-hearted. Get dressed up to lose yourself in the music, food and booze inspired party. Soul Night Events knows you are likely to get thirsty with all the eating and dancing and so the bars are stocked with beer, wine and even champagne. The venue is in Wall Street part of Manhattan infront of the famous raging bull. This is an upscale event with people who know how to party. Highlights will be added via www.soulnightevents.com If you've always fancied yourself as the next celebrity or New York Socialite this is your moment to shine. A... (read more)
Dj Paypal, Dj Orange Julius, Dj Mastercard - Sunnyvale
Through June 25, 2017 - New York
DJ Paypal is a member of the L.A.-born Brainfeeder coalition of artists representing a certain organic, jazz-indebted segment of bass music DJ Orange Julius, a main player in the internet-based Mall Music collective, is known for freewheeling footwork concoctions that embrace the absurdist aesthetic espoused by label boss DJ Paypal. "DJ Mastercard is a member of Mall Music, an internet crew that's also home to DJ Orange Julius, DJ Instant Message, DJ Boy Drama and DJ Paypal, their ringleader
Pride Island - Hudson River Park's Pier 26
Through June 25, 2017 - Tribeca
Pride Island, a new three-day cultural experience, will be taking place June 23-25 at Hudson River Park, Pier 26. Pride Island is meant to serve as a central hub for the entire LGBT community during Pride Week. Friday's lineup will include performances by the legendary Patti LaBelle, singer /songwriter Deborah Cox, and DJ Lina. Saturday's will include Tegan and Sara, Years & Years, Roisin Murphy, Gallant, Dimitri From Paris, and Occupy the Disco. Slated for Sunday are DJ Cindel and Chus & Ceballos.
MUSIC IN THE TUNNELS - Kurt Boone Photo Exhibition Launch Party - Quimby's Bookstore NYC
Through July 15, 2017 - Brooklyn
Kurt Boone's photographs of New York City buskers have been collected in a art photography book, Subway Beats (Schiffer Publishing) and over  50 of those photographs will be on view at the Photo Gallery at Quimby's Bookstore NYC until the end of July,  The April 27th opening party for this exhibition will feature a performance by Natalia "Saw Lady" Paruz. Wine and food will be served. All are welcome.  Kurt is also the author of several books of poetry and a memoir of his days as a messenger in the NYC. Kurt's books are available for sale from Quimby's Bookstore NYC. 536 Metropolitan Avenue (b/t Union Ave & Lorimer St) in Brooklyn, NY Take the  "L" train to Lorimer Street. For additional inf... (read more)
A Mexican Affair - Rose Room at the Paper Factory Hotel
Through August 11, 2017 - Long Island City
Convergences Theatre Collective is pleased to announce A MEXICAN AFFAIR's summer residency at The Paper Factory Hotel's Rose Room in Long Island City (37-06 36th Street, Queens, NY 11101). An evening of delicious food, music, candid stories, and spicy romance, created and performed by Rafa Reyes (Awarded Cultural Representative of Veracruz), with arrangements by musical director Felipe Fournier (two-time Grammy Awards nominee; One time Latin Grammy Awards nominee), and directed by Jeremy Williams (The Woman Who Was Me). Tickets start at $25 (VIP tables and bottle service also available) and can be purchased online at http://roseroom.nyc or by calling 718-706-8636. Doors open one hour prior t... (read more)
Haunted Brooklyn Heights - Boroughs of the Dead
Through August 26, 2017 - New York
Quiet Clubbing VIP Rooftop Party - Stage 48
Through August 28, 2017 - New York
Weird Tales of the West Village - Boroughs of the Dead
Through August 31, 2017 - New York
Bar Trivia Hosted by Geeks Who Drink - Symphony Space
Through September 25, 2017 - New York
Come to Bar Thalia every Tuesday night and enjoy bar trivia hosted by Geeks Who Drink!
Looking for Free Group Planning Services?
Get free advice on planning your group's trip to New York.
MORE Activity Planner ARTICLES
RESTAURANTS

Multi-concept restaurant offering modern Japanese cuisine, a...

THEATER

This streetwise musical will take you to the stoops of the B...

SHOPPING

The world's largest source of cameras, camcorders, and more ...

SIGHTSEEING

A state-of-the-art Coney Island amusement park that's home t...