Nightlife in New York City This Weekend - March 16-March 18
March 12, 2018 - by CG Directory Editor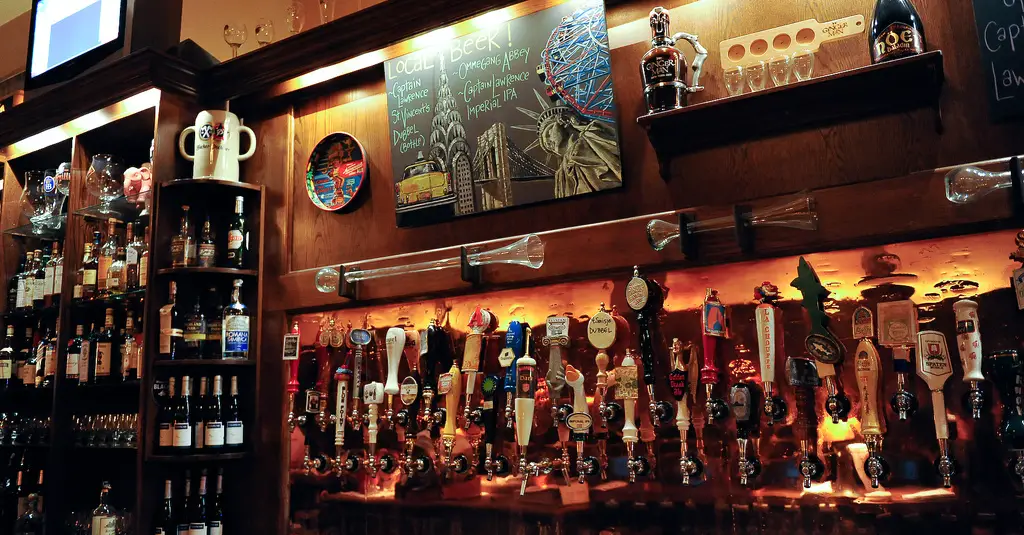 Photo: Jazz Guy/Flickr

New York City is the ideal metropolis for night owls wanting to stay out late long past the setting of the sun. From evening shows and late night performances to bustling bars and packed nightclubs, find exactly what you're looking for on City Guide's weekend nightlife guide to New York City.


Ritual Eats Week - Ritual app
Through March 16, 2018 - New York
Ritual and Apple Pay are shining the spotlight on New York's greatest lunch spots during its inaugural "Ritual Eats Week" event (March 5- March 16), offering promotions with exclusive dishes and select menu items offered at discounted prices up to 50% off at hundreds of New York restaurants. Some of the local deals include: Fuku: Fuku Fingers for $3.50 (50% off, save $3.50) Chopt: Mexican Caesar Salad for $3.60 (50% off, save $3.59) FIKA: Latte for $2.07 (50% off, save $2.06) Choza Taqueria: Pollo Salad for $4.50 (50% off, save $4.50) To participate in Ritual Eats Week, simply make sure you have Ritual and Apple Pay on your mobile phone, and you're ready to eat! ABOUT RITUAL Ritual lets you order and pay ahead to skip the wait at a wide variety of local eateries and coffee shops in your area. Ritual also lets you combine orders with colleagues to save them the trip and boost your rewards towards free food through its Piggyback social ordering feature. With Ritual's powerful loyalty program, users earn points on every order they place with Ritual — earning bonus rewards for teaming up with co-workers or bringing back their food — so every order gets you that much c... (read more)
Scribner's Lodge x Veuve Clicquot Après Ski - Scribner's Catskill Lodge
Through March 31, 2018 - Hunter
We are sharing details around the Après Ski offering that Veuve Clicquot Champagne is bringing to Scribner's Catskill Lodge, taking place now through the end of March. If you are looking for an elevated weekend getaway to escape the city, let a little champagne be your inspiration. This winter, delight in this dreamy oasis at Scribner's Catskill Lodge, complete with fireside fondue, custom s'mores kits and of course, a fully stocked Veuve Clicquot Champagne bar. For a Clicquot twist on your typical winter cocktail, try the below selection of seasonal Champagne cocktails made with Veuve Clicquot Yellow Label, Rosé and Demi-Sec, created to perfectly pair with hand-crafted snacks including warm crab dip, smoked salmon, jalapeño cheese bites and more.
Compass Song - Times Square
Through August 03, 2018 - New York
Artists Mendi + Keith Obadike have stretched fragments of music, poetry, stories, and myths across the pedestrian plazas and surrounding blocks in all four cardinal directions, for visitors to discover whether they're exploring the neighborhood or simply on their way to work. The result is Compass Song, a free app-based public sound artwork inspired by Times Square's rich history as the Crossroads of the World that officially launches Wednesday, July 12th. Compass Song was commissioned by and created in residence with Times Square Arts. As you turn on the app, plug in your headphones and walk through Times Square, a voice will accompany your wanderings with poems about searching for freedom, reflections on navigating the city, and cross-cultural myths about the cardinal directions, woven through with quotes from and reworkings of Walk With Me, the African-American spiritual turned Civil Rights freedom song. The voice in Compass Song is always underscored by a drone, a unique harmony that translates the latitude and longitude data for Times Square into sound and modulates as you walk north, south, east, or west. Interspersed with this are vocal performances of the sounds of Ti... (read more)
Models and Bottles Fridays ... Free on the A.C. Pass Guest List - Show
Through December 29, 2018 - New York City
Models and Bottles Fridays Text keyword SHOWNYC to 83361 for Instant RSVP and chance to win a VIP Party (FREE Admission, Bottle & More!) SHOW. NYC Nightclubs. 135 West 41st Street. Times Square. 10 pm-???(Broadway and 6th Ave) A.C. Pass List invites you to "The Original" Models and Bottles Fridays at NYCs newest premier hotspot, Show NYC! This will be the biggest Friday Night party NYC has ever seen. Top DJs, aerialists, dancers, expert mixologists, bottle service served by our #Showgirls, a true VIP experience, a sexy crowd, all in a spectacular new venue. Ask about our specials, VIP packages and Group/ Birthday specials.. World reknown DJs play open format, house music, old skool, top 40, mash-ups and more. Everyone receives complimentary admission on the "A.C. Pass List" (ladies til 12am, Gents til 12am). Ask me about special birthday (& group) packages. Call me direct @ 917.653.0768 for Table Service and more details. 21+ID. To expedite entry, get on the "A.C. Pass Guest List" please e-mail me directly, crisac@mac.com. Doors and list opens at 10 pm & all list closes at 2 am. All admission is at the discretion of the doorman. Dress fashionable please. Dress code: Ladie... (read more)
Looking for Free Group Planning Services?
Get free advice on planning your group's trip to New York.
MORE Activity Planner ARTICLES
RESTAURANTS

Beloved midtown spot takes inspiration from local tradition,...

THEATER

The Tony-winning creators of "Ragtime" transport us from the...

SHOPPING

The sweetest experience in Times Square!...

SIGHTSEEING

This renovated museum complex includes the 900-foot-long air...