No Cover Live Music in NYC This Week - July 8-July 15
July 8, 2018 - by CG Directory Editor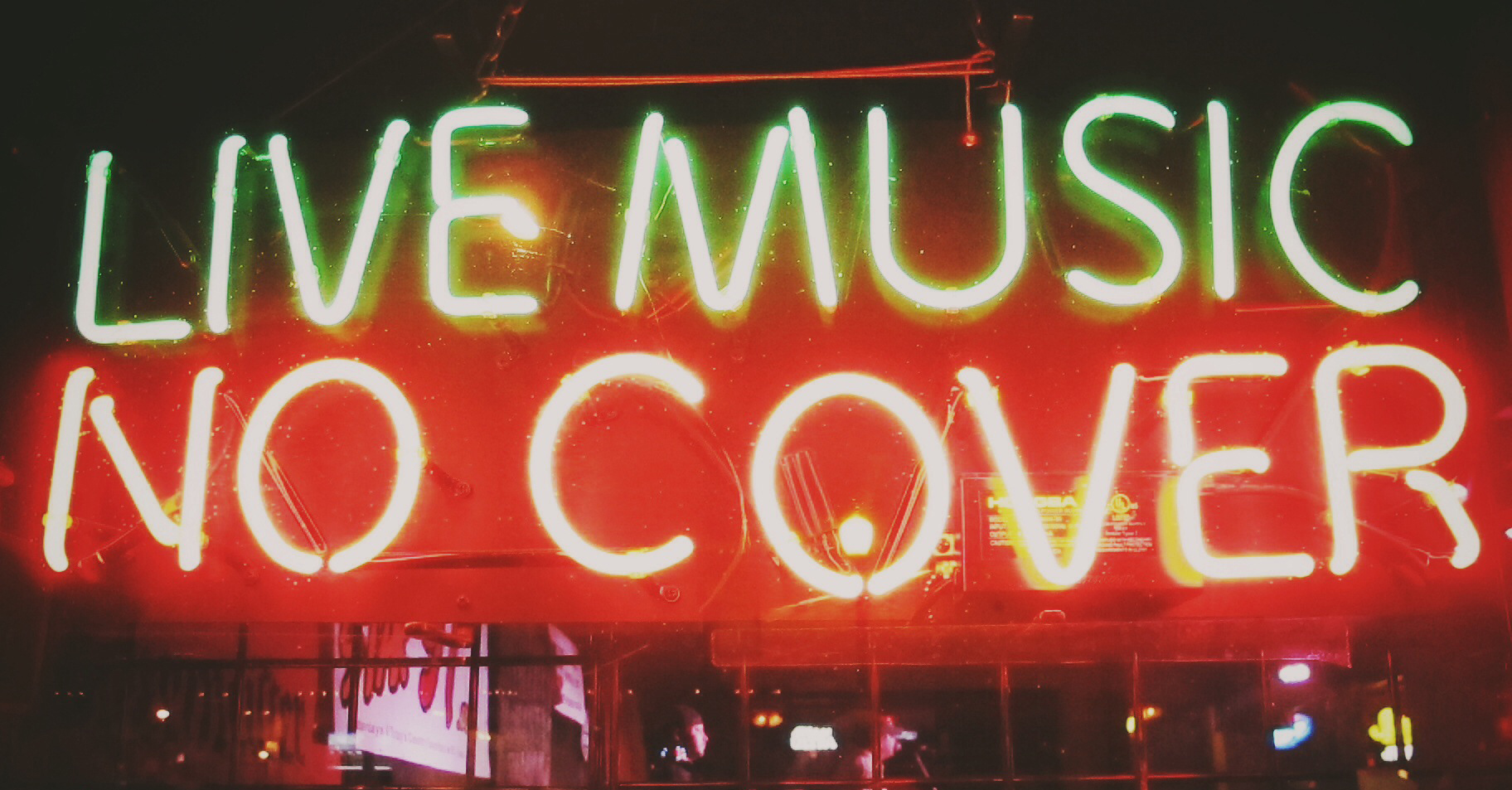 Photo: markheybo/Flickr

Say no to cover charges the next time you're in New York City and looking for live music. From bars to clubs to museum shows, you can catch all kinds of great music without having to pay for a ticket. City Guide's calendar has all the no cover live music in NYC this week rounded up below.


Barrington Levy - Ford Amphitheater at Coney Island Boardwalk
July 08, 2018 - Brooklyn
Barrington Levy, one of Jamaica's most distinctive and legendary voices, has been both a defier of and a staple a dancehalls since the 1970s. At this triumphant bash, Third World, one of the island's longest-running reggae bands, will bring their vibrant and cross-cultural sound to audiences, along with the the subversive, spiritualized MC Kabaka Pyramid, the versatile DJ duo, Federation Sound, and DJ Gravy.
Barry Harris - Village Vanguard
Through July 08, 2018 - New York
It's one thing to admire and study the music of the bebop era. But Barry Harris lived it, becoming one of Detroit's best jazz pianists in the 1950s before relocating to the New York area — and eventually moving into the New Jersey estate where Thelonious Monk himself resided. At [over] 80, Harris still speaks bebop as his musical language, though it's transformed in his hands into something supple, round, warm.
Beat Music Series - Showcase - Jazz / Soul / R&B / Folk - Silvana
July 10, 2018 - New York
This two-hour set promises to feature an eclectic mix of hip hop, jazz, soul, poetry, folk, and spoken word artists. The event is hosted by composer/producer Eric Joseph Meyer and poet/emcee Melissa Czarnik.
30 Rock Bingo - Videology Bar & Cinema
July 11, 2018 - Brooklyn
There are only two things we love in this world: everybody and BINGO. We're introducing a NEW bingo that features your favorite nerds in the TGS writers room and a certain actress that lives theatrically in normal life. Every Wednesday we'll be watching 30 Rock and playing BINGO. Watch for things like celebrity cameos, TGS sketches, and Dr. Leo Spaceman. Listen for things like "page", "blerg", and crying. Get a BINGO and you'll win a free drink!
Live Piano Karaoke with Julian Velard - Sid Gold's Request Room
July 11, 2018 - New York
With a style The Sunday Times calls "catchy but complicated; a surprisingly rare combination," Julian Velard is piano-pop tunesmith recalling Stephen Sondheim or Randy Newman at the peak of their talents. With 4 albums of original material under his belt, he's toured internationally alongside the likes of Jamie Cullum, Paul Carrack, and Amy Macdonald. His quirky, native new york, piano-man sound has found its largest audience in Holland, where he headlined Amsterdam's legendary venue, Paradiso. His comedic timing and musical stylings have made him a regular on The Howard Stern Show and NPR's Ask Me Another.
EVEN Popup Store - EVEN Popup Store
Through July 11, 2018 - New York
EVEN is bringing personalized sound to New York City with an immersive Pop Up experience, located in SoHo. At this unique event, visitors can hear what they've been missing by creating their own EVEN EarPrintTM and listening to their favorite songs tailored to the way they hear, in each ear. EVEN's Pop Up is an edgy and intimate venue where an array of live performances and events will be hosted throughout June. The store will feature performances by upcoming and established artists, record release parties, round table discussions with industry leaders, and more. Please check out all of the events below. To register and for more info please visit https://www.weareeven.com/calendar. WHERE: 130 Greene Street (SOHO) LIVE PERFORMANCES/EVENTS: Wed. 6/13: Performance by the Suenos Jazz Quintet - Jazz & Latin Infused with a Hip Hop feel Mon. 6/18: Performance by LA Recording Artists "Bay Ledges" Tues. 6/19: Mouthmedia Live Podcast (featuring Keith Shoklee of Public Enemy, and others) Thu. 6/21: Special "Secret" performance! Mon. 6/25: "Think Olio" listening session followed by a discussion of David Bowie album "Low" Fri. 6/29: Jazz with The Noam Tanzer Trio About EVE... (read more)
Tito Rojas / Andy Montañez - Ford Amphitheater at Coney Island Boardwalk
July 13, 2018 - Brooklyn
Andy Montañez has been bringing his exuberant vocals and salsa rhythms to audiences in his native San Juan and worldwide: no wonder he's known as "El Godfather de la Salsa." He's joined by the Puerto Rican-born salsero Tito Rojas, who has been one of the movement's most prominent voices since the 1980s, when he released his hit single "El Campesino." Rojas was also the recipient of the 1995 Paoli Prize for "Best Salsa Artist of the Year."
Happy Hour Piano Karaoke with Mark Piro - Sid Gold's Request Room
July 13, 2018 - New York
Sid Gold's Request Room now features Happy Hour Piano Karaoke on Fridays! Start your weekend off with a song! With Mark Piro at the keys! Check out Mark's song list!
Backstreet Boys on GMA 2018 Summer Concert Series - Rumsey Playfield
July 13, 2018 - New York
Backstreet Boys will be taking over Central Park on July 13th with a free performance as part of this year's Summer Concert Series. All other concerts are free and open to the public and will take place on Fridays from 7 a.m. to 9 a.m. ET. Viewers interested in joining "GMA" in Central Park are encouraged to arrive at Rumsey Playfield via the 72nd Street entrance on Fifth Avenue at 6 a.m. when the park opens to the public. The Summer Concert Series returns for the eighth year to Rumsey Playfield in Central Park, home of City Parks Foundation's SummerStage Festival.
Heart of Gold Gala - Private Residence
July 14, 2018 - Water Mill
The Bridge School, the leading non-profit organization dedicated to educating children with severe speech and physical impairments, will host an intimate, fundraising event called the Heart of Gold Gala at a private estate in Watermill, New York on Saturday, July 14, 2018. Music legend Neil Young will take to the stage for a special live performance to raise awareness and funds for The Bridge School, which he co-founded and has supported for over 30 years. The Bridge School was started by Pegi Young, Jim Forderer, and speech and language pathologist, Dr. Marilyn Buzolich. Pegi Young and Neil Young were inspired to start the school after they were unable to find a suitable school placement for their non-verbal son, Ben Young, who has cerebral palsy. Since its inception, The Bridge School has been a leader in ensuring that children with severe speech and physical impairments are able to achieve full participation in their communities through augmentative and alternative communication and has developed unique programs and trained highly skilled professionals in the use of state of the art assistive technology. "In addition to being a music icon," said Dr. Vicki Casella, executi... (read more)
Live Piano Karaoke with Leslie Goshko! - Sid Gold's Request Room
July 14, 2018 - New York
Leslie Goshko (Huffington Post Comedy) is the host and creator of the monthly storytelling series, Sideshow Goshko, which has been hailed as a Time Out New York and New York Times "Critics' Pick", and also noted as "a well-programmed night" by the New York Times.Sideshow Goshko has been featured on TruTV'sImpractical Jokers, NPR'sSnap Judgment, and inThe New Yorker.Her cabaret show "An Old-Fashioned Piano Party with Leslie Goshko" is heralded as a Time Out New York "Critic's Pick" and she served as the musical director for NY1 anchors Pat Kiernan and Jamie Stelter's live show at 92Y, "Pat and Jamie's NY." And thanks to the support of many Internet voters, she performed with the cast of Hairspray on Broadway. https://www.lesliegoshko.com/
Social Artistry In Action - United Palace Theatre
July 15, 2018 - New York
United Palace will host a workshop on the emerging field of Social Artistry on Sunday, July 15th, 2018 starting at 9AM. Social Artistry is a state-of-the-art personal training that calls people to become "Social Artists," or leaders who utilize the dedication, skills, and understanding of an artist and apply them to people and societies around them. Jean Houston, the founder of Social Artistry and a Ph.D., scholar, philosopher and researcher in Human Capacities, will lead the workshop along with various other Social Artists who are masters in their own fields who wish to share their discoveries and discuss their personal findings and experiences. The workshop will provide attendees with the tools to engage in meaningful action through deep exploration of society and layers of the human psyche – mind, body, mythic, and spiritual.
Blacklight Slide - Aviator Sports and Events Center
Through July 15, 2018 - Brooklyn
Blacklight Slide™ is a unique night experience focused on UV Neon Glowing fun! Glowing sliders attend from all over with friends and family for the night of their lives sliding down the Blacklight Slide with neon glow in the dark water running down it. With the best after party in the world and the best music pumping from one of the top DJ's in the country you will have the time of your life.
Russell Malone Quartet - Village Vanguard
Through July 15, 2018 - New York
Obviously, we are in the capable hands of a master. Absolutely fluid touch and beautiful integration between moving lines and harmonic cadences. The sound of the instrument is well-balanced throughout the entire register. The relaxed quality of everything that 's being played gives it such a warm feeling. To play that stuff is extremely hard. This is an absolute master, the best of the best.
The Harlem Opera Festival - Richard/Rodgers Amphitheater, Marcus Garvey Park
Through July 22, 2018 - New York
HarlemPresents… FOR IMMEDIATE RELEASE The Harlem Opera Festival: Celebrating the Next Generation of Great Opera Singers Harlem, New York – June 29, 2018 – With the generous support of the Upper Manhattan Empowerment Zone – through a UMEZ Arts Engagement grant administered by the Lower Manhattan Cultural Council – Harlem Presents will debut the Harlem Opera Festival. Who: Harlem Presents What: The Harlem Opera Festival – a free and open to the public presentation of previous winners of the Harlem Opera Theater's annual vocal competition. When: Sunday, July 15th – 7:00 pm to 7:45 pm Sunday, July 22nd – 7:00 pm to 7:45 pm Where: Richard/Rodgers Amphitheater, Marcus Garvey Park – 5th Ave at 124th Street How Much: Free Each evening will feature two singers performing with an accompanist. Sunday, July 15th will feature Soprano Denisha Ballew and Baritone Adam Richardson. Sunday, July 22nd will feature Soprano Carami Hilaire and Baritone Daniel Rich. The pianist James Davis, Jr. will accompany the singers on both nights. Each concert will precede the Classical Theatre of Harlem's 8:30 pm presentation of Antigone. Says Greg Mays, Executive Dire... (read more)
Piano Karaoke with Drew Rakoswki - Sid Gold's Request Room
Through July 29, 2018 - New York
Live Piano Karaoke with Drew Rakowski, hosted by Shannon Conley!
Sunset Jazz Concerts - Lyndhurst Concert Lawn
Through August 23, 2018 - Tarrytown
Relax on our great lawn and enjoy cool music by hot jazz artists! Grounds open at 4 pm, music starts at 6:30. $5 per person parking fee. Canceled by 3 pm if rain – check website for latest information.
Vinyl Nights Thursdays at Plaza 33 - Plaza 33
Through September 13, 2018 - NY
Join us on Thursday evenings for Vinyl Nights. We continue to spread the love of music & vinyl this Summer! FREE outdoor dance parties with The MM Crew & friends from 6:30pm to 9:30pm at Plaza33 (33rd St & 7th Avenue), a new pedestrian plaza right outside Madison Square Garden. For decades New York City has had one of the most creative, vibrant music and nightlife scenes in the world and Mobile Mondays! celebrates it all with DJs who expertly tell the story through vinyl 45s. Join us Thursday June 7th for the Season Opener! We are Funk & Soul, Disco, Pop, Boogie, House, Hip Hop, 80's, 90's, Salsa & so much more. Thursday June 7th Joey Carvello & Woof Thursday, June 14th Misbehaviour & Operator Emz Thursday, June 21st Operator Emz & Just Blaze Thursday June 28th Natasha Diggs & Operator Emz Thursday, July 12th Joey Carvello & Woof Thursday, July 19th Operator Emz & Joey Carvello Thursday, July 26th Misbehaviour & Boogie Blind Produced with Rebecca Lynn / Mobile Mondays! NYC 45's Mobile Mondays! is NYC all 45's vinyl night every Monday at The Bowery Electric to save the music, preserve DJ culture & keep the vibe & soul of NYC alive. #pr... (read more)
Looking for Free Group Planning Services?
Get free advice on planning your group's trip to New York.
MORE Activity Planner ARTICLES
RESTAURANTS

Beloved midtown spot takes inspiration from local tradition,...

THEATER

Gaston Leroux's famous period thriller is now one of Broadwa...

SHOPPING

PANDORA, one of the leading names in jewelry for more than 3...

SIGHTSEEING

Start by ascending to the top of the tallest building in the...