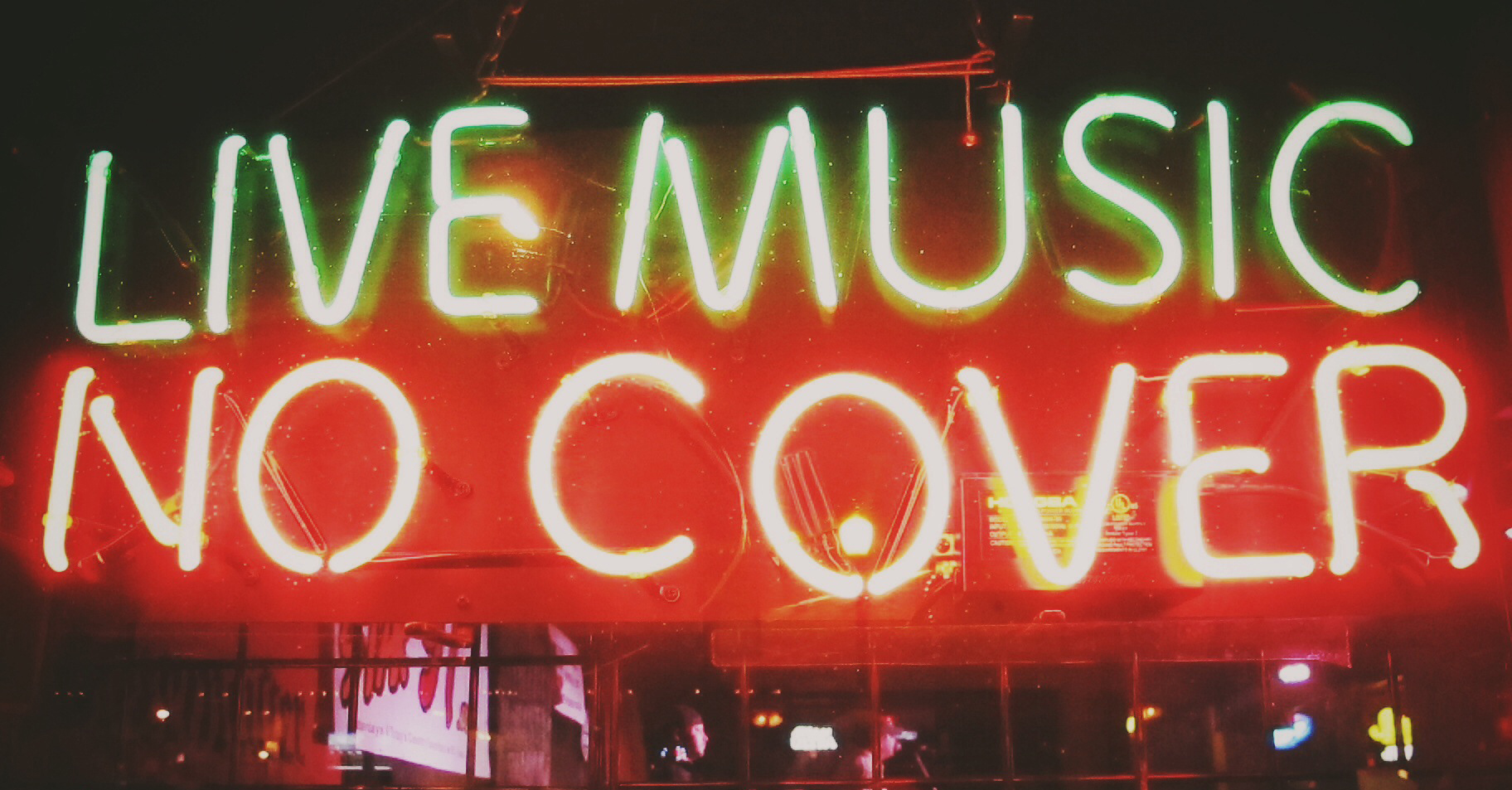 Photo: markheybo/Flickr

Say no to cover charges the next time you're in New York City and looking for live music. From bars to clubs to museum shows, you can catch all kinds of great music without having to pay for a ticket. City Guide's calendar has all the no cover live music in NYC this week rounded up below.


Soundscapes of Modernity: Jews and Music in Polish Cities - Center for Jewish History
November 18, 2018 - New York
This concert presents music of Polish Jews that is little known to American audiences—choral pieces from 19th-century progressive congregations, compositions associated with Jewish music societies, and avant-garde works by Jewish composers.
Beethoven Choral Fantasy & Mass in C Major - St. Bartholomew's Church
November 18, 2018 - New York
The Schiller Institute NYC Chorus presents a celebration of the birthday of the Poet of Freedom Friedrich Schiller, featuring performances of Beethoven's Choral Fantasia, Op. 80 with pianist My-Hoa Steger, and the Beethoven Mass in C major. Featuring the Schiller Institute NYC Chorus and orchestra. Indira Mahajan, Soprano; Linda Childs, Alto; Everett Suttle, Tenor; Costas Tsourakis, Bass performing Beethoven's Choral Fantasia Op. 80 and Mass in C major Op. 86. Note that there will be an open rehearsal/lecture with Maestro John Sigerson at 2:00 PM at St. Bartholomew's on November 18 preceding the concert.
Guitar Mash Presents The 7th Annual Urban Campfire Feat. Ani DiFranco, Marc Ribot, Kat Edmonson, Jimmy Vivino, Fernandito Ferrer & more - The Winery NYC
November 18, 2018 - New York
Tickets can be purchased HERE! Guitar Mash presents the 7TH ANNUAL URBAN CAMPFIRE, a unique and immersive musical experience where artists break down the wall between the stage and the house, and invite the audience to play and sing with them. This year's theme is "Songs for Change" which focuses on the power of music to generate awareness and bring people together. No guitar? No problem - bring yourself, and sing along. Ages 10 and up. Back by popular demand, immediately prior to the show Guitar Mash artist alumni lead Musical Speed Dating with event attendees, lightning rounds of mini master classes to take place in the Winery room. Free with ticket, first come, first served. An afternoon of inspiration and joy! SCHEDULE Noon - Doors Open Noon-1:00pm - Musical Speed Dating and Brunch available 1:00-3:30pm - Showtime
Juan Diego Flórez, Tenor Vincenzo Scalera, Piano - Carnegie Hall
November 18, 2018 - New York
"Juan Diego Flórez's voice is like the engine in a Porsche 911; when you hear it, you know you're in the presence of something finely tuned and luxurious" (Opera News). Flórez's honeyed tone, mastery of a vast range of vocal music from Mozart and Rossini to Puccini, and charismatic stage presence make him a true audience favorite and one of the most sought-after singers of our time.
Neidorff-Karpati Hall Reopening - Manhattan School of Music
November 18, 2018 - New York
Join us Sunday, November 18th for a glittering, multi-artist concert unveiling the $15-million, 18-month Centennial Project, which includes a sweeping renovation of the School's flagship performance hall; a newly expanded lobby; and a grand new Claremont Avenue entrance. George Manahan (BM '73, MM '76), Music Director of American Composers Orchestra and MSM's Director of Orchestral Activities, will conduct, and soloists will include faculty/pianist Olga Kern, alumnus/baritone Shuler Hensley (BM '90, HonDMA '14), alumna/soprano Stacey Tappan (MM '97), and alumnus/baritone Justin Austin (BM'14, MM '17), among others. The landmark event will showcase the full range of genres taught at the School, with performances by MSM's Symphony Orchestra, Precollege Chamber Choir, Buster Williams Jazz Ensemble, Musical Theatre students, and Centennial Chorus. See full details below: NOV 18 | SUN | 2:30 & 7:30 PM Neidorff-Karpati Hall Reopening Sponsored by Michael and Noémi K. Neidorff MSM SYMPHONY ORCHESTRA George Manahan (BM '73, MM '76), Conductor Shuler Hensley (BM '90, HonDMA '14), Baritone Justin Austin (BM '14, MM '17), Baritone Olga Kern (Faculty), Piano Feat... (read more)
Bob Weir and Wolf Bros in New York - Beacon Theater
November 18, 2018 - New York
Robert Hall Weir (/w??r/ WEER;[1] born October 16, 1947) is an American musician and songwriter best known as a founding member of the rock band Grateful Dead. After the Grateful Dead disbanded in 1995,[2] Weir performed with The Other Ones, later known as The Dead, together with other former members of the Grateful Dead. Weir also founded and played in several other bands during and after his career with the Grateful Dead, including Kingfish, the Bob Weir Band, Bobby and the Midnites, Scaring the Children, RatDog, and Furthur which he co-led with former Grateful Dead bassist Phil Lesh.[3] In 2015, Weir, along with former Grateful Dead members Mickey Hart and Bill Kreutzmann, joined with Grammy-winning singer/guitarist John Mayer to form the band Dead & Company.[4] The band remains active.
PORTALS, A Photo Experience from Canon - Soho Pop-Up
Through November 18, 2018 - Manhattan
Canon will be hosting PORTALS, A Photo Experience from Canon. The 11-day pop-up will be built around photo moments that will transport visitors to an entirely new world by embedding camera tips and tricks into the consumer journey. Made up of five unique photography setups, PORTALS will allow photographers (amateur and experienced) to open up their imaginations while producing exciting – and Instagrammable – photos.
Refueling Station by Daily Harvest - Refueling Station by Daily Harvest
Through November 18, 2018 - New York
On November 14th, the "Refueling Station by Daily Harvest" pop-up opens to the public in New York City. This is the first IRL manifestation of Daily Harvest, a direct-to-consumer brand that delivers chef-prepared, organic, plant-based food that nourishes at the speed of life. Visitors will be able to taste the brand's growing portfolio of good, clean food including smoothies, breakfast bowls, Harvest Bowls, soups, and functional lattes and have the opportunity to purchase Daily Harvest cups offline. The pop-up will also offer engaging programming including new recipe releases, swag giveaways and surprises for guests. The "Refueling Station by Daily Harvest" at 446 Broadway (@ Grand) is free and open to the public daily 8am to 8pm ET November 14th through 18th. To learn more, follow @dailyharvest.
Ta-Nehisi Coates in Conversation: A Post Mid-Term Reflection - Apollo
November 19, 2018 - New York
The Apollo Theater presents Ta-Nehisi Coates and Nikole Hannah-Jones in a discussion about the midterm elections, the state of American politics, and the historical currents that inform our present. "We Were Eight Years In Power" was the lament of Reconstruction-era Black politicians as the American experiment in multiracial democracy ended with the return of white supremacist rule in the South. In his sweeping collection of new and selected essays, now in paperback, Ta-Nehisi Coates explores the tragic echoes of that history in our own time: the unprecedented election of a Black president followed by a vicious backlash that fueled the election of the man Coates argues is America's "first white president."
Broadway Under the Stars - The Shops at Columbus Circle
November 19, 2018 - New York
Select cast from today's hottest Broadway musicals will perform every Monday at 5pm from November 12 to December 10 on the second-floor mezzanine, with the final performance of the Broadway series on Dec. 10 against the backdrop of the famous twelve massive stars. These stars are the largest specialty crafted exhibit of illuminated color display in the world, which hang from the 100-foot-high ceilings. Hosted by Broadway actor George Psomas(Fiddler on the Roof, South Pacific), the casts of the following shows will perform songs from the given musicals for approximately 20 minutes each: ·       Nov. 12 – School of Rock, Kinky Boots, Anastasia, Be More Chill  ·       Nov. 19 – Ruben & Clay's Christmas Show, Head Over Heels, The Band's Visit, Beautiful: The Carole King Musical ·       Nov. 26 – The Phantom of the Opera, Chicago, Waitress ·       Dec. 3 – The Prom, Dear Evan Hansen ·       Dec. 10 – Mean Girls, Wicked
Tipper's 3 Night 'Tipsgiving - Kings Theater
Through November 25, 2018 - Brooklyn
The theme for each night is: Friday = Uptempo -> Doors 7pm - Close 1am Saturday = Downtempo -> Doors 7pm - Close 1am Sunday = Ambient -> Doors 7pm - Close 11pm ** Please Read carefully all the way through ** Kings Theatre is hosting its first ever electronic music show, and Tipper & Friends will be presenting an epic 3 Night run at this incredibly stunning venue, with a different theme each evening and 4 different ticket types. The first 8 rows of GA Orchestra seats will be removed and create a Standing Room only GA 'pit' in front of the stage. The first 400 Orchestra ticket holders on Friday and Saturday nights who request a 'pit wristband' will have access to that area for that night only. Sunday will be the first 300 Orchestra ticket holders for our infamous Ambient Night cuddle puddle in the Pit. Once assigned to Pit UPON REQUEST, that is where the patron will be based that evening. There will be different wristbands for each night for all 3 GA areas ('Pit' GA, GA Orchestra, and GA Mezzanine). Each person will present their ID and ticket in order to make Entry each evening (inc 3 night pass holders), and receive the new wristband(s). GA Mezzanine MUST REMAIN UPSTAIR... (read more)
Wellness Calligraphy & Yoga with UN Calligraphy Artist - Asia Society
Through December 01, 2018 - New York
Explore the connection between mind, body, and spirit through Licao Shu Wellness Calligraphy and Yoga. Exclusively at Asia Society for seven classes, world-renowned Master Zhou Bin will take you on a journey that integrates yoga and meditation with the power of the written script "Licao Shu calligraphy." Artfully designed by Master Zhou, you will participate in this interactive, mindfulness workshop that lowers stress, promotes healing, and enhances your spiritual connection. Purchase a ticket for one workshop or the whole series at: http://bit.ly/as_yoga You don't need previous experience in yoga or Chinese to attend. Just bring comfortable clothing and a yoga mat. Other dates for this workshop series are: Friday, Nov 9th, 6 p.m. - 8 p.m. Friday, Nov 30th, 6 p.m. - 8 p.m. Saturday, Dec 1st, 10 a.m. - 12 p.m. Saturday, Dec 1st, 2 p.m. - 4 p.m.