On Broadway - Super Shows & Shining Stars - The Choice Is Yours!
May 25, 2011 - by Griffin Miller, Theatre Editor
With Tony Award buzz and media fireworks exploding all over the Great White Way, there's an unlimited amount of excellent theatre to be had as we move from spring to summer in the Big Apple. The trick is in making the perfect match. And, while there's no "Broadway Yenta App" or "HarmonyStage.com" for theatergoers, there's no need to panic: I've put together a list of (hopefully!) helpful categories that should help you zero in on the Broadway shows and stars that are absolutely, without question, RIGHT FOR YOU!
NAUGHTY The Book of Mormon - The hot new musical from Trey Parker and Matt Stone of South Park fame (in-your-face blasphemous & gleefully irreverent: if you can't take the heat, stay out of this kitchen). Jerusalem - Ditto on the kitchen reference, but one of the most powerful shows and performances (from Tony winner Mark Rylance) ever mounted on Broadway. Script, supporting cast: all jaw-droppingly wonderful. The Motherf**cker With the Hat - Chris Rock (below) is the first name you'll glom onto in this five-character play teeming with attitude, profanity and heart, but it's the ensemble interactions that make the piece click big time.
NICE (With some naughty bits -- it is 2011 after all!) How to Succeed in Business Without Really Trying - Vintage 1960s musical with an adorable Daniel Radcliffe as a corporate climber. Also on board as his philandering boss is John Larroquette (pictured below). Retro hilarity. Priscilla Queen of the Desert may be about two drag queens and a transsexual on an Aussie road trip, but this jukebox musical is emotional nirvana spelled out in friendship, father-son love, and a chorus line of cupcakes. Sister Act - Very few naughty bits in this one, but if you're a sucker for musical farce and enjoy seeing nuns rocking the socks off a fun score, this is the show for you. Oh yes, amen!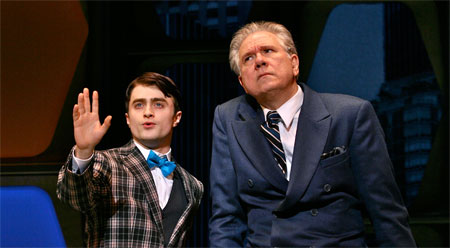 HEART-WRENCHING The Normal Heart - Three-hanky minimum. War Horse - Animal lovers: bring an entire box of Kleenex.
CLASSIC Anything Goes - The ultimate Cole Porter musical comedy with Tony winners Sutton Foster and Joel Grey at the celebrity helm, a score of hummables, some dandy Fred and Ginger dance numbers and the biggest tap-a-thon on Broadway. The Importance of Being Earnest - A quadruple must-see for die-hard theatre lovers: director Brian Bedford's (pictured below) delicious embodiment of Lady Bracknell is the stuff of theatre legend... Remember back in 2011 at the American Airlines Theatre…?
News from Off-Broadway … Eve Plumb (Jan of The Brady Bunch, all grown up) will be passing the spotlight (and title role) in Miss Abigail's Guide to Dating, Mating & Marriage to another sitcom star from the past, Joyce DeWitt of the '80s mega-hit Three's Company. (Plumb plays her final performance on May 29 and DeWitt debuts on June 1, so plan accordingly!) Jump, the live-action, non-verbal martial arts spectacle from Korea that's been gathering raves around the globe is now -- officially! -- part of the Off-Broadway scene. The show, following an unusual and uniquely gifted family, combines slapstick comedy with totally cool action moves. Key phrase here: gravity-defying!
Looking for Free Group Planning Services?
Get free advice on planning your group's trip to New York.
RESTAURANTS

Conveniently located in the Port Authority Bus Terminal, the...

THEATER

An epic love story about the relationship between John, an A...

SHOPPING

Indulge in natural luxury with the softest bedding on the pl...

SIGHTSEEING

Customized, state of the art fleet will get you from the air...