On Location Tours makes New York City's many iconic film spots accessible. Whether a visitor wants to walk on the footsteps of Sex and The City or Sopranos stars, or see the sites where the gossip starts on a TMZ Celebrity Tour, On Location Tours knows the way there.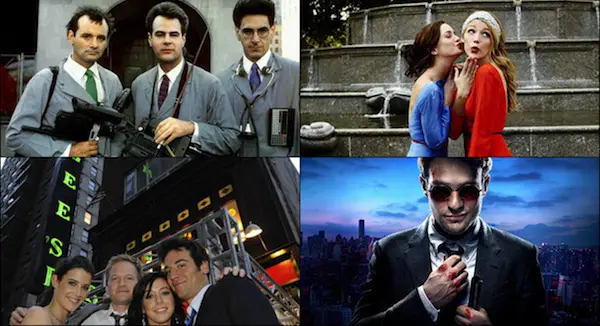 "For many people around the world, whether from Ohio or Ireland, TV shows often serve as the impetus of why they want to make the trek to the Big Apple," says Alan Locher, Director of PR and Marketing for On Location. That, coupled with the impact of Netflix, which has rekindled interest in shows like the NYC-based teen drama Gossip Girl, have led to a booming interest in New York's televsion counterlife.
On Location Tours offers numerous itineraries, running from the aforementioned "Sex and The City Hotspots Tour" to a special tour dedicated to just "Central Park TV & Movie Sites." A main attraction remains the original "NYC Movie & TV Tour," which has been running strong for 16 years and recently received a major revamp.
The two and a half hour bus tour, which starts in midtown, covers 40+ NYC film locations throughout the city. There are four stops for photo ops, including the renowned Friends apartment building; Washington Square Park, where scenes have been shot for The Mindy Project, Glee, and When Harry Met Sally; McGee's Pub, the inspiration for the TV hit How I Met Your Mother; and the FDNY Hook & Ladder 8, otherwise knowns as the Ghostbusters firehouse.
Other locations visited during the tour include the pub that Michael Keaton's character stops at in the Oscar-winning Birdman; spots in Hell's Kitchen for numerous scenes from Marvel's Daredevil; sites from New York's legendary "show about nothing," Seinfeld, (riders also receive one of the black and white cookies made famous on the show); the Daily Bugle from Spider-Man; plus new location spots for Girls, Unbreakable Kimmy Schmidt, Mad Men, Amy Schumer's summer hit Trainwreck, American Hustle, and more.
The cost for the tour, which runs daily at 10am, is $43. It recently won a 2015 Certificate of Excellence from TripAdvisor. For reservations, visit onlocationtours.com.