Get in the New York Loop: Open Loop Bus Tours
August 10, 2017 - by Irvina Lew
When arriving as a tourist in a new city, my first rule is to stay awake until bedtime, no matter what sort of jet lag I'm fighting. I do it the lazy way, on a hop-on, hop-off bus; with very little effort, I discover a sense of place, hear a bit of history, and visit a special street or neighborhood.
That's why I introduced a foreign friend to New York City, recently, from atop a double-decker bus. Open Loop New York bus tour began operation in New York City in 2012-2013. Now 38 buses ply the streets of downtown, uptown, Brooklyn, and the Bronx (plus a mid-town connector), departing from 8am to 6:20pm daily. I chose the Downtown Loop to show him Ground Zero.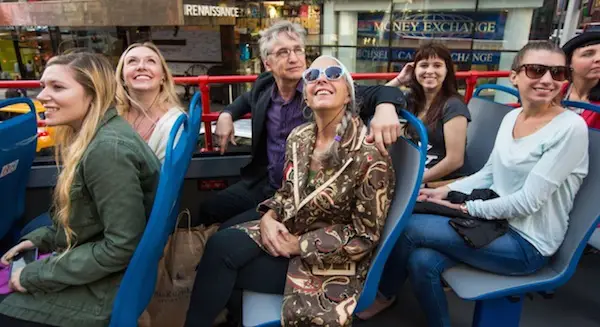 We boarded the distinctive red and white striped bus with red letters spelling OPEN LOOP at the first stop, the Port Authority Bus Terminal at West 42nd between Eighth and Ninth Avenues, although passengers who purchase tickets online can board at any stop. The Marriott Marquis (W. 46th Street@Broadway, right in the heart of Times Square), the second of 18 (soon to be 20) stops, is also a good start.
From there, the bus travels slowly south past the famed neon signs of Broadway, around Penn Station and Madison Square Garden (34th Street@Seventh Avenue) to the Empire State Building (34th Street between Fifth and Sixth Avenues). Continuing south on Fifth Avenue, there's a great view of the famous, 22-story, triangular-shaped Flatiron Building (near the original Shake Shack in Madison Square Park), and, just past the stop at 14th Street, the striking Washington Square Arch.
Then, the bus turns left and east to historic Broadway, and south through a cluster of individual, unique, and well-known communities: Greenwich Village, SoHo (where the Brooklyn Tour begins), Little Italy, and Chinatown.
We got off at the World Trade Center, strolled by the shops and restaurants at Brookfield Place in the stunning Cesar Pelli-designed steel and glass atrium of the Winter Garden, and made our way to the marina (where the Esplanade, a riverside pedestrian promenade, is the most scenic walk in Battery Park). From the Winter Garden, we crossed West Side Highway to the original site of the World Trade Center, paid homage at the 9/11 Memorial Pools, viewed the new Oculus transportation hub, and visited historic St. Paul's Chapel. (To tour the 9/11 Museum, it's best to buy tickets in advance.)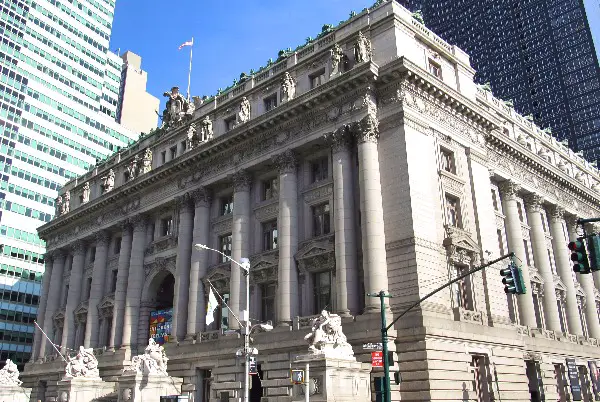 Image: Ken Lund/Flickr
The Open Loop tour continues to the tip of Manhattan at Battery Park and stops near the Museum of Jewish Heritage and the Statue of Liberty. Nearby, the National Museum of American Indian in Lower Manhattan's historic Customs House (above), Wall Street, the Staten Island Ferry and the South Street Seaport, where there's access to water taxis and Hornblower Cruises are footsteps from bus stops.
From lower Manhattan, the return ride north provides views of the beautiful Brooklyn Bridge and the Manhattan Bridge, which span the East River to Brooklyn—and also the striking United Nations. The Open Loop tour stops on the east side at the famed hotel the Waldorf Astoria (49th Street@Third Avenue) and returns to Midtown's west side.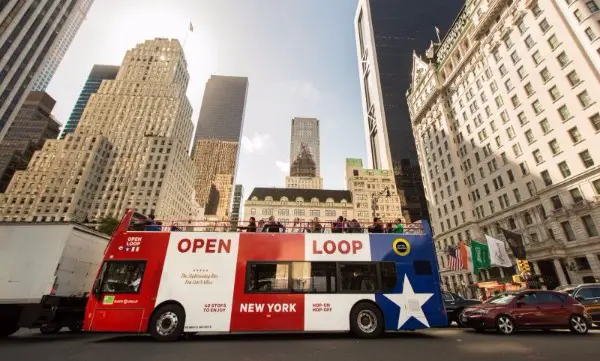 A complete tour takes nearly three hours, depending upon traffic, though most folks who sightsee, shop, or eat spend more time. After all, it's the most pleasant, relaxed way to see many Manhattan marvels. Well worth staying up for!
---
Get $5 off your next Open Loop Tour with this coupon. For more information on Open Loop New York tours, visit openloop.nyc.
Looking for Free Group Planning Services?
Get free advice on planning your group's trip to New York.
RESTAURANTS

Vida Verde brings the tastes, colors, sounds, and scents of ...

THEATER

In a heartbeat, 38 planes with 6,579 passengers were strand...

SHOPPING

A premier destination for family entertainment....

SIGHTSEEING

Hop aboard these environmentally friendly twin-hulled catama...