Opera in New York City This Week - November 4-November 11
November 4, 2018 - by CG Directory Editor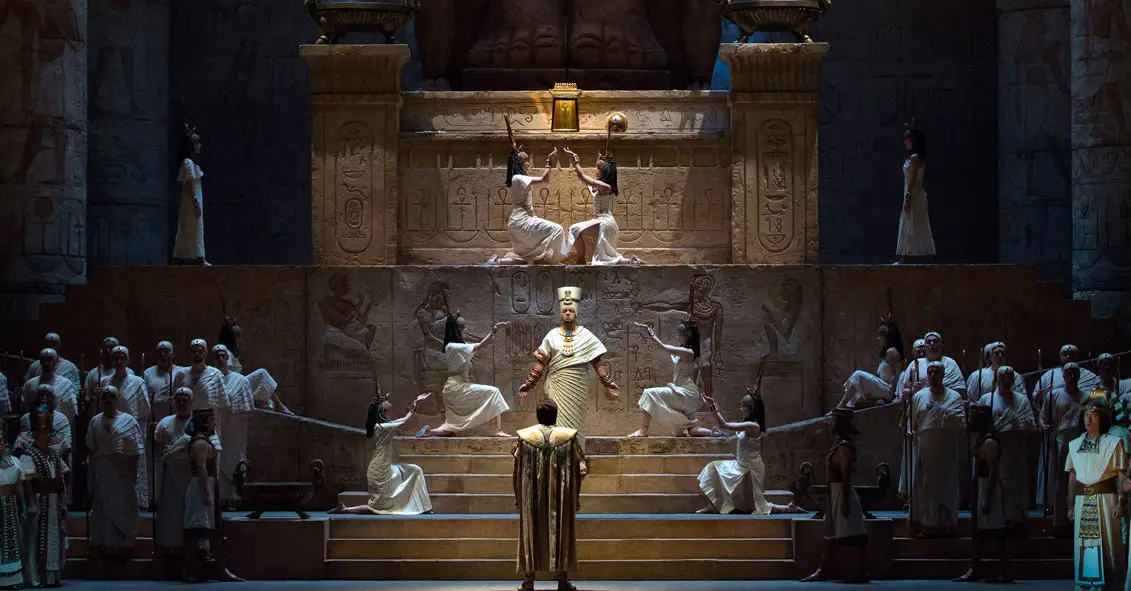 The Metropolitan Opera is world-class and world famous, and it's among the comprehensive opera listings you can find on City Guide's calendar. In addition to the famous season of the Met Opera, full of huge opera stars, famous classics, and world premieres, you'll also find listings for the New York City Opera and operatic performances at places like Lincoln Center and Carnegie Hall.


It's A Thing Debuts with Mr. Brainwash - Starrett Lehigh Building
Through November 04, 2018 - New York
It's A Thing, a new 501(c)(3) campaigning organization focused on changing perceptions and raising funds for head and neck cancer, is pleased to announce the opening of its inaugural experience, curated exclusively by world famous graffiti artist Mr. Brainwash. Hosted by RXR Realty, this upcoming, unique visual arts experience will take over 10,000+ sq. feet of the iconic Starrett-Lehigh building (Ground Floor and 13th Floor) with art that pays homage to the vital functions made possible by the head and neck. All art will be on exhibition and for sale from October 23 through November 4, with net proceeds donated to Memorial Sloan Kettering Cancer Center (MSK), the world's oldest and largest private cancer center based in NYC. For more information visit itsathing.org /@itsathingorg. *Please note that the interactive experience hosted on the 13th floor will only be open on Fridays, Saturdays and Sundays.
Brandless Pop-up with Purpose - The Milk Building
Through November 04, 2018 - New York
BRANDLESS BRINGS POP-UP WITH PURPOSE TO NYC Brandless is opening its first-ever NYC #Brandlesslife Pop-Up with Purpose on October 24th! The pop-up will bring the brand to life, offering unique full-sensory experiences, including a ton of opportunities to taste, test and try the brand's over 350 better-for-you products. Through immersive installations and interactive moments from floor-to-ceiling, the space will highlight both Brandless' values and those of its community. Activations will include tasting flight menus, a full tasting wall of non-GMO, organic and vegan snacks, a fair-trade coffee experience, a clean beauty lounge and so much more. Guests will also get a glimpse into the future of the brand with first looks at new releases and can purchase a "Best of Brandless" bundle specially curated and packed for NYC visitors. In addition to the meal* that Brandless donates in partnership with Feeding America every time someone makes a purchase on Brandless.com, the company will also donate one meal for every social post using #BrandlessLife throughout the duration of the pop-up. Brandless has already donated over 2.5 million meals to people facing hunger since its launch ... (read more)
Tattoo 'Paw'lor - First Class Tattoos
November 10, 2018 - Manhattan
WHO: All-natural pet food company Freshpet is giving pet parents the chance to celebrate or pay tribute to their dogs and cats, with a personalized pet portrait. According to a recent Freshpet study of 1,024 pet owners, the majority of pet parents consider their dog a member of the family (81%) and more than half (54%) admit their pet is truly their best friend. To spotlight the unique ways in which owners love their pets, the brand will be selecting ten lucky winners to participate in Freshpet's #TattooPawlor at First Class Tattoos. WHAT: From now until October 31st, 2018 you can visit www.freshpet.com/contests and enter to win by uploading a video or photo highlighting how you show love to your pet using the hashtag #TattooPawlor on Facebook, Instagram and/or Twitter. Share your best snuggle, walk or game of fetch and you might just get to preserve this love forever with a tattoo. Winners will be chosen by Freshpet, and notified by November 5th via email. Want to be involved, but interested in a different type of tattoo? Come down to the Freshpet Tattoo Pawlor on November 10th, 2018 and sign up for a FREE permanent flash tattoo, grab some Freshpet swag and take ho... (read more)
The Selects Pop-Up Store Opening Party - The Selects
Through November 14, 2018 - New York
WHO: The Selects, a collaborative project to promote Korean fashion designers and assist them to break into the American fashion market. This will be the first time most of the designers will have direct retail exposure to American consumers. WHAT: The Selects is opening a pop-up store in Soho, New York, featuring ten emerging Korean fashion designers along with ten curated K-beauty brands. FASHION: The Selects represents ten of the most promising designers evolving in the Korean fashion industry; Bmuet(te), Beyond Closet, The Centaur, Heohwan Simulation, Hidden Forest Market, KYE, LIE, Nohant, SWBD, and Wnderkammer. K-BEAUTY: The Selects have partnered with ten K-beauty brands for the pop-up. K-beauty is highly focused on health and hydration, and the ingredients are innovative and inspired by nature. The beauty brands that will be highlighted and sold in the store; Agerin, IPKN, Jinsoon, Knours, Meg, Moart, SKINRx Lab, Too Cool for School, Vika and Whal Myung, represent some of the best Korean skincare and makeup on the market. WHEN: Opening Party: October 26th from 5pm - 8pm. The store will be open Sunday-Thursday 12:00 PM - 7:00 PM, Friday-Saturday 11:00 AM... (read more)
PORTALS, A Photo Experience from Canon - Soho Pop-Up
Through November 18, 2018 - Manhattan
Canon will be hosting PORTALS, A Photo Experience from Canon. The 11-day pop-up will be built around photo moments that will transport visitors to an entirely new world by embedding camera tips and tricks into the consumer journey. Made up of five unique photography setups, PORTALS will allow photographers (amateur and experienced) to open up their imaginations while producing exciting – and Instagrammable – photos.
Wellness Calligraphy & Yoga with UN Calligraphy Artist - Asia Society
Through December 01, 2018 - New York
Explore the connection between mind, body, and spirit through Licao Shu Wellness Calligraphy and Yoga. Exclusively at Asia Society for seven classes, world-renowned Master Zhou Bin will take you on a journey that integrates yoga and meditation with the power of the written script "Licao Shu calligraphy." Artfully designed by Master Zhou, you will participate in this interactive, mindfulness workshop that lowers stress, promotes healing, and enhances your spiritual connection. Purchase a ticket for one workshop or the whole series at: http://bit.ly/as_yoga You don't need previous experience in yoga or Chinese to attend. Just bring comfortable clothing and a yoga mat. Other dates for this workshop series are: Friday, Nov 9th, 6 p.m. - 8 p.m. Friday, Nov 30th, 6 p.m. - 8 p.m. Saturday, Dec 1st, 10 a.m. - 12 p.m. Saturday, Dec 1st, 2 p.m. - 4 p.m.
D.S.Destiny - Cipriani
Through January 06, 2019 - New York
Created by Moment Factory and co-produced by Cipriani comes an experience like no other. Set sail on a vast, dream-filled ocean when a landmark building is turned into a ship. Discover worlds in this 360-degree environment that expands as far as your imagination. On from now until January 2019.
Escher: The Exhibition & Experience - Industry City
Through February 03, 2019 - Brooklyn
One of the world's greatest graphic artists, M.C. Escher will be unveiled at Industry City from June 8th, 2018-February 3rd, 2019. Exploring the intersection between art, mathematics, science and poetry, Escher's works have fascinated and astounded generations of artists, architects, mathematicians, musicians and designers alike.
Looking for Free Group Planning Services?
Get free advice on planning your group's trip to New York.
MORE Activity Planner ARTICLES
RESTAURANTS

Beloved midtown spot takes inspiration from local tradition,...

THEATER

Gaston Leroux's famous period thriller is now one of Broadwa...

SHOPPING

PANDORA, one of the leading names in jewelry for more than 3...

SIGHTSEEING

Start by ascending to the top of the tallest building in the...