Pop and Rock Shows in New York City This Week - March 11-March 18
March 11, 2018 - by CG Directory Editor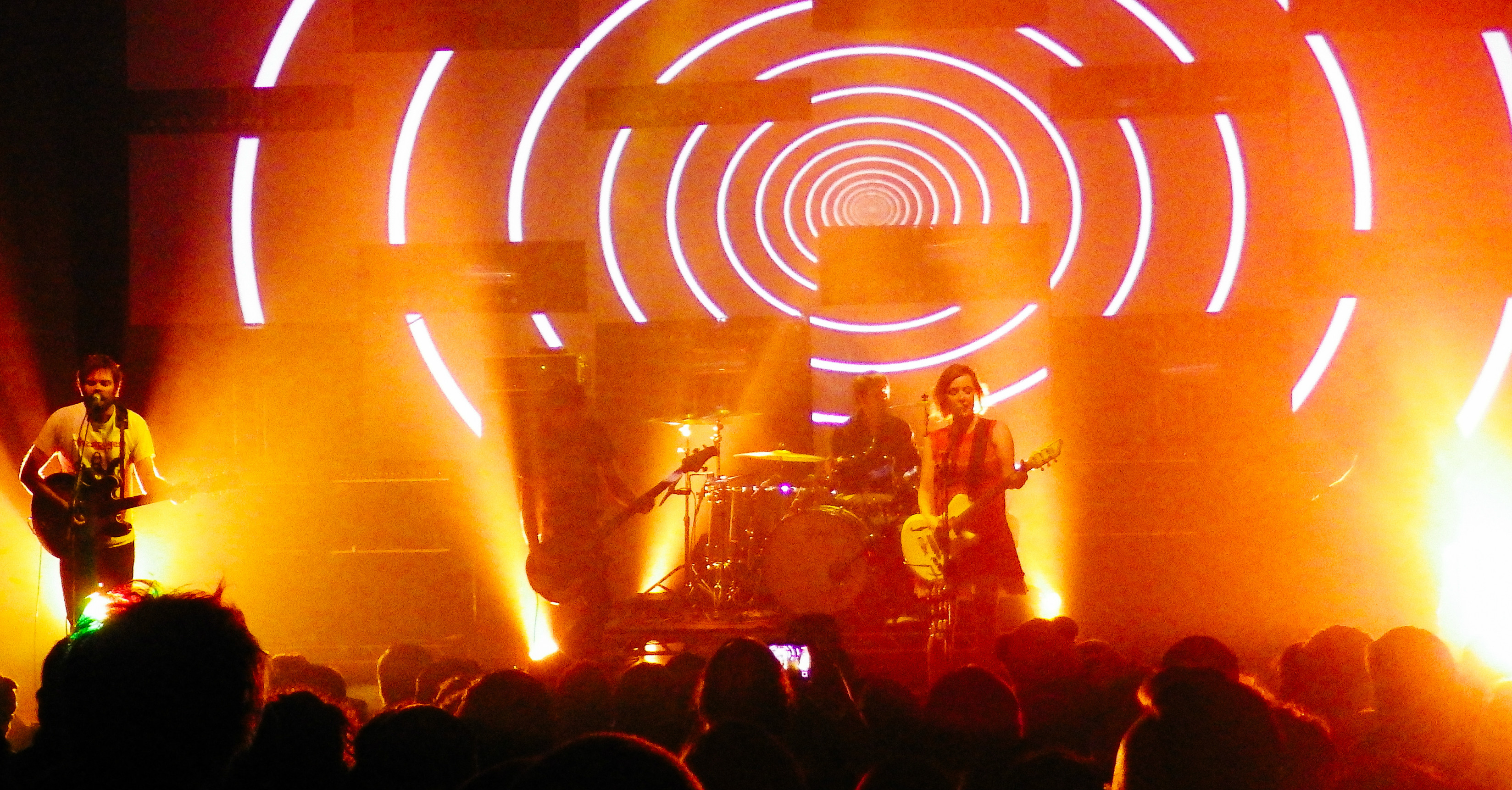 Photo: Flickr/Sean Benham

From big arena shows to small venues, New York has an incredible array of pop and rock music performances. From intimate spaces like Rockwood Music Hall through The Bell House and the Music Hall of Williamsburg onto Madison Square Garden, you can find indie rock, classic rock, alt, country, singer-songwriters, and everything in between on City Guide's activities listings.


Band Camp Improv - The PIT Loft
March 11, 2018 - New York
Gather around the stage for jam and performance by your favorite Band Camp Improv performers. Join Big City, Masterminds, Goblin Cholera, and Mama's Pearl!
Elvis Costello & the Imposters - The Capitol Theatre
March 11, 2018 - Port Chester
This event is 18 and over This event will have a reserved seated Orchestra, Loge, and Balcony. 18 & over unless accompanied by a parent or legal guardian. Elvis Costello has followed his musical curiosity in a career spanning more than 30 years. He is perhaps best known for his performances with The Attractions, The Imposters and for concert appearances with pianist Steve Nieve. However, he has also entered into acclaimed collaborations with Burt Bacharach, The Brodsky Quartet, Paul McCartney, Swedish mezzo-soprano Anne Sofie von Otter, guitarist Bill Frisell, composer Roy Nathanson, The Charles Mingus Orchestra, record producer and songwriter T Bone Burnett and Allen Toussaint. Costello's songs have been recorded by a great number of artists. The list of performers reflects his interest in a wide range of musical styles: George Jones, Chet Baker, Johnny Cash, Roy Orbison, Dusty Springfield, Robert Wyatt, Charles Brown, No Doubt, Solomon Burke, June Tabor, Howard Tate, the gospel vocal group The Fairfield Four and the viol consort Fretwork with the countertenor Michael Chance. In 2003, he began a songwriting partnership with his wife, the jazz pianist and singer Diana Krall... (read more)
Perfect In Concert - Melrose Ballroom
March 11, 2018 - Queens
Williamsburg Salsa Orchestra - Brooklyn Bowl
March 11, 2018 - Brooklyn
The Williamsburg Salsa Orchestra is a stunning 11-piece Latin band which plays dynamic, dura arrangements of indie rock tunes we love, taking the art of salsa to new places while remaining within the classic, deeply funky tradition. Songs by Arcade Fire, The Yeah Yeah Yeahs, TV on The Radio, Santigold, Animal Collective, and many more are transformed into astonishing salsa anthems for a new generation. The WSO released its Debut Album in 2011 and has garnered international praise and recognition, making many "Best of The Year" lists and establishing the band as a groundbreaking global voice by infusing the typical salsa form with a completely modern identity. Led by percussionist/arranger Gianni Mano, (from the Latin-funk legends Radio Mundial), the WSO contains some of the best young players on the scene including a full compliment of horns and percussion. With the attitude of a rock band, and the grooves of classic New York salsa, the Williamsburg Salsa Orchestra is redefining salsa for a new decade and resetting the boundaries of the art form. Contact us at wso@giannimano.com and find us at www.wsoband.com and on Facebook. "The work here is way above and beyond anything an... (read more)
La Banda Morisca: Las Huellas de la Memoria - Joe's Pub
March 11, 2018 - Manhattan
Acclaimed for its intoxicating blend of traditional and modern sounds, La Banda Morisca returns to the Flamenco Festival after its riveting 2016 appearance. Evoking the cultural heritage of ancient Al-Andalus and its reflection in the sounds of the current Andalusia, the Maghreb, and the Near East, the group mixes Eastern and Western influences from the Mediterranean (including Andalusian moaxajas and North African chaabi) with flamenco and Andalusian rock. The band, composed of impassioned musicians from different backgrounds, is based in the province of Cádiz, home to numerous cultures that have colonized and enriched this land.
The Very Best of Dave Mason (of Traffic) - City Winery
March 11, 2018 - New York
Traffic operated on the cutting edge of the late-sixties music scene at a time of rapid and remarkable evolution, and expanded rock's sonic palette. But whereas most progressive British bands were based in London, Traffic retreated to a secluded cottage in the countryside. A key component of Traffic's mythology is their communal stone cottage in Berkshire. It was here the group wrote and rehearsed material for Mr. Fantasy, and Traffic, among the more remarkable albums of the sixites. The group's first single was the Winwood/Capaldi composition "Paper Sun" followed in August 1967 by Mason's "Hole in My Shoe" which hit number two in the U.K. Mason also appeared in the debut album, Mr. Fantasy. His whimsical melodies and goodtime feel, incorporating simple yet rich lyrics, ensured a delightful contrast. His vocals adding a mellower texture to Winwood's, and an extra interest. His three tracks, "Utterly Simple", "House for Everyone", and 'Hope I Never Find Me There" having instant appeal. The latter relating more closely to the group's contributions. Mason became recognized for his obvious virtuosity on sitar, vocals, and guitar.
Phil Vassar - BB King Blues Club & Grill
March 11, 2018 - New York
Despite his countless hits, Phil Vassar is an entertainer. His energetic shows have fans of all ages dancing along. Phil never uses a set list and no two shows are the same! Fans dictate the show based on social media requests and pre-show asks. While Phil performs a majority of his songs, he always includes some of his favorites like "Piano Man", "Oh What a Night", or whatever gets the crowd energized!Born and Raised - Lynchberg, VA and attended James Madison University Home- Nashville, TN Signed to - Arista, Universal South, and then started his own label - Rodeowave Greatest Accomplishment - DAD to Haley and Presley Loves - Sports, Working Out, and Volunteering - St. Jude Children's Research Hospital, Miller Home for Girls, Monroe Carell, Jr. Children's Hospital at Vanderbilt and the Second Harvest Food Bank - are just a few organizations where Phil spends his time. His latest project is a video series called "Songs From the Cellar" where Phil invites celebrity friends to enjoy a glass of wine or spirits and jam to tunes live in his in-home wine cellar. Previous guests on the show include John Rich, Mike Tyson and Tommy Shaw (STYX). Phil is one of a handful of musicians to hav... (read more)
Toubab Krewe with Special Guests Tba - Knitting Factory
March 11, 2018 - New York
Some music cannot be found on a map or within iTunes categories. Some music is so original it seems snatched from the great, invisible substrata that runs below all human activity, a sound aching to be born without a flag or fixed allegiance – free, questing, overflowing with immediate, tangible life. This is the music of Toubab Krewe, the vibrant Asheville, NC-based instrumental powerhouse that creates a sonic Pangaea that lustily swirls together rock, African traditions, jam sensibilities, international folk strains and more. While nearly impossible to put into any box, it takes only a few moments to realize in a very palpable way that one is face-to-face with a true original who recognizes no borders in a march towards a muscular, original, globally switched-on sound. This is a band that actively draws inspiration from whatever source floats into their purview, something they've exhibited in their half decade of heavy gigging, including regular appearances at major U.S. festivals like Bonnaroo, High Sierra, Rothbury and Wakarusa, and abroad at such legendary gatherings as Festival In The Desert in Mali.
The 25th Annual Putnam County Spelling Bee - Cohoes Music Hall
Through March 11, 2018 - Cohoes
Thurs, March 1 at 8pm Fri, March 2 at 8pm Sat, March 3 at 2pm & 8pm Sun, March 4 at 2pm Thurs, March 8 at 8pm Fri, March 9 at 8pm Sat, March 10 at 2pm & 8pm Sun, March 11 at 2pm Meet the students of Putnam County as they spell their way through a series of (potentially made-up) words, hoping never to hear the soul-crushing, pout-inducing, life un-affirming "ding" of the bell that signals a spelling mistake. This hysterical Broadway hit will have you splitting your sides with laughter and rooting for a winner! TICKETS: In Advance by phone at 518-465-4663 or in person at the Palace Theatre Box Office. Tickets are also available for purchase on the night of the show at the Cohoes Music Hall Box Office (Cohoes Box Office opens 2 Hours prior to showtime.)
DISRUPT presents Habibi EP Release - National Sawdust
March 12, 2018 - Brooklyn
Habibi, a band The New Yorker describes as "an all-female crew with sea mist riffs," celebrates the release of "Cardamom Garden," their brand new EP. The album is a new direction for the band members, who combine the flair of Middle Eastern culture with pop, creating music that is engaging and highly danceable while eschewing typical formula music. As purveyors of rock & roll at heart, Habibi's music has fit as well within the Brooklyn underground as within its soundtracks for the international campaigns of Marc Jacobs and Stella McCartney. Their latest album brings their culture to the forefront, a welcome and necessary change in response to today's political climate.
New York Festival of Song: from Lute Songs to the Beatles – British Isles - Kaufman Music Center
March 13, 2018 - New York
This concert offers four centuries of wit and sentiment, expressed with the deep refinement unique to the British Isles. The wide-ranging program has it all: a bawdy lute song from the Renaissance, an aria by an English student of Mozart, a quintessential bit of topsy-turvy from Gilbert and Sullivan, songs by England's iconic musicians including Britten and Quilter, a look at Britain's twenty-first century composers, and dessert courses by Noël Coward and the Beatles. A complimentary wine reception with the artists will follow the program. ARTISTS Caramoor's 2018 Schwab Vocal Rising Stars with Steven Blier and Michael Barrett as pianists and hosts. The concert will feature a cast of exciting young voices as NYFOS marks its tenth annual residency at Caramoor Center for the Music and the Arts.
Mary Fahl - City Vineyard
March 13, 2018 - New York
Sounding like no other singer of her generation" (Allmusic.com), Mary Fahl is an expressive, emotional singer/songwriter who first achieved fame as lead singer and co-founder of the mid-1990s NYC- based chamber-pop group October Project. The hallmark of their sound was Mary Fahl's awe-inspiring power vocals over gorgeous melodies played with passion and sophistication. As a solo artist, Mary has released several compelling albums, including the fantastic re-working of Pink Floyd's "Dark Side of the Moon" for V2 Records and her wonderful, original studio album "The Other Side of Time" on Sony Odyssey. She has also written and performed songs for several major motion pictures, including the lead song ("Going Home") for the Civil War epic Gods and Generals. Her most recent album "Live at the Mauch Chunk Opera House", winner of the Indie Acoustic "Album of the Year" award, is a collection of twenty-four tracks recorded live at one of America's oldest vaudeville theaters that captures the soaring, soul-permeating vocals and musical breadth that makes the Mary Fahl concert experience what the Portland Press called "soul-permeating". The show was filmed for PBS and is currently airing ... (read more)
Beat Music Series - Showcase - Jazz / Soul / R&B / Folk - Silvana
March 13, 2018 - New York
This two-hour set promises to feature an eclectic mix of hip hop, jazz, soul, poetry, folk, and spoken word artists. The event is hosted by composer/producer Eric Joseph Meyer and poet/emcee Melissa Czarnik.
Amy Shark - The Bowery Ballroom
March 13, 2018 - New York
Gold Coast born and bred, the musically contemplative and soulfully brooding Amy Shark can best be described as the creatively complex girl next door. Her single "Adore" was added to triple j almost immediately after release, with the station singing its praises and adding the track to their high rotation and she featured prominently during October as the triple j Unearthed Artist of the Week. Coming in at #2 on triple j's Hottest 100, Amy Shark's "Adore" has also been short-listed for the Top 20 APRA Song Of The Year and has continued to propel her to the centre stage. The track has since surpassed 4 million plus streams and hasn't left the streaming and Shazam charts since release, having most recently entered the ARIA Top 10 singles chart along with its recent accreditation of Gold Sales. Produced by M-Phazes and Cam Bluff, a match made in pop-music heaven, the video clip for the single was shot and directed by Amy herself. "Every photo is at a place that means something to me from my past and my childhood," she explains. "Every shot is taken on the Gold Coast. So the video was shot in my old high school hall (Southport High) and all the outdoor takes are around my old pri... (read more)
Lúnasa w/ Special Guest Natalie Merchant - City Winery
March 13, 2018 - New York
Formed in 1997 and celebrating its 20th anniversary, Lúnasa has long been one of contemporary Irish music's leading voices. Named after an ancient Celtic harvest festival in honour of the Irish god Lugh, the group that Folk Roots magazine once called an "Irish music dream team" was formed from members of some of Ireland's greatest bands and over the years has proven its mettle time and again, having sold over a quarter of a million records, and collaborated with notable artists outside the tradition such as Natalie Merchant, Mary-Chapin Carpenter, and Tim O'Brien. They have performed more than 2,000 shows across 36 countries including high-profile concert venues such as Carnegie Hall, The Hollywood Bowl, National Concert Hall (Dublin), and Paris Bercy, and many of the leading festivals such as Glastonbury, Womadelaide & Edmonton. From the start, the band's complex arrangements and unique sound reshaped the boundaries of traditional music and energized audiences the world over. Critical acclaim followed, The Irish Echo describing the band as the "the hottest Irish acoustic band on the planet"; MOJO magazine named the band "the new gods of Irish music," adding that "nobody since t... (read more)
The Red Hot Chilli Pipers - BB King Blues Club & Grill
March 13, 2018 - New York
Putting a modern spin on incredible piping and astounding drumming with an emphasis on showing off and putting on a show guaranteed to amaze any audience; The Red Hot Chilli Pipers really are a genuinely unique experience. A fusion of traditional pipe tunes and contemporary anthems - 'Bagrock' includes the likes of 'Clocks' by Coldplay, Queen's 'We Will Rock You' and a rock medley of Deep Purple's 'Smoke On The Water' and AC/DC's 'Thunderstruck'. 'Flower of Scotland' and 'The Hills of Argyll' get a look in too, Chilli style of course!
Nightwish - PlayStation Theater
March 14, 2018 - New York
Decades North America 2018 "There is grandeur in this view of life, with its several powers, having been originally breathed into a few forms or into one; and that, whilst this planet has gone cycling on according to the fixed law of gravity, from so simple a beginning endless forms most beautiful and most wonderful have been, and are being, evolved." Charles Darwin, "On The The Origin Of Species" "This classic quote is where it all began. We set sail for the ultimate journey in March 2015, join us!" Tuomas Holopainen A new era begins NIGHTWISH has always stood for virtuoso perfection. They are able to evoke fantastic dream worlds, fade out time and space, and touch you deep inside with their majestic symphonic compositions. Vision and temptation, love and passion, devotion and blood – this Finnish band also has the courage to aspire to new creative and innovative ventures. Since their formation in August 1996, they have risen long ago to become the biggest Symphonic Metal band. It is no secret that main composer and keyboard player Tuomas Holopainen is a versatile songwriter, who lives for his music, dedicates himself to his art and this seeps through in every single n... (read more)
Thrill Ride, Tri-State, America's Sweetheart, P@Atomic and Beasthead - Pianos
March 14, 2018 - New York
PopGun Presents: Eva Tolkin - Elsewhere
March 14, 2018 - Brooklyn
Blake Morgan Residency (with special guest Chris Barron) - Rockwood Music Hall Stage 3
March 14, 2018 - New York
Blake Morgan's two-year sold-out run at New York City's Rockwood Music Hall continues with Season Three of his ongoing artist-in-residence concert series. This third season features Grammy-nominated and Grammy-winning special guests Jesse Harris, Tracy Bonham, Michael Leonhart, and Chris Barron, each of whom perform alongside Morgan, continuing the tradition of unique on-stage collaborations that the residency's audience has come to love. Morgan's sold-out run in New York has also fueled an extraordinary string of recent headlining performances for the artist around the globe: over 100 concerts across 50,000 miles of touring on both sides of the Atlantic this past year alone. Morgan has recently headlined his first large-scale solo tours of Germany and The United Kingdom, along with three extensive tours of the West Coast of the United States. There's no sign of slowing down for the artist––in October of 2017 Morgan co-headlined with acclaimed singer-songwriter David Poe for a 1,500-mile West Coast tour, and December will find Morgan back in the U.K. for his second major tour of Britain in a year. The Washington Post writes, "He's got killer pop-rock instincts, something t... (read more)
Nightmares On Wax - The Bowery Ballroom
March 14, 2018 - New York
The longest serving artist on the Warp Records roster. Originally founded in 1988 by George "DJ E.A.S.E." Evelyn and Kevin "Boywonder" Harper. Harper left before the release of Smokers Delight. When playing live they were also joined by MC Toz 180 and guitarist Chris Dawkins.
I'm with Her - The Town Hall
March 15, 2018 - New York
A band of extraordinary chemistry and exquisite musicianship, I'm With Her features Sara Watkins, Sarah Jarosz, and Aoife O'Donovan. Collectively, the multi-Grammy-Award-winners have released seven solo efforts, co-founded two seminal bands (Nickel Creek and Crooked Still), and contributed to critically acclaimed albums from a host of esteemed artists. But from its very first moments, their full-length debut See You Around reveals the commitment to creating a wholly unified band sound. With each track born from close songwriting collaboration, I'm With Her builds an ineffable magic from their finespun narratives and breathtaking harmonies. The result is an album both emotionally raw and intricate, revealing layers of meaning and insight within even the most starkly adorned track. Co-produced by Ethan Johns (Ryan Adams, Laura Marling, Paul McCartney) and the band and recorded at Peter Gabriel's Real World Studios in a tiny English village near Bath, See You Around delivers a warmly textured yet stripped-down sound that proves both fresh and timeless. To achieve the album's intimate feel, I'm With Her recorded live in the tight confines of the Wood Room, all three members performi... (read more)
Joe Budden: Oh, What a Night! - Highline Ballroom
March 15, 2018 - New York
The Hunna, Coasts - The Bowery Ballroom
March 15, 2018 - New York
Following the release of their hugely successful debut album in the summer of 2016, The Hunna have established themselves as one of the UK's most in-demand bands. Having experienced a rapid rise that saw the band land at #13 in the album charts 10 months into their career, The Hunna have achieved a massive amount in the year that has proceeded. From selling-out two back-to-back album tours that included London's Kentish Town Forum and Shepherd's Bush Empire, the band also headlined memorable nights nationwide at venues such as Glasgow's Barrowlands, Manchester's Academy 1 and Nottingham's Rock City. 2017 has also seen The Hunna headline Camden's prestigious Roundhouse as well as a pioneering moment topping the Festival Republic Stages billings at this year's Reading and Leeds Festival. Having previously been referred to as 'Rock's Next Big Thing' by Kerrang Magazine, singles such as 'Bonfire' and 'You & Me' have helped to earn over 60 million streams across The Hunna's Spotify catalogue. The band have been championed by BBC Radio 1 with 'Never Enough' reaching B-list and gaining support from the likes of Huw Stephens, Clara Amfo and Greg James.'
Moose Blood - Irving Plaza
March 15, 2018 - New york
Support: Lydia, McCafferty Special Offers: VIP Balcony Ticket VIP Balcony Ticket Includes: Front of the Line, Access to the VIP Balcony behind the Soundboard, Poster Age Restriction: 16+ unless accompanied by an adult GA standing room & VIP options available. Accessible accommodations should purchase a General Admission ticket and will be taken care of at the venue day of event. For over 150 years, Irving Plaza has been one of New York City's premier entertainment sites. Located just minutes from Union Square, the famed red marquee has displayed the names of thousands of artists, bringing them together with fans all throughout the city. Enjoy a cold beverage from our wide selection of drinks, and kick back in our lounge area before the show. No matter what genre, Irving Plaza shows are like no other. Want to get inside information on tons of awesome shows like this one? Sign up for our newsletter to be notified about all things Irving Plaza, including presales, special offers, and ticket giveaways! Click here to sign up! Follow us on our socials! Facebook: /IrvingPlaza Twitter: @IrvingPlaza Instagram: @IrvingPlaza Snapchat: IrvingPlaz... (read more)
The Arcadian Wild - Rockwood Music Hall Stage 3
March 15, 2018 - New York
Choir class is where all great things begin. Perhaps not a mantra held by many, but it rings true for the members of The Arcadian Wild, a folk trio based in Nashville, TN. Isaac Horn, Lincoln Mick, and Sarah Wood connected through the choral program at Lipscomb University. Exploring a vulnerability and purity of experience achieved through the use of acoustic instruments, The Arcadian Wild layers thoughtful texts expressed in rich three-part harmony overtop arrangements of guitar, mandolin, ukulele, and banjo. In the fall of 2015, The Arcadian Wild released its first full-length, self-titled album. Twelve tracks in all, these songs celebrate the bright spots of life, love, and redemption, while also penetrating honestly and deeply into the darker corners of the heart, and crying out for freedom from entanglement and expectation. Knowing how to live in the tension between health and hurt, joy and sobriety, pleasure and pain is not always easy, but it is necessary for us to do in order to live authentically, and it is something to which The Arcadian Wild aspires in their music. Guitar, Banjo // Isaac Horn Mandolin, Guitar // Lincoln Mick Banjo, Guitar, Ukulele, Percussion // ... (read more)
Demi Lovato & DJ Khaled - Barclays Center
March 16, 2018 - Brooklyn
Grammy®-nominated, multi-platinum singer and songwriter Demi Lovato is coming to Barclays Center on Friday, March 16 with special guest multi-platinum, hip-hop icon DJ Khaled. Plus, joining the tour will be special guest Kehlani.* For hotel information, please visit New York Marriott at the Brooklyn Bridge. For special rates, check "corporate/promotional code" and then enter W85.
Dixie Dregs - The Town Hall
March 16, 2018 - New York
For guitar aficionados, Steve Morse needs no introduction, and his place in the pantheon of guitar greats is certain. But in fact, his career started with the Dixie Dregs. And now beginning March 2018, with much anticipation and in response to demand from devoted fans, the original lineup announces a return to live performance for the Dawn of the Dregs Tour! The band traces its true beginnings to the band Dixie Grit, which started in a Georgia high school with Steve on guitar and Andy West on bass. Dixie Grit morphed into the Dixie Dregs at the University of Miami School of Music, where Allen Sloan (violin) and Rod Morgenstein (drums) joined up with Steve and Andy, who were the "dregs" of Dixie Grit. The members of the Dixie Dregs remained committed to attending the University of Miami School of Music, which hosted a lively and talented musical community during their tenure, including future greats Pat Metheny, Jaco Pastorius, T Lavitz, and Bruce Hornsby, among many others. In 1975, the group's demo album, The Great Spectacular, was recorded at the University of Miami and then re-released on CD in 1997. After graduation, the band moved back to Augusta where Steve Davidowski (... (read more)
Kevin Daniel - Rockwood Music Hall Stage 2
March 16, 2018 - New York
Since childhood, Kevin Daniel has known music was his future. Daniel recalls telling his parents he heard music in his head all the time, and their response was to buy him a keyboard and sign him up for lessons. Since that day, Daniel has spent a lifetime playing music, learning keys, saxophone, drums, guitar, bass, banjo, and even bagpipes along the way, all while singing in any capacity he could. Middle school saxophone quartets turned into high school rock bands before morphing into university symphony and jazz programs. Collegiate highlights include playing horn for DC-based Kill Lincoln, singing alto in the all-male a capella group Emocapella, and playing in the GWU blues band throughout the DC area. After spending years of making music in a host of genres, including everything from big swing bands to bluegrass quartets, Kevin Daniel started his solo career in 2013 with the release of his inaugural EP, FLY. Two decades of performing, writing, and recording had prepared Daniel to record and perform his own original music, while the sudden loss of his mother and stepfather provided the motivation to proceed with his dream. Backed by a band of talented musicians, daniel brings... (read more)
Mike Herz - Rockwood Music Hall Stage 3
March 16, 2018 - New York
With an uncanny ability to turn a phrase with lyrics that rattle around in your head, New Jersey folk singer Mike Herz writes and performs in a style that is all his own. An aspiring poet long before picking up a guitar, Herz quickly came to the realization that his words could enter more ears if put to a tune. Flash forward years and many miles later and Mike feels most comfortable on stage in front of complete strangers. Music has brought him across this great nation and into spellbound evenings in some of the best listening rooms around. His debut album "Overgrown" was released in 2013, duo album "Closer to Home" in 2015 and his follow up solo album "The Acrobat" was released in January 2017. His songwriting has received some high praise as he was a winner of the NJ Folk Festival Songwriting Competition, an Emerging Artist at Falcon Ridge Folk Festival and a Showcase Finalist at the Rocky Mountain Folks Festival in Lyons, CO. His March 16th, 2018 performance at Rockwood Stage 3 will be a special Birthday Bash Celebration. Herz will be accompanied by a full band, reinventing past songs and previewing new material off his next full length album. Don't miss it.
Donna The Buffalo - City Winery
March 16, 2018 - New York
One of the most dynamic and determined bands continuously touring America for since 1989, Donna the Buffalo has created a community environment at their shows through their distinctive, groove-heavy, and danceable music. Donna the Buffalo is a band for the people that is accessible, positive, and memorable. With roots in old time fiddle music that evolved into a soulful electric American mix infused with elements of cajun/ zydeco, rock, folk, reggae, and country, Donna's music often contains social and moral responsibility as core beliefs, and they are just simply fun to get out and celebrate life with. "For the dizzying array of styles and genres with which they work, Donna The Buffalo maintain a surprising level of consistency… over the course of their 25-year career, they retain a sharp focus that has helped them create some truly lasting music…" writes Elmore. "Few groups are this comfortable as performers, and even fewer would take as many risks." Donna the Buffalo is Jeb Puryear (vocals, electric guitar) and Tara Nevins (vocals, guitar, fiddle, accordion, scrubboard) joined by David McCracken (Hammond organ, Honer Clavinet & piano), Kyle Spark (bass) and Mark Raudabaugh... (read more)
Time Machine/Mashina Vremeni - Back to the USA! - Terminal 5
March 16, 2018 - New York
After their sold-out North-American tour in 2010, Russia's legendary rock-and-roll band the "Time Machine" is finally back to the USA. This iconic group was founded by the songwriter and guitarist, Andrey Makarevich in the late 1960s and joined later by his colleagues and friends, Alexander Kutikov and Valery Efremov, who are still performing with the band. It is recognized as a "patriarch" of Russian rock music and achieved the cult status among several generations in the former Soviet Union. While originally the band drew their inspiration from The Beatles, Mashina Vremeni has developed a unique voice throughout the years, often changing its style, but most of the charm of their songs is in the melody and meaningful lyrics. The group created numerous classic hit songs that became a pop-culture phenomenon for anyone of the Russian descent. Many of their songs have found their way into Soviet movie hits, as well as popular theatrical plays.
Chris Kasper - Rockwood Music Hall Stage 3
March 17, 2018 - New York
"Nothing cuts to the core like a simple song," says Chris Kasper. More than a dozen years into his acclaimed career, the singer/songwriter gets back to the bluesy basics with his fifth album, O, the Fool. Inspired by Delta blues, folk music, and the string arrangements of Hollywood film scores, O, the Fool was recorded on both ends of an 800-mile move that took Kasper from Philadelphia to Nashville. He'd already spent much of his adulthood on the road, traveling from city to city, building his fanbase one show at a time. Meanwhile, back at home, his friends were putting down roots and starting families of their own. Kasper couldn't help but question his own choices, and it's that swirl of contrasting feelings — uncertainty, determination, and wanderlust — that fuels O, the Fool. "It's about traveling," he says of the 13-song, self-produced album, "and then second-guessing your travels once you've arrived at your destination. It's about coming to terms with the thing that makes you think, 'Ok, maybe this isn't the right place for me, but I am here, so I should make it work. This is where life has brought me.'" The album's title was born during a coffeeshop meeting with a fr... (read more)
Shane Smith & The Saints, Flatland Cavalry - Mercury Lounge
March 17, 2018 - New York
Play just the first 10 seconds of "The Mountain," which opens Geronimo, the latest and most ambitious release from Shane Smith & The Saints. Robust a cappella, four-part harmonies set the stage for a saga of family tragedy, a young son's revenge and a blaze burning eternally in a Pennsylvania mine. The vivid lyrics, powerful vocals and thumping four-beat drums throughout this song are reason enough for lovers of creative roots music to celebrate. From their home base in Austin through performances across the country (17 states) and abroad (Ireland), these five gentlemen have not just stuck stubbornly to their musical and lyrical convictions. They've defied audience expectations by delivering incendiary shows, each one ignited by the band's ability to unleash, feed from and feed back the energy of the crowd — in spite of the fact that they don't fit easily into any musical category.
The Brobot Johnson Experience by Darian Dauchan - The Bushwick Starr
Through March 17, 2018 - Brooklyn
The Bushwick Starr is thrilled to collaborate with All For One Theater in presenting The Brobot Johnson Experience, an Afrofuturism transmedia piece written by and starring award-winning solo performer, actor, and poet, Darian Dauchan, who has appeared on Broadway, Off-Broadway, and abroad. The recently coined "Afrofuturism" genre is referred to by The New York Times as "...a political and cultural genre that projects black space voyagers, warriors and their heroic like into a fantasy landscape, one that has long been the province of their mostly white counterparts." At its core, Afrofuturism is about reimagining what the African American experience was and what it could be, and the show is designed to inspire both contemporaries and young people of color to tell outside-of-the-box-stories like Brobot Johnson.
The Brobot Johnson Experience - The Bushwick Starr
Through March 17, 2018 - Brooklyn
The Bushwick Starr and All For One Theater present THE BROBOT JOHNSON EXPERIENCE, playing at The Bushwick Starr Theater (207 Starr Street, Brooklyn, NY) from February 14 until March 17. The Brobot Johnson Experience is the culmination of The Brobot Johnson Project, bringing together writer and performer Darian Dauchan's hip hop album and sci-fi web series into a solo theater piece through multimedia and performance. Using live looped vocals, rhymes, and beatboxing, THE BROBOT JOHNSON EXPERIENCE is a sci-fi hip hop origin story that defies both space and time. One hundred years from now, a race of hip hop androids known as Brobots will form a unit, The Tribe Called Space Quest, to spread their message of peace, love, and dopeness all over the universe. The production is directed by Andrew Scoville. Tickets are $20-$25 and can be purchased online at www.thebushwickstarr.org. For more information, visit www.afo.nyc
Unisex Salon with Kenyon Phillips - Joe's Pub
March 18, 2018 - Manhattan
Book your appointment at the UNISEX SALON, an improvisational musical variety show from the mind of genre-hopping musician, actor and writer Kenyon Phillips. A madcap mashup of Paris in the 20's and NY in the 80's, UNISEX SALON is an intimate underground revue where anything can happen...and every show is different. Anchored by host and bandleader Phillips along with his all-girl orchestral rock band, The Ladies in Waiting, and musical director Mackenzie Shivers, each show features a rotating lineup of guests spanning a range of musical genres. While the players are set ahead of time, the order in which they perform is decided spontaneously by Phillips based on the mood of the room. In addition to rehearsed songs, each show features sung conversations between Kenyon and his guests along with spontaneous mashups and audience participation.
The Midnight - The Bowery Ballroom
March 18, 2018 - New York
There is a Japanese term: Mono no aware. It means basically, the sad beauty of seeing time pass -- the aching awareness of impermanence. These are the days that we will return to one day in the future only in memories. The Midnight consists of Tyler Lyle (a songwriter from the Deep South) and Tim McEwan (a producer from Denmark). Their latest release Nocturnal is available now.
Altan - City Winery
March 18, 2018 - New York
With a career in Irish music for 35 years, Altan has achieved legendary status in a genre that has been equally shaped by the band's influence and genius. Audiences from Ireland to Japan to Australia to Europe have embraced their heartwarming, dynamic live performances and their exquisitely produced, award-winning recordings. Over a dozen releases to date, ranging from the most touching old Irish songs to hard-hitting reels and jigs. On their latest album, The Widening Gyre, Altan features guest musicians from Nashville and honors traditional tunes that have made their way to America. Adding to their long list of awards and honors, fiddler, singer and founding member Mairéad Ní Mhaonaigh was the recipient of the Gradam Ceoil/Traditional Musician of the Year in 2017. Though the band received the same award for Band of the Year in 2001, Mairéad was glad to be recognized on her own in a genre that has been slow to recognize female musicians. She is only the third woman in twenty years to receive the main award.
Looking for Free Group Planning Services?
Get free advice on planning your group's trip to New York.
MORE Activity Planner ARTICLES
RESTAURANTS

Brings together the character of Hell's Kitchen past with th...

THEATER

A new musical following a wannabe rock star who poses as tea...

SHOPPING

An array of quality branded merchandise showcasing HBO's® aw...

SIGHTSEEING

CitySights' hop-on, hop-off bus tours are operated on a flee...