The new exhibition R.H. Quaytman: + x, Chapter 34 at the Guggenheim Museum sees a contemporary artist responding to a historical one. Your trip up the museum's winding ramp will introduce you to a forgotten historical figure, Hilma af Klint, who pioneered modernist painting, in the exhibition Paintings for the Future. At the top of the rotunda, find R.H. Quaytman's response to af Klint's work with a new series of paintings. Both exhibitions open October 12.
R.H. Quaytman put together the most recent retrospective of af Klint's work nearly 30 years ago at New York's P.S. 1 Contemporary Art Center. Af Klint, a Swedish painter who lived from 1862 to 1944, began painting her large body of abstract work years before the so-called founders of modernism did. Her mathematical abstracts and dreamy, semi-botanical pieces radically departed from the representational landscapes, portraits, and still lifes of the day. Af Klint's abstract work came out of her devotion to spiritualism, which she practiced by communicating with the dead through a medium.


As with all of her work, the pieces in + x, Chapter 34 will reflect Quaytman's research on the environment in which they first appear, as well as her research on af Klint herself. Quaytman always investigates the history of a gallery or museum where her work is to be shown as part of her process. After this project, one assumes that she's every bit the af Klint expert that the museum curators are (and perhaps a Guggenheim expert as well!).   
The title of the exhibition includes + x, a mark af Klint made in the first pages of many of her notebooks. A mathematical symbol, its intent in af Klint's records remains unknown, but its flexible meaning and scientific implications have made it that much more intriguing for Quaytman, an artist also known for precise and orderly practice. Each of her projects, for example, comprise a "chapter" and are numbered in sequence from 1 to, as of now, 34. Quaytman's series of chapters began in 2001 and resembles af Klint's own long series of paintings, the 193 canvases known as The Paintings for the Temple.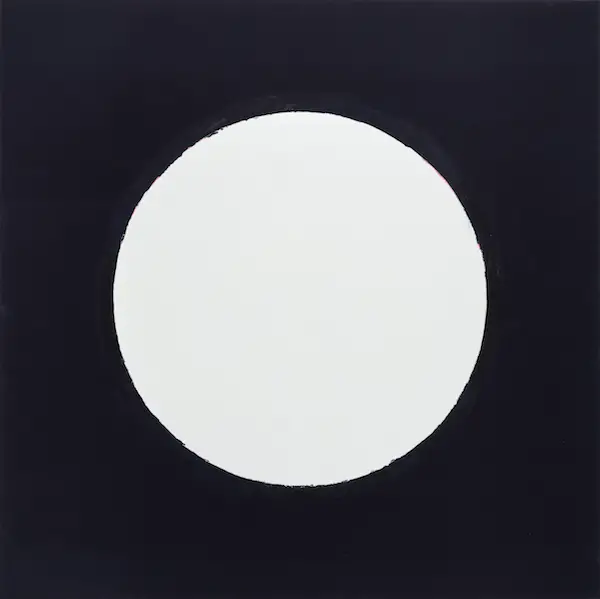 R. H. Quaytman, + ×, Chapter 34, 2018. Indigo distemper and acrylic gesso on wood. Collection of the artist. Photo: David Heald.
Like the geometric forms in af Klint's work (specifically No. 2a, The Current Standpoint of the Mahatmas), one of Quaytman's paintings for the exhibition depicts a white circle on a black background. An image of mathematical perfection, the lone circle also confronts the viewer with ghostly power. This spiritual/mathematical duality embodies the visceral impact of af Klint's work as well.
This work recalls something Quaytman once said: "I seek to maintain and simultaneously disrupt painting's absolute presence." The artist frequently uses several techniques on one piece, such as silkscreen and drawing, further "disrupting" the idea of the piece as a painting only.
Quaytman uses plywood panels as the canvases for her paintings. These panels are specifically created according to the artist's mathematical guidelines for the sake of consistency and geometric unity. Whereas af Klint seemed to create mathematical forms from a heightened spiritual state outside the consciousness, Quaytman seems to maintain an impressive control over her methods, materials, and process.  
Quaytman's artistic practice asks how paintings achieve meaning. One method of meaning-making is to withhold information in order to invite questions from the viewer, a strategy Quaytman has utilized in her former work. In her 2016 series Morning, Chapter 30, one landscape depicts a dark ridge obscuring the valley barely visible beyond. In Point de Gaze, Chapter 23, one piece shows the silhouette of a woman, her face covered with two white cloths: one over her eyes and nose and the other draped over her head.
Born in Boston in 1961, R.H. Quaytman divides her time between New York City and Connecticut. Her work belongs in the permanent collections of the Museum of Modern Art, the Solomon R. Guggenheim Museum, the Whitney Museum, the Art Institute of Chicago, the Tate Modern, and many other institutions. Quaytman has also been honored in solo exhibitions at the San Francisco Museum of Modern Art, Kunsthalle Basel, and the Tel Aviv Museum of Art, among others.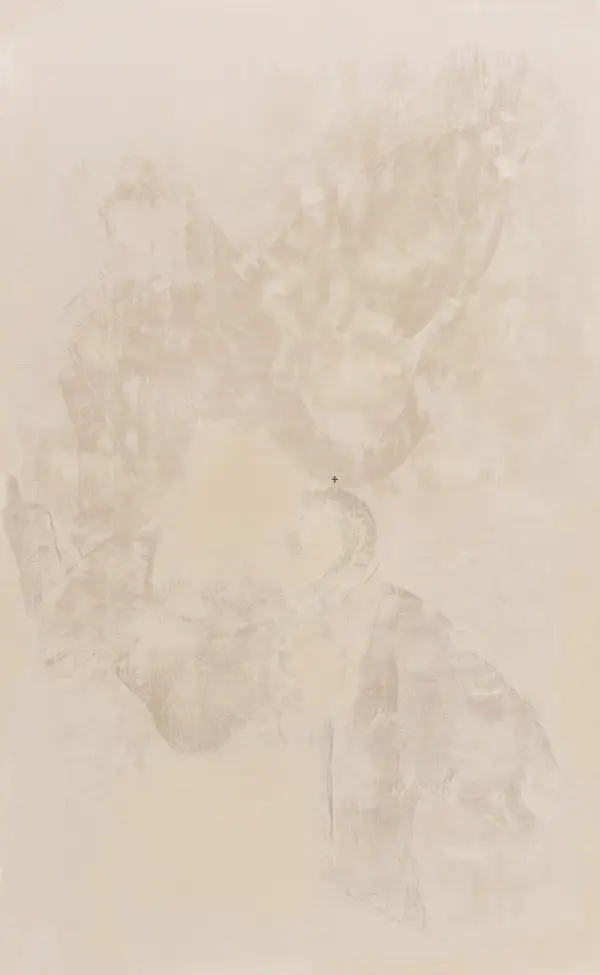 R. H. Quaytman, + ×, Chapter 34, 2018. Gouache, oil, textile, and gesso on wood. Collection of the artist. Photo: David Heald.
R.H. Quaytman: + x, Chapter 34 will be on view in the Guggenheim Museum from October 12 to February 3, 2019, in conjunction with Hilma af Klint: Paintings for the Future. The Quaytman exhibition was curated by Tracey Bashkoff, Director of Collections and Senior Curator, with David Horowitz, Curatorial Assistant.
The Solomon R. Guggenheim Museum is located at 1071 Fifth Ave. Call 212-423-3500 or visit guggenheim.org for tickets and more information.