The tragic events of September 11, 2001, are felt around the world, but especially in New York City. We've gathered some special events offering history, respects, and reflection to mark 9/11 in New York City on Wednesday, September 11th, 2019.
Marking 9/11 NYC: September 11, 2019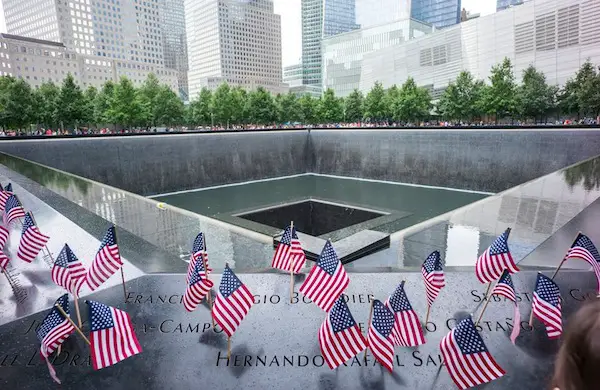 Photo: Jin Lee
There will be a Memorial Ceremony at the World Trade Center Site in the morning. Although this event is only for 9/11 family members, it will be televised. The reading of names begins after the first citywide moment of silence, at 8:46am. Services conclude at 1pm. (Bounded by West St. and Greenwich St. to the east and west and Fulton St. and the Liberty St. Walkway to the north and south.)


The 9/11 Memorial & Museum will be closed to the public throughout the day (it will be open to 9/11 families 7:30am-8pm, last entry 6pm). At 3pm, the 9/11 Memorial Plaza (free) will be open to the public for a special viewing of the Tribute in Light from a significant vantage point, and will remain illuminated through midnight. The Tribute of Light is both a visually powerful and healing work of art, visible as far as 60 miles away on a clear night. 180 Greenwich St., enter at Liberty & Greenwich or West & Liberty or Vesey St., 212-266-5211, 911memorial.org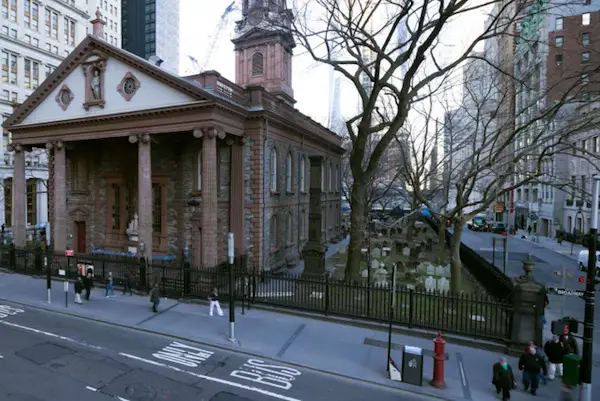 St. Paul's Chapel, called the "Little Chapel That Stood," is an Episcopal church directly across from the World Trade Center site. It's one of the oldest institutions in the city. St. Paul's played an important role on 9/11 as a place of refuge for recovery workers. There will be services and memorial occasions all day, including Ringing the Bell of Hope at 8:46am. 212-602-0800, trinitywallstreet.org
FDNY Fire Zone near Rockefeller Center is the official store of the New York Fire Department. They offer a special fire safety exhibit for children, as well as fire simulation presentations (not for children under five years). If you'd like to help a good cause and pick up a great New York souvenir, head here, where you'll find a special 18th anniversary t-shirt that helps to memorialize the 343 firefighters and paramedics who gave their lives on 9/11. 34 W. 51st St., 212-698-4520, fdnysmart.org/firezone
Lincoln Center for the Performing Arts will for the ninth year host the 9/11 Table of Silence Project: A Movement for Peace Created by Jacqulyn Buglisi. A ritual for peace and healing that employs over a hundred dancers, the performance will begin at 8:15am at Josie Robertson Plaza, end precisely at 8:46am, when American Airlines Flight 11 crashed into the North Tower.
Join the Brooklyn Historical Society for an all-day screening of Wolfgang Staehle's "2001." This film captured September 11 from a pair of unmanned webcams, depicting an ordinary New York Tuesday turned tragic. A related discussion will be held in the evening. The film will also be shown at The Cathedral Church of Saint John the Divine on the Upper West Side. Brooklyn Historical Society, 128 Pierrepont St., 718-222-4111, brooklynhistory.org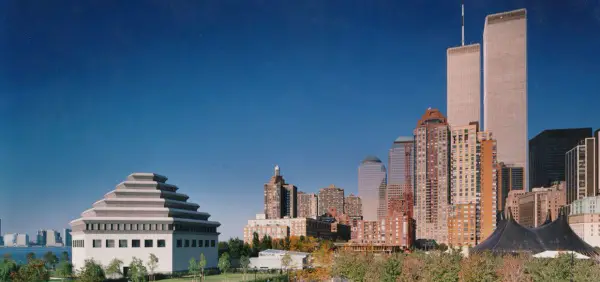 September 11 Commemoration at the Museum of Jewish Heritage – A Living Memorial to the Holocaust (10am-10pm). In memory of those who were lost and in honor of the first responders, the Museum of Jewish heritage invites the public to come reflect and remember on September 11. You will find contemplative spaces close to the WTC site, and a memorial candle will be lit in the lobby where visitors can reflect. Another spot for contemplation is the outdoor installation Garden of Stones by Andy Goldsworthy. Admission is free for all. 36 Battery Pl., 646-437-4202, mjhnyc.org
September 29, 2019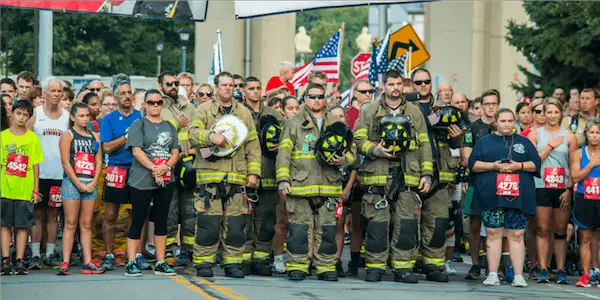 The 2019 Tunnel to Towers 5k Run Walk by the Stephen Siller Tunnel to Towers Foundation: this race retraces the final steps of Stephen Siller, a New York City firefighter (FDNY) who lost his life on 9/11, after strapping on his gear and running through the Brooklyn Battery Tunnel to the Twin Towers. The run and walk event pays homage to all first responders who made, and continue to make, extraordinary sacrifices in the line of duty. Register for the run here; starting point is Red Hook, Brooklyn.