Remembering 9/11 in New York 2017: A Guide
August 23, 2017 - by Linda Sheridan
The tragic events of September 11, 2001, are felt around the world, but especially in New York City. We've gathered some special events offering history, respects, and reflection to mark 9/11 in New York City on Monday, September 11th, 2017.
Marking 9/11 NYC: September 11, 2017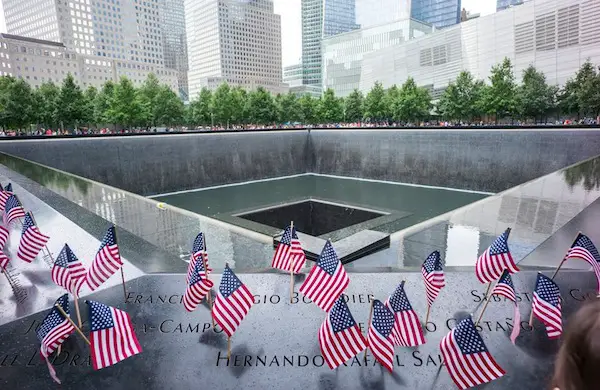 Photo: Jin Lee
There will be a Memorial Ceremony at the World Trade Center Site Sunday morning, beginning at 8:30am. Although this event is only for 9/11 family members, it will be televised. The reading of names begins after the first citywide moment of silence, at 8:46am. Services conclude at 1pm. (Bounded by West St. and Greenwich St. to the east and west and Fulton St. and the Liberty St. Walkway to the north and south.)
(9/8-9/11) Dine Out for 9/11. To commemorate the 16th anniversary of the terrorist attacks on September 11th, the 9/11 Tribute Museum will partner with restaurants for the 3rd annual Dine Out for 9/11 Tribute, starting Friday September 8, and continuing through Monday September 11, 2017.
The 9/11 Memorial & Museum will be closed to the public thoughout the day (it will be open to 9/11 families 7:30am-8pm, last entry 6pm). At 3pm, the 9/11 Memorial Plaza (free) will be open to the public for a special viewing of the Tribute in Light from a significant vantage point, and will remain illuminated through midnight. The Tribute of Light is both a visually powerful and healing work of art, visible as far as 60 miles away on a clear night. 180 Greenwich St., enter at Liberty & Greenwich or West & Liberty or Vesey St., 212-266-5211, 911memorial.org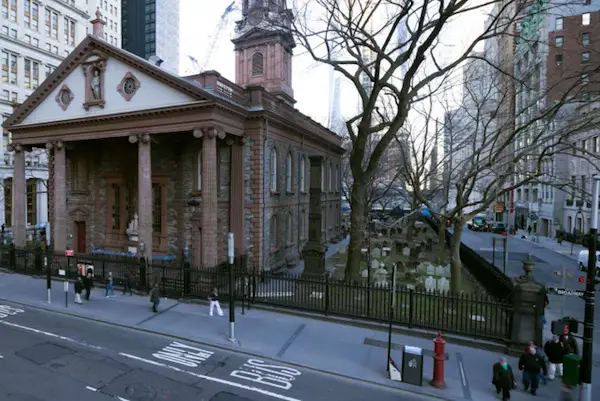 St. Paul's Chapel, called the "Little Chapel That Stood," is an Episcopal church directly across from the World Trade Center site. It's one of the oldest institutions in the city. St. Paul's played an important role on 9/11 as a place of refuge for recovery workers. While there will be no service there that day, they will be doing a Ringing of the Bells at 8:46am, followed with a Calling of the Names at 4pm, honoring anyone that has since passed due to 9/11 related matters. Next to it is Trinity Church; they will be having a service at 12:05pm. 212-602-0800, trinitywallstreet.org.
St. Patrick's Cathedral will have mass at 7am, 7:30am, 8am, noon, 12:30pm, Choral concert 4pm with the Salvatones, final mass at 5:30pm, Devotion to the Miraculous Medal at 6pm. Fifth Avenue between 50th & 51st Sts., 212-753-2261, saintpatrickscathedral.org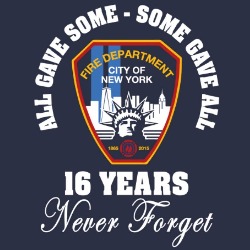 FDNY Fire Zone near Rockefeller Center is the official store of the New York Fire Department. They offer a special fire safety exhibit for children, as well as fire simulation presentations (not for children under five years). If you'd like to help a good cause and pick up a great New York souvenir, head here, where you'll find a special 16th anniversary t-shirt that helps to memorialize the 343 firefighters and paramedics who gave their lives on 9/11. 34 W. 51st St., 212-698-4520, fdnysmart.org/firezone/

Lincoln Center for the Performing Arts will for the seventh year host the 9/11 Table of Silence Project: A Movement for Peace Created by Jacqulyn Buglisi. A ritual for peace and healing that employs over a hundred dancers, the performance will begin at 8:15am at Josie Robertson Plaza, end precisely at 8:46am, when American Airlines Flight 11 crashed into the North Tower.
Marking 9/11 NYC: September 12, 2017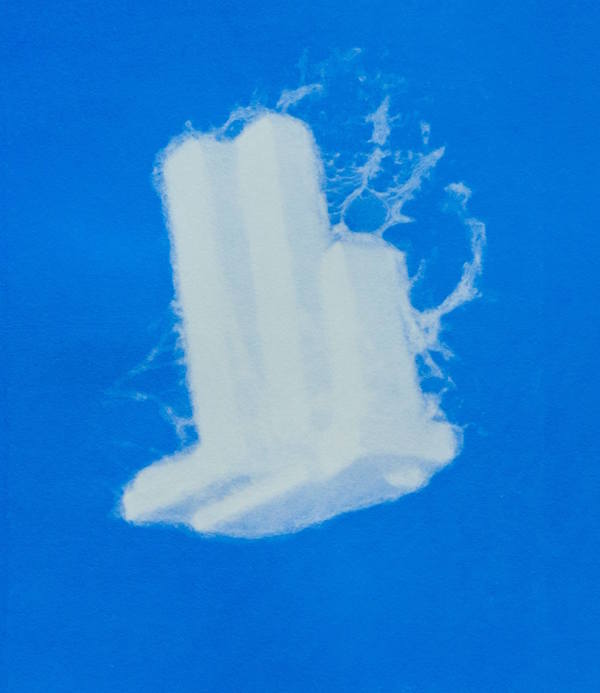 Christopher Saucedo, World Trade Center As A Cloud, 2011
The 9/11 Memorial Museum will resume being open to the public on the 12th. Rendering the Unthinkable: Artists Respond to 9/11, is a collection of artwork by 13 artists in response to the terror attacks.
September 24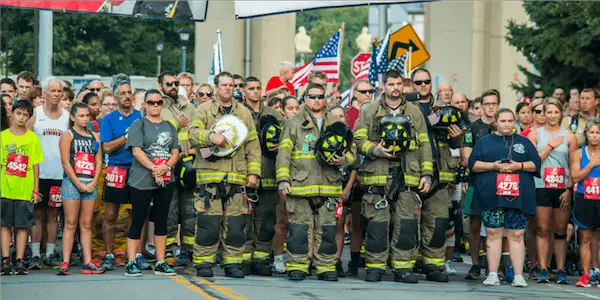 2017 Tunnel to Towers 5k Run Walk by Stephen Siller Tunnel to Towers Foundation. The race retraces the final steps of Stephen Siller, a New York City firefighter (FDNY) who lost his life on 9/11, after strapping on his gear and running through the Brooklyn Battery Tunnel to the Twin Towers.The run and walk event pays homage to all first responders who made, and continue to make, extraordinary sacrifices in the line of duty.
9:30am-2pm. Register for the run here.
__________________________________________________________________________________
(New) Set for a Sept. 8 release, the film 9/11, starrring Charlie Sheen, Whoopi Goldberg, and Gina Gershon, presents a dramatic interpretation of the day's events. Rated R.
Looking for Free Group Planning Services?
Get free advice on planning your group's trip to New York.
RESTAURANTS

Conveniently located in the Port Authority Bus Terminal, the...

THEATER

An epic love story about the relationship between John, an A...

SHOPPING

A premier destination for family entertainment....

SIGHTSEEING

Hop aboard these environmentally friendly twin-hulled catama...