"Like that bunny on TV with the battery," says Frankie Valli in Jersey Boys, "I just keep going and going and going."  That analogy doesn't just describe Frankie, though; it's the mantra of Jersey Boys, the Tony-winning musical that brings audiences to their feet at every performance. And whether you're from New Jersey or New Delhi, there's no way you can resist the beat—or stay seated—during the curtain call when the cast launches into "Oh, What a Night."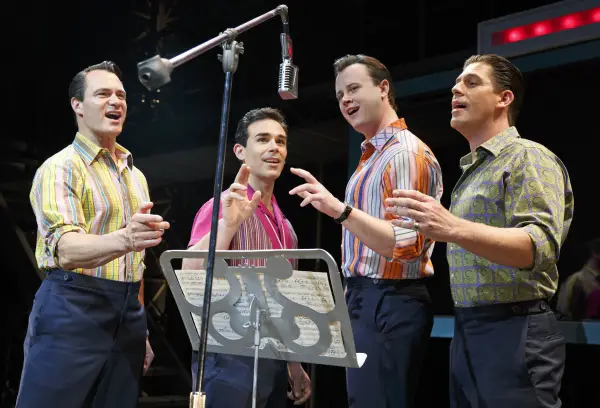 Richard H. Blake (far right) harmonizes with his fellow Jersey Boys. Image: Joan Marcus


Richard H. Blake plays the polarizing force in the Four Seasons, Tommy DeVito, who can claim responsibility for bringing the group together, as well as for its ultimate dissolution. And it's Tommy whose bad habits and reckless behavior both cement the quartet through its early years and lead to Valli's rise as a solo artist.
As for the show itself, in the past months Jersey Boys has broken with tradition by splitting the Valli role between two performers: Mauricio Pérez and Dominic Scaglione Jr., each channeling Valli to make the role his own.  
So what can theatergoers expect?  
"Well, I'm always going to be the same," laughs Blake. "Tommy is Tommy. He's doesn't apologize for who he is, but, in his mind it's all okay because he's the reason the Four Seasons exists. It's the ensemble that changes dynamically based on who's playing Frankie. Dominic is the real Jersey deal, from Essex County; Mauricio is Cuban with a Latin orientation. They're both such skillful performers, and they each have their own style. There's something special about every show."
Each night, Blake joins a talented ensemble—including Michael Lomenda who plays Nick Massi—that creates the sound that captured the imagination of radio and TV audiences in the early '60s and stayed at the top of the charts well into the next decade. Music, dance, and video all add to the vibe, together with the terrific lyrics written by original group member Bob Gaudio (played by Quinn VanAntwerp) and producer Bob Crewe (Peter Gregus).
"Since the cast works off of each other's energy every night, the show is organic," says Blake. "We thrive on it. It keeps us fresh and energized. I call this the 'butterfly effect' of theatre. One little nuance can engender another reaction and so on."  
Unlike most jukebox musicals, Jersey Boys comes with a book (by Marshall Brickman and Rick Elice) based on real life events, allowing the written-from-the-heart songs to evolve in real (past) time. The rags-to-riches story of these guys from Jersey tops out with family, girlfriends, and hits but collapses back into rags, attaining a new equilibrium where personal tragedies and foibles become somewhat bearable.
Blake believes the show's appeal is basically a no-brainer. "The songs are familiar, or, if they're not, they will be by the end. Everyone knows at least one or two songs. And the story is a well-written one," he says. "If you lived through those times, you get a visceral reaction; if you didn't, you'll relate to the timeless music and dance moves."
And with a solid background in high-profile Broadway musicals, Blake knows it's not just how much the actors affect the audience, it's how the audience returns the favor.
"Energy feeds energy. There's new life every day, and Tommy DeVito is a great role for me. I love the complexity of his journey and the journey of the group. We may like or dislike each other, but we'll always have each other's back. We're the Jersey Boys and that's how it's done in Jersey."
And for the past 10 years, on Broadway.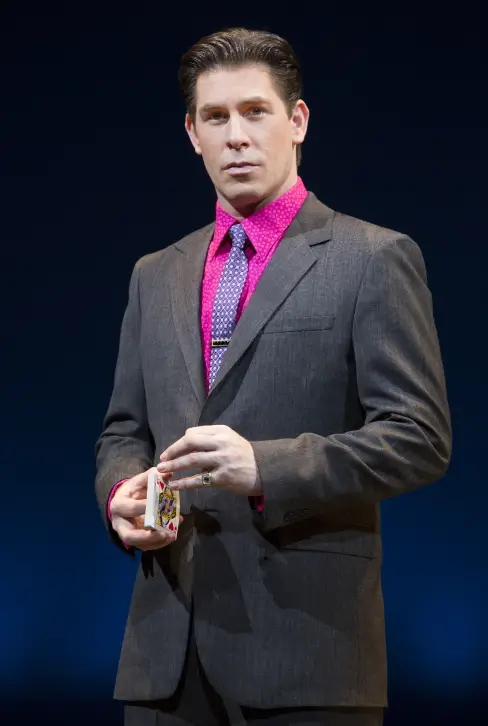 Richard H. Blake as Tommy DeVito in Jersey Boys. Image: Joan Marcus
Jersey Boys is playing at the August Wilson Theatre, 245 W. 52nd St. For tickets call 877-250-2929 or visit jerseyboysbroadway.com.