There aren't many attractions that appeal to three generations of a family at once, but Ripley's Believe It or Not! Times Square is that welcome exception. With over 500 exhibitions, many of them world-famous relics, there's something to hold anyone's attention. Robert Ripley himself tracked down many of the items in the collection—he was a long-time presence in New York, having moved to the city in 1912 and opened his museum here in 1939. Whether your interests are celebrity, history, or the endless curiosities of the world, Ripley's in Times Square is waiting to astound.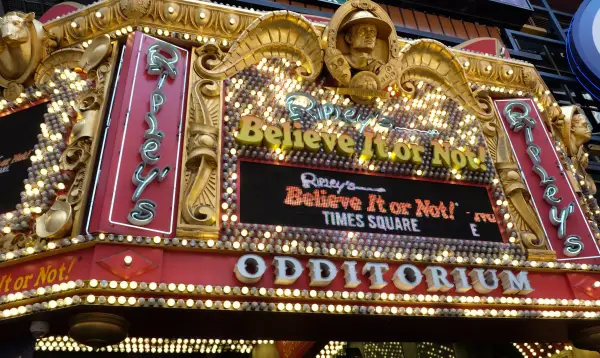 When you first enter, you'll see a series of changing exhibits, like a towering King Kong made of 5,000 pounds of car tires, or a steampunk locomotive that happens to be the largest matchstick model ever made. Kids love photo ops, and these two objects are just the beginning: all through the museum you'll find great ideas for souvenir shots. The building has WiFi, letting you can get social right on the spot.


The oddities begin at the entry, too: from a two-headed lamb to a two-trunked elephant to an albino giraffe, one of only three ever known. Up the stairs you'll see the world's largest mural made of postage stamps, an ornate ship crafted out of half a ton of jade, and celebrity portraits made out of everything from dryer lint to staples to dog hair. The cumulative effect is inspiring, a reminder that the human capacity to accomplish is limitless.
Robert Ripley (1890-1949) would expect no less. He was the most traveled man of his time, and one of the world's first superstar celebrities. In the 1930s no one received more mail—Ripley was the recipient of an average of two million letters every year.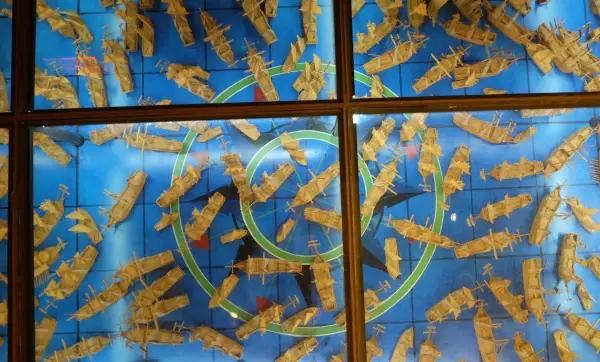 The museum will inform as much as amaze. You're certain to discover something here you've never heard of before, like a shaft of Saharite, a bolt of lightning in solid form where earth has been fused together. Displays fill the rooms, and the ceiling is called into duty, holding a collection of lighters, a jumbo hand-rolled cigar, even a lion. Check the floor, too: you can stand on a giant array that shows the full strength of the Spanish Armada. It's made entirely of matchsticks.
Vampire attack in Times Square? You'll find protection at Ripley's, as the trophy room contains an authentic kit with accoutrements "for the protection and eradication of Vampires." (Presumably the attack will be taking place after sundown; conveniently, Ripley's keeps New York hours, staying open until 1am.)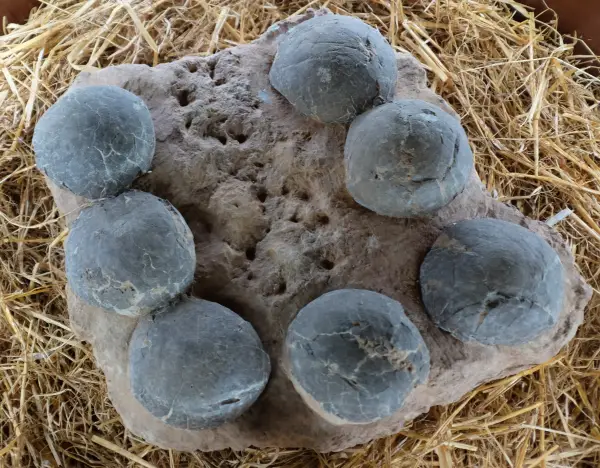 Head downstairs (the steps ring out notes) and you'll encounter a death mask of Napoleon, priceless locks of hair from George Washington, Abraham Lincoln, and Elvis. There's a clutch of Dendroolithiddinosaur eggs, perfectly preserved, and a portrait of the First Family sculpted into the eye of a needle. Ripley's famed collection of shrunken heads , the largest in the world, is here, including one that belonged to Andy Warhol. The quote by Ripley upstairs will ring true by now: "I have traveled 201 countries including Hell (Norway), and the strangest thing I've seen…was man."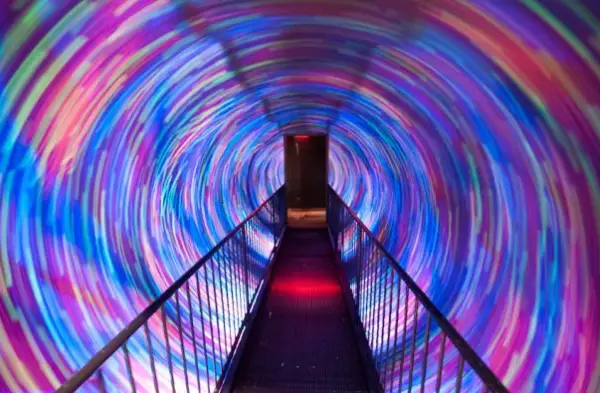 There are still more suprises ahead, like the "Black Hole," a stationary walkway that will feel like crossing an ocean liner in a tsunami thanks to clever special effects. (There's a side door if you're not up for the challenge.) Kids can work on their mental powers with a ball game driven by their brain waves, or a laser challenge where they can make like Catherine Zeta-Jones.
On the way out you'll find a gift shop, which includes some plush turtles. With two heads, of course.
Ripley's Believe It or Not! Times Square is located at 234 W. 42nd St. between Seventh and Eighth Aves. Ripley's welcomes guest 365 days a year from 9am to 1am, with last admission sold one hour prior to closing. Side show performances are given on the sidewalk in front, usually Thursday through Saturday in the warmer months. Group rates are available for parties of 15 and up; combo packages are available with nieghboring attractions like Señor Frog's and bowling at Lucky Strike. For further information, call 212-398-3133 or visit ripleysnewyork.com.
*Seasonal hours may differ, check website for updates.