Longing for peace both inner and outer as a break from the noisy delights of New York City? Say om and transport yourself to the just-opened World is Sound exhibit at the Rubin Museum of Art. The program extends throughout every corner of the beautiful museum space—even the ladies' room is imbued with sound—and the entire experience is calm and relaxing while also being stimulating.
The World Is Sound Master. Photos: Rubin Museum of Art.

Learn to listen from top to toe as you experience how sound and hearing shape our daily lives, our history and all of existence. Presenting pieces by more than 20 artists and sound installations interspersed with works from the museum's permanent collection, the show is overwhelming in the best possible sense.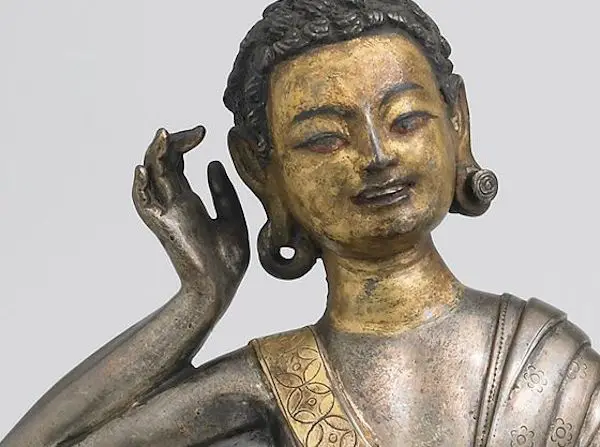 The centerpiece is Le Corps Sonore (Sound Body), a site-specific installation for the museum's wonderful spiral staircase, created by electronic sound artists Elaine Radigue, Laetitia Sonami, and Bob Bielecki. Ambient sound grows louder or fainter as you walk up or down, a way to connect with Buddhist philosophy where music is a "metaphor" for change and impermanence. A space devoted to "OM" immerses you in a 3-D design based on visitors' recordings earlier in the year. Elsewhere, you are invited to lie on a leather sofa to listen fully; another area allows visitors to hear sounds of ritual Tibetan instruments, including a conch trumpet and one fashioned from a leg bone, via headphones.
At the bottom level of the museum there is a visual rendition of how voices reflect our perception of the world by Christine Sun Kim and John Giorno, who have rendered human sounds into compelling graphics. Mid-way up (or down, depending where you begin), a room is devoted to "Deep Listening," a practice developed by composer Pauline Oliveros, which can be performed by an individual or in groups of any size. Docent-led tours take place at 1 and 3pm daily. The entre exhibition is a beautiful installation as well as a thoughtful oasis for visitors. Whether you meditate, play video games, or aren't even quite sure where Tibet is, there is something to delight everyone.
Special workshops throughout the summer will delve into sound awareness including: programs for families; a sound-healing workshop; meditation; films on July Fridays; a tribute to John Cage's Buddhism-inspired works; and other activities.
Also at the Rubin, the museum's Café Serai has a menu inspired by the flavors of India, Tibet, and beyond. Wednesdays bring Himalayan Happy Hour with reduced prices; Fridays from 6-10 pm the space becomes the K2 Lounge with "Pan-Asian" tapas and a DJ. The museum shop has well-selected textiles, jewelry, handicrafts, books, and works of art.
The World Is Sound runs at the Rubin Museum through Jan. 8, 2018. Closed Tuesdays, the Rubin Museum admission for adults is $15, $10 for seniors and students, and free Fridays from 6-10 pm. For more information, visit rubinmuseum.org.