Review: Shakespeare in Love at the Shakespeare Theatre of New Jersey
October 20, 2017 - by Alison Durkee
The words of William Shakespeare have graced millions of theatres throughout history, but this fall, the Shakespeare Theatre of New Jersey is putting the Bard himself on stage. Based on the 1998 film of the same name starring Joseph Fiennes and Gwyneth Paltrow, Shakespeare in Love, the stage version is a high-spirited adaptation that puts an entertaining spin on the playwright's life and one of his most iconic works.
Photo by Sam Gordon
Directed by Bonnie J. Monte, Shakespeare in Love centers on Will Shakespeare (Jon Barker), a playwright who's constantly upstaged by his rival Kit Marlowe (Anthony Marble) and is looking for the inspiration he needs to pen his next play. That stimulation comes in the form of Viola de Lesseps (Whitney Maris Brown), a noblewoman whose obsession with Shakespeare's words drives her to dress as a man and join the playwright's company of players. With de Lessups set to marry another man, a secret affair is begun—all while bringing one of the Bard's greatest love stories, Romeo & Juliet, to life onstage.
Fans of the film will recognize much of the material onstage, as Lee Hall's adaptation faithfully retains many of the movie's plot points and even lines of dialogue. The play takes a more comedic tone than the film's slightly more serious style, portraying Shakespeare as a loveable buffoon versus the brooding charm of Joseph Fiennes's depiction.
Though the production often echoes over-the-top Shakespearean comedies with its antics—complete with mistaken identities, disguises, and a dog (Dublin Delancy McFinnigan) that steals the show—the show also knows when to pull back, allowing more dramatic moments and the central love story to still ring true.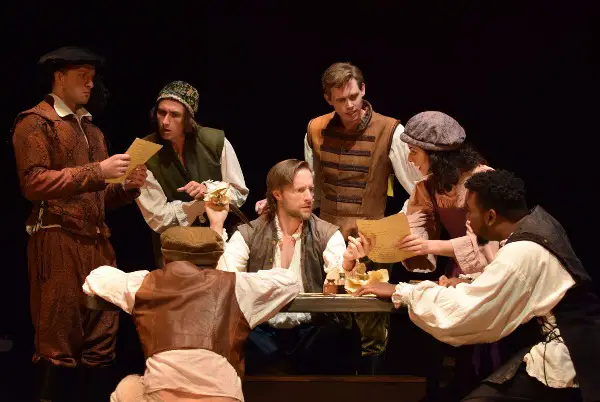 Photo by Sam Gordon
Hall's script often clarifies the film's original screenplay, streamlining the plot and bringing the story to life in a clear and straightforward way. But the stage adaptation also drags out the action, with a running time of two hours and 40 minutes. The action, though entertaining, can at times feels dragged out. Though that fault lies with the script more so than the production, Monte's direction doesn't attempt to counter the play's length, often drawing out the action further with interstitial scenes and theatrical moments that, though often aesthetically wonderful, only add to the play's at times sluggish pace.
While Shakespeare in Love may have a lengthy running time, the cast and creative team ensure that every minute of the New Jersey production presents the play at its best. The talented troupe of actors, many of whom are regular players with the Shakespearean theatre, feel perfectly at ease in their Elizabethan roles, blending strong comedic timing with the necessary heart to make their portrayals come to life. Barker and Brown are winningly cast as the show's doomed lovers, with Brown excelling at both de Lessup's humorous moments and earnest performances of Shakespeare's tender verse. The production is also bolstered by the strength of its supporting players, as performers such as Erika Rolfsrud, who portrays both Viola's nurse and the dog-loving Queen Elizabeth, steal scenes with their comedic turns.
The play's Renaissance-era world is brought to life onstage by Nikki Delhomme's period-perfect costumes, Brian Clinnin's simple yet perfectly versatile set, which echoes the wooden vaults of Elizabethan theaters, and Steven Rosen's transformative lighting design. Further rooting the show in the Elizabethan era is Paddy Cunneen's enjoyable musical score, which helps to establish the show's alternately upbeat and dramatic tone. One of the highlights of the production is how it deploys period dance styles (by Danielle Liccardo) to alternately establish the show's courtly 16thcentury world, while driving the action forward; a scene in which Shakespeare follows de Lessup on the dance floor as the two begin their romance is particularly effective storytelling.
During the play, theatre owner Henslowe (Edmust Genest) tells Shakespeare that all an audience wants is "comedy," along with "love…and a bit with a dog," and on those points, Shakespeare in Love delivers. While those who know their Shakespeare will delight in the sly references to the Bard's work peppered throughout the play, even Shakespeare novices are sure to enjoy Shakespeare in Love's blend of comedy and romance – and, of course, the dog.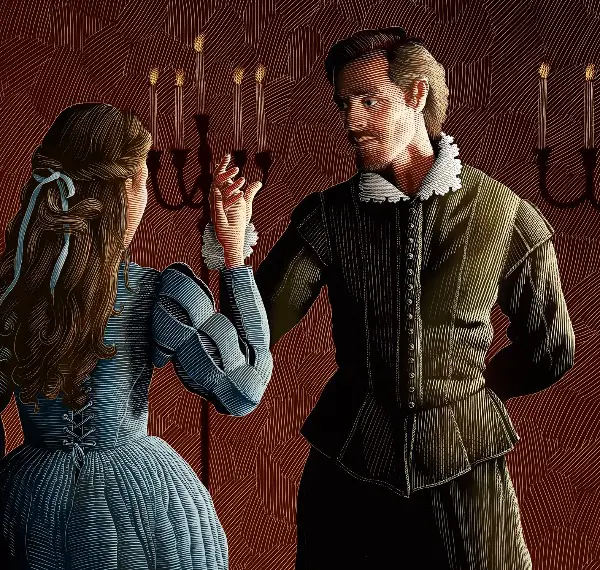 Artwork by Scott McKowen
Shakespeare in Love is playing at the Shakespeare Theatre of New Jersey in Madison, NJ, through November 12. For more information and to purchase tickets, visit ShakespeareNJ.org.
Looking for Free Group Planning Services?
Get free advice on planning your group's trip to New York.
RESTAURANTS

Vida Verde brings the tastes, colors, sounds, and scents of ...

THEATER

Kander and Ebb's "musical vaudeville" in which Roxie Hart ga...

SHOPPING

Swiss luxury watch manufacturer for men and women since 1853...

SIGHTSEEING

A state-of-the-art Coney Island amusement park that's home t...
SAVINGS OPPORTUNITIES
Blue Man Group - Take $20 off ticket price use code GUIDE. -10/31/2018