CitySightseeing knows how to plan an adventure in the city, and with their new SightSeeing Pass NYC, you'll have access to their hop-on, hop-off buses, as well as your pick of the city's most famous attractions. There's so much to see in the Big Apple, and the SightSeeing Pass NYC accommodates it all. Don't spend your time waiting in lines and trying to coordinate individual attractions—let CitySightseeing do the work for you!
You'll save up to 65%, with unlimited access to some 100 attractions and special discounts at one low price. Choose what works best for your schedule, with options for 1, 2, 3, 5, or 7-day packages. Choose from four hop-on-hop-off bus loops, and with instant delivery and mobile ticketing, you can get the SightSeeing Pass NYC with no waiting. This is also the only New York pass with access to One World Observatory, at the top of the tallest building in the Western Hemisphere.
Best of SightSeeing Pass NYC: One World Observatory (Financial District)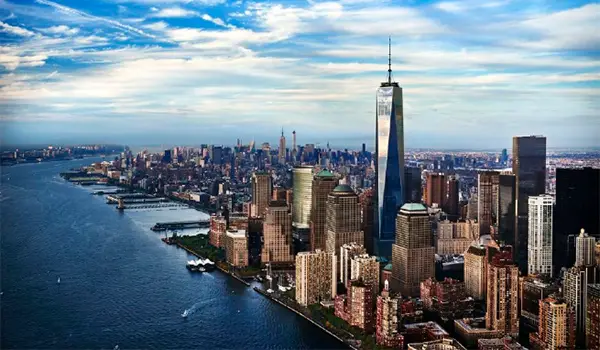 Ascend to the top of the country's tallest building and do it in less than sixty seconds. From the 102nd floor of the One World Observatory you can take in Manhattan's skyline like nowhere else in the city. Three levels are open to exploration once you've reached the observation deck. Additionally, you won't spend any time waiting in line thanks to the timed ticket entry available through SightSeeing Pass NYC's exclusive package. 285 Fulton St., 844-696-1776, oneworldobservatory.com


Best of SightSeeing Pass NYC: Circle Line Best of NYC Cruise (Hell's Kitchen)
Spend two and a half hours cruising the Hudson River and the East River aboard Circle Line's most popular year-round cruise. This voyage takes you all around the island of Manhattan, where you'll be able to spot over 100 of the city's most iconic sites, buildings, and landmarks. Included on the trip is a close-up view of the Statue of Liberty, as well as one-of-a-kind views of Yankee Stadium, Columbia University, the Brooklyn Bridge, and The Little Red Lighthouse. Pier 83, W. 42nd St., 212-563-3200, circleline42.com
Best of SightSeeing Pass NYC: The Museum of Modern Art (Midtown West)

The Museum of Modern Art houses a world-renowned collection of paintings, sculptures, film, photography, and performance art from across the decades. In addition to its permanent collection, rotating exhibitions frequently find their way into the museum, making for something new and exciting to see upon every visit. Whether you're interested in the classics or something a little more modern, you'll find it within the walls of the MoMA. 11 W. 53rd St., 212-708-9400, moma.org
Best of SightSeeing Pass NYC: Central Park Bike Rental (Central Park)

Central Park is enormous, totaling up to 843 acres, which makes taking advantage of bike rentals a smart and time-conscious decision. Ride over 47 miles of paths through the park's greenery in either a one-seater or tandem bike. A helmet, basket, illustrated map, and chain lock are included in the deal, so you can pull over and explore by foot at any point during your exploration if your heart so desires. Strawberry Fields, Tavern on the Green, and the Alice and Wonderland Statue are waiting for you! 56 W. 56th St., 212-975-0785, centralparksightseeing.com
Best of SightSeeing Pass NYC: Guggenheim Museum (Upper East Side)
The Guggenheim Museum's architecture is as astounding as the artwork it houses within its walls. Make your way up the winding rotunda as you take in the sights of some of the world's most beloved paintings from masters like Picasso and Cezanne. You can even stop in one of the museum's toilet stalls to find a fully functional 18-karat golden toilet ("America"), which is in itself an art piece by Maurizio Cattelan. 1071 Fifth Ave., 212-423-3500, guggenheim.org
Best of Sightseeing Pass NYC: Madison Square Garden Tour (Midtown West)

Join a VIP arena tour that takes you behind the scenes of New York City's most renowned arena. Home of the New York Rangers and the Knicks, as well as host to a trailing list of celebrity performers (including resident singer-songwriter Billy Joel), Madison Square Garden has a 130-year history that's packed with memorable moments. Get the scoop while exploring the famed building. 4 Pennsylvania Plz., 212-465-6000, thegarden.com
Best of Sightseeing Pass NYC: Statue of Liberty & Ellis Island (Midtown West)
Enjoy a relaxing cruise along the Hudson River, taking in incredible views before you stop at Liberty Island to see Lady Liberty herself. Standing tall over the harbor, the Statue of Liberty is one of New York City's most well-known landmarks, and you can get up close and personal with her before next making your way to Ellis Island and learning about the country's rich immigrant history at the Ellis Island Immigration Museum. Pier 83, W. 42nd St., 212-563-3200, circleline42.com
Best of Sightseeing Pass NYC: Ripley's Believe It or Not (Midtown West)
Ripley's Believe It or Not guarantees an entire day of fun with over 500 family friendly exhibits waiting to be seen. As Ripley's is known for, many of the museum's exhibits showcase national oddities and bizarre findings that you won't see anywhere else in the world. From decorated Tibetan skulls to an authentic stuffed albino giraffe, the sights you'll see at Ripley's are unforgettable. 234 W. 42nd St., 212-398-3133, ripleysnewyork.com
Best of Sightseeing Pass NYC: THE TOUR (Midtown West)
THE TOUR is one of New York City's most exciting new bus experiences, offering coliseum seating and floor to ceiling windows that allow patrons to get the best possible view of Manhattan. Comedic tour guides keep the ride entertaining and educational as THE TOUR takes you around to some of the city's most iconic sites, including Times Square, Lincoln Center, Central Park, and the Empire State Building. 584 Eighth Ave., 646-664-1312, experiencetheride.com
Best of SightSeeing Pass NYC: Rockefeller Center Tour (Midtown West)

Image: Xiquinho Silva/Flickr
Rockefeller Center is filled with a rich history and memorable artistry that makes it one of New York City's most beloved landmarks. Take a tour through the center's corridors, learning about John D. Rockefeller Jr.'s unwavering hope for a cultural center that ignited the vision for Rockefeller Center nearly 80 years ago. An expert historian will serve as your tour guide, taking you through the most significant buildings and gardens on this 90-minute tour. 45 Rockefeller Plaza, 212-632-3975, rockefellercenter.com
For more information on the SightSeeing Pass NYC, visit SightSeeingpass.com.