As the old Billy Idol tune goes, it's "Hot in the City." This summer, beat the heat with a trip to Brooklyn Museum to catch two of NYC's coolest museum exhibits. The first is The Rise of Sneaker Culture, an historical retrospective on sneakers and their evolving styles; and FAILE: Savage/Sacred Young Minds, a two-part interactive installation created by the Brooklyn based duo of artists, FAILE (Patrick McNeil and Patrick Miller). Both open July 10 and run through Oct. 4. FAILE will also be bringing an extension of their installation to Times Square in August.
In The Rise of Sneaker Culture, organized by the American Federation of Arts (AFA) and the Bata Shoe Museum in Toronto, the exhibit explores the history of the sneaker dating back to the 1830s, when a technique called vulcanization-(adding heat & sulfur to latex), helped revolutionize sneakers, making them easier to shape and more comfortable. After WWI, the US pushed for a healthier lifestyle, advocating sports such as basketball, track, participation in the Olympics. The American brand Converse became a household name for its high top, canvas basketball sneakers.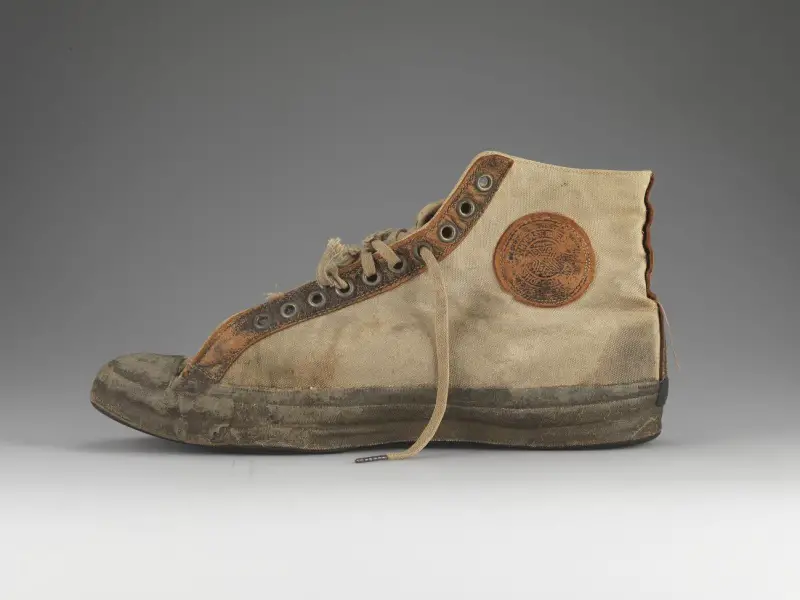 One of the earliest Converse sneaker prototypes, All Star/Non Skid, 1917. Photo: Courtesy American Federation of Arts
German brand adidas was gaining renown for their soccer sneaker by 1960, and later for tennis in the early 80s, with the popular "Stan Smith." Today, adidas is at the forefront of sneaker engineering once more. They have collaborated with British designer Alexander Taylor and Parley for the Oceans, and created a sneaker with a sole made from sustainable materials and its upper, from recycled ocean waste. It will be made available in 2016.


adidas, Alexander Taylor & Parley for the Oceans sneaker, made with recycled ocean waste, coming out in 2016.
In the 70s, American brand Nike made its first sneakers, primarily for running. But it was when Nike forged a relationship with Brooklynite/Chicago Bull basketball guard Michael Jordan, that led to the first "Air Jordan" in 1985. To date, there are more than 30 types of "Air Jordans," giving birth to the term for fans, "Jordan Heads." In 2013, $2.5 billion in Air Jordans were sold.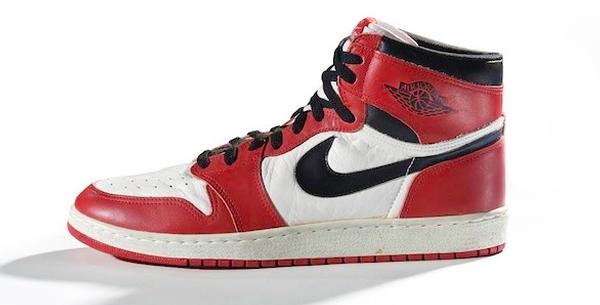 Nike's Air Jordan I, 1985
Love for sneaker culture reached a kind of frenzy during the 80s, thanks to the popularity of Air Jordans and musicians such as Run DMC. "I grew up around sneakers...everybody was into sneakers for as long as I can remember...Everybody was checking everybody's feet. What you wore on your feet defined if you were in or out," recalls Joseph "Rev Run" of Run DMC, who later came up with their own Shell Toe Adidas design, that didn't require laces.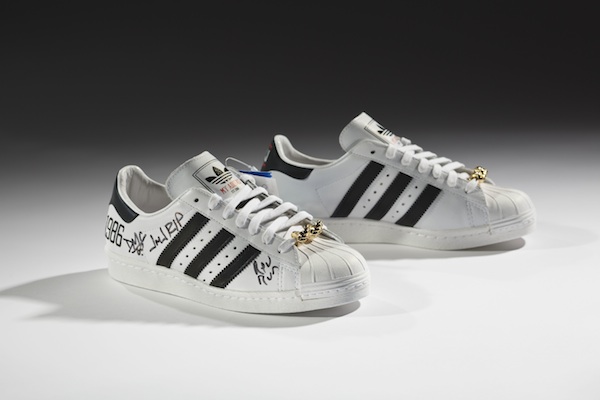 adidas x Run-DMC, 25th Anniversary Superstar, 2011. Courtesy of Run-DMC, collection of Erik Blam. Photo: Ron Wood. Courtesy of American Federation of Arts/Bata Shoe Museum
In recent years, high end fashion designers got in on the act to collaborate with sneaker brands-Yohji Yamamoto, Gucci, Prada, Christian Louboutin, as well as celebrities-Pharrell Williams has a polka dot, yellow Stan Smith, and Kanye West is coming out with his own Yeezy Boost, with adidas (all on display, of course.)
Moving over onto another section of the museum, same floor, is the mesmerizing FAILE: Savage/Sacred Young Minds, a two part installation by the Brooklyn based artists. The first part, The FAILE & Bäst Deluxx Fluxx Arcade (a collaboration with Brooklyn artist Bäst), immediately conjures the sights and feel of NYC 80s punk/graffiti culture and arcade atmosphere, complete with floor to ceiling covered artwork, and a graffiti filled arcade with artist designed, working pinball machines and video games (one offered a chance to spray paint a wall in as short time as possible).
#FAILEART Photo: Linda Sheridan
This is the first time the exhibit, which travelled through London, Edinburgh, and Miami, is being presented in a museum.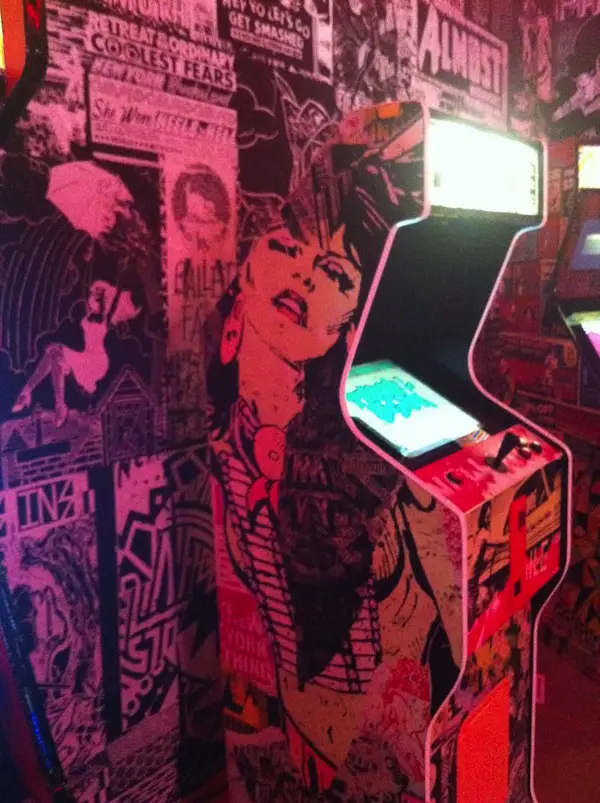 #FAILEART arcade Photo: Linda Sheridan
The second part, FAILE's TEMPLE, is reminiscent of religious temples that have fallen to ruin. You can walk inside a life size temple and spin customized prayer wheels, inspired by Tibetan Buddhist structures. There are also other new works, murals, on display, inspired by the gritty, worn layering of street posters.
FAILE will also be bringing Wishing on You, an installation reimagining Asian prayer wheels in the context of Times Square's kaleidoscopic history, to Broadway Plaza between 42nd and 43rd streeets from Aug. 17-Sept. 1, 2015. The piece will ask viewers to think about what spirituality and desire look like in the context of affluent global cities and create a place of spontaneity and shared experience.
"Although our art is inspired by so many global influences, its roots-its DNA really-are in New York, its people, and the language of the streets," FAILE said.