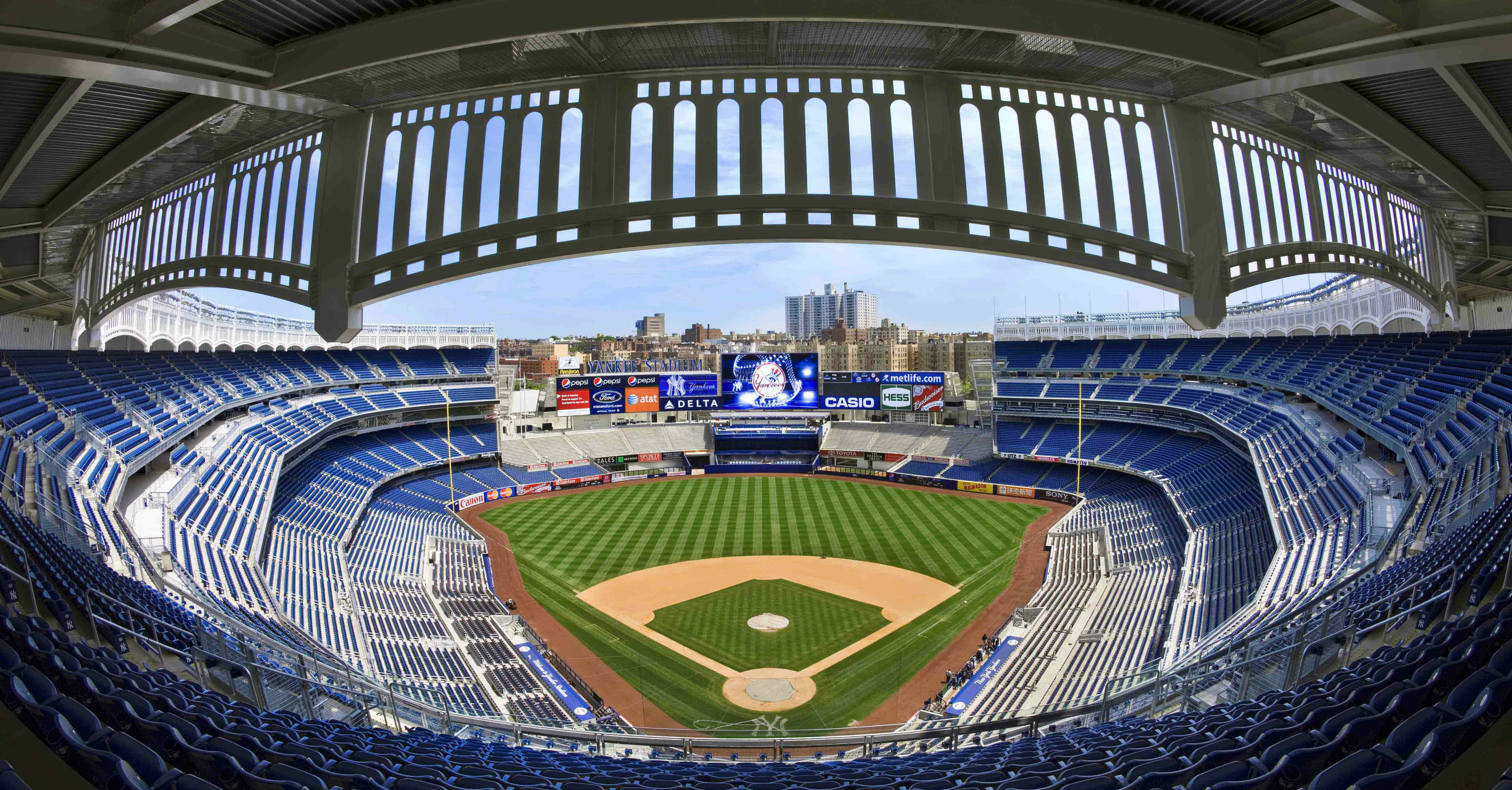 City Guide's New York calendar catches all the local sports, from Knicks or Rangers games at Madison Square Garden to Nets and Islanders at Barclays Center, with Yankee Stadium and Citi Field, plus college basketball, the Liberty of the WNBA, and the Staten Island Yankees and Brooklyn Cyclones also on our comprehensive list of things to do in NYC.


Challenger Baseball Benefit - Mr Beery's
September 09, 2018 - Bethpage
Rising New York Road Runners at the New Balance 5th Avenue Mile - New York Road Runners
September 09, 2018 - New York
Before a world-class professional athlete field races down 20 city blocks, kids ages 2 to 10 can take part in the fun at the New Balance 5th Avenue Mile. This event features age-specific short-distance races for Stage 1 athletes of all ability levels.
New Balance 5th Avenue Mile - New York Road Runners
September 09, 2018 - New York
With title sponsor New Balance back this year, the New Balance 5th Avenue Mile opens a beautiful 20-block stretch of 5th Avenue to runners of all ages and abilities who want to run their best mile in New York City. Special races include a youth mile, the George Sheehan Memorial Mile for runners age 60 and over, the NYRR Road Mile Championships, and Olympic-caliber professional men's and women's races. Check back closer to race day for a schedule of heats. Please note: This event will include heats for Rising New York Road Runners; details will be announced and registration for those events will open soon.
DraftKings NFL Kickoff Bash - Pilsener Haus
September 09, 2018 - Hoboken
Celebrate the start of the NFL season and the launch of DraftKings Sportsbook on Sunday, September 9. Join DraftKings at Pilsener Haus in Hoboken, NJ to watch the 1pm and 4pm slate of NFL games and sweat your lineups! With your ticket purchase, you will receive: Free entrance into a private $10,000 daily fantasy football contest only open to event attendees Open bar (beer and wine) and heavy appetizers all day Special guest appearances from NY football greats Tiki Barber, Nick Mangold, and Brandon Jacobs DraftKings Sportsbook promotions and swag giveaways The opportunity to experience a live broadcast from DK Live at the venue Special guest host to be announced Don't miss out on this one-of-a-kind experience - visit the link below and buy your ticket today! https://www.shopdraftkings.com/products/fantasy-football-week-1-kickoff-bash
5th Annual Caroline Fund 5K Run/Walk - St. Aloysius Church
September 15, 2018 - Caldwell
Come out to run or walk at the 5th Annual Caroline Fund 5K Race benefiting brain and spine tumor research on Saturday, September 15th at St. Aloysius Church, located at 219 Bloomfield Avenue in Caldwell, NJ! This is a USA Track & Field Sanctioned race. Race registration will begin at 7:30 a.m. and the race will kick off at 9:00 a.m. The Caroline Fund is a 501(c)(3) nonprofit organization in support of brain and spine tumor research at the John Theurer Cancer Center at Hackensack University Medical Center in New Jersey. In loving memory of Caroline Vandemark, 22, who lost her life to an aggressive form of brain cancer, glioblastoma, in 2013, the Caroline Fund uses Caroline's positive energy to fight cancer and stands by the belief that positivity cures! Together, we can raise awareness and funds to conquer brain and spinal cancer. We remember those we have lost and we support those who are suffering. We will not go quietly, we will not back down. Join us in the fight to beat cancer! Interested in becoming a business sponsor? Email carolinefund5k@gmail.com or call at 973-722-4736 for more information. To make a donation, please visit www.carolinefund.org or send a che... (read more)
TCS New York City Marathon Training Series 18M - New York Road Runners
September 16, 2018 - New York
The 2018 TCS New York City Marathon is within reach! This 18-miler is the third and final race of new TCS New York City Marathon Training Series, a new set of races designed support your training plan. All finishers will receive 9+1 credit for the 2019 TCS New York City Marathon.
Cruising the Cove - Hammonds Cove Marina
Through September 18, 2018 - Bronx
Cruising at the Cove is a family friendly car show held at Hammond's Cove Marina in the Bronx (only 10 minutes from Queens). There is no admission fee for cars or people. Each date will be in honor of a different charity and a 50/50 will be held. No burn outs please. The next dates are the following: August 14, 2018 and September 18, 2018 each for a different charity. Tuesday August 14, 2018 starting at 5:30 PM is our next car show, but this is about more than cars. On this date we're going to raise money for three year old Joe Joe, who is fighting leukemia. Any donation provided will help support this family with their living and medical expenses while they help little Joe Joe kick cancer in the butt and be one of the super heroes that he loves so much. Thank you so much and please keep this family in your prayers. We will have music provided by Johnny B., face painting for the children provided by Confetti Clowns, Several vendors including Dominick's Fine Cigars as well as Northeast Bronx Community Farmers Market Project, just to name a few. Please feel free to contact us at 718-863-5580 for further information. This is a great family night for the residents of Throggs N... (read more)
BRYANT PARK KICKS OFF 16TH SEASON OF YOGA CLASSES MAY 24 - Bryant Park
Through September 20, 2018 - New York
Bryant Park's yoga classes, believed to be the largest regularly scheduled outdoor series of its kind in the world, begin a new season Thursday, May 24. The twice-weekly classes will be held Tuesday mornings on the Upper Terrace 10 AM-11 AM, and Thursday evenings on the Lawn 6 PM-7PM. All classes are free and open to the public. The 2018 yoga season is made possible by the generosity of KeVita®, a leading manufacturer of fermented probiotic and kombucha beverages. A supporting sponsor, Gaiam, a yoga, fitness and wellness brand, will donate 1,200 yoga mats for participants to use throughout the season. Both partners will also participate in the Bryant Park Frequent Yogi loyalty program, rewarding returning attendees for their dedication. Bryant Park's yoga classes draw thousands of participants throughout the warm weather months, making it one of the park's most-attended activities. The Thursday evening class has drawn over 1,500 people during a single session. This year on select Tuesday mornings, Bryant Park introduces post-class yoga workshops on topics including self-care, meditation, and alignment with instructors from the Gaiam Wellness Studio, located in Lord & Taylor o... (read more)
Kayaking - Brooklyn Bridge Park
Through September 30, 2018 - Brooklyn
Glide along the water while kayaking with the Brooklyn Bridge Park Boathouse at the Pier 2 floating dock! Children under 18 must have an adult guardian present. All levels are welcome and no experience is necessary.