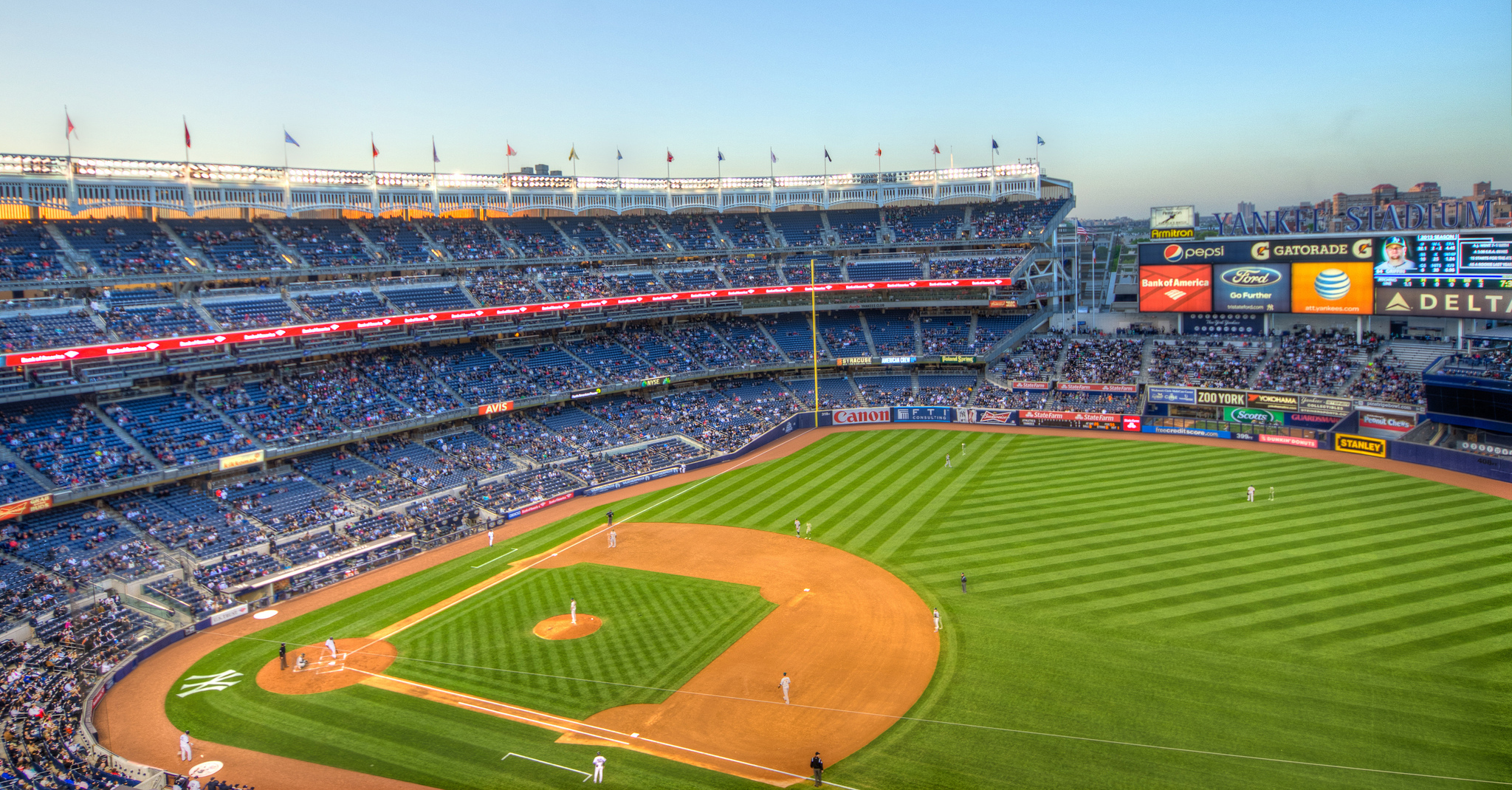 Photo: m01229/Flickr

NYC is home to the Knicks, the Yankees, the Jets, the Rangers, the Mets, the Nets, and the Islanders, so you can bet that there are sporting events happening in the city no matter the season. (There's also soccer, minor league baseball, marathons, and all kinds of college teams.) Find out what sports events in New York City are happening this weekend on City Guide's roundup and then snag some tickets for a game you'll never forget.


SailGP - Battery Park City
June 21, 2019 -
The world's fastest on-water racing is coming to New York City for the first time ever in June! On the lower Hudson River, with the NYC skyline as the backdrop, rival national teams from Australia, China, France, Great Britain, Japan and the Unities States will race in state-of-the-art F50 catamarans expected to reach speeds exceeding 60 mph. The race will take place just off the Battery and will run north toward Rockefeller Park with the onshore Race Village located at Brookfield Place.
Staten Island Yankees at Brooklyn Cyclones - MCU Park - Coney Island
June 21, 2019 - Brooklyn
Staten Island Yankees at Brooklyn Cyclones
Atletico de Madrid New York City Day Camp Session I New York NY 2019 - Randalls Island Park
Through June 21, 2019 - New York
Ages 5-16. Members save up to $10 on registration fees.Through our exclusive partnership with Atletico de Madrid, our soccer camps give players unique and privileged access to some of the best coaches and coaching methods in the modern game. Players will improve their technical ability through tried and trusted drills, exercises and scrimmages based on the same philosophy used by the clubs themselves, all under the watchful eye of official Atletico de Madrid soccer coaches. The camps can accommodate all skill levels and players are grouped together based on ability in order to improve tactical, technical and physical ability. Together with players from all over, players hone their skills in a fun and supportive environment for a rewarding experience for all. Kick off your summer with us and go home a better player!
Fantastic Gymnastics Holiday Training / Ages 4-10 - 92nd Street Y
Through June 21, 2019 - New York
Join our professional 92Y USA Gymnastics instructors for a fun-filled day of gymnastics, dance, sports, art, and more in our state-of-the-art training studios. The day includes a dynamic gymnastics warm-up, at least two hours of gymnastics training on all four women's gymnastics events, dance, take-home art projects, and lots of fun games! Beginners through intermediate/advanced athletes are welcome! No experience required. Children are split into age-appropriate groups for all activities. All children should bring a bagged lunch to the program. Please email with any questions. We hope to see you there!
Brooklyn Cyclones at Staten Island Yankees Tickets - Richmond County Bank Ballpark
June 22, 2019 - Staten Island
Brooklyn Cyclones at Staten Island Yankees Tickets
Rugged Maniac - Aviator Sports and Events Center
June 22, 2019 - Marine Park
Rugged Maniac returns to Aviator Sports and Events Center on June 22nd with 25 epic obstacles, some new and some old favorites, in this massive 5k run and festival hybrid. Register for the race time slot and you'll get a chance to run the 3-­mile course where you'll be faced with a number of isolated obstacles along the way from a wall jump, climb towers of shipping containers, rocket down a massive mudslide, crawl through, and experience some big new obstacles! Even if you don't consider yourself the most physically capable, don't be intimidated. You can choose which obstacle you'd want to attempt at your own discretion with participants of all kinds from athletes, couples, and families. You'll have access before and after the run to the various challenges scattered throughout like a pie eating contest, mechanical bull riding, and tables with loads of free gifts.
The Slipper Room Show: Mr. Choade's Upstairs Downstairs - The Slipper Room
June 22, 2019 - New York
This event is 21 and over The show that started a worldwide movement. NYC's longest-running variety show and still the best.
LOA Wellness Series + Pop-up - The glasshouses
June 23, 2019 - New-York
Join Lotus On Air for our brand new Wellness Series + Pop-Up with a yoga class, Holistic Self Care panel discussion, and wellness vendors. About this Event Lotus On Air is hosting our first Wellness Series & Pop-Up in collaboration with Glasshouses Chelsea with stunning views overlooking the Hudson River. LOA is dedicated to creating holistic spaces where fitness and mindfulness unite. This experiential event has a little bit of something for everyone from yoga, mind provoking conversation, self-care, and your favorite wellness brands!  LOA Wellness Series + Pop-Up  1 - 5pm pop-up wellness market with Chakrubs, MINKA, HealHaus, and more! 2 - 3pm yoga class with J Elissa 3:15 - 4pm Holistic Self Care panel discussion featuring Angela Gargano, Rosemary Donahue, Curtis Smith, and Elisa Shankle Lotus on air is a new-to-market niche elevated basics and luxury fitness wear line for women. We aim to establish ourselves as the leading authority in clothes that perform both in and out of a sporting environment. The collection isn't categorized by sport, instead it empowers women to look and feel their best always.
Cypress Hills 5K - Cypress Hills Cemetery
June 23, 2019 - Brooklyn
Join us for the Seventh Annual Cypress Hills Cemetery 5k Run Through History in Honor of fallen NYPD Detective, Peter Figoski on Sunday, June 23, 2019. Race Beneficiaries: St. Mary's Healthcare System for Children PBA Widow's and Children's Fund To donate to our beneficaries, please use this link. If you are interested in sponsorship donations, please email us or use this link for more information. T-Shirts to the First 250 Registrants! Race Start Time: 9 am Race Day Registration and Bib Pick Up: 7:15 am to 8:45 am Online Pre Race Entry Fee: $35 (plus a $4.01 processing fee) Race Day Registration Fee: $40 For 2019, we added a kids fun run to our agenda! Registration is free. Kids of all ages are welcome to participate! Remember at checkout to register for the kids run! Our challenging and unique 5k course takes you throughout the roads of our 171 year old cemetery past the final resting places of some of history's most notable figures such as: -Jackie Robinson (First man to break Major League Baseball's color barrier) -Mae West (Brooklyn born, Vaudeville performer and movie star of the 1920's and 1930's) -Peter Luger (Famous restaurateur/steak house owner) -Ignacy P... (read more)
French Grand Prix Screening - Classic Car Club Manhattan
June 23, 2019 - New York
Join us at CCC to watch the full schedule of F1 championship races. Sunday we'll watch the teams take on the French Grand Prix. We'll press play at 1pm - come enjoy the race with us over brunch and a pint.
Staten Island Yankees at Brooklyn Cyclones - MCU Park - Coney Island
June 23, 2019 - Brooklyn
Staten Island Yankees at Brooklyn Cyclones
A Monday Evening Yoga - Brooklyn Grange Rooftop Farm
Through June 24, 2019 - Fort Greene
Every Monday, loosen up with Sarah Schumann, Brooklyn's favorite yoga teacher! Shaped within a 60-minute, all-levels asana (yoga postures) practice, the beauty and wisdom of nature will inspire us to slow and find a deeper breath, to root down and rise up, to notice the details and celebrate the expansive. Class will begin with a brief centering, a collection of ourselves in breath and space, and will gently evolve into a flow of movement and meditation. In community, we'll move, breathe and connect to our inner and outer landscapes.
A Farm Tour/Brooklyn Navy Yard - Brooklyn Grange Rooftop Farm
Through June 26, 2019 - Fort Greene
Brooklyn Grange Rooftop Farm offers two Wednesday tours at the Brooklyn Navy Yard location starting at 10am and 11:30am. Tours leave promptly from Building 92 and last approximately 45 minutes each. Rain or shine!
Ribbon Dancing at Bryant Park - Bryant Park
Through June 26, 2019 - New York
Combine cardio with artistry as you wave long ribbons in the air to create rainbows, waterfalls, dragons and ocean waves. Ribbon Dancing is as visually stunning as it is fun and easy to learn! All ages and skill levels are welcome.Classes taught by Margaret Yuen from Red Silk Dancers.
Yoga in Bryant Park - Bryant Park
Through August 29, 2019 - New York
Stop by the park and join a Tuesday morning or Thursday evening class in this flagship series presented by Kevita. Gaiam provides a colorful selection of mats for the first 1,200 participants. If you would like to secure one of their mats, please arrive at least 30 minutes before class begins. Otherwise, feel free to bring your own!
Mets & Yankees Baseball Season - Luma Hotel
Through September 29, 2019 - New York
Enhance your New York experience by visiting the iconic Mets or Yankees Stadiums for America's favorite pasttime! Let LUMA Hotel's concierge help you select a game and plan your transportation to the stadiums.
Connecticut Tigers at Staten Island Yankees - Richmond County Bank Ballpark
Through June 18, 2109 - Staten Island
Connecticut Tigers at Staten Island Yankees