The New 42nd Street Presents at The New Victory Theater - Mayumana's MOMENTUM, Dec. 3-Jan. 2, 2010
November 4, 2010 - by City Guide News Desk
Boasting a cast of 13 outstanding young talents from as many different countries, Momentum is a fiery fusion of physical feats set to unstoppable beats and rhythms. Exploring concepts of time and space, these amazing performers use live music, stunning visuals and daredevil dance moves to create an all new performance language. The show will run Dec. 3, 2010 through Jan. 2, 2011 at the New Victory Theater in Times Square, New York City. To purchase tickets, click here.
"For two years in the late 90s we worked from a tiny basement with no budget. But somehow, we managed to gather a small group of talented people from different countries with tremendously diverse artistic skills: a musician, a flamenco dancer, a computer programmer, the Israeli champion in archery, a hip hop artist, a reggae musician...together, we created the unique theatrical language of Mayumana," recalls Eylon Nuphar, co-founder and one of the two creators of Mayumana, a Tel Aviv-based theater company. "Now, our troupe has nearly 100 artists from more than 30 different countries, and we have our own 400-seat theater. We've created five different shows --– all of which have toured internationally. We're thrilled that the U.S. premiere of our latest production, Momentum, will be at The New Victory this December," Ms.Nuphar said.
And get this: no two shows are alike! That's because Momentum features breakthrough technologies that were developed especially for the show, including live 3D depth-sensing technology that recognizes people and responds to their movements and gestures.
Click here for a short video clip of Momentum.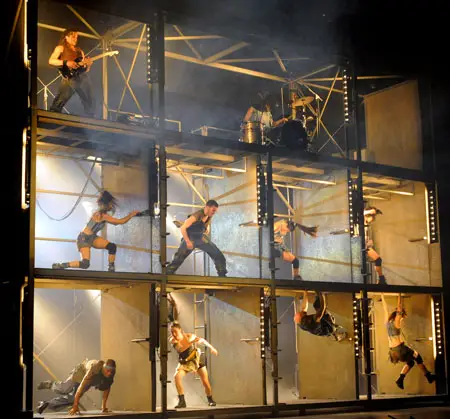 Ticket information
Theater-goers who buy tickets for three or more New Vic shows qualify for free Membership benefits, including a 35-percent savings.

Holiday show tickets for Members cost $36 (orchestra), $22 (mezzanine) and $11 (balcony). Tickets for non-members cost $55 (orchestra), $33 (mezzanine) and $17 (balcony).

On sale now:
ONLINE at NewVictory.org
BY PHONE at 646-223-3010; Monday-Friday 12 noon-8pm; Saturday 10am-8pm; Sunday 10am-5pm.
IN PERSON at The New Victory Theater Box Office (209 W. 42nd St.); Box office hours: Sunday & Monday 11 am-5 pm; Tuesday-Saturday 12 noon-7pm.
Looking for Free Group Planning Services?
Get free advice on planning your group's trip to New York.
RESTAURANTS

Beer hall casual meets craft cocktails with a healthy dose o...

THEATER

This new American musical offers a deeply personal and profo...

SHOPPING

Find the right gear for your workout. ...

SIGHTSEEING

This renovated museum complex includes the 900-foot-long air...