It may be cold outside, but things are getting hotter at Benjamin Steakhouse (52 E. 41st St. (Park-Madison Aves.), 212-297-9177; benjaminsteakhouse.com and White Plains, NY (610 W. Hartsdale Ave., 914-428-6868). Sizzling steak works wonders during the winter!
 
Rather than hibernating during these cold winter days, come join Benjamin for a hearty meal that'll surely warm you up! Don't believe us? Just ask The Daily Show's hot new correspondent, Olivia Munn, who loved her fireside dinner so much that she tweeted: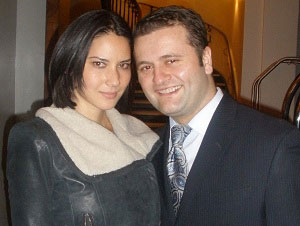 Olivia Munn, pictured above with owner Benjamin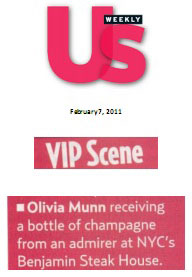 Above: the write-up running in Us Weekly's current issue
Best Steak in Town! Benjamin Steakhouse is honored to announce that AKC President Dennis Sprung has just named them the Best Steakhouse in New York in the latest issue of the AKC Gazette!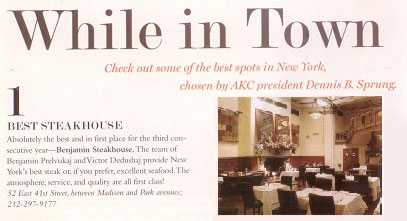 "Absolutely the best and first place for the third consecutive year--Benjamin Steakhouse. The team of Benjamin Prelvukaj and Victor Dedushaj provide New York's best steak or, if you prefer, excellent seafood.  The atmosphere, service and quality are all first class."
New at Benjamin's: Westchester's Newest Happy Hour! Tuesdays through Fridays, from 4-7PM, enjoy half-priced beer, wine and cocktails in our spacious bar and lounge area. With half-priced drinks, your glass is always half-full!
 
Open for Valentine's Day! Benjamin Steakhouse: White Plains will be open on Monday, February 14th for Valentine's Day dinner. Call 914-428-6868 and book your reservation today!
About Benjamin Steakhouse: Peter Luger alumni Benjamin Prelvukaj and Chef Arturo McLeod have combined over 30 years of experience to create Benjamin Steakhouse, conveniently located near Grand Central Station in the century-old Chemist Club Building. From the beautifully marbled cuts of dry-aged beef to the impeccably refined Old World service and charm, Benjamin Steak House prides itself in providing a quality dining experience in an elegant midtown setting. 52 E. 41st St. (Park-Madison Aves.), 212-297-9177; benjaminsteakhouse.com.