Things to Do in Greenwich Village This Week - June 10-June 17
June 10, 2018 - by CG Directory Editor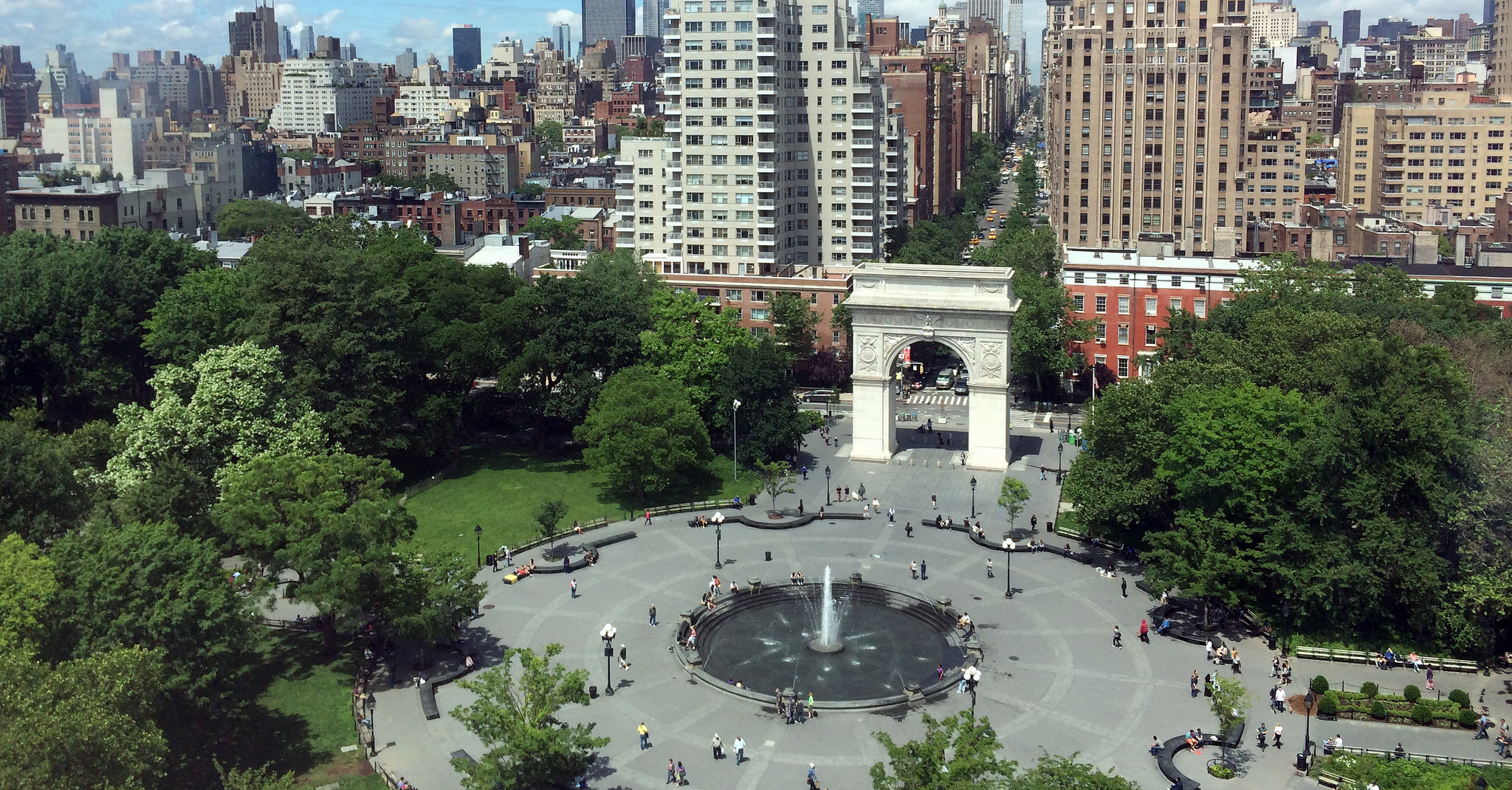 Photo: Doc Searls/Flickr

Home to Washington Square Park, the Stonewall Inn, and NYU, Greenwich Village always has a lot going on, which is exactly why this guide for things to do in Greenwich Village this week will come in handy. City Guide has rounded up some of the most entertaining, delicious, and memorable things to do in this scenic neighborhood no matter your budget.


Choir Rehearsal - Judson Memorial Church
June 10, 2018 - New York
MEETING ROOM (Enter by way of 55 Washington Square South)
ACME performs the music of Johann Johannsson - Le Poisson Rouge
June 10, 2018 - New York
Sunday, June 10, 2018 at 9:30pm (doors 9pm) ACME (American Contemporary Music Ensemble) performs the music of Icelandic composer Johann Johannsson. ACME frequently toured and recorded with Johannsson from 2009 until his death in February 2018. The concert, presented by LPR X, will include selections from Johannsson's first concert in New York, which took place in 2009 at Le Poisson Rouge with ACME. ACME artistic director Clarice Jensen will also perform "bc" for solo cello and tape loops, a piece that she co-composed with Johannsson last year. ACME players for this concert are Clarice Jensen, cello; Ben Russell, violin; Laura Lutzke, violin; Caleb Burhans, viola. $25 in advance, $30 day of show. Presented by Le Poisson Rouge. http://lpr.com/lpr_events/lpr-x-acme-performs-music-of-johann-johannsson-june-10th-2018/
Bach to Rock: Battle of the Bands - City Winery
June 10, 2018 - New York
Join us at the fabulous City Winery, NYC where student bands from B2R Port Washington and B2R Mamaroneck (ages 7-18) go head-to-head in this year's Battle of the Bands. City Winery offers a full menu, so enjoy delicious food and beverages while you listen to the kids rock the house!
650 at The Loft - City Winery
June 10, 2018 - New York
Read650's mission is to promote writers through live performances that celebrate the spoken word. It's a popular literary series that captivates audiences with true personal stories—five minutes and 650 words at a time. With a strong emphasis on the craft of writing, Read650's submission-based events are developed around broad themes that invite a wide range of expression. In a publishing environment with a shrinking number of opportunities to showcase new voices, Read650 is a high-quality platform for both aspiring and established writers. "Summer Jobs" A dozen talented writers recount memories of their most memorable summer jobs — positions involving physical labor, low pay, embarrassing costumes, kids, animals, and more. Come hear—and then meet—our burger flippers, dog walkers, camp counselors, pool skimmers, pizza drivers, and lawn mowers.
Funkbox Nyc | - Cielo
June 10, 2018 - New York
The Legacy Continues. Tony Touch A.K.A Tony Toca continues to be a force to be reckoned with. Tony Touch, an icon in Hip Hop and in the Urban Hispanic genre plus seasoned player in the game, is a true innovator and has revolutionized the DJ game over and over. From his legendary mix tapes, to his skills on the 1's and 2's, he has become one of Hip Hop's most recognized DJ's. This C.E.O/Artist/Producer is now currently working on his 7th commercial release titled "The Piece Maker 3…Return of the 50 MC's" and is expected to make history once again.
Rich The Kid at Cielo June 9th - Cielo
Through June 10, 2018 - New York
Join Rich The Kid at Cielo this Saturday June 9th. Doors Open: 1PM No Fefunds, 21+ Valid ID Artist: rich the kid
Blue Note Jazz Festival Presents: Keyon Harrold & Friends - Blue Note Jazz Club
Through June 10, 2018 - New York
Cited by Wynton Marsalis as the "future of the trumpet" and "one of the most sought after trumpeters in the world", this St. Louis native and Mannes School of Music graduate is an eclectic trumpeter/music producer/arranger/songwriter who is known for pushing musical boundaries through his compositions and improvisational style. Cited by Wynton Marsalis as the "future of the trumpet" and "one of the most sought after trumpeters in the world", this St. Louis native and Mannes School of Music graduate is an eclectic trumpeter/music producer/arranger/songwriter who is known for pushing musical boundaries through his compositions and improvisational style.
OutdoorFest Basecamp 2018 at Columbia - Columbia Sportswear
Through June 10, 2018 - New York
That's Not Tango--Astor Piazzolla, A Life in Music - SubCulture
Through June 10, 2018 - New York
Singled Out by the New York Times, Acclaimed Show Returns to NY June 8, 9 & 10 as well as July dates In Gender-Bending Role, Lesley Karsten Stars in Production Led by Stephen Wadsworth A more revealing, soul-searching expression of the life of Astor Piazzolla—the father of Nuevo Tango—is at the heart of a revamped production of "That's Not Tango - Astor Piazzolla, A Life In Music," returning for an extended run at New York's SubCulture on June 8, 9 & 10th and for multiple performances in July. The director is Stephen Wadsworth, named one of the most influential stage directors of the 21st century by American Theatre. Conceived by Lesley Karsten and written by Karsten and Wadsworth, the team have re-adapted their 2016 tribute to plumb more intimate details of the musician's life, examining his doubts, struggles and regrets, and how they inspired and sometimes contradicted his celebrated career. The staged production has a unique gender-bending premise – the part of Piazzolla is played by a woman. As Piazzolla, Lesley Karsten delivers a compelling dramatic narrative that offers a deeper understanding of Piazzolla's life, from his rough childhood in New York to the... (read more)
The Diana Tapes - HERE
Through June 10, 2018 - New York
What Will the Neighbors Say? will present the New York Premiere of James Clements' THE DIANA TAPES, directed by Wednesday Sue Derrico (HVMLET for She NYC Arts Festival) at HERE (145 6th Avenue), May 24-June 10. Performances will run Tuesday through Saturday at 7pm, with matinee performances on Wednesday, Saturday, and Sunday at 2pm. Tickets ($25/$15 for under 30 & seniors) are available for purchase in advance at www.thedianatapes.com. The performance will run approximately 70 minutes, with no intermission. This production is part of SubletSeries@HERE, a curated rental program, which provides artists with subsidized space and equipment, as well as technical support. The Diana Tapes presents the true story of one of the greatest media scandals in British history – the publication of Andrew Morton's book about Princess Diana, which ended her marriage and shook the monarchy to its core. Based on the real transcripts from the Princess' tapes, the show moves between Morton's office, the sitting room where the Princess recorded her darkest secrets onto cassettes, and the dingy West London cafe where one of her best friends surreptitiously handed them over. The subterfuge and deception... (read more)
Natalya Nova: Dreamland - Leica Store New York SoHo
Through June 10, 2018 - New York
Leica Store New York SoHo is pleased to present Natalya Nova's Dreamland exhibit, self-portraits. Don't miss this fabulous show and what is destined to be an unforgettable event. The show runs from April 5 to June 10, 2018.
Positively Bob Dylan: 77th Birthday Tribute Feat. Paula Cole, James Maddock, The Bluebirds of Paradise - City Winery
June 11, 2018 - New York
Bob Dylan arrived in New York City in January 1961 and the music world was forever changed! Please join us for a special evening of Bob Dylan classics in celebration of The Bard's 77th birthday. Featuring Paula Cole, James Maddock, The Bluebirds of Paradise, The Kennedys, The Prop Men, and more artists to be announced!
McCoy Tyner with Special Guests - Blue Note Jazz Club
June 11, 2018 - New York
Jazz pianist McCoy Tyner is widely considered one of the finest and most influential pianists in jazz history. His signature booming left-hand and fleeting right created a unique sound that can be heard on his recordings as a sideman with the John Coltrane Quartet in the 1960s and on his 80-plus albums as a leader. Tyner's most recent project for McCoy Tyner Music/Half Note Records is his first solo effort in almost a decade titled Solo: Live From San Francisco. The release is the third for his label and features eleven solo vignettes recorded at the Herbst Theater in 2007. Tyner's blues based piano style, replete with sophisticated chords and an explosively percussive left hand has transcended conventional styles to become one of the most identifiable sounds in improvised music. His harmonic contributions and dramatic rhythmic devices form the vocabulary of a majority of jazz pianists.
The Moth StorySLAM: Impostor - Housing Works - Bookstore Cafe
June 12, 2018 - New York
10 stories, 3 teams of judges, 1 winner.
Byron Isaacs at The Loft - City Winery
June 12, 2018 - New York
All shows in The Loft are seated, general admission. Seats are first come first served so we recommend arriving early. Check out the new menu at The Loft! Bass player, singer-songwriter Byron Isaacs is releasing his first solo album, DISAPPEARING MAN, at the Loft at City Winery on June 12th. Isaacs is a founding member of Ollabelle and Lost Leaders, and is currently recording and touring with The Lumineers. Over the past fifteen years he has also recorded and/or performed with Levon Helm, Willie Nelson, Joan Baez, Bruce Springsteen, Patti Scialfa, Roseanne Cash, Nina Nastasia, Ryan Adams, Chris Smither, Richard Shindell, Mary Fahl, Amy Helm, and Larry Campbell & Teresa Williams. The album was co-produced by Hector Castillo (David Bowie, Bjork, The Brazilian Girls) and Brian Cullman (Lucinda Williams, Ghazal). Isaacs will be joined onstage by guitarist Oren Bloedow (Elysian Fields, The Lounge Lizards, Chocolate Genius), drummer David Berger (Amy Helm, Alice Texas, Justin Bond, Mary Fahl), keyboardist Glenn Patscha (Ollabelle, Sheryl Crow, Marc Cohn) and multi-instrumentalist Will Bryant (Donald Fagen and the Nightflyers, Mike and Ruthy). The album's songs combine the ... (read more)
Washington Square's Music Festival's 60th Season - Washington Square Park
June 12, 2018 - New York
Music Director Lutz Rath has announced the 60th season of the Washington Square Music Festival, taking place Tuesdays in June on the Main Stage in the center of Washington Square Park. All four concerts are free. The Festival is under the auspices of the Washington Square Association, Inc. Seating is first come, first served.
La La Land - Tribeca Film Center
June 14, 2018 - New York
Sebastian (Ryan Gosling) and Mia (Emma Stone) are drawn together by their common desire to do what they love. But as success mounts they are faced with decisions that begin to fray the fragile fabric of their love affair, and the dreams they worked so hard to maintain in each other threaten to rip them apart.
Tolkien and Lewis: Of Wardrobes and Rings - Sheen Center for Thought & Culture
Through June 14, 2018 - New York
The New York premiere of a new play by David Payne J.R.R Tolkien and C.S. Lewis, the two great lions of literary fantasy, meet one last time at Oxford's "Bird and Baby" pub. Unresolved disagreements and estrangements are thawed by humor, confession and reconciliation. Remarkable lives. Memorable theater.
Lewis and Tolkien: Of Wardrobes and Rings - Sheen Center
Through June 14, 2018 - New York
The New York premiere of a new play by David Payne J.R.R Tolkien and C.S. Lewis were lions of 20th century British fantasy, giants of a literary genre that reached millions of readers, young and old alike, with mystifying adventures to entertain and deep truths to move people's hearts.C.S. Lewis (The Chronicles of Narnia) and J.R.R. Tolkien (The Lord of the Rings) were also distinguished faculty members at Oxford University and participants in a literary group known as The Inklings. Their robust philosophical discourse served an uncommon friendship that was not without its differences. Life's circumstances and sometimes unresolved disagreements forced an uncomfortable season of estrangement. In Wardrobes and Rings we join "Jack" and "Tollers," as they knew each other, at Oxford's historic Eagle and Child pub for one last visit, tempered by thawing humor, confession and reconciliation. Remarkable lives. Memorable theatre.
FILMS Films on the Green Presents The Rules of the Game - Washington Square Park
June 15, 2018 - New York
THE RULES OF THE GAME (La règle du jeu) Directed by Jean Renoir, 1939, 1h50 With Nora Gregor, Paulette Dubost, Mila Parély, Marcel Dalio, Julien Carette, Roland Toutain Presented in partnership with the Washington Square Park Conservancy At la Colinière, the deceptively idyllic country estate of a wealthy Parisian aristocrat, a selection of society's finest gather for a rural sojourn and hunting party. While the masters are gathered around sumptuous banquets, the servants imitate and mock them during meals at the office. Over the course of the weekend the haute bourgeoisie acquaintances reveal themselves to be absurdly, almost primitively, cruel and vapid. #FilmsOnTheGreen | Free French films in NYC Parks Film in French with English subtitles FREE and open to the public
City Mother Earth Kimberley Exhibition - Anthony Horth Gallery
Through June 15, 2018 - New York
Anthony Horth's work spans the last thirty years and three continents. He is widely regarded as one of Australia's most successful fashion and landscape photographer exports. His fashion photographs have been published internationally in magazines British, Italian and Australian Vogue, French, Italian, German Elle and Mademoiselle. Throughout his career, Anthony's clients have included Armani, Versace, Gucci, Prada, Fendi, Max Mara, Halston, Dior, Bloomingdales, Lord and Taylor, Stage Stores, Talbots and Jones of New York. Today Anthony's 35-year practice as a photographer is at its pinnacle attracting the world's biggest assignments.
Roger Daltrey performs The Who's 'Tommy' w/ The New York Pops at Forest Hills Stadium - City Winery
June 17, 2018 - New York
City Winery has partnered with Forest Hills Stadium to bring you great seats, and bring our urban winery vibe to Queens with the City Winery Wine Garden, an exclusive, covered, all-weather spot just steps from your seats. Wine Garden guests will enjoy unlimited wine from Manhattan's only winery and light snacks before and during performances by acclaimed artists such as Robert Plant, David Byrne, Nathaniel Rateliff and many more.
Symphonie Fantastique - HERE
Through June 17, 2018 - New York
Twenty years ago in 1998, Basil Twist debuted his boundary-breaking response to Berlioz's 1830 "Symphonie Fantastique" to universal acclaim, inaugurating HERE's intimate Dorothy B. Williams Theatre. In the two decades since Symphonie Fantastique's premiere, Basil Twist has become an internationally recognized artist in opera, ballet, and on Broadway, and has won countless awards including the illustrious MacArthur Fellowship. Twist will revisit his legendary masterpiece as part of HERE's 25th Anniversary Season. In this revival, accompanied live by the virtuosic pianist Christopher O'Riley playing the exquisite Liszt transcription, Symphonie floats and swirls in a 1,000-gallon water tank neatly disguised as a puppet stage. For the many who never saw it, and for those who relish seeing it again and again, the return of this tour de force to HERE is the event of the season.
Blue Note Jazz Festival Presents: Paquito D'Rivera Ensemble - Blue Note Jazz Club
Through June 17, 2018 - New York
Paquito D'Rivera defies categorization. The winner of fourteen GRAMMY Awards, he is celebrated both for his artistry in Latin jazz and his achievements as a classical composer. Born in Havana, Cuba, he performed at age 10 with the National Theater Orchestra, studied at the Havana Conservatory of Music and, at 17, became a featured soloist with the Cuban National Symphony. As a founding member of the Orquesta Cubana de Musica Moderna, he directed that group for two years, while at the same time playing both the clarinet and saxophone with the Cuban National Symphony Orchestra. He eventually went on to premier several works by notable Cuban composers with the same orchestra. Additionally, he was a founding member and co-director of the innovative musical ensemble Irakere. With its explosive mixture of jazz, rock, classical and traditional Cuban music never before heard, Irakere toured extensively throughout America and Europe, won several GRAMMY nominations (1979, 1980) and a GRAMMY (1979). His numerous recordings include more than 30 solo albums. In 1988, he was a founding member of the United Nation Orchestra, a 15-piece ensemble organized by Dizzy Gillespie to showcase the f... (read more)
Cannibal Galaxy: a love story - New Ohio Theatre
Through June 17, 2018 - New York
Between Two Boroughs will present the World Premiere of Charise Greene's Cannibal Galaxy: a love story, directed by Jenn Haltman (Summertime with Between Two Boroughs) at the New Ohio Theatre (154 Christopher Street between Washington and Greenwich Street), June 8-17. Performances will be Friday, June 8 at 8pm, Saturday, June 9 at 3pm & 8pm, Sunday, June 10 at 3pm, Monday, June 11 at 8pm, Wednesday, June 13 at 8pm, Thursday, June 14 at 8pm, Friday, June 15 at 8pm, Saturday, June 16 at 3pm & 8pm, and Sunday, June 17 at 3pm. Tickets ($25) are available for purchase in advance at www.BetweenTwoBoroughs.com. The performance will run approximately 90 minutes with no intermission. It's business as usual at the Washington D.C. Science Museum where the employees' personal lives keep getting in the way. Jo wants a child but is unable to secure an inseminator. Chet longs to make love, but dating kinda sucks and gaming is way more awesome. Claire searches for purpose by digging directly toward the center of the earth. Vadim prioritizes the needs of others but wouldn't know his own if they crawled into bed with him. Eloise lives in a treehouse and brushes her teeth with space particles. Wh... (read more)
She Calls Me Firefly - The Soho Playhouse
Through June 23, 2018 - New York
It's Nickel Beer Night at Freddie's Place. Ken has come to drown his sorrows, but no amount of alcohol can wash away the pain of his broken relationship with Levi, nor the dark and difficult secrets of his past. As you enter Freddie's you will instantly be transported from New York City streets to a Kentucky dive bar. Pull up a stool, grab a drink, and find yourself immersed in the searing world of She Calls Me Firefly. A new American play written by Teresa Lotz, directed by Ludovica Villar-Hauser. A co-production by Parity Productions and New Perspectives Theatre Company. CAST Emily Batsford* as Veronica Daniel Burns* as Levi Paula Ewin* as Freddie ?Sean Hudock* as Ken *Actors appear courtesy of Actors' Equity Association (AEA) Ticket prices: $18, $25, $50
The Eleventh Hour! - Town Stages
Through June 27, 2018 - New York
Smugbug Productions presents the New York Premiere of The Eleventh Hour! a new rock musical comedy by David Seamon May 11 - June 27, 2018 at Town Stages, 221 West Broadway, NYC Smugbug Productions presents the New York Premiere of The Eleventh Hour!, a new rock musical comedy by David Seamon from May 11 - June 27, 2018 at Town Stages, 221 West Broadway, NYC. Tickets are $35 and are available at https://www.eleventhhourmusical.com/performance-tickets/the-eleventh-hour.   It's the end of the world in New Jersey! A burnout basement rocker and his ex-girlfriend, a rising star astrophysicist, may have the key to surviving the black hole bearing down on earth. If they can reconcile their feelings and manage a dangerous journey on the NJ Turnpike, they just may save their music, each other, and the mole people who live beneath them.   The Eleventh Hour! features music, book, and lyrics by David Seamon, direction by Annie Rutherford Lutz, and is produced by Smugbug Productions. The story for the musical was originally created by Seamon, Lutz, and Shimmy Schwartz through a commission by coLAB Arts.    Cast: Tam Justin Garcia (Nevin Denham), Rachelle Legrand (Neil DeGrasse Tys... (read more)
Arts Flamenco 1st Annual Dance Festival - Creative Cultural Center @ St. Veronicas
Through June 30, 2018 - New York
The Arts Flamenco 1st Annual Dance Festival is New York's West Village's newest festival for dance performances. June 1st & 2nd | Forrest Academy of Ballet New York | Artistic Director, Erin Forrest June 8th & 9th | French Academy of Ballet | Artistic Director, Francois Perron June 16th | Albano Ballet Company June 22nd & 23rd | Kaleidoscope Dance Theatre | Artistic Director, Sean McLeod June 29th & 30th | Pasion Flamenca Artists showcase their styles and cultures from Folkloric to Contemporary from Classical Ballet to Hip Hop. AFDF is an Annual event for the community so all can experience a wide range of dance and cultures in an intimate 125 seat proscenium style and in-the-round performance setting.
First Love - Cherry Lane Theatre
Through July 08, 2018 - New York
Cherry Lane Theatre (Seri Lawrence, Janio Marrero, Co-Artistic Directors) is proud to announce that Academy Award nominee Michael O'Keefe and Angelina Fiordellisi will star in its upcoming Founder's Project presentation of Charles L. Mee's FIRST LOVE, directed by Kim Weild. Performances will begin on June 7, the production will open on June 14, and run through July 8 at Cherry Lane Theatre (38 Commerce Street). Tickets are $65-$95 and are available at $65-$95 A couple in their sixties meet and fall in love—for the first time in their lives. Through the eyes of celebrated playwright Charles L. Mee, First Love embraces Edith and Harold as they work their way toward one another through the accumulated baggage of their lives, wondering if they can avoid sabotaging the last chance for love they'll ever have.
Terry Winters Forces and Fictions - The Drawing Center
Through July 29, 2018 - Soho
A leading figure in the art world for four decades, Terry Winters became well known in the 1980s for his materially-conscious drawings and paintings. Representing the patterns and schema that undergird physical and intellectual life—French philosopher Gilles Deleuze is cited as an important reference—Winters's drawings of grids, networks, and knots illustrate complex encounters between biological drives, technological systems, and mental processes. The Drawing Center's Main Gallery will present an overview of Winters's drawings from 1980 to the present including full cycles of drawings, such as File Drawings (2009), as well as a selection of large-scale works on paper that foreground the overarching theme of Winters's practice: the desire to make sense, however fictively, of the manner in which the visible world is constructed and received. Rather than offering a comprehensive drawing retrospective, the show will be organized with an eye to morphological relationships so that, as viewers move through the gallery, they will recall and ideally return to earlier related images.
Hipkiss Bulwark - The Drawing Center
Through July 29, 2018 - Soho
Praised for their meticulously-detailed panoramic landscapes, Anglo-French artists Alpha and Chris Mason, known collectively as Hipkiss, have been collaborating for three decades on intricate drawings that interweave dystopian narratives with a personal lexicon of symbolic forms. Past works by Hipkiss chronicle fictional histories of warring clans, urban crusades, and quasi-apocalyptical societies. For Bulwark, the artists' first solo museum show in New York, Hipkiss will present the most recent cycle of drawings in their series The Towers (2015–ongoing). The drawings pull from the myriad allegorical significance of towers as symbols for transcendence, irrational ambition, and piety.
People - Jeffrey Deitch
Through July 31, 2018 - New York
Little Rock - Sheen Center for Thought & Culture
Through August 05, 2018 - New York
This docudrama with music chronicles the true story of nine brave students poised to integrate the formerly all-white Little Rock Central High School. At the dawn of the civil rights movement, three years after Thurgood Marshall successfully litigated the 1954 Brown v. Board of Education Supreme Court case, Little Rock, Arkansas became ground zero in the fight to integrate public schools across America. Through a series of events and with the aid of an emerging technology called television, living rooms across the world would witness a real life drama featuring a brave and stalwart group of black teenagers, who would become known as The Little Rock Nine, along with a supporting cast including a defiant Governor, a resolute President Eisenhower, and 11,000 federal and state troops. Integrating Little Rock Central High School would become an important and dramatic prerequisite step in implementing the new federal law. Successfully completing the school year would become its ultimate test. N.B. Strong language To receive and email alert when tickets go on sale, sign up here!
Susan York Foundation - The Drawing Center
Through October 18, 2018 - Soho
For the second long-term installation presented in The Drawing Center's Lab Corridor, Santa Fe-based artist Susan York will create a site-specific installation that references the internal structure of the museum's 35 Wooster Street building. Using graphite as a sculptural rather than a two-dimensional medium, York will create replicas of parts of the museum's foundation: eroded concrete piers that protrude above the museum's ground floor. York's long-term installation will initiate an expanded field of activity at The Drawing Center, pointing to new opportunities for exploring drawing as an interactive and socially-minded practice. Additionally, by bringing attention to The Drawing Center's building, York's installation will generate opportunities for discussion about the importance of museums continuing as public spaces with permanent, physical presence
Looking for Free Group Planning Services?
Get free advice on planning your group's trip to New York.
MORE Activity Planner ARTICLES
RESTAURANTS

Vida Verde brings the tastes, colors, sounds, and scents of ...

THEATER

Kander and Ebb's "musical vaudeville" in which Roxie Hart ga...

SHOPPING

A premier destination for family entertainment....

SIGHTSEEING

Manhattan's premier all-glass, European-inspired dining crui...