Things to Do in Greenwich Village This Week - March 11-March 18
March 11, 2018 - by CG Directory Editor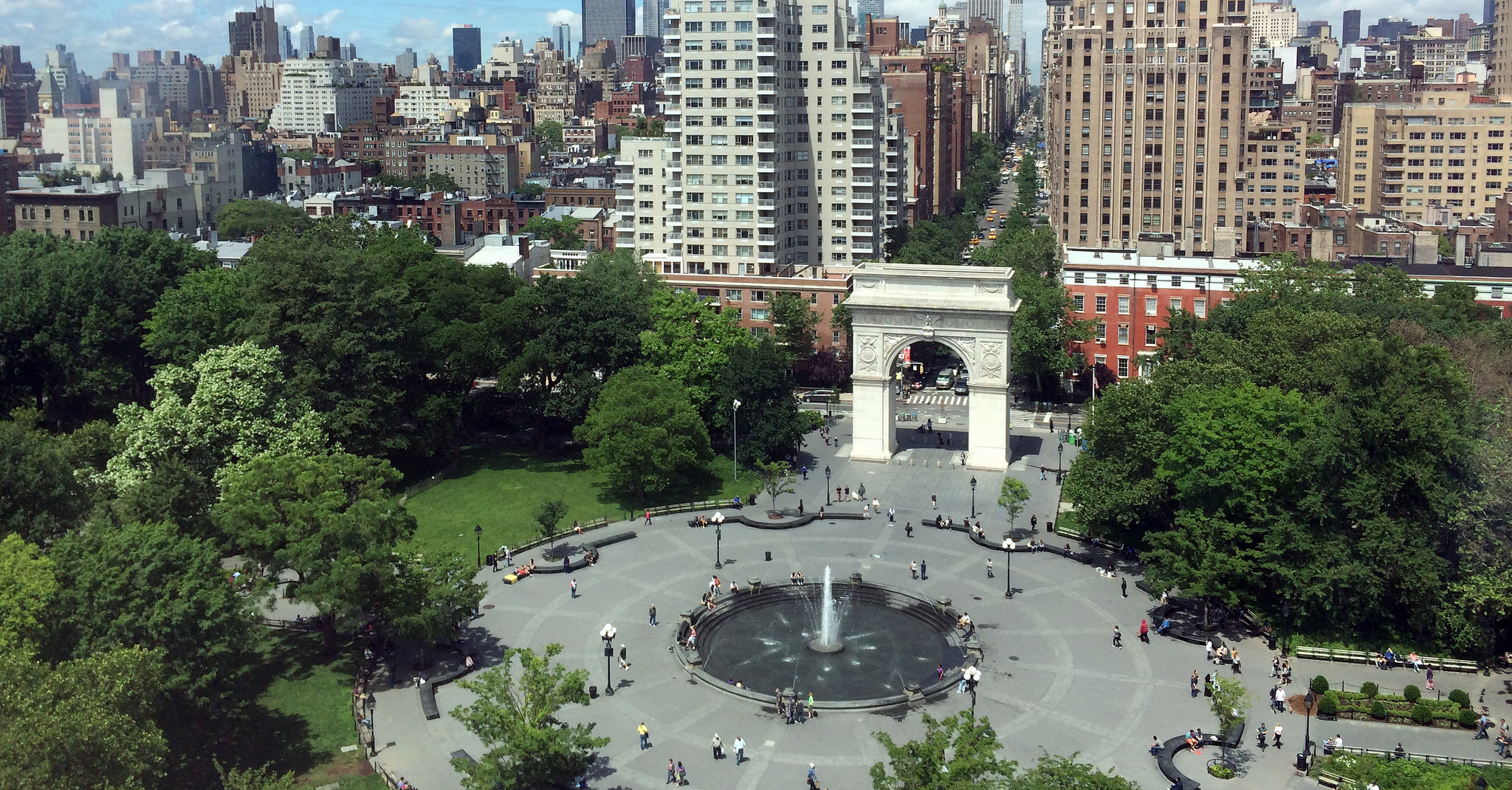 Photo: Doc Searls/Flickr

Home to Washington Square Park, the Stonewall Inn, and NYU, Greenwich Village always has a lot going on, which is exactly why this guide for things to do in Greenwich Village this week will come in handy. City Guide has rounded up some of the most entertaining, delicious, and memorable things to do in this scenic neighborhood no matter your budget.


John Zorn Matinee - Village Vanguard
March 11, 2018 - New York
John Zorn (sax) Jim Staley (trombone) Marc Ribot (guitar) Mary Halvorson (guitar) Ikue Mori (electronics) Christian McBride (bass) Kenny Wolleson (drums) Ches Smith (drums)
Mystery School - Judson Memorial Church
March 11, 2018 - New York
GARDEN ROOM (ENTER by way of 239 Thompson Street) Mystery School is getting back together this Lent, with the Stained Glass Series! Each week, we will take a text from the Judeo-Christian tradition(s) and surround it with resonating texts from other traditions. Like stained glass, the different shades and colors of these texts will form a larger, more complex picture when we pour light through them all together. We'll be looking at themes like the victory of the weak over the strong, human agency (and its limits), end-times theologies, and depictions of womanhood -- in sources as varied as the Tao Te Ching, Norse Mythology, the Qur'an, The Art of War, pop culture, and the Bible!
Gotham Writers Workshop: Fiction with Seth Fried - Housing Works - Bookstore Cafe
March 11, 2018 - New York
A free fiction writing workshop taught by Seth Fried.
The Very Best of Dave Mason (of Traffic) - City Winery
March 11, 2018 - New York
Traffic operated on the cutting edge of the late-sixties music scene at a time of rapid and remarkable evolution, and expanded rock's sonic palette. But whereas most progressive British bands were based in London, Traffic retreated to a secluded cottage in the countryside. A key component of Traffic's mythology is their communal stone cottage in Berkshire. It was here the group wrote and rehearsed material for Mr. Fantasy, and Traffic, among the more remarkable albums of the sixites. The group's first single was the Winwood/Capaldi composition "Paper Sun" followed in August 1967 by Mason's "Hole in My Shoe" which hit number two in the U.K. Mason also appeared in the debut album, Mr. Fantasy. His whimsical melodies and goodtime feel, incorporating simple yet rich lyrics, ensured a delightful contrast. His vocals adding a mellower texture to Winwood's, and an extra interest. His three tracks, "Utterly Simple", "House for Everyone", and 'Hope I Never Find Me There" having instant appeal. The latter relating more closely to the group's contributions. Mason became recognized for his obvious virtuosity on sitar, vocals, and guitar.
Rebirth Brass Band - Blue Note Jazz Club
Through March 11, 2018 - New York
Whether seen on HBO's Treme or at their legendary Tuesday night gig at The Maple Leaf, Grammy-winning Rebirth Brass Band is a true New Orleans institution. Formed in 1983 by the Frazier brothers, the band has evolved from playing the streets of the French Quarter to playing festivals and stages all over the world. While committed to upholding the tradition of brass bands, they have also extended themselves into the realms of funk and hip-hop to create their signature sound. "Rebirth can be precise whenever it wants to," says The New York Times, "but it's more like a party than a machine. It's a working model of the New Orleans musical ethos: as long as everybody knows what they're doing, anyone can cut loose." In the wake of the sometimes-stringent competition among New Orleans brass bands, Rebirth is the undisputed leader of the pack, and they show no signs of slowing down.
Platonov, or A Play with No Name - New Ohio Theatre
Through March 11, 2018 - New York
Blessed Unrest presents Platonov, or A Play with No Name Translated and adapted by Laura Wickens from the play by Anton Chekhov Directed by Jessica Burr A man of status with questionable sexual ethics runs rampage. A society fixated on the chaos of the moment ignores their collapsing economic system. A culture of open gun possession leads to rash and deadly consequences. Sounds familiar? Blessed Unrest's raw and sexy rendition of Platonov, or A Play with No Name, in new translation and adaptation by playwright Laura Wickens, shows how Chekhov, nearly 150 years ago in Russia, was piercing through the issues that are highly relevant in America today. Her adaptation does away with all the father figures – except for the protagonist – and relocates the story to the rural South, a milieu in which the antidote to boredom is an entangled web of salacious scandals. Sometimes endearing and often reproachable, the titular character emerges as a man whose shortcomings run rampant due to enablers who surround him. Cast: Irina Abraham Chigiryov, Ashley Hildreth, Javon Minter, Darrell Stokes, Becca Schneider, and Taylor Valentine. Dramaturgy: Jessi Blue Gormezano Costume design: ... (read more)
Big Gay Sing X - NYU Skirball
Through March 11, 2018 - New York
Celebrate 10 years of Big Gay Sing-ing in this spectacular performance! We'll bring back crowd-pleasing favorites, serve up memories and nostalgia galore, and infuse the whole party with the newest hits in this biggest of the big, gayest of the gay, sing-along smash! Now is the time to lend your voice, singing out loud, bold and proud, as we kick up our heels and proclaim both the glory of our past and the wide-open future. Outrageous drag queens, iconic gay anthems, and over-the-top performances with NYCGMC's talented soloists and full-chorus wall of sound make Big Gay Sing X the most sought-after ticket of the season. Everybody's included, so don't miss out on the fun!
Collective Design 2018 - Skylight Clarkson North
Through March 11, 2018 - New York
Join us March 9 - 11, 2018 for our move to Armory Arts Week by celebrating the best in 20th century and contemporary design and art. Featuring exhibitors and installations from cultural capitals such as Paris, Los Angeles, and New York, Collective Design–now in its sixth year–offers something for the established collector as well as visitors new to design.
Mccoy Tyner With Special Guests - Blue Note Jazz Club
March 12, 2018 - New York
Jazz pianist McCoy Tyner is widely considered one of the finest and most influential pianists in jazz history. His signature booming left-hand and fleeting right created a unique sound that can be heard on his recordings as a sideman with the John Coltrane Quartet in the 1960s and on his 80-plus albums as a leader. Tyner's most recent project for McCoy Tyner Music/Half Note Records is his first solo effort in almost a decade titled Solo: Live From San Francisco. The release is the third for his label and features eleven solo vignettes recorded at the Herbst Theater in 2007. Tyner's blues based piano style, replete with sophisticated chords and an explosively percussive left hand has transcended conventional styles to become one of the most identifiable sounds in improvised music. His harmonic contributions and dramatic rhythmic devices form the vocabulary of a majority of jazz pianists.
Mary Fahl - City Vineyard
March 13, 2018 - New York
Sounding like no other singer of her generation" (Allmusic.com), Mary Fahl is an expressive, emotional singer/songwriter who first achieved fame as lead singer and co-founder of the mid-1990s NYC- based chamber-pop group October Project. The hallmark of their sound was Mary Fahl's awe-inspiring power vocals over gorgeous melodies played with passion and sophistication. As a solo artist, Mary has released several compelling albums, including the fantastic re-working of Pink Floyd's "Dark Side of the Moon" for V2 Records and her wonderful, original studio album "The Other Side of Time" on Sony Odyssey. She has also written and performed songs for several major motion pictures, including the lead song ("Going Home") for the Civil War epic Gods and Generals. Her most recent album "Live at the Mauch Chunk Opera House", winner of the Indie Acoustic "Album of the Year" award, is a collection of twenty-four tracks recorded live at one of America's oldest vaudeville theaters that captures the soaring, soul-permeating vocals and musical breadth that makes the Mary Fahl concert experience what the Portland Press called "soul-permeating". The show was filmed for PBS and is currently airing ... (read more)
The Moth StorySLAM: Aftermath - Housing Works - Bookstore Cafe
March 13, 2018 - New York
Prepare a five-minute story about consequences. Aftershocks and fallout. The morning after! Indelible grins! Walks of shame! Monday morning quarterbacks. Assessing the wreckage from the storm. And after the dust has settled, the decision to rehash or relinquish! Next move?
Lúnasa w/ Special Guest Natalie Merchant - City Winery
March 13, 2018 - New York
Formed in 1997 and celebrating its 20th anniversary, Lúnasa has long been one of contemporary Irish music's leading voices. Named after an ancient Celtic harvest festival in honour of the Irish god Lugh, the group that Folk Roots magazine once called an "Irish music dream team" was formed from members of some of Ireland's greatest bands and over the years has proven its mettle time and again, having sold over a quarter of a million records, and collaborated with notable artists outside the tradition such as Natalie Merchant, Mary-Chapin Carpenter, and Tim O'Brien. They have performed more than 2,000 shows across 36 countries including high-profile concert venues such as Carnegie Hall, The Hollywood Bowl, National Concert Hall (Dublin), and Paris Bercy, and many of the leading festivals such as Glastonbury, Womadelaide & Edmonton. From the start, the band's complex arrangements and unique sound reshaped the boundaries of traditional music and energized audiences the world over. Critical acclaim followed, The Irish Echo describing the band as the "the hottest Irish acoustic band on the planet"; MOJO magazine named the band "the new gods of Irish music," adding that "nobody since t... (read more)
Young Leonardo - Sheen Center
March 14, 2018 - New York
In this thriller-like quest, a National Geographic bestselling author and historian goes in search of a mysterious second version of the famous 'Last Supper' fresco, reportedly painted by Leonardo da Vinci in his workshop for the King of France, Louis XII. Shot on location throughout Europe, the film features rich dramatizations starring Alessandro Demcenko as Leonardo da Vinci heading a cast of 60+, as well as top Leonardo experts from the Louvre, the London National Gallery, the Royal Academy of Arts, the Vatican Museums and the New York Metropolitan Museum.The film is produced by Pantheon Studios, producers of the 2016 Disney feature Walt: The Man Behind the Myth. The film also includes a detailed animated reconstruction of the Last Supper hall in Milan in 1499. The host is Prof. Jean-Pierre Isbouts, co-author of Young Leonardo (St. Martin's Press, 2017) and the author of several bestselling National Geographic books.
Excess Db Entertainment Presents: Justin Nozuka With Good Old War & River Matthews - Le Poisson Rouge
March 14, 2018 - West Village
Justin Nozuka Justin Nozuka official site | Justin Nozuka on Facebook | Justin Nozuka on Twitter | Justin Nozuka on Instagram Good Old War Good Old War official site | Good Old War on Facebook | Good Old War on Twitter | Good Old War on Bandcamp | Good Old War on Soundcloud Photo Credit: Dylan Eddinger River Matthews River MatthewsRiver MatthewsRiver MatthewsRiver MatthewsRiver MatthewsRiver Matthews
McCoy Tyner - Blue Note Jazz Club
Through March 14, 2018 - New York
Jazz pianist McCoy Tyner is widely considered one of the finest and most influential pianists in jazz history. His signature booming left-hand and fleeting right created a unique sound that can be heard on his recordings as a sideman with the John Coltrane Quartet in the 1960s and on his 80-plus albums as a leader. Tyner's most recent project for McCoy Tyner Music/Half Note Records is his first solo effort in almost a decade titled Solo: Live From San Francisco. The release is the third for his label and features eleven solo vignettes recorded at the Herbst Theater in 2007. Tyner's blues based piano style, replete with sophisticated chords and an explosively percussive left hand has transcended conventional styles to become one of the most identifiable sounds in improvised music. His harmonic contributions and dramatic rhythmic devices form the vocabulary of a majority of jazz pianists.
Unsung Protagonists: The Power of Women in 21st Century Architecture - Center for Architecture
March 15, 2018 - Manhattan
Clear Eyes Pop Up Gallery with Nationally Renowned Photographer, Bridges Aderhold - Peter Tunney Gallery
March 15, 2018 - New York
Clear Eyes, the #1 selling brand of eye drops, will be hosting a pop-up gallery event in Tribeca with nationally renowned and Miami's "eye guy" photographer Bridges Aderhold. All attendees will be able to view the My Shining Moment gallery, featuring portraits by Bridges Aderhold, and experience the Clear Eyes brand, along with cocktails and appetizers. Attendees will also have the opportunity to have their eyes photographed by Bridges himself. The gallery experience is free of charge.
Lpr Presents Nils Frahm – All Melody - Le Poisson Rouge
March 15, 2018 - West Village
Donna The Buffalo - City Winery
March 16, 2018 - New York
One of the most dynamic and determined bands continuously touring America for since 1989, Donna the Buffalo has created a community environment at their shows through their distinctive, groove-heavy, and danceable music. Donna the Buffalo is a band for the people that is accessible, positive, and memorable. With roots in old time fiddle music that evolved into a soulful electric American mix infused with elements of cajun/ zydeco, rock, folk, reggae, and country, Donna's music often contains social and moral responsibility as core beliefs, and they are just simply fun to get out and celebrate life with. "For the dizzying array of styles and genres with which they work, Donna The Buffalo maintain a surprising level of consistency… over the course of their 25-year career, they retain a sharp focus that has helped them create some truly lasting music…" writes Elmore. "Few groups are this comfortable as performers, and even fewer would take as many risks." Donna the Buffalo is Jeb Puryear (vocals, electric guitar) and Tara Nevins (vocals, guitar, fiddle, accordion, scrubboard) joined by David McCracken (Hammond organ, Honer Clavinet & piano), Kyle Spark (bass) and Mark Raudabaugh... (read more)
GO 90s with The Fresh Kids of Bel-Air - Le Poisson Rouge
March 16, 2018 - West Village
The Fresh Kids of Bel-Air official site | The Fresh Kids of Bel-Air on Facebook | The Fresh Kids of Bel-Air on Instagram | #freshkidsofbelair The Fresh Kids of Bel-Air are seven NYC-based musicians who have come together to put on the dopest live 90s show in the city. Every Friday night at Le Poisson Rouge the Fresh Kids take the stage and perform the hits you loved when you were still rocking butterfly clips and feeding your Furby. But the band doesn't stop at Fridays on Bleecker Street, they are taking the COUNTRY by storm, playing legendary venues like The Capitol Theatre, The Paramount on Long Island, The Howard Theatre in DC, Brooklyn Bowl, Union Transfer in Philly, Baltimore Soundstage and more! Seriously, they are all that and a bag of chips!
Back To The Eighties Show with Jessie's Girl - Le Poisson Rouge
March 17, 2018 - West Village
Back To The Eighties Show with Jessie's Girl Jessie's Girl official site | Jessie's Girl on Facebook | Jessie's Girl on Instagram | #jessiesgirlnyc This amazing 7-piece band brings back the '80s like no other, performing all the greatest hits live! JESSIE'S GIRL's primary line-up includes a team of NYC's top rock and pop vocalists: Up-and-coming superstar Jenna O'Gara, Off-Broadway's Chris Hall and renown "Sting" impersonator Mark Rinzel. They are backed by one of the tightest bands in the city comprised of 20+ year veterans of the NYC music scene: Eric Presti on guitar, Sky on keys, Drew Mortali on bass, and Michael Maenza on drums, each with dozens of credits performing with authentic 80's icons who made the music famous to begin with! In fact, BRET MICHAELS, MC HAMMER, COLIN HAY from MEN AT WORK, TIFFANY, DEBBIE GIBSON, TAYLOR DANE, MIKE SCORE from A FLOCK OF SEAGULLS, TONE LOC, ROB BASE and many more have all performed at the BACK TO THE EIGHTIES SHOW.
Poetry of Witness: 5-week poetry workshop w/ Michael Collins - Bowery Poetry Club
March 18, 2018 - New York
Discussion, Generative Writing, Workshop: 5-week poetry workshop w/ Michael Collins This workshop will meet the following Sundays: February 11, February 18, February 25, March 4, March 18 TIME/LOCATION: 12 PM – 2 PM at Bowery Poetry located at 308 Bowery INSTRUCTOR: Michael Collins The goal of this class will be to explore the craft of poetry, specifically in one of its many essential roles, bearing witness -- either by recording direct experience or through acts of compassionate imagination. I don't think I need to explain to anyone why this particular approach to poetic craft is important in our current social and political situations. In times such as these, we need more empathy for those who are "different" -- apparently, anyway -- in one way or another, from "us." We need more poets for this movement! Therefore, this class will aim to welcome newer poets with accessible lessons, invite those who have gotten out of the practice of writing to return to a writing community, and help all participants who value diverse perspectives to hone their visions into poems. Sessions will include discussion of model poems and related generative writing and guided exercises, and work... (read more)
Altan - City Winery
March 18, 2018 - New York
With a career in Irish music for 35 years, Altan has achieved legendary status in a genre that has been equally shaped by the band's influence and genius. Audiences from Ireland to Japan to Australia to Europe have embraced their heartwarming, dynamic live performances and their exquisitely produced, award-winning recordings. Over a dozen releases to date, ranging from the most touching old Irish songs to hard-hitting reels and jigs. On their latest album, The Widening Gyre, Altan features guest musicians from Nashville and honors traditional tunes that have made their way to America. Adding to their long list of awards and honors, fiddler, singer and founding member Mairéad Ní Mhaonaigh was the recipient of the Gradam Ceoil/Traditional Musician of the Year in 2017. Though the band received the same award for Band of the Year in 2001, Mairéad was glad to be recognized on her own in a genre that has been slow to recognize female musicians. She is only the third woman in twenty years to receive the main award.
Roy Haynes 93rd Birthday Celebration with Special Guests - Blue Note Jazz Club
Through March 18, 2018 - New York
ROY HAYNES is the pulse of legendary jazz. For over 70 years Roy Haynes has influenced and innovated, shaping some of the greatest recordings in jazz while his joyous drumming with the legends of the genre altered the very fabric and direction of jazz improvisation.
The Signature Project - Sheen Center
Through March 25, 2018 - New York
The Signature Project is multi-sensory theatrical experience. Its core is a huge 76 ft x 36 ft mural layered with hidden secrets. For the past 22 years a live performance has toured the United States bringing the mural to life, with artist Patrick Dunning ingeniously weaving stories and images in the great tradition of Irish artists. Now, this play with music and dance comes to New York for its Off-Broadway premiere. A unique, exhilarating tapestry blending art and technology, The Signature Project offers the opportunity for the audience to join over 300,000 people whose signatures already comprise the fabric of this monumental art work. The painting and the play are constantly changing and evolving as people contribute their own signature and story to the larger art work, adding perspectives and ideas which make the world so special and wonderful, beyond imagination. Creator, Patrick Dunning is from Dublin, Ireland and now lives in Portland, Oregon. For schools and groups of 15 or more email nyc@signatureproject.com for special pricing.
FOLD: Golden Venture Paper Sculptures - Museum of Chinese in America
Through March 25, 2018 - Manhattan
As a way to actively engage visitors in a conversation about immigration issues, FOLD: Golden Venture Paper Sculptures will present the story of the passengers of the Golden Venture, a ship carrying 286 undocumented Chinese passengers that ran aground in New York City in 1993. Selected from MOCA's collection, over forty sculptures collectively created by the immigrants while detained for years at York County Prison will be on display. Through symbolic representations that include caged birds and American eagles, the sculptures give shape to both the quantitative and qualitative time spent waiting for uncertain legal outcomes. For most of these sculptures, their forms are Chinese folk art, but their subject matter is uniquely American. Idiomatic expressions and art-related theories of the "fold" as a form, action and metaphor will be used as an organizing principle for the exhibition's content and design. In addition to archive materials, recent interviews with immigration attorneys and supporters of the Golden Venture detainees will also provide multiple perspectives on the attainment of the American Dream.
Town Stages Announces Inaugural Sokoloff Arts Fellows - Town Stages
Through March 31, 2018 - New York
Town Stages Announces Inaugural Sokoloff Arts Fellows Town Stages is proud to announce the 2018 slate of recipients of the annual Sokoloff Arts Fellowship: Jessica Anderson (with Stefanie Izzo, Alex Kocheva, Amy Stewart, and the Astoria Music Project), Caps Lock Theatre (Mariah MacCarthy, Melissa Lusk, Leta Tremblay), Joanna Carpenter, Matt Cox (with Kristin McCarthy Parker, Stephen Stout, and Colin Waitt), Ephrat Asherie Dance, Esperance Theater Company (Katie Hartke, Charlie Murphy, Ryan Quinn), Jono Freedrix, Jason Jacobs, Matthew Jellison, Christine Toy Johnson, Hyeyoung Kim and Shoshana Greenberg, Steven Kopp, Yan Li, Made with Sass (Samantha Slater), Jessie Mahon, MAWU, MelimelL Digital Art Design, Rebecca Odorisio, Pocket Universe (Alyssa May Gold), Charlotte Purser, Richard Pictures Presents (David Hilder and Dan McCoy), Ripening (Vanessa Walters, and Brian Gonzalez aka Taxiplasm), Andy Scott, Shallow Graves(Jenny Lester and Juliana Jurenas), Crystal Skillman, The Long Table (David Loewy, Noah Reece, Greg Taubman, Jocelyn Vammer), The Rigano Songbook (David and Paul Rigano), Jamila Youngstedt.  
Pygmalion - Sheen Center
Through April 22, 2018 - New York
Bedlam will present Shaw's Pygmalion, directed by Eric Tucker, beginning March 12. The six-week run will open March 27, with a closing date set for April 22. George Bernard Shaw's Pygmalion tells the story of Professor Henry Higgins and Cockney flower seller Eliza Doolittle. Higgins makes a bet that he can take Eliza from the gutters of London and pass her off as a society lady, and soon soon discovers that the task involves more than simply teaching her the right dialect in which to speak. Casting and design team will be announced in the coming months.
Edmund Clark: The Day the Music Died - ICP Museum
Through May 06, 2018 - New York
British photographer Edmund Clark has spent ten years exploring structures of power and control in the so-called global War on Terror. Edmund Clark: The Day the Music Died presents photographic, video, and installation work focusing on the measures deemed necessary to protect citizens from the threat of international terrorism. It also explores the far-reaching effects of such methods of control on issues of security, secrecy, legality, and ethics. From Guantanamo Bay to Afghanistan to extraordinary rendition and the CIA's secret prison program, Clark's work finds new ways to visualize the processes, sites, and experiences associated with the United States' response to international terrorism. His engagement with military and state censorship defines the secrecy and denial around these subjects. Through photographs and declassified documents, Clark reveals how the unexpected connections between those who exercise control and those who are subject to it bring this covert torture trail to a human level. He highlights the everyday veneers under which purveyors of detention and interrogation operate in plain sight, brings light to the processes beneath, and reflects on how terror... (read more)
Susan York Foundation - The Drawing Center
Through October 18, 2018 - Soho
For the second long-term installation presented in The Drawing Center's Lab Corridor, Santa Fe-based artist Susan York will create a site-specific installation that references the internal structure of the museum's 35 Wooster Street building. Using graphite as a sculptural rather than a two-dimensional medium, York will create replicas of parts of the museum's foundation: eroded concrete piers that protrude above the museum's ground floor. York's long-term installation will initiate an expanded field of activity at The Drawing Center, pointing to new opportunities for exploring drawing as an interactive and socially-minded practice. Additionally, by bringing attention to The Drawing Center's building, York's installation will generate opportunities for discussion about the importance of museums continuing as public spaces with permanent, physical presence
Looking for Free Group Planning Services?
Get free advice on planning your group's trip to New York.
MORE Activity Planner ARTICLES
RESTAURANTS

Brings together the character of Hell's Kitchen past with th...

THEATER

The Imbible sweeps audiences along a 10,000-year journey thr...

SHOPPING

The sweetest experience in Times Square!...

SIGHTSEEING

Opened to the public in 1913 thanks to the ingenuity and amb...