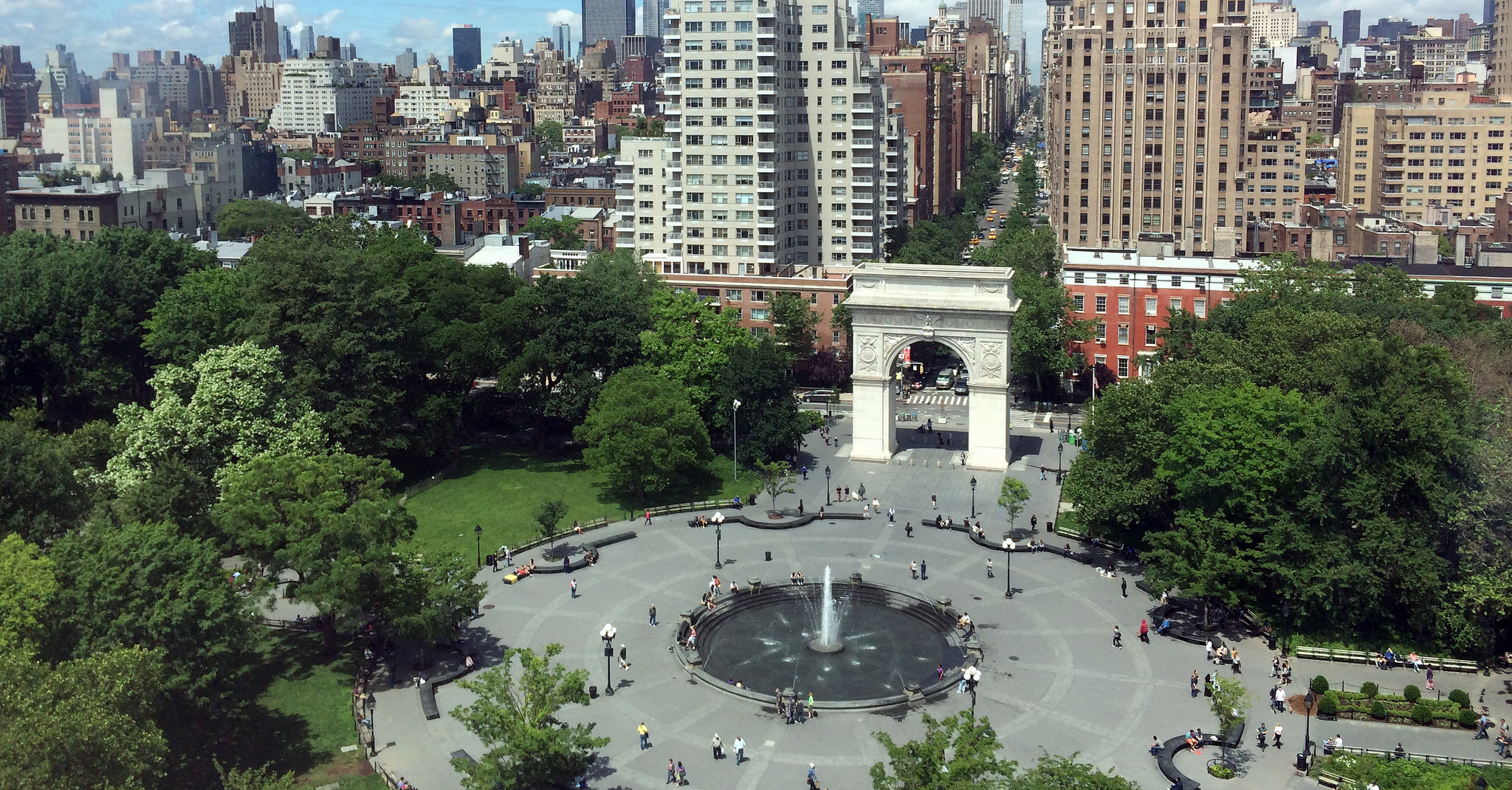 Photo: Doc Searls/Flickr

Home to Washington Square Park, the Stonewall Inn, and NYU, Greenwich Village always has a lot going on, which is exactly why this guide for things to do in Greenwich Village this week will come in handy. City Guide has rounded up some of the most entertaining, delicious, and memorable things to do in this scenic neighborhood no matter your budget.


Helix! with Michel van der Aa's Hysteresis - (Le) Poisson Rouge
November 04, 2018 - New York
Choir Rehearsal - Judson Memorial Church
November 04, 2018 - New York
MEETING ROOM (Enter by way of 55 Washington Square South)
Helix! with Michel van der Aa's Hysteresis - Le Poisson Rouge
November 04, 2018 - West Village
Le Poisson Rouge Presents: Helix! with Michel van der Aa's Hysteresis Table Seating: $25 advance, $30 day of show Standing Room: $20 advance, $25 day of show
Double Violin - St John's in the Village
November 04, 2018 - New York
Foundation for the Revival of Classical Culture presents Yaegy Park (violin), Brenden Zak (violin), and Jonathan DePeri (piano) in a performance of Bach's Double Violin Concerto in D minor, the Violin Partita No 2, and Paganini's Caprice 24.
Nfl Sunday - The Red Lion
November 04, 2018 - New york
Nfl Sunday
That's Not Tango--Astor Piazzolla, A Life in Music - SubCulture
November 04, 2018 - New York
After its original debut in 2016, the unique show "That's Not Tango - Astor Piazzolla, A Life In Music," led by Broadway director and legend Stephen Wadsworth and starring Lesley Karsten as Astor Piazzolla in a unique gender-bending role, has been remade and is returning to NY's Sub Culture Nov. 4, 11, 18, Dec. 2, 9, and 16.
The Justice Film Festival - Sheen Center
Through November 04, 2018 - New York
The Justice Film Festival inspires justice seekers by presenting films of unexpected courage and redemption that are diverse in their issues and geography. The sixth annual Justice Film Festival will return to the Sheen Center for Thought & Culture November 2-4, 2018 As always, this year's event will include feature films, documentaries, and shorts from both well-known and emerging filmmakers that shine a light on social justice.
Brandless Pop-up with Purpose - The Milk Building
Through November 04, 2018 - New York
BRANDLESS BRINGS POP-UP WITH PURPOSE TO NYC Brandless is opening its first-ever NYC #Brandlesslife Pop-Up with Purpose on October 24th! The pop-up will bring the brand to life, offering unique full-sensory experiences, including a ton of opportunities to taste, test and try the brand's over 350 better-for-you products. Through immersive installations and interactive moments from floor-to-ceiling, the space will highlight both Brandless' values and those of its community. Activations will include tasting flight menus, a full tasting wall of non-GMO, organic and vegan snacks, a fair-trade coffee experience, a clean beauty lounge and so much more. Guests will also get a glimpse into the future of the brand with first looks at new releases and can purchase a "Best of Brandless" bundle specially curated and packed for NYC visitors. In addition to the meal* that Brandless donates in partnership with Feeding America every time someone makes a purchase on Brandless.com, the company will also donate one meal for every social post using #BrandlessLife throughout the duration of the pop-up. Brandless has already donated over 2.5 million meals to people facing hunger since its launch ... (read more)
Guitar Masters Series: Andy Bianco 4tet - Zinc Bar
November 05, 2018 - New York
Acclaimed jazz guitarist Andy Bianco brings his formidable trio to Zinc jazz club on Monday, November 5. He's supported by tenor saxophonist Glenn White, bassist Sam Trapchak and drummer Eric Halvorson. New York City-based guitarist/composer Andy Bianco has performed/recorded with Angie Stone, Ray Chew, Onree Gill, Kandace Springs, Elle Varner, Bob Moses & many others at such renowned venues as Smoke Jazz Club, Cafe Wha, The Bitter End, The Blue Note, SOB's, and Joe's Pub. He's also the guitarist for the Grammy-nominated RnB artist Elle Varner, with whom he has completed a tour of Japan for Billboard Live. He was a finalist in the 2012 & 2015 USA Songwriting Competition, & his 2 official album releases as a leader have received domestic & international critical acclaim. Andy completed a 6-month tour of New Zealand & Japan as the guitarist with the critically acclaimed stage production entitled, "Empire." He is a member of the jazz hip-hop supergroup the Nickel & Dime OPS.
Monologues & Madness - The Cornelia Street Cafe
November 05, 2018 - New York
Tulis McCall, host Original Monologues. No slamming, no judges, just great material, excellent actors and YOU. Come See These Amazing Daredevils Perform Without a Net!!!
Guilty Pleasures Cabaret - The Duplex Cabaret Theatre
November 09, 2018 - New York
NYC's Premier Song and Dance Variety Show features high-energy synchronized dancing, live music, and cheeky comedy...just a few of our guilty pleasures. Produced and directed by a female team, the show is filled with sultry charm and feminine energy that brings out the classic side of the cabaret experience. This production can be described as an extravaganza in which "Great Gatsby meets Mad Men meets Video Vixens." Guilty Pleasures Cabaret was founded in 2014 by six friends in New York City who wanted to produce a show that highlighted both their performing and creative talents. Inspired by music, dance, and costumes that fulfilled their guilty performing pleasures, the show was born - thus earning their name "Guilty Pleasures Cabaret." The ladies debuted their show in Manhattan on the Upper West Side at a neighborhood bar, and after nine months, moved downtown where they sold out monthly shows at the renowned Duplex Cabaret Theater. The ladies have since made the Duplex their performing home, with guest appearances at Feinstein's/54 Below, The Triad, The Ten-Foot Rat Cabaret, Clocktower Cabaret in Denver, and Voodoo Comedy Lounge in Denver. In the spring of 2017, the group beg... (read more)
Rhythm Revue Retro Soul & Rock N' Roll Dance Party with Felix Hernandez - Le Poisson Rouge
November 10, 2018 - West Village
Rhythm Revue dance parties are New York's biggest and longest-running classic soul dances. They've filled Resorts World NYC, Roseland Ballroom, Nokia Theater, Irving Plaza, Highline Ballroom, Hammerstein Ballroom, B.B. King's, the Hornblower yachts, NJPAC, the Terrace Ballroom and other venues in the metro area since 1991.
TAKE 6 - Blue Note Jazz Club
Through November 11, 2018 - New York
TAKE 6 is the most awarded a cappella group in history, with ten Grammy's, ten Dove Awards (Gospel Music Awards), Best Jazz Vocal Group honors for seven consecutive years in Downbeat's prestigious Reader's and Critic's Poll, a Soul Train Music Award, BRE (Black Radio Exclusive) Vocal Group of the Year, two NAACP Image Award nominations, induction into the Gospel Music Hall of Fame and countless other musical and humanitarian citations. Showing the global appeal of this phenomenal group, they celebrated their 25th Anniversary last year with a World Tour including stronghold favorite markets Asia, South America, eastern and western Europe and the United States and TAKE 6 opened up new markets with debut tours of Australia and Canada. They receive rave reviews and overwhelming audience reception wherever they go. From New York's famed Blue Note to the Montreux Jazz Festival, from PBS to ABC-TV specials, they remain the quintessential and pre-eminent a capella group in the world, working harder than ever, and loving every minute of it. Most recently, TAKE 6 had the honor of being the first American vocal group to perform in Cuba since diplomatic relations were restored. One of th... (read more)
The Selects Pop-Up Store Opening Party - The Selects
Through November 14, 2018 - New York
WHO: The Selects, a collaborative project to promote Korean fashion designers and assist them to break into the American fashion market. This will be the first time most of the designers will have direct retail exposure to American consumers. WHAT: The Selects is opening a pop-up store in Soho, New York, featuring ten emerging Korean fashion designers along with ten curated K-beauty brands. FASHION: The Selects represents ten of the most promising designers evolving in the Korean fashion industry; Bmuet(te), Beyond Closet, The Centaur, Heohwan Simulation, Hidden Forest Market, KYE, LIE, Nohant, SWBD, and Wnderkammer. K-BEAUTY: The Selects have partnered with ten K-beauty brands for the pop-up. K-beauty is highly focused on health and hydration, and the ingredients are innovative and inspired by nature. The beauty brands that will be highlighted and sold in the store; Agerin, IPKN, Jinsoon, Knours, Meg, Moart, SKINRx Lab, Too Cool for School, Vika and Whal Myung, represent some of the best Korean skincare and makeup on the market. WHEN: Opening Party: October 26th from 5pm - 8pm. The store will be open Sunday-Thursday 12:00 PM - 7:00 PM, Friday-Saturday 11:00 AM... (read more)
PORTALS, A Photo Experience from Canon - Soho Pop-Up
Through November 18, 2018 - Manhattan
Canon will be hosting PORTALS, A Photo Experience from Canon. The 11-day pop-up will be built around photo moments that will transport visitors to an entirely new world by embedding camera tips and tricks into the consumer journey. Made up of five unique photography setups, PORTALS will allow photographers (amateur and experienced) to open up their imaginations while producing exciting – and Instagrammable – photos.