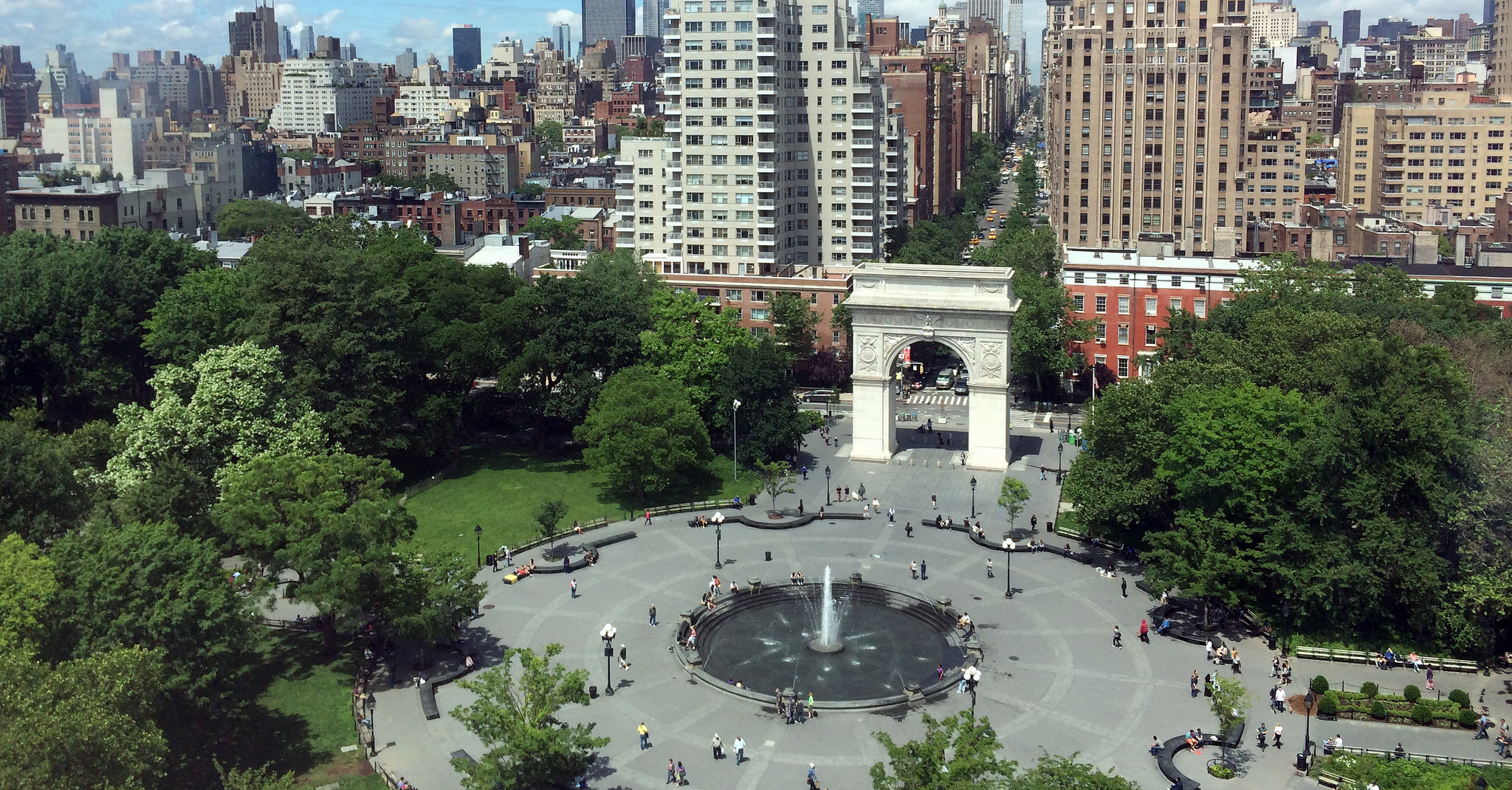 Photo: Doc Searls/Flickr

Home to Washington Square Park, the Stonewall Inn, and NYU, Greenwich Village always has a lot going on, which is exactly why this guide for things to do in Greenwich Village this week will come in handy. City Guide has rounded up some of the most entertaining, delicious, and memorable things to do in this scenic neighborhood no matter your budget.


Tango Night Ft. the Zinc Tango Trio - Zinc Bar
October 07, 2018 - New York
Come listen, watch or dance to the mystifying sounds of tango played live by the Argentine masters of this enchanting and mysterious music. 8 PM Open Beginner and intermediate dance class with Teacher Dennis $10 for 1-hour class Milonga is interwoven with recorded music throughout the night. The Enigma Tango Trio plays live with milonga throughout the night. A night of listening, dancing, and romancing!
A Tribute to Prince ft. Li'nard's Many Moods - Groove
October 07, 2018 - New York
Prince had it all - musical genius, incredible performer, humanitarian, and a unique person. On Saturday, March 3rd we honor Prince in the only way we know how - to perform his music and put all of our soul into the lasting gifts he gave us. Featuring Li'nard's many Moods, this event is truly NOT TO BE MISSED. We'll be playing the hits along with the deep cuts, from the early 80's all the way through his most recent works, and we'll be sharing stories of what Prince, his music, and his legacy means to us at The Groove.
Choir Rehearsal - Judson Memorial Church
October 07, 2018 - New York
MEETING ROOM (Enter by way of 55 Washington Square South)
Midtown Modernism 4: On and Off East 57th Street - AIA New York | Center for Architecture
October 07, 2018 - New York
View a variety of classic Modern, late Modern and Postmodern designs by Kohn Pedersen Fox, Cesar Pelli, Rafael Vinoly, I. M. Pei, Edward Larrabee Barnes, Helmut Jahn, Paul Rudolph, Edward Durell Stone, Harrison & Abramovitz, and others, as well as historic structures by Ely Jacques Kahn, Emery Roth and Henry Hardenbergh. Several interiors are included. Tours will run rain or shine. Please arrive 15 minutes prior to tour start time. Registration is limited to 15; walk-ups are not guaranteed a spot on the tour. Some tours utilize VOX amplification systems; attendees are welcome to bring their personal earbuds.
Building of the Day: BSE Global - AIA New York | Center for Architecture
October 07, 2018 - New York
BSE Global, formerly Brooklyn Sports & Entertainment, wanted to unify their staff under one roof at Building 19 in Industry City. The client engaged TPG to design an exciting and welcoming workplace that reflects their commitment to creating memories. Moving to Industry City allowed BSE the opportunity to truly brand their space and strategize their departmental adjacencies. The collaborative workplace embodies the scenic Brooklyn location and raw aesthetic of the industrial building.
The Music Of Pink & Lady Gaga - Cafe Wha?
October 07, 2018 - New York
Vocalists Ashley Menard & Jessica Stark (Hello: The Ultimate Adele Experience) team up at New York's Legendary Cafe Wha? to channel the Queens of Pop Pink & Lady Gaga. They'll pay homage to the international superstar with their special tribute concert The Fame Monster, belting out one chart-topping Gaga gem after another -- from "Paparazzi" to "Born This Way" and "Poker Face" to "Just Dance."
Remembering the Future: Architecture at the 1964/65 New York World's Fair - AIA New York | Center for Architecture
October 07, 2018 - New York
World's Fairs have for years offered the chance for architects to explore new concepts and technologies to?create memorable, visceral experiences for a broad public. Structures designed for the 1964/65 New York World's Fair were emblematic of a turbulent period for both architecture and society. Conceived at the dawn of the Space Age, the Fair opened as the country was coming to terms with civil rights and technological and social upheaval. At the World's Fair, Modern architecture met Pop Art. On this tour, held on the anniversary of the opening of the Fair, we examine extant architecture from the Fair, including Philip Johnson's New York State Pavilion, Wallace Harrison's Hall of Science, and modern sculpture by Peter Muller Monk, Jose de Rivera, and others, while exploring that memorable, controversial exposition.?
2018 AIANY + ASLANY Transportation + Infrastructure Design Awards - AIA New York | Center for Architecture
October 08, 2018 - New York
AIANY + ASLANY Transporation + Infrastructure Design Excellence Award Winner Announcement.
Stargazing - High Line
October 09, 2018 - West Village
Head to the High Line each Tuesday night for a romantic walk along the park and a chance to take a closer look at the stars. Peer through high-powered telescopes provided by the knowledgeable members of the Amateur Astronomers Association of New York to see rare celestial sights.
Zero Waste Design Challenge: Results - AIA New York | Center for Architecture
October 09, 2018 - New York
The Zero Waste Design Guidelines address the crucial role that design plays in achieving New York City's ambitious goal, outlined in OneNYC, to send zero waste to landfills by 2030. Created with support from the Rockefeller Foundation, the guidelines are a collaboration by the AIANY Committee on the Environment; Kiss + Cathcart, Architects; ClosedLoops; the Foodprint Group; the NYC Department of Sanitation; and other organizations throughout New York City. In conjunction with these zero waste initiatives, AIANY is hosting a Zero Waste Design Challenge with support from the Durst Organization. From mid-June to mid-October, the Zero Waste Challenge provides resources for firms of all sizes to reduce their waste generation and increase recycling in their offices. The challenge will give firms access to hands-on design experience to reduce waste with support from Think Zero LLC, a zero waste consultant.
17th Annual Wings of Hope for Melanoma gala - Capitale
October 11, 2018 - New York
The Melanoma Research Foundation (MRF) is pleased to invite you to the 17th Annual Wings of Hope for Melanoma gala in New York, NY. Enjoy samplings from a variety of elite New York restaurants, cocktails and a silent auction with unique and one-of-a-kind items. The MRF welcomes ESPN Sports Broadcaster and Melanoma Survivor, Holly Rowe, as Mistress of Ceremonies and comedian Richard Kind as a special guest. The MRF will honor Dr. Orit Markowitz, FAAD, Associate Professor of Dermatology at Mount Sinai Medical Center, and Director of Pigmented Lesions and Skin Cancer at the Boston VA, with the Humanitarian Award. The MRF is also pleased to honor Coolibar with the Corporate Leadership Award, Dr. David Abramson, Chief of Ophthalmic Oncology Service, at Memorial Sloan Kettering Cancer Center and Professor of Ophthalmology at Weill-Cornell Medical Center, with the CURE OM Vision of Hope Award and Edith Guarini, RN, BSN, CPHON, Pediatric Nurse Coordinator at Memorial Sloan Kettering with the Compassionate Care Award. The MRF is excited to have Cathie and Tom Westdyk as this year's co-chairs and Susan and Rob Reynolds as this year's Auction Chairs. We are so grateful for their hard... (read more)
Craft Spirits Celebration with Flaviar - Houston Hall
October 11, 2018 - New York
Craft Spirits Celebration is hosted and organised by Flaviar, the online club for spirits enthusiasts with a mission to help each and every person build their dream home bar. A highlight in the spirits calendar, the event aims to bring to life the ethos behind Flaviar's message, 'Flavor to the People', by bringing together members and non-members for a spirit celebration like no other. Alongside partner brands, Flaviar will introduce guests to its own private bottlings. Date: Thursday, October 11th, 2018 Location: Houston Hall, 222 W. Houston Street, New York City Time: 6:00 – 9:00pm (early entry from 5pm) Tickets: https://flaviar.com/craft-spirits-celebration
LPR X: Django Django - (Le) Poisson Rouge
October 12, 2018 - New York
The Shacks. Fronted by 20-year-old singer/bassist Shannon Wise and 21-year-old guitarist/producer Max Shrager, The Shacks are already well on their way to becoming one of the year's big breakouts, and their remarkable debut album, 'Haze,' solidifies their status as a band with ability to deliver on the well-deserved buzz. When Max and Shannon met in high school, a bond was created that has permeated their music since the Shacks first incarnation four years ago. That chemistry lies at the heart of 'Haze,' a record so hypnotic and seductive that it feels more like a whispered late-night secret than a young band's debut. Produced together by Shrager and Big Crown co-founder Leon Michels (who's played with Bradley, Sharon Jones, and Fields in addition to working with The Arcs, Lana Del Rey, and countless others), the album was recorded in bits and pieces between Shrager's basement and Michels' Diamond Mine studio, which the Observer dubbed "the Shangri La of Soul." 'Haze' opens with the title track, which is, appropriately enough, the first song Shrager and Wise ever wrote together. It's a spare, smoky tune that shimmers and sparkles as it shifts in and out of focus, and it's an ... (read more)
The Guilty Pleasures Cabaret Sirens - The Duplex Cabaret Theatre
October 12, 2018 - New York
Guilty Pleasures Cabaret, NYC's premier song and dance variety show, proudly presents The Sirens, a fierce trio of female singers. With tight harmonies and leading lady vocals they seamlessly blend retro vibes, pop tunes, and musical theatre stylings to deliver a star-quality show. Audiences will even catch cameos from the high-kicking and hair-flipping dance troupe The Fishnet Follies. First making appearances in Guilty Pleasures Cabaret productions, The Sirens will debut their own spinoff show in the summer of 2018. $15 Ticket in Advance & a 2 Drink Minimum in the Cabaret Theatre* $20 Ticket at the Door (plus service fee) & a 2 Drink Minimum in the Cabaret Theatre* *Drinks Must be purchased In the Cabaret Theatre to count towards the Minimum. No One Under 21 Allowed Doors open 30 minutes before show time. There is a 2 Drink Minimum per Person in the Cabaret Theatre
Susan York Foundation - The Drawing Center
Through October 18, 2018 - Soho
For the second long-term installation presented in The Drawing Center's Lab Corridor, Santa Fe-based artist Susan York will create a site-specific installation that references the internal structure of the museum's 35 Wooster Street building. Using graphite as a sculptural rather than a two-dimensional medium, York will create replicas of parts of the museum's foundation: eroded concrete piers that protrude above the museum's ground floor. York's long-term installation will initiate an expanded field of activity at The Drawing Center, pointing to new opportunities for exploring drawing as an interactive and socially-minded practice. Additionally, by bringing attention to The Drawing Center's building, York's installation will generate opportunities for discussion about the importance of museums continuing as public spaces with permanent, physical presence
Great Shipwrecks of New York's 'Great' Lakes and the Hidden Hulks of New York Harbor Exhibits - Hudson River Park's Pier 25 (Thursdays, Saturdays, and Sundays)
Through October 31, 2018 - Manhattan
New York Sea Grant's Shipwrecks of New York's 'Great' Lakes makes its New York City debut and will remain at Lilac through July 4 before making a return appearance at the New York State Fair. This exhibit celebrates the work of marine archeologists and highlights wrecks in upstate lakes, not only Lakes Erie and Ontario but Lake George, Lake Champlain and others. It will be accompanied at Lilac by The Hidden Hulks of New York Harbor curated by Mary Habstritt with contributions from Norman Brouwer, Joan H. Geismar, Elizabeth Meade, Lynn Rakos, Margaret Stocker, and Gerald Weinstein. This new exhibit looks at how and why local archeologists and historians study the abandoned hulks of the harbor and features some of the well-known ship graveyards and hulls found along our shorelines including those found underground at the World Trade Center site. We'll also be screening the documentary Graves of Arthur Kill in the crew mess. Lilac will be open to view the exhibits and tour the ship from 2:00 to 7:00 Saturdays and Sundays and 4:00 to 7:00 on Thursdays through October. This year, we are celebrating Lilac's 84th birthday. She was launched on May 26, 1933.
Center for Architecture Presents: The Fourth Regional Plan - AIA New York | Center for Architecture
Through October 31, 2018 - New York
Presents the Regional Plan Association's (RPA) Fourth Regional Plan. Released in November 2017, the long-range plan addresses urban challenges facing the New York Metropolitan area and envisions innovative schemes for the future of the region.