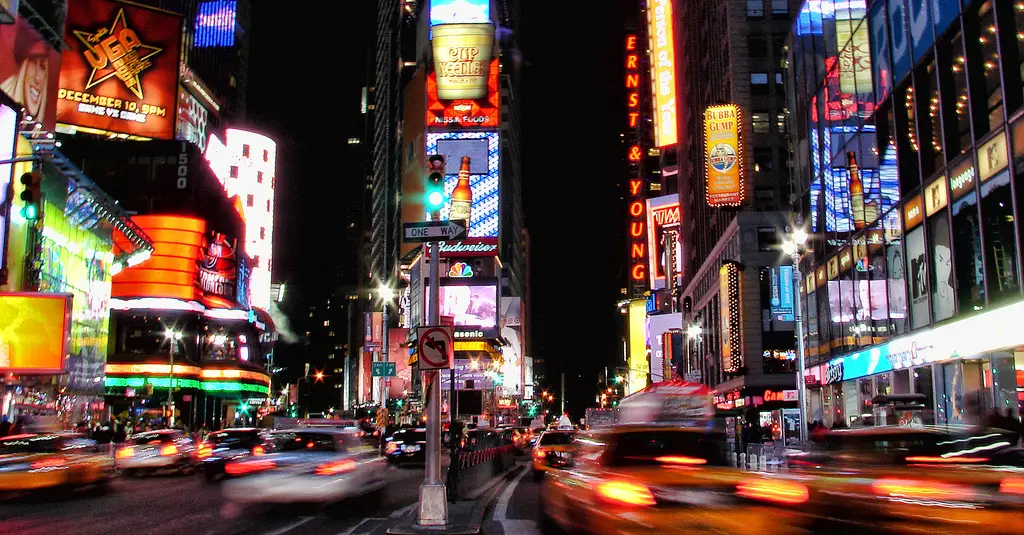 Photo: Diego Torres Silvestre/Flickr

Planning on catching a Broadway show in New York City's Theater District during your visit to the Big Apple? If so, make sure you check out City Guide's list of things to do in the Theater District this week for all the best of this famed midtown area. Museums, galleries, restaurants, and bars can all be found in the heart of the city.


Yael Rasooly and Iliya Magalnyk - The Laurie Beechman Theatre
January 13, 2019 - New York
In a meeting of two world renowned artists, Singer Yael Rasooly and Accordeonist Iliya Magalnyk invite audiences on a journey back in time to the music of the 1920's-1950's. Timeless classics, some known and loved and some waiting for audiences to be rediscovered, are presented in creative virtuous adaptations, and delivered in an enchanted collection of languages: French, English,Russian, Italian and even Yiddish.
Hot Take Comefy - Broadway Comedy Club
January 13, 2019 - New York
Broadway Comedy Club presents a lineup full of our Top Headliners. These are the best comedians from New York City with special guests from all across the country. You've seen them on MTV, HBO, The Tonight Show, Comedy Central, The Daily Show, Last Comic Standing and more!
Sunday Night Live - Broadway Comedy Club
January 13, 2019 - New York
Broadway Comedy Club presents a lineup full of our Top Headliners. These are the best comedians from New York City with special guests from all across the country. You've seen them on MTV, HBO, The Tonight Show, Comedy Central, The Daily Show, Last Comic Standing and more!
Harlem Gospel Choir - Sunday Gospel Brunch - All You Can Eat Buffet - Sony Hall
January 13, 2019 - New York
All Brunch prices do not reflect applicable gratuity or additional beverages. Each guest will be presented with a bill for the optional 18% gratuity. The Choir brings their experience of Harlem and the Black Church to Times Square in a foot stomping, hand clapping show for fans from around the world. The home-style "all you can eat" southern buffet is guaranteed to fill the hole in your soul, and the Choir's joyous performance will have you dancing on the stage.
Adam Pascal & Anthony Rapp - The Original Stars of Rent - Sony Hall
January 13, 2019 - New York
2nd Night Added The Original Stars of RENT ADAM PASCAL & ANTHONY RAPP Celebrating 20 Years of Friendship Sun 1/13 Doors: 6:00 pm / Show: 7:30 pm VIP Premium Meet & Greet Package Includes Post-Show Meet & Greet, Premium Reserved Seating & a Copy of their CD, "Acoustically Speaking" RJ Productions Broadway at Sony Hall Concert Series
Comedy Club - The Town Hall
January 13, 2019 - New York
The tour of COMEDY CLUB is always a great humor on current issues, musical numbers and various experiments on stage. Masters of humor will communicate with the audience and improvise. They always come up with something new, mercilessly destroying any boundaries. The members of the Comedy Club have no forbidden topics, and their sharp jokes always fall into the goal, causing laughter in the auditorium, so a two-hour laugh non-stop is guaranteed! We can say that this show taught people to laugh at themselves. Each performance is unique, so you will not see or hear anything like this anywhere else. This is exclusive only in New York! See you at the concert!
The Afro Latin Jazz Orchestra - Birdland
January 13, 2019 - New York
Grammy Award winning pianist, composer and educator Arturo O'Farrill -- leader of the "first family of Afro-Cuban Jazz" (NY Times) -- was born in Mexico and grew up in New York City. Son of the late, great composer Chico O'Farrill, Arturo was Educated at Manhattan School of Music, Brooklyn College Conservatory and the Aaron Copland School of Music at Queens College. He played piano in Carla Bley's Big Band from 1979 through 1983 and earned a reputation as a soloist in groups led by Dizzy Gillespie, Steve Turre, Freddy Cole, Lester Bowie, Wynton Marsalis and Harry Belafonte. The Afro Latin Jazz Orchestra is the resident large format ensemble of the nonprofit Afro Latin Jazz Alliance (ALJA) founded by Arturo O'Farrill in 2007 and dedicated to preserving the music and heritage of big band Latin jazz, supporting its performance for new audiences, and educating young people in the understanding and performance of this important cultural treasure. For more information about the orchestra and other ALJA initiatives, please visit us at www.afrolatinjazz.org
Blue Wave Victory Celebration Show - Don't Tell Mama
January 13, 2019 - New York
RIDE THE BLUE WAVE 2018 Proceeds will be donated to the National Democratic Redistricting Committee (founded by Attorney General Eric Holder and Supported by President Barack Obama)
Toward A Concrete Utopia: Architecture In Yugoslavia, 1948–1980 - The Museum of Modern Art
Through January 13, 2019 - Manhattan
Situated between the capitalist West and the socialist East, Yugoslavia's architects responded to contradictory demands and influences, developing a postwar architecture both in line with and distinct from the design approaches seen elsewhere in Europe and beyond. The architecture that emerged—from International Style skyscrapers to Brutalist "social condensers"—is a manifestation of the radical diversity, hybridity, and idealism that characterized the Yugoslav state itself. Toward a Concrete Utopia: Architecture in Yugoslavia, 1948–1980 introduces the exceptional work of socialist Yugoslavia's leading architects to an international audience for the first time, highlighting a significant yet thus-far understudied body of modernist architecture, whose forward-thinking contributions still resonate today.
The 20th Annual Glam Awards - Sony Hall
January 14, 2019 - New York
The 20th Annual GLAM AWARDS celebrates the best of NYC Nightlife in categories like Best DJ, Best Host, Best Dressed and Entertainer of the Year. Hosted by RuPaul's Drag Race winner Bob The Drag Queen. And featuring major productions by the most exciting performers in NYC Nightlife. Come celebrate with the biggest and brightest stars in NYC Nightlife!
Carolines New Talent - Carolines on Broadway
January 14, 2019 - New York
All Ages Featuring New York's best up and coming comics and Carolines regulars. Monday nights are when the country's top up-and-coming comedians shine on Carolines New Talent showcase. For years, Carolines has been the country's premier venue for discovering and developing the best new and emerging comedy talent. Carolines New Talent is "putting the spotlight on the stars of tomorrow, today!
Blue Wave Victory Celebration Show - Don't Tell Mama
January 14, 2019 - New York
BLUE WAVE VICTORY CELEBRATION SHOW
Judson Dance Theater: The Work Is Never Done - The Museum of Modern Art
Through February 03, 2019 - Manhattan
For a brief period in the early 1960s, a group of choreographers, visual artists, composers, and filmmakers made use of a local church to present performances that Village Voice critic Jill Johnston declared the most exciting new developments in dance in a generation. Redefining the kinds of movement that could count as dance, the Judson participants—Trisha Brown, Lucinda Childs, Philip Corner, Bill Dixon, Judith Dunn, David Gordon, Alex Hay, Deborah Hay, Fred Herko, Robert Morris, Steve Paxton, Rudy Perez, Yvonne Rainer, Robert Rauschenberg, Carolee Schneemann, and Elaine Summers, among others—would go on to profoundly shape all fields of art in the second half of the 20th century. Taking its name from the Judson Memorial Church, a socially engaged Protestant congregation in New York's Greenwich Village, Judson Dance Theater was organized as a series of open workshops from which its participants developed performances. Together, the artists challenged traditional understandings of choreography, expanding dance in ways that reconsidered its place in the world. They employed new compositional methods to strip dance of its theatrical conventions, incorporating "ordinary" movements—ge... (read more)
Constantin Brancusi Sculpture - The Museum of Modern Art
Through February 24, 2019 - Manhattan
Poet Erza Pound spoke of artist Constantin Brancusi's work as providing "the master keys to the world of form." Over a career that spanned half a century, Brancusi's innovations transformed sculpture as it had been known, and influenced generations of artists to come. After moving to Paris in 1904 from his native Romania, Brancusi affected the appearance of a Romanian peasant—a long beard, work shirt, and sandals—while embedding himself in avant-garde art circles. He soon began pushing modernist sculpture to the threshold of abstraction, developing a new, simplified vocabulary of graceful crescents, gleaming ovoids, and rough-hewn blocks that often evoked rather than resembled the things named in their titles, such as Bird in Space or Fish. He put the natural properties of his materials on display, carving directly into wood and stone and polishing metal to high reflectivity. The bases for his sculptures were often built of stacked elements—wood cubes, cylindrical slices, pyramidal blocks, or cruciform stones—becoming an integral component of the work itself and hinting at the possibility of infinite rearrangement, an idea that would prove fertile in future decades.
Bruce Nauman: Disappearing Acts - The Museum of Modern Art
Through March 17, 2019 - Manhattan
Schaulager, Basel, The Museum of Modern Art, and MoMA PS1 present the first comprehensive retrospective of American artist Bruce Nauman (b. 1941) in over 20 years. Opening at Schaulager in March 2018 and traveling to New York in October of that year, the exhibition expands upon the rich holdings of the organizing institutions. Spanning the artist's entire career, from the mid-1960s to the present, Disappearing Acts provides a singular opportunity to experience his command of a wide range of mediums, from drawing, printmaking, photography, and sculpture to performance, film, neon, and large-scale installations.