Things to Do in the Theater District This Week - January 6-January 13
January 6, 2019 - by CG Directory Editor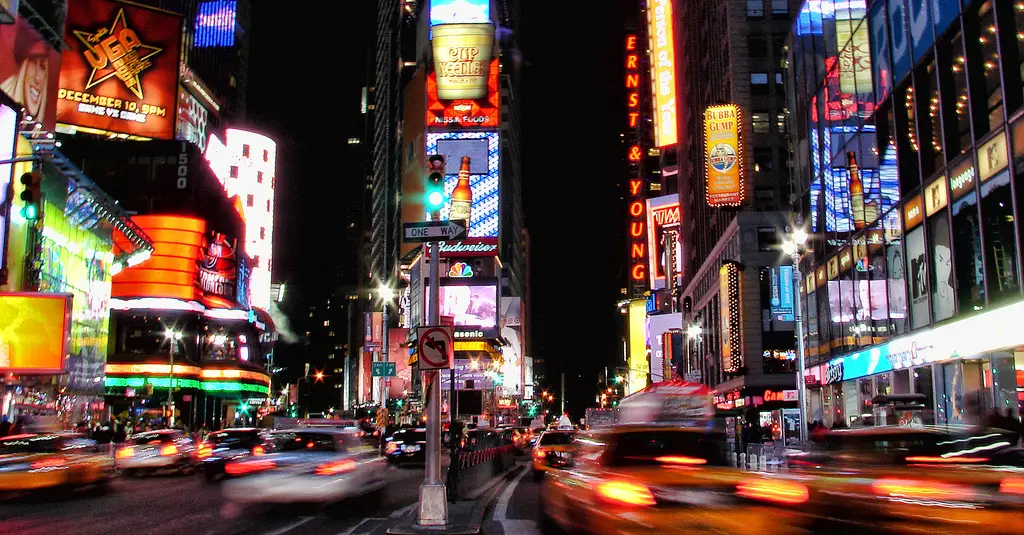 Photo: Diego Torres Silvestre/Flickr

Planning on catching a Broadway show in New York City's Theater District during your visit to the Big Apple? If so, make sure you check out City Guide's list of things to do in the Theater District this week for all the best of this famed midtown area. Museums, galleries, restaurants, and bars can all be found in the heart of the city.


Hot Take Comefy - Broadway Comedy Club
January 06, 2019 - New York
Broadway Comedy Club presents a lineup full of our Top Headliners. These are the best comedians from New York City with special guests from all across the country. You've seen them on MTV, HBO, The Tonight Show, Comedy Central, The Daily Show, Last Comic Standing and more! Featuring Erik Bransteen Chris Murphy
Eight is Never Enough - Broadway Comedy Club
January 06, 2019 - New York
The cast of EIGHT IS NEVER ENOUGH delivers hilarious comedy improvised on the spot based on audience suggestions and participation. Every show is topical and customized to you. Think WHOSE LINE IS IT ANYWAY meets Broadway.
Sunday Night Live - Broadway Comedy Club
January 06, 2019 - New York
Broadway Comedy Club presents a lineup full of our Top Headliners. These are the best comedians from New York City with special guests from all across the country. You've seen them on MTV, HBO, The Tonight Show, Comedy Central, The Daily Show, Last Comic Standing and more! This week on the Sunday Night Live 9pm show will be Drew Fraser, Jay Nog, Liz Miele, Quincy Carr, Vladimir Caamano, Alistair Williams, AG White hosted by Jamie Roberts.
All Star Stand Up Comedy , Our Signature Show - Broadway Comedy Club
January 06, 2019 - New York
Broadway Comedy Club presents a lineup full of our Top Headliners. These are the best comedians from New York City with special guests from all across the country. You've seen them on MTV, HBO, The Tonight Show, Comedy Central, The Daily Show, Last Comic Standing and more! Mike King, Amy Foster, Dan Lamorte, Mike Lemme, Katheryn Henson, Laz Rivero
Harlem Gospel Choir - Sunday Gospel Brunch - All You Can Eat Buffet - Sony Hall
January 06, 2019 - New York
All Brunch prices do not reflect applicable gratuity or additional beverages. Each guest will be presented with a bill for the optional 18% gratuity. The Choir brings their experience of Harlem and the Black Church to Times Square in a foot stomping, hand clapping show for fans from around the world. The home-style "all you can eat" southern buffet is guaranteed to fill the hole in your soul, and the Choir's joyous performance will have you dancing on the stage.
Darlene Love - Sony Hall
January 06, 2019 - New York
"Darlene Love's thunderbolt voice is as embedded in the history of Rock-and-Roll as Eric Clapton's guitar or Bob Dylan's lyrics." *New York Times. The press has also said "Darlene Love and Tina Turner are two of the hardest-working women in show business." Loved and respected by her peers: "Darlene is one of the most talented artists I've ever known." *Cher. "Darlene Love remains, even after all these years, one of the greatest voices in all of pop music. The thrill of listening to her live has not diminished one iota, and whenever I get the chance to hear her work, I run! A great interpreter, flawless intonation, she is as musical as it gets. I love, Love!"
John Beasley Monk'estra Septet - Birdland Theater
January 06, 2019 - New York
In the course of three decades, Mack Avenue recording artist John Beasley has carved an enviable reputation – or actually, two reputations. First and foremost, he is an uncommonly versatile, unerringly exciting pianist who has worked with such music icons as Miles Davis and Freddie Hubbard – playing in the bands of both these trumpet legends while still in his 20s – as well as with Herbie Hancock Steely Dan, Al Jarreau, Chaka Khan, Christian McBride, Chaka Khan (and even, for one night, with James Brown). But Beasley is also an accomplished composer, and a distinctive arranger who works regularly with in film and television, earning five GRAMMY nominations and an Emmy nod along the way. And he has worked extensively on soundtracks, primarily those of famed film scorer Thomas Newman, including the James Bond hits Spectre and Skyfall. Beasley's arranging skills find no better showcase than on the albums MONK'estra (Vol. 1 and Vol. 2), each of which received two GRAMMY nominations. MONK'estra is a smashing 15-piece big band that captures the spirit of Thelonious Monk's singular music in fresh arrangements flavored with contemporary sounds that range from Afro-Cuban rhythms to hip-h... (read more)
Melissa Aldana - Birdland Theater
January 06, 2019 - New York
Melissa Aldana (tenor sax) Micah Thomas (piano) Rick Rosato (bass) Jonathan Blake (drums) Joel Ross (vibes) Still in her 20's, Chilean saxophonist and composer Melissa Aldana has had a remarkably rapid evolution from 6-year-old sax prodigy to, "bold new talent," (NPR) and "…one of the more exciting young tenor saxophonists today." (New York Times) As a child, Aldana studied with her renowned saxophonist father Marcos Aldana. In 2007 she moved to Boston to enroll at Berklee College of Music. In 2013 she became the first female instrumentalist and the first South American ever to win the Thelonious Monk International Jazz Competition. She is also a recipient of the Martin E. Segal Award from Lincoln Center and a double recipient of the Altazor Award, Chile's prestigious national arts prize. Melissa has released four recordings as a leader, most recently, "Back Home." She recently completed and performed "Visions For Frida Kahlo," a six part suite for Septet, as part of Jazz Gallery NYC commission project. In addition to frequent educational residencies, Melissa performs around the world with her Quartet as well as with The Monterey Festival Allstars and the Allstar group Ar... (read more)
Maria Schneider Orchestra - Birdland Theater
January 06, 2019 - New York
Maria Schneider's music has been hailed by critics as "evocative, majestic, magical, heart-stoppingly gorgeous, and beyond categorization." Since 1994 Schneider began to develop her personal way of writing for her 18-member collective, made up of many of the finest musicians in jazz today. Maria has received numerous commissions and guest conducting invitations, working with over 85 groups from over 30 countries. Her latest release is the GRAMMY® award winning "The Thompson Fields," a fan-funded project from ArtistShare. Reeds: Steve Wilson, Dave Pietro, Rich Perry, Donny McCaslin, Scott Robinson. Trumpets: Greg Gisbert, Tony Kadleck, Nadje Noordhuis, Mike Rodriguez Trombones: Keith O'Quinn, Ryan Keberle, Marshall Gilkes, George Flynn Guitar: Ben Monder Accordion: Gary Versace (June 12-15), Ron Oswanski (June 16) Piano: Frank Kimbrough Bass: Jay Anderson Drums: Johnathan Blake
Burning. 2018. Directed by Lee Chang-dong - Museum of Modern Art
January 06, 2019 - Midtown
Burning. 2018. South Korea. Directed by Lee Chang-dong. 148 min. A noirish love triangle goes up in flames in this liberal adaptation of Haruki Murakami's enigmatic short story Barn Burning. A young delivery man, Jong-su, is drawn to Hae-mi, whose flirty and dreamy presence mystifies him. When she takes off for a long trip and returns with a handsome and equally opaque man, Ben, Jong-su is pulled into a world entirely unfamiliar to him. Lee Chang-dong's first directorial effort in eight years (since Poetry) is a finely crafted study of existential angst and obscure desires. Steven Yeun delivers one of the year's knockout performances as Ben, projecting pleasantry, hollowness, and menace in equal measure. Courtesy of Well Go USA
Dear Evan Hansen - Music Box Theatre
Through January 06, 2019 - New York
A letter that was never meant to be seen, a lie that was never meant to be told, a life he never dreamed he could have. Evan Hansen is about to get the one thing he's always wanted: A chance to finally fit in. Both deeply personal and profoundly contemporary, Dear Evan Hansen is the new American musical about life and the way we live it. Dear Evan Hansen has struck a remarkable chord with audiences and critics everywhere. The New York Times calls it "a gorgeous new musical for anyone with a beating heart." And NBC Nightly News calls this bold new musical "an anthem resonating on Broadway and beyond."
All Star Stand Up Comedy, Our Signature Show - Broadway Comedy Club
January 07, 2019 - New York
Broadway Comedy Club presents a lineup full of our Top Headliners. These are the best comedians from New York City with special guests from all across the country. You've seen them on MTV, HBO, The Tonight Show, Comedy Central, The Daily Show, Last Comic Standing and more! Elon Altman (AXS TV) Jaye McBride (YAAAS! Fest) Harrison Greenbaum (Comedy Central)
Jim Caruso's Cast Party - Birdland jazz club
January 07, 2019 - New York
"Jim Caruso's Cast Party is the best thing to happen to nightlife since prohibition ended." Think "American Idol" meets "The Tonight Show." Imagine Martin Short and Liza throw a hip house party around the baby grand…and you're invited! Cast Party is a wildly popular happening that has brought Broadway glitz and urbane wit to the legendary Birdland in New York City every Monday night since 2003. It is the ultimate spot to mix and mingle with show folk and the people who love them. Cast Party is a hilariously impromptu variety show where showbiz superstars and up-and-comers deliver jaw-dropping musical performances and razzle-dazzle. Legendary showman Jim Caruso guides the entire affair with razor-sharp humor and the unbridled enthusiasm of an uber-fan. Musical Director Billy Stritch holds court at the ivories, along with Steve Doyle on bass, and Daniel Glass on drums...but the real fun starts when the audience participates in the onstage festivities. Broadway legends, jazzers, cabaret divas, starry-eyed tourists and kids right off the bus take to the stage and entertain each other. If you have a voice, a dream and some sheet music, your Cast Party moment just might be at hand... (read more)
Carolines New Talent - Carolines on Broadway
January 07, 2019 - New York
All Ages Featuring New York's best up and coming comics and Carolines regulars. Monday nights are when the country's top up-and-coming comedians shine on Carolines New Talent showcase. For years, Carolines has been the country's premier venue for discovering and developing the best new and emerging comedy talent. Carolines New Talent is "putting the spotlight on the stars of tomorrow, today!
Sean Jones - Birdland Theater
January 07, 2019 - New York
Sean Jones has quickly established himself as one of the most outstanding and innovative trumpeters and composers on today's scene. Apprenticing with such legendary figures as Gerald Wilson, Frank Foster, Jimmy Heath and Nancy Wilson, he served as lead trumpeter with the Jazz at Lincoln Center Orchestra from 2004-2010. In 2011 he toured internationally with Herbie Hancock and Wayne Shorter ('Tribute to Miles' tour). As a leader he has recorded exclusively for Mack Avenue Records and performed at the Monterey, Detroit and Montreal Jazz Festivals. Jones has recently accepted the position of Chair of Brass at Berklee College of Music and also serves as Artistic Director of both the Pittsburgh and Cleveland Jazz Orchestras. Sean is current Artist-in-Residence at San Francisco Performances and is a new member of The SFJAZZ Collective.
The Jazz at Lincoln Center Orchestra with Wynton Marsalis and the National Symphony Orchestra of Romania - Dizzy's Club Coca Cola
Through January 12, 2019 - New York
The National Symphony Orchestra of Romania, conducted by Cristian M?celaru, joins forces with the Jazz at Lincoln Center Orchestra with Wynton Marsalis in its first visit to the United States. The JLCO has a proud and longstanding tradition of collaborating with orchestras from all over the world, and the NSOR has earned a reputation for delivering virtuosic performances of the highest level. The JLCO and NSOR will perform the world premiere of Wynton Marsalis' newly completed work, The Jungle. Commissioned in 2017 for the 175th Anniversary of the New York Philharmonic, an early version The Jungle was performed to sold-out crowds for five nights straight, and Marsalis will now share the final version of this extraordinary suite in Rose Theater. The Jungle is about what we see in our city today—the beautiful, the bleak, and the ever-present but often-overlooked commonalities of our shared humanity. It's a powerful composition in any context, but it is especially meaningful to perform it live with our Romanian brothers and sisters. Join your fellow music lovers in the House of Swing and watch some of the world's best musicians come together. Free pre-concert discussion nightly ... (read more)
Comedy Club - The Town Hall
January 13, 2019 - New York
The tour of COMEDY CLUB is always a great humor on current issues, musical numbers and various experiments on stage. Masters of humor will communicate with the audience and improvise. They always come up with something new, mercilessly destroying any boundaries. The members of the Comedy Club have no forbidden topics, and their sharp jokes always fall into the goal, causing laughter in the auditorium, so a two-hour laugh non-stop is guaranteed! We can say that this show taught people to laugh at themselves. Each performance is unique, so you will not see or hear anything like this anywhere else. This is exclusive only in New York! See you at the concert!
Toward A Concrete Utopia: Architecture In Yugoslavia, 1948–1980 - The Museum of Modern Art
Through January 13, 2019 - Manhattan
Situated between the capitalist West and the socialist East, Yugoslavia's architects responded to contradictory demands and influences, developing a postwar architecture both in line with and distinct from the design approaches seen elsewhere in Europe and beyond. The architecture that emerged—from International Style skyscrapers to Brutalist "social condensers"—is a manifestation of the radical diversity, hybridity, and idealism that characterized the Yugoslav state itself. Toward a Concrete Utopia: Architecture in Yugoslavia, 1948–1980 introduces the exceptional work of socialist Yugoslavia's leading architects to an international audience for the first time, highlighting a significant yet thus-far understudied body of modernist architecture, whose forward-thinking contributions still resonate today.
Judson Dance Theater: The Work Is Never Done - The Museum of Modern Art
Through February 03, 2019 - Manhattan
For a brief period in the early 1960s, a group of choreographers, visual artists, composers, and filmmakers made use of a local church to present performances that Village Voice critic Jill Johnston declared the most exciting new developments in dance in a generation. Redefining the kinds of movement that could count as dance, the Judson participants—Trisha Brown, Lucinda Childs, Philip Corner, Bill Dixon, Judith Dunn, David Gordon, Alex Hay, Deborah Hay, Fred Herko, Robert Morris, Steve Paxton, Rudy Perez, Yvonne Rainer, Robert Rauschenberg, Carolee Schneemann, and Elaine Summers, among others—would go on to profoundly shape all fields of art in the second half of the 20th century. Taking its name from the Judson Memorial Church, a socially engaged Protestant congregation in New York's Greenwich Village, Judson Dance Theater was organized as a series of open workshops from which its participants developed performances. Together, the artists challenged traditional understandings of choreography, expanding dance in ways that reconsidered its place in the world. They employed new compositional methods to strip dance of its theatrical conventions, incorporating "ordinary" movements—ge... (read more)
Constantin Brancusi Sculpture - The Museum of Modern Art
Through February 24, 2019 - Manhattan
Poet Erza Pound spoke of artist Constantin Brancusi's work as providing "the master keys to the world of form." Over a career that spanned half a century, Brancusi's innovations transformed sculpture as it had been known, and influenced generations of artists to come. After moving to Paris in 1904 from his native Romania, Brancusi affected the appearance of a Romanian peasant—a long beard, work shirt, and sandals—while embedding himself in avant-garde art circles. He soon began pushing modernist sculpture to the threshold of abstraction, developing a new, simplified vocabulary of graceful crescents, gleaming ovoids, and rough-hewn blocks that often evoked rather than resembled the things named in their titles, such as Bird in Space or Fish. He put the natural properties of his materials on display, carving directly into wood and stone and polishing metal to high reflectivity. The bases for his sculptures were often built of stacked elements—wood cubes, cylindrical slices, pyramidal blocks, or cruciform stones—becoming an integral component of the work itself and hinting at the possibility of infinite rearrangement, an idea that would prove fertile in future decades.
Bruce Nauman: Disappearing Acts - The Museum of Modern Art
Through March 17, 2019 - Manhattan
Schaulager, Basel, The Museum of Modern Art, and MoMA PS1 present the first comprehensive retrospective of American artist Bruce Nauman (b. 1941) in over 20 years. Opening at Schaulager in March 2018 and traveling to New York in October of that year, the exhibition expands upon the rich holdings of the organizing institutions. Spanning the artist's entire career, from the mid-1960s to the present, Disappearing Acts provides a singular opportunity to experience his command of a wide range of mediums, from drawing, printmaking, photography, and sculpture to performance, film, neon, and large-scale installations.
Looking for Free Group Planning Services?
Get free advice on planning your group's trip to New York.
MORE Activity Planner ARTICLES
RESTAURANTS

Multi-concept restaurant offering modern Japanese cuisine, a...

THEATER

Gaston Leroux's famous period thriller is now one of Broadwa...

SHOPPING

PANDORA, one of the leading names in jewelry for more than 3...

SIGHTSEEING

Located in Times Square in the heart of New York City, Riple...