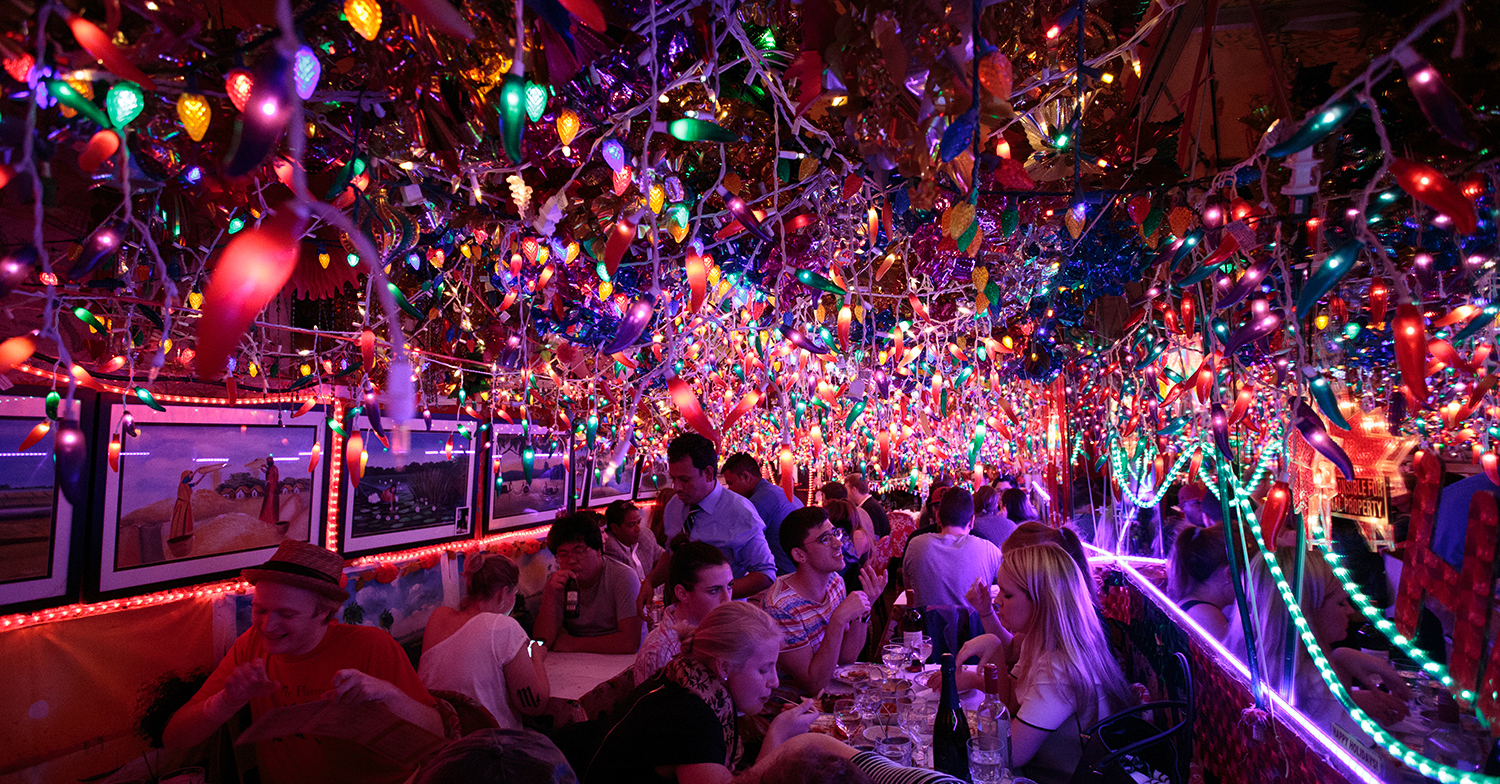 Photo: Mr Seb/Flickr

Manhattan's Lower East Side is one of the most popular neighborhoods in the entire city thanks to its rambunctious nightlife and ever-growing sea of restaurants, bars, galleries, and shops. You'll never run out of things to do on the Lower East Side this month thanks to City Guide's detailed monthly guide to the neighborhood.


Science Exclamation Point - Caveat
June 01, 2019 - New York
Thank You, Robot presents… Science Exclamation Point! In this long-running monthly show, two short, entrancing science lectures inspire sets of hilarious, never-to-be-seen-again improv comedy. Featuring veteran improv team Thank You, Robot, whose members' credits include Veep, This American Life, The Onion, SNL Weekend Update and more. Plus a different special guest team every month, and lectures curated by Caveat producers. Bring all of your exclamation points. You will need them.
10pm Saturday Comedy Show Extravaganza - Old Man Hustle
June 01, 2019 - New York
A featured venue in 2017 & 2018 New York Comedy Festival. A true intimate NYC comedy extravaganza starring the best Comics in NYC.
Vanessa Bayer: How Do You Care for a Very Sick Bear? - Strand Book Store
June 04, 2019 - New York
Pick out your favorite teddy bear and join us for a fun story time event with actress and comedian Vanessa Bayer, who will be in New York City celebrating the release of her debut picture book, How Do You Care For A Very Sick Bear?, a heartwarming story about how to care for a friend in need. In addition to a reading, Vanessa will talk a bit about the personal inspiration behind the book and what she hopes readers will take away from it. Following the story time there will be an opportunity to make get well cards for children at NYC-area hospitals. There will also be a book signing (books only) and posed photo opportunity with Vanessa. Please have your camera ready once you reach the front of the line. You MUST purchase a book in order to get in the signing line. Purchase a copy of HOW DO YOU CARE FOR A VERY SICK BEAR? at the link above to attend this event. Please note that payment is required for all online event orders at the time of checkout. The event will be located in the Strand's 3rd floor Rare Book Room at our store at 828 Broadway at 12th Street. Signing Guidelines: Vanessa will personalize one copy of HOW DO YOU CARE FOR A VERY SICK BEAR? per person and sign the rest... (read more)
Pericles Kanaris - DROM
June 05, 2019 - New York
Greek, New York based composer and performer Pericles Kanaris returns to his New York residency at Drom with 3 concerts for the Spring and Summer seasons. The theme for the new performances is entitled "Road to Athens", as the New York series will culminate in a concert at the prestigious NOSTOS Summer Festival at the Stavros Niarchos Cultural Center in Athens, Greece on June 30th. Pericles Kanaris calls this "a milestone for his career" as he will focus on new, original music and present material from two collections of songs. One collection is inspired by classic poets such as Constantine P. Kavafy and T.S Eliot and the other by unreleased material from contemporary poets, such as Manos Eleftheriou and the younger generation of Greek poets. The repertoire will also include songs from other Greek and international artists who have inspired the composer over the years and will be presented with his own, signature orchestrations.
Pink Party - Outdoor Lounge 525w52
June 05, 2019 - New York
Join The Fashion Foundation as we host our Pink Party at 525's exclusive outdoor lounge, open only to 525 & Fashion Foundation guests! Break out your finest pink or white outfit and sip summer inspired cocktails, enjoy light bites and get ready for some major photo opps. Did we mention there will be alcohol infused ice pops by FrutaPOP? Yea, we said it, alcohol infused ice pops! Featuring a fashion auction with items from Oscar De La Renta, GiGi New York, Calvin Klein, Loeffler Randall, Rebecca Minkoff and more! Proceeds from the night will help us send students with special needs from a school in Harlem on their end of year field trip and fund end of year activities and supplies like shirts, jump ropes, sports equipment and more for underprivileged students in New York. See the field trip we took these kids on last year here thanks to our Spring 2018 event! For more information visit our website: www.thefashionfoundation.org
8th Annual Real Estate Rockers in Relief - Irving Plaza
June 06, 2019 - New York
On June 6th, join prominent New York real estate giants as we rock out to raise funds for NECHAMA at the 8th Annual Real Estate Rockers in Relief. Six bands and four hours of live music to support NECHAMA's mission of repairing the world, and providing comfort and hope to communities by engaging volunteers in disaster recovery work. Since 2017, NECHAMA has helped more than 474 households with the help of close to 2,000 volunteers giving 75,000 hours of their time. This has resulted in over $4M invested into affected communities from Guerneville, CA to Guaynabo, Puerto Rico. Your support through this event allows us to continue this legacy. Bands include Little Darlings, Local Law, The Adventure, KRANE, the Doo Dahs, Normal by Day and many special guest performers - including a special appearance by hit-makers, Emily Warren and Scott Harris. Doors Open - 6:15 p.m. Show Starts - 6:45 p.m.
Dance Party Cruise NYC feat. Zumba® - Pier 36
June 08, 2019 - New York
ARE YOU READY FOR a Dance Party Cruise?!?! Our first Dance Party Cruise NYC feat. Zumba® was an incredible and memorable experience - we just had to do it again! Only this time, it's BIGGER & BETTER... We've traded in 2018's yacht for the luxurious LIBERTY BELLE - one of the biggest in the fleet. It has four levels and multiple outdoor decks, air conditioning, four cash bars, two large dance floors, plus other luxury amenities. On this twilight cruise, you'll be able to enjoy the gorgeous Manhattan skyline against the backdrop of night, while DJ Raymond and his crew light up the dance floors! Everything that made our first event a sell-out is part of the package again: a 3-hour NYC cruise feat. dance fitness and Zumba® masterclasses packed with all of your favorite rhythms: latin, dancehall, hip-hop, afrobeats and more, a delicious, hot dinner catered to you, four bars with water, soda, and adult beverages available for purchase. ALL 11 instructors from our first cruise are back: Ylliannis "LeLe" Ramirez, Donny Mendez, Kevin Garcia, Anthony Califano, Evelyn Ramos Hernandez, Marissa Tonge, and Alvarito Arguello. Your sponsors and organizers bringing you this 2nd Annual Zumba Ex... (read more)
This Spring, Educational Alliance's 14th Street Y and Downtown Jewish Life Celebrate Jewish Culture across the East Village with the 2019 Season of Jewish Culture - 14th Street Y
Through June 08, 2019 - New York
This Spring, Educational Alliance's 14th Street Y and Downtown Jewish Life Celebrate Jewish Culture across the East Village with the 2019 Season of Jewish Culture Celebration consists of a dozen interfaith, multi-faith, and Jewish Events NEW YORK, NY - Starting Saturday, April 20th and ending June 8th, Educational Alliance's 14th Street Y and Downtown Jewish Life will join together in hosting and participating in a dozen events to celebrate Jewish culture, as part of "The Jewish Season of Culture." These events will display the gorgeous breadth of Jewish art, religion, and culture and provide an opportunity for both Jewish and New Yorkers of all backgrounds with a way to engage with Jewish culture in an open, creative, and educational environment. Educational Alliance President and CEO Alan van Capelle said, "We are excited for another year of incredible programming during Educational Alliance's Season of Jewish Culture. With our impressive roster of partner organizations, we look forward to showcasing the vibrancy of Jewish life in downtown Manhattan and celebrating its connections and contributions to the rich diversity of New York City." 14th Street Y Executive D... (read more)
School of Rock NYC - DROM
June 16, 2019 - New York
School of Rock NYC
Eggrolls, Egg Creams and Empanadas - Museum at Eldridge Street
June 16, 2019 - New York
The Museum's signature, fan-favorite festival is back for another year! This multicultural block party unites the vibrant cultures of our neighborhood, pairing Chinese Opera and acrobatics with klezmer music and mambo. Enjoy al fresco Mah jongg games, Jewish scribal arts, Puerto Rican lace making, tea ceremonies, and much more. Plus, enjoy iconic foods of all three cultures!
Shakespeare's As You Like It - Latea Theater
Through June 30, 2019 - New York
Come away with us to 1969, the Summer of Love, where our production of As You Like It takes place. Having opposing ideologies on the war and the general state of life in their town, Duke Senior, is banished and ousted from the family business by his younger brother, Duke Frederick. Duke Senior decides to cast off his wealth and live a simple life in the Forest of Arden with his fellow anti-war protesters, musicians and peace loving friends. With her father gone, Rosalind and her cousin Celia decide to run away to Arden to be with him. Before they leave, Rosalind falls in love with Orlando, who is hated by his elder brother, Oliver who not only has all the power in the family, but wants him killed. Fearing for her life due to the fall out with her uncle, Rosalind disguises herself and flees into the forest with her beloved cousin and their eccentric friend Touchstone. Explore the love, peace, turmoil, music, social clashes, and the politics of the day through the lens of the Bard. The names and times may change, but for the stage of our world all the men and women remain merely players. Equity Approved Showcase Cast Jeffrey Marc Alk... (read more)
Art after Stonewall, 1969-1989 - Grey Art Gallery, New York University
Through July 20, 2019 - New York
Coinciding with the 50th anniversary of the Stonewall Uprisings, Art after Stonewall, 1969–1989 is a long-awaited and groundbreaking survey that features over 200 works of art and related visual materials exploring the impact of the Lesbian, Gay, Bisexual, Transgender, and Queer (LGBTQ) liberation movement on visual culture. Presented in two parts—at New York University's Grey Art Gallery and the Leslie-Lohman Museum of Gay and Lesbian Art—the exhibition features artworks by openly LGBTQ artists such as Vaginal Davis, Louise Fishman, Nan Goldin, Lyle Ashton Harris, Barbara Hammer, Holly Hughes, Greer Lankton, Robert Mapplethorpe, Catherine Opie, Joan Snyder, and Andy Warhol. On view at the Grey Art Gallery from April 24 through July 20, 2019 and at the Leslie-Lohman Museum from April 24 through July 21, 2019, the exhibition is organized by the Columbus Museum of Art.
The Infinite Wrench - Kraine Theater
Through March 03, 2020 - New York
The Infinite Wrench is a mechanism that unleashes a barrage of two-minute plays for a live audience. Each play offers something different, be it funny, profound, elegant, disgusting, topical, irrelevant, terrifying, or a song; all are truthful and tackle the here-and-now, inspired by the lived experiences of the performers. With new plays every week, The Infinite Wrench is the Neo-Futurists' ongoing and ever-changing attempt to shift the conventions of live performance and speak to audiences including those unreached or unmoved by traditional theater. The Infinite Wrench runs every weekend (except the last 2 weeks of December). Different show every time! If you've seen the show once, you've seen the show once.
YY Dance Company - Peridance Capezio Theater
Through September 24, 2107 - New York
Dancer/choreographer Yiin Yue presents her YY Dance Company in a program of her explosive works, performed by an ensemble of stellar dancers. The Shanghai native has already received commissions from Hubbard Street 2 in Chicago, and her company has performed at Jacob's Pillow, Dancenow, and the Schrit-tmacher Dance Festival in Germany.
Fine Art Auction October 20 and 27 – Works by Leading Artists of the Salmagundi Club - Salmagundi Club
Through October 28, 2107 - New York
The Salmagundi Club, a leading center for fine artists presents its annual fall auctions. Auctions will be held on October 20 and 27, 2017 at 8:00 p.m., at the Club's historic brownstone mansion at 47 Fifth Avenue, New York City. To view the art online and bid now, visit liveauctioneers.com and search for Salmagundi.