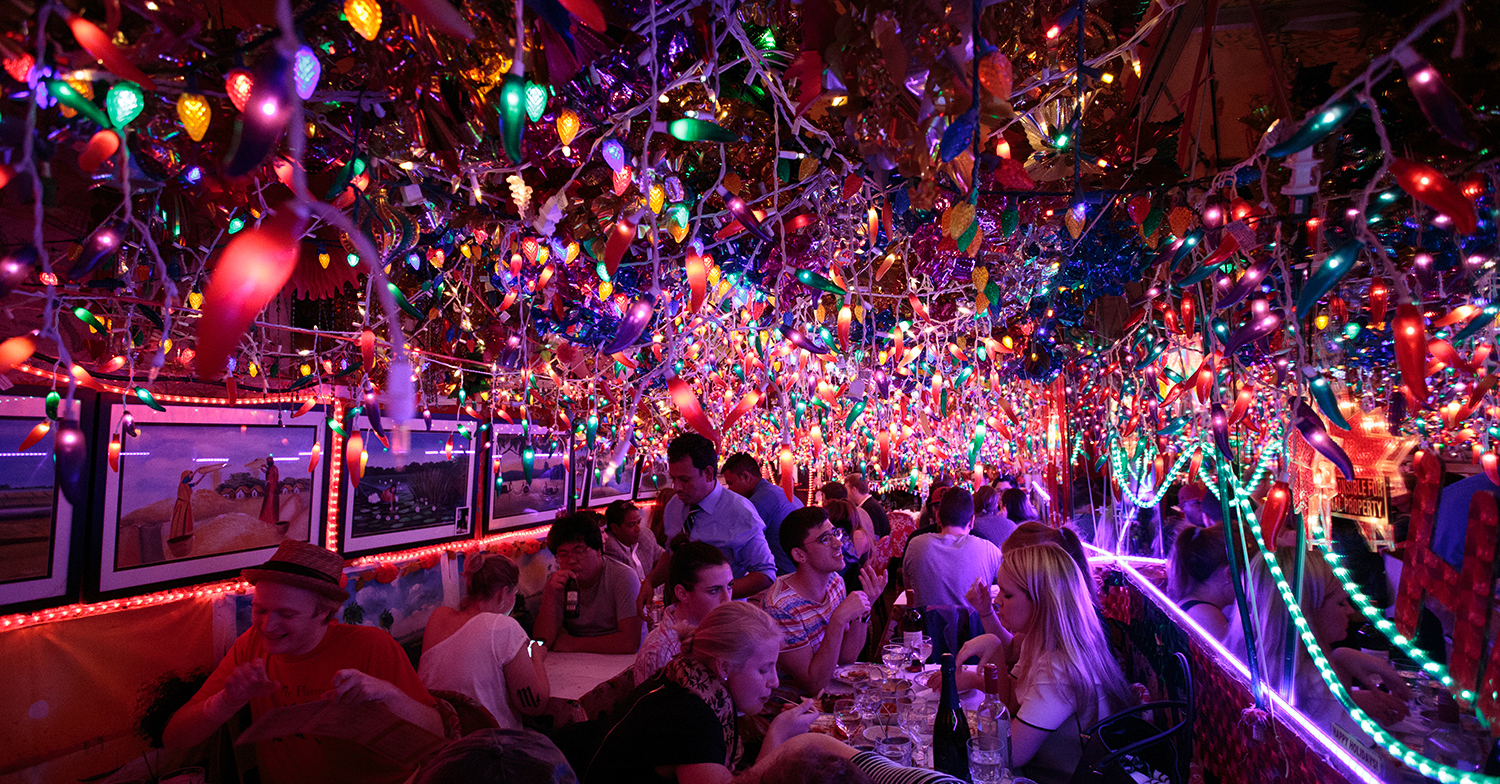 Photo: Mr Seb/Flickr

Manhattan's Lower East Side is one of the most popular neighborhoods in the entire city thanks to its rambunctious nightlife and ever-growing sea of restaurants, bars, galleries, and shops. You'll never run out of things to do on the Lower East Side this month thanks to City Guide's detailed monthly guide to the neighborhood.


The Slipper Room Midnight Show - The Slipper Room
June 08, 2019 - New York
This event is 21 and over Late night risqué shenanigans for those who like to go all night long. Big teeth, tight pants and a singing voice to die for! That's Wilfredo – a lover, singer, poet and drinker who charms the birds down from the trees all over the world. Grotesque, deluded but always loveable, Wilfredo is the powerhouse comedy creation who has won hearts at the Edinburgh Festival Fringe, the Melbourne International Comedy Festival, the Adelaide Fringe and at the Magners International Comedy Festival in both Manila and Singapore. In South Africa, Wilfredo performed to over 20,000 people at the Cape Town Funny Festival, while Reykjavik Kabarett in Iceland have claimed him as one of their own. Based in New York City, his late-night appearances as host at the Slipper Room have fast become the stuff of legend. wilfredo.es
Rr: Writer's Hotel - KGB Bar
June 08, 2019 - New York
RR: Writer's Hotel
Dance Party Cruise NYC feat. Zumba® - Pier 36
June 08, 2019 - New York
ARE YOU READY FOR a Dance Party Cruise?!?! Our first Dance Party Cruise NYC feat. Zumba® was an incredible and memorable experience - we just had to do it again! Only this time, it's BIGGER & BETTER... We've traded in 2018's yacht for the luxurious LIBERTY BELLE - one of the biggest in the fleet. It has four levels and multiple outdoor decks, air conditioning, four cash bars, two large dance floors, plus other luxury amenities. On this twilight cruise, you'll be able to enjoy the gorgeous Manhattan skyline against the backdrop of night, while DJ Raymond and his crew light up the dance floors! Everything that made our first event a sell-out is part of the package again: a 3-hour NYC cruise feat. dance fitness and Zumba® masterclasses packed with all of your favorite rhythms: latin, dancehall, hip-hop, afrobeats and more, a delicious, hot dinner catered to you, four bars with water, soda, and adult beverages available for purchase. ALL 11 instructors from our first cruise are back: Ylliannis "LeLe" Ramirez, Donny Mendez, Kevin Garcia, Anthony Califano, Evelyn Ramos Hernandez, Marissa Tonge, and Alvarito Arguello. Your sponsors and organizers bringing you this 2nd Annual Zumba Ex... (read more)
The Gotham Easy - Rue-B Jazz
June 08, 2019 - New York
The Gotham Easy is a hot jazz band born on the mean streets of NYC. While being completely at ease playing classic standards in the time-honored New Orleans tradition, the band brings a brash vitality to music that is all too often treated as a delicate museum piece. The Gotham Easy's members have been playing together since 2006, performing at house parties, weddings, bars, clubs, speakeasies, film festivals, theaters, churches, burlesque shows, variety shows, award shows, swing dances, parades, funerals, radio stations, museums, universities, zoos, parks, libraries, European jazz festivals, NFL games, and Jazz at Lincoln Center. Whether revitalizing the traditional jazz canon with their excitement and energy, or whipping an audience into a frenzy with their raucous original compositions, the Gotham Easy brings the music of the early 20th century into the early 21st century with a fresh style and attitude
To Name An Other - New Museum
June 08, 2019 - New York
In a special closing performance for Jeffrey Gibson's residency and exhibition "The Anthropophagic Effect," fifty performers will be brought together for a drumming event to give names to our current political climate. This program is presented on the occasion of "Jeffrey Gibson: The Anthropophagic Effect." Multimedia artist Jeffrey Gibson (b. 1972, Colorado Springs, CO) is the artist-in-residence for the Department of Education and Public Engagement's Winter/Spring R&D Season: INHERITANCE. Gibson's exhibition will explore the material histories and futures of several Indigenous handcraft techniques and aesthetics, including Southeastern river cane basket weaving, Algonquian birch bark biting, and porcupine quillwork, as practiced by many tribes across this land long before European settlers arrived. The title "The Anthropophagic Effect" alludes to Oswald de Andrade's legendary 1928 Anthropophagic Manifesto, which argued that indigenous communities could devour colonizers' culture as a way of rejecting domination and radically transforming Western culture to their own ends. Gibson notes that Indigenous crafts and designs have "historically been used to signify identity, tell stori... (read more)
Laughing Buddha - New York Comedy Club
June 08, 2019 - New York
Ages 16 and up only Standard two drink minimum per person Laughing Buddha Comedy presents an evening of NYC's emerging comics as they join Jeff Lawrence for a hilarious night of laughter.
Saturday Night Headliners on 4th - New York Comedy Club
June 08, 2019 - New York
Ages 16 and up only Standard two drink minimum per person Nothing says downtown NYC like a microphone, a stool, a brick wall and a comedian. Stand up comedy has been a staple of Village nightlife for decades! The newly expanded New York Comedy Club is proud to join the thriving arts and entertainment scene in the East Village, building on our strong presence at our flagship location in Gramercy.
Uri Gurvich Quartet - The Stone
June 08, 2019 - New York
Uri Gurvich (sax) Leo Genovese (piano) Edward Perez (bass) Francisco Mela (drums)
The Redacted Report feat Dual Core x FuzzyNop; Schaffer The Darklord; LEX The Lexicon Artist; Mikal kHill and Wordburgla - DROM
June 08, 2019 - New York
The Redacted Report feat Dual Core x FuzzyNop; Schaffer The Darklord; LEX The Lexicon Artist; Mikal kHill and Wordburgla
This Spring, Educational Alliance's 14th Street Y and Downtown Jewish Life Celebrate Jewish Culture across the East Village with the 2019 Season of Jewish Culture - 14th Street Y
Through June 08, 2019 - New York
This Spring, Educational Alliance's 14th Street Y and Downtown Jewish Life Celebrate Jewish Culture across the East Village with the 2019 Season of Jewish Culture Celebration consists of a dozen interfaith, multi-faith, and Jewish Events NEW YORK, NY - Starting Saturday, April 20th and ending June 8th, Educational Alliance's 14th Street Y and Downtown Jewish Life will join together in hosting and participating in a dozen events to celebrate Jewish culture, as part of "The Jewish Season of Culture." These events will display the gorgeous breadth of Jewish art, religion, and culture and provide an opportunity for both Jewish and New Yorkers of all backgrounds with a way to engage with Jewish culture in an open, creative, and educational environment. Educational Alliance President and CEO Alan van Capelle said, "We are excited for another year of incredible programming during Educational Alliance's Season of Jewish Culture. With our impressive roster of partner organizations, we look forward to showcasing the vibrancy of Jewish life in downtown Manhattan and celebrating its connections and contributions to the rich diversity of New York City." 14th Street Y Executive D... (read more)
Vision Festival Films - Anthology Film Archives
June 09, 2019 - New York
Anthology Film Archives continues its collaboration with Arts for Art on the occasion of their annual Vision Festival, with a day of film screenings relating to the event. The films will speak to what the Vision Festival represents: community, creativity, and social justice.
Kgb: Writer's Hotel - KGB Bar
June 09, 2019 - New York
KGB: Writer's Hotel
Bobtown Record Release: Chasing the Sun - Rockwood Music Hall Stage 2
June 09, 2019 - New York
On Sunday, June 9, 2019, Bobtown will host a record release show for their long-awaited fourth full-length CD 'Chasing the Sun' at Rockwood Music Hall, Stage 2 at 7:00pm. This is a free show—doors open at 6:30. Rockwood is located at 196 Allen Street in Manhattan's Lower East Side. 'Chasing the Sun' will be officially released in July of this year, and advance copies of the album will be available at this show. The NYC-based quintet Bobtown has been a band for over ten years, and never has their growth been more apparent then in this latest production. Since their first, eponymous, release in 2011, an obvious transformation has been their expansion of instrumentation, but a more subtle musical journey is reflected in their stories. The folksy narratives that have dominated much of their earlier work are still present, but these tales now accompany contemporary, personal compositions on empowerment, overcoming internal conflict, and the universal threads of love and loss. All in all, 'Chasing the Sun' is a collection of songs demonstrating the range and experiences of four authors navigating a course through middle age who've managed to stick together through the ups and downs of... (read more)
Fairway Food Festival 2019 - Basketball City
June 09, 2019 - New York
Fairway brings the 2nd annual Fairway Food Festival to Manhattan's Lower East Side, and you're invited! Get your tickets now for this ultimate fooding experience. On June 9th, Basketball City at Pier 36 will be transformed into an immersive foodie paradise featuring 140 of the world's leading purveyors. You'll want to be on hand as they serve up a dazzling array of food and drink options designed to delight.
Pentecost - St. Mark's Church-on-the-Bowery
Through June 10, 2019 - New York
The seventh Sunday after Easter, commemorates the descent of the Holy Spirit upon the Apostles and other followers of Jesus Christ while they were in Jerusalem celebrating the Feast of Weeks, as described in the Acts of the Apostles.
Hot Rabbit LGBTQ Dance Party - DROM
June 14, 2019 - New York
HOT RABBIT is a queer dance party started in 2011 that features LGBTQ performers and DJs from NYC and around the world. Winner of many NYC Nightlife awards, Hot Rabbit has been named "Best in Gay Nightlife" by the New York Times, Gothamist, HuffPo, NY Magazine, TimeOut, NBC Out, and more! With new DJs and performers at every event, and a variety of high-energy, positive, dance, music and performance styles, you'll never find the same lineup twice! Working to make sure everyone can walk in and feel like they belong, Hot Rabbit represents all parts of the LGBTQ community. Hot Rabbit Fridays will take place two Fridays a month at DROM!
NYLON Hosts Third Annual NYC Pride Party @ The Bowery Electric - The Bowery Electric
Through June 14, 2019 - New York
On Thursday, June 13, NYLON Media and Editor-in-Chief Gabrielle Korn will host one of the most highly-anticipated events of the year – the NYC Pride Party at The Bowery Electric in downtown Manhattan, in tandem with the launch of NYLON's June digital cover, honoring Pride Month and featuring cover star Samira Wiley from The Handmaid's Tale. The evening kicks off from 7 to 9 PM @ The Phluid Project—the world's first gender-free store and community space— with "Queering the Culture," a panel featuring influential queer people from different high-profile industries, including: Nneka Onuorah, a filmmaker telling the stories of queer people across the global Black diaspora; renowned clap-back-royalty Ericka Hart, a breast cancer survivor and sex educator; Jari Jones, a model, actress, and fierce advocate for trans issues; Kimberly Drew aka @MuseumMammy, a popular curator of Black experiences and art; and Twiggy Pucci Garçon, performer and choreographer for the FX's POSE. Immediately following the panel, the party continues from 9 PM to 4 AM @ The Bowery Electric, with music, cocktails, and live, high energy performances by Atlanta-based rapper Kodie Shane, DJ sets by New York's Q... (read more)
School of Rock NYC - DROM
June 15, 2019 - New York
School of Rock NYC
School of Rock NYC - DROM
June 16, 2019 - New York
School of Rock NYC
Eggrolls, Egg Creams and Empanadas - Museum at Eldridge Street
June 16, 2019 - New York
The Museum's signature, fan-favorite festival is back for another year! This multicultural block party unites the vibrant cultures of our neighborhood, pairing Chinese Opera and acrobatics with klezmer music and mambo. Enjoy al fresco Mah jongg games, Jewish scribal arts, Puerto Rican lace making, tea ceremonies, and much more. Plus, enjoy iconic foods of all three cultures!
Guest Event: Charming Disaster, Spells & Rituals Album Release - The Slipper Room
June 20, 2019 - New York
This event is 21 and over Musical duo Charming Disaster (as heard on Welcome to Night Vale) perform playfully macabre original songs inspired by death, crime, ancient mythology, fairy tales, and the occult, combining the dramatic flair of the cabaret with deliciously dark material. Tonight they celebrate the release of their third album, SPELLS + RITUALS, with special guests and other surprises.
Queer Money Live! With Personal Finance Influencers, The Debt Free Guys - Capital One Flagship
June 23, 2019 - New York
Join in on this lively talk about LGBTQ money, personal stories and how the LGBTQ community can thrive financially. Light bites and coffee provided. When: Sunday, June 23rd 11 am - 12 pm (Doors open at 10:30 am) Where: Capital One Union Square (853 Broadway, New York, New York 10003) RSVP here: https://www.facebook.com/events/334578327259819/
Shakespeare's As You Like It - Latea Theater
Through June 30, 2019 - New York
Come away with us to 1969, the Summer of Love, where our production of As You Like It takes place. Having opposing ideologies on the war and the general state of life in their town, Duke Senior, is banished and ousted from the family business by his younger brother, Duke Frederick. Duke Senior decides to cast off his wealth and live a simple life in the Forest of Arden with his fellow anti-war protesters, musicians and peace loving friends. With her father gone, Rosalind and her cousin Celia decide to run away to Arden to be with him. Before they leave, Rosalind falls in love with Orlando, who is hated by his elder brother, Oliver who not only has all the power in the family, but wants him killed. Fearing for her life due to the fall out with her uncle, Rosalind disguises herself and flees into the forest with her beloved cousin and their eccentric friend Touchstone. Explore the love, peace, turmoil, music, social clashes, and the politics of the day through the lens of the Bard. The names and times may change, but for the stage of our world all the men and women remain merely players. Equity Approved Showcase Cast Jeffrey Marc Alk... (read more)
JF Lynch: Word Drawings - Lesley Heller Gallery
Through June 30, 2019 - New York
"If you set pen to paper, is the letter "i" a written sound sign or a drawn glyph of a standing figure? When you look at a narrative drawing and understand the story, have you not just read the drawing?" Lesley Heller Gallery is pleased to present the first New York solo show of JF Lynch in our Project Space. Lynch is an artist known for his monochromatic works that feature abstracted letters and words set within a dark expanse. Working predominantly with charcoal on paper or canvas, Lynch's work bridges painting, drawing, and writing.
The Soft Parade: A Tribute to The Doors - Jim Morrison Memorial Show - DROM
July 03, 2019 - New York
The Soft Parade is revered worldwide as THE premiere Doors tribute show. They recreate, with stunning accuracy, the primal, poetic atmosphere of a vintage Doors concert. The Soft Parade has toured 20 countries, been joined onstage by original Doors guitarist Robby Krieger and has performed hundreds of concerts worldwide.
Art after Stonewall, 1969-1989 - Grey Art Gallery, New York University
Through July 20, 2019 - New York
Coinciding with the 50th anniversary of the Stonewall Uprisings, Art after Stonewall, 1969–1989 is a long-awaited and groundbreaking survey that features over 200 works of art and related visual materials exploring the impact of the Lesbian, Gay, Bisexual, Transgender, and Queer (LGBTQ) liberation movement on visual culture. Presented in two parts—at New York University's Grey Art Gallery and the Leslie-Lohman Museum of Gay and Lesbian Art—the exhibition features artworks by openly LGBTQ artists such as Vaginal Davis, Louise Fishman, Nan Goldin, Lyle Ashton Harris, Barbara Hammer, Holly Hughes, Greer Lankton, Robert Mapplethorpe, Catherine Opie, Joan Snyder, and Andy Warhol. On view at the Grey Art Gallery from April 24 through July 20, 2019 and at the Leslie-Lohman Museum from April 24 through July 21, 2019, the exhibition is organized by the Columbus Museum of Art.
The Infinite Wrench - Kraine Theater
Through March 03, 2020 - New York
The Infinite Wrench is a mechanism that unleashes a barrage of two-minute plays for a live audience. Each play offers something different, be it funny, profound, elegant, disgusting, topical, irrelevant, terrifying, or a song; all are truthful and tackle the here-and-now, inspired by the lived experiences of the performers. With new plays every week, The Infinite Wrench is the Neo-Futurists' ongoing and ever-changing attempt to shift the conventions of live performance and speak to audiences including those unreached or unmoved by traditional theater. The Infinite Wrench runs every weekend (except the last 2 weeks of December). Different show every time! If you've seen the show once, you've seen the show once.
YY Dance Company - Peridance Capezio Theater
Through September 24, 2107 - New York
Dancer/choreographer Yiin Yue presents her YY Dance Company in a program of her explosive works, performed by an ensemble of stellar dancers. The Shanghai native has already received commissions from Hubbard Street 2 in Chicago, and her company has performed at Jacob's Pillow, Dancenow, and the Schrit-tmacher Dance Festival in Germany.
Fine Art Auction October 20 and 27 – Works by Leading Artists of the Salmagundi Club - Salmagundi Club
Through October 28, 2107 - New York
The Salmagundi Club, a leading center for fine artists presents its annual fall auctions. Auctions will be held on October 20 and 27, 2017 at 8:00 p.m., at the Club's historic brownstone mansion at 47 Fifth Avenue, New York City. To view the art online and bid now, visit liveauctioneers.com and search for Salmagundi.