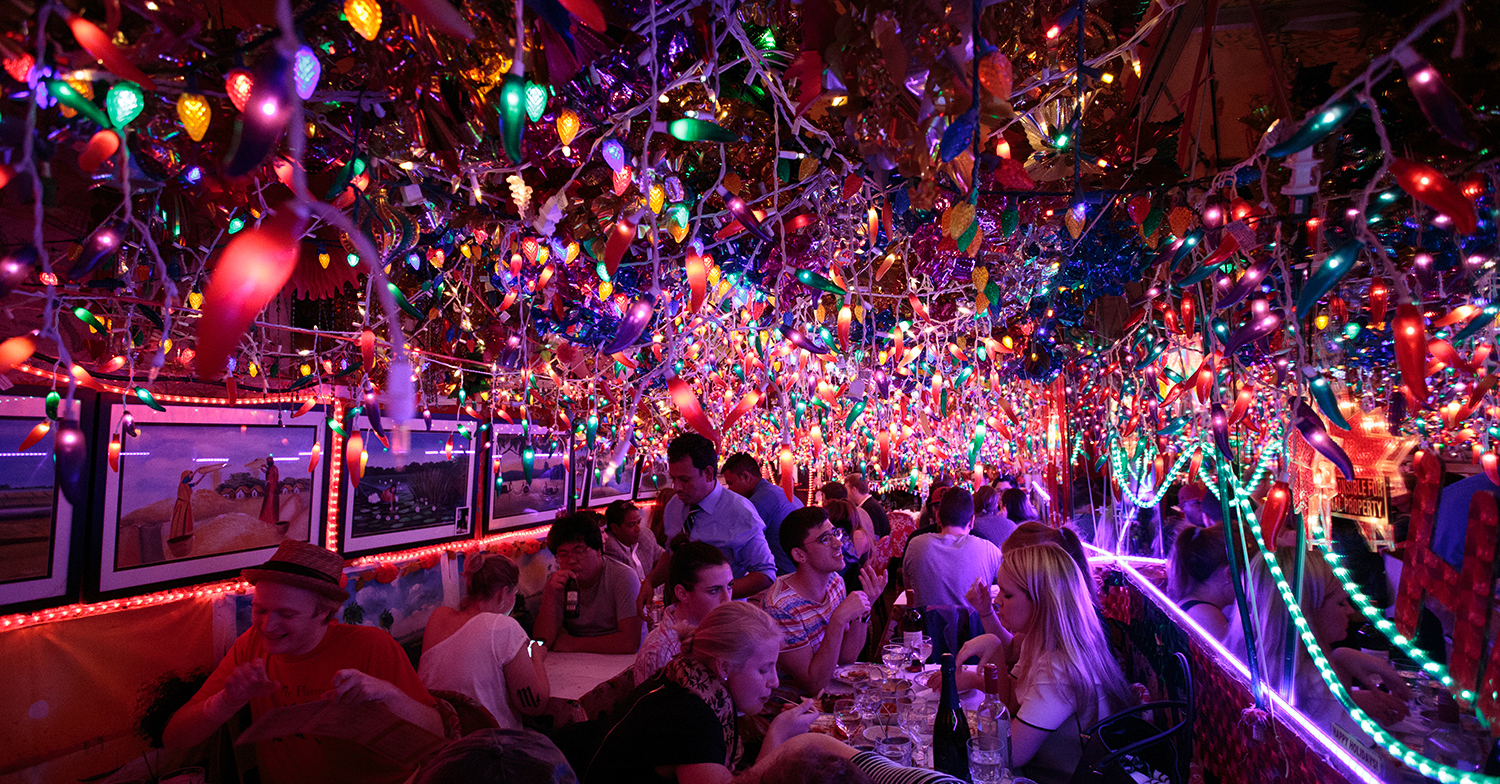 Photo: Mr Seb/Flickr

Manhattan's Lower East Side is one of the most popular neighborhoods in the entire city thanks to its rambunctious nightlife and ever-growing sea of restaurants, bars, galleries, and shops. You'll never run out of things to do on the Lower East Side this month thanks to City Guide's detailed monthly guide to the neighborhood.


Sloshed Sats: Standardized Drinking - Caveat
May 18, 2019 - New York
Hold on to your number 2 pencils, we're taking on the SATs. We've taken high school's most stressful test, sprinkled some comedy on it, and turned it into a drinking game! Your favorite test proctor and comedian Michael Wolf (Comedy Central, MTV) has combined bar-room trivia with real SAT quizzes to create NYC's booziest classroom. Whether you've got something to prove or just want to see how much you remember from high school - come get some liquid courage, dust off those scantrons, and take the Sloshed SAT's
Your Love, Our Musical - Caveat
May 18, 2019 - New York
Rebecca Vigil and Evan Kaufman bring their award-winning musical improv show back to Caveat! Here's how it works: Rebecca and Evan interview a real couple from the audience and then turn their love story into a fully improvised musical.
Saturday Night Headliners on 4th - New York Comedy Club
May 18, 2019 - New York
Ages 16 and up only Standard two drink minimum per person Individual comedian appearances subject to change without notice Groups of 7+ please email events@newyorkcomedyclub.com No refunds due to inclement weather All sales final - no refunds or transfers Walk up cover is higher than online presale price Get the authentic NYC stand up comedy experience at New York Comedy Club! Enjoy a nightly showcase of the best comedians in the city, hot up-and-comers, plus hotshot celebrity drop ins, national and international touring comics and more surprises! Our regulars include Judah Friedlander, Todd Barry, Andrew Schulz, Christian Finnegan, Bonnie McFarlane, Sherrod Small, Ari Shaffir, Ricky Velez, Yamaneika Saunders, Jay Oakerson, Matt Richards, Carly Aquilino, Carmen Lynch, Lenny Marcus, Mike Britt, Sarah Tollemache, Adrienne Iapalucci, Emma Willmann, James Mattern, Anthony Devito, Greg Stone, Aaron Berg, Mike Cannon, Jon Laster, Josh Gondelman, Matt Pavich, Nore Davis, Neko White, Corinne Fisher, Krystyna Hutchinson, Wendi Starling, Nathan Macintosh, Gary Vider, Sam Morril, Joe List, Mark Normand, Subhah Agarwal, Dante Nero, Chuck Nice and more!
Arcangel Surfware @ Rhizome X New Museum - New Museum
May 18, 2019 - New York
Founded in 2014 by Cory Arcangel, Arcangel Surfware is a "multinational software & merchandise publisher" based in Brooklyn, NY, and Stavanger, Norway. Existing in parallel with Arcangel's artistic practice, the brand––which produces wearables and publishes texts, software, and artists' projects––posits retail as an alternative way to circulate art and engage with audiences. Previously based online, Arcangel Surfware is now only available IRL—at pop-up events and at its brick-and-mortar flagship in Stavanger, Norway, which opened in 2018. For this one-day event, presented as part of the exhibition "The Art Happens Here: Net Art's Archival Poetics," a bespoke retail environment will feature recent and classic products from Arcangel Surfware. At 3 pm, Arcangel will join Ed Halter, critic, curator, and recipient of the Thoma Foundation's 2017 Arts Writing Award in Digital Art, for a conversation presented by Electronic Arts Intermix. The conversation will also accompany the live uploading of a TXT file containing a new essay on Arcangel's work, produced with the support of the Thoma Foundation. This program is free with paid Museum admission. Seating for the 3:00 pm talk is availab... (read more)
Pew Pew Candy Carnival: A Delectable Pop up Party - DROM
May 18, 2019 - New York
Roll Up! Roll Up! The Candy Carnival is here. Follow the marshmallow road, a delectable daydream lies ahead. Come one, come all! It's a gumdrop gala. A sweet, sugary escape. Gleaming with glitter and dripping with dreams - Pew Pew houses a wondrous mix of dancers, performers and artists waiting to guide you through a candy-tinted spectacle. Confections and confetti. Bubbles and bacchanalia. Aerials and absurdity.
New Volunteer Information Meeting - Museum at Eldridge Street
May 19, 2019 - New York
Volunteers at the Museum at Eldridge Street are part of something bigger than just one building. Some of our volunteer opportunities are in the docent cohort! Docents are our ambassadors, our guides, and our family. By joining our docent cohort, you will learn about the history and culture at the Museum at Eldridge Street, engage with a dynamic population of visitors and guests, and meet individuals who share your love of volunteering and history. We warmly invite you to join the team as a docent, a program volunteer, or a museum volunteer and help us to share the past with visitors from around the globe. Get ready to meet fellow prospective volunteers and learn more about the training process and docent experience. We look forward to seeing you soon.
Greek Jewish Festival - Kehila Kedosha Janina
May 19, 2019 - New York
Join the Greek Jewish Festival as we celebrate the unique Romaniote and Sephardic heritage of Kehila Kedosha Janina. Experience authentic kosher Greek foods and homemade Greek pastries, traditional Greek dancing and live Greek and Sephardic music, an outdoor marketplace full of vendors, arts and educational activities for kids, and much more!
Mickey Leigh Presents Joey Ramone Birthday Bash 2019 - The Bowery Electric
May 19, 2019 - New York
This Event Is 21 And Over American Punk bassist, born 8 October 1965 in Queens, New York, USA. The name CJ Ward adopted when he joined the Ramones in 1989.
Architecture Tour - New Museum
May 19, 2019 - New York
Architecture tours are led by New Museum docents and focus on the Museum's building, which was designed by the architectural firm SANAA. Architecture tours are free with Museum admission. No preregistration is necessary. Tours are limited to fifteen visitors on a first-come, first-served basis.
Debashish Bhattacharya - DROM
May 19, 2019 - New York
DROM, HARRICE MILLER and ASIAN ARTS AGENCY PRESENT Debashish Bhattacharya Debashish will be accompanied by virtuoso Indian tabla player Samir Chatterjee. "Indian ragas took on a flirtatious shimmer in the hands of Debashish Bhattacharya, who infused them with strains of Flamenco and Hawaiian music and performed them on a new breed of Indian slide guitar of his own devising. The result was a heady mix of languid Polynesian sounds caffeinated by the rhythmic fireworks of the tabla of Subhasis Bhattacharya, Debashish's brother." - NY Times "This Calcutta-based slide guitarist is a perennial NPR Music favorite and Tiny Desk alumnus. He's meshed his youthful fascination with Hawaiian steel guitar and love of the blues with the architecture and vocabulary of Hindustani (North Indian) classical music. The result is intoxicating" - NPR
Old Turtle and the Broken Truth - 14th Street Y
Through May 19, 2019 - New York
Rebel Playhouse is thrilled to be remounting their New York Innovative Theatre Award Nominated** production of OLD TURTLE AND THE BROKEN TRUTH, with a book by Catherine Bush, music and lyrics by Dax Dupuy, and based on the book by Douglas Wood. This Equity Approved Showcase is co-produced by the 14th Street Y and is directed and choreographed by Rebel Playhouse Artistic Director Sarah Sutliff with musical direction by Dax Dupuy. ** Best Musical & Best Choreography Rebel Playhouse's production transports audiences into the faraway world of the Old Turtle and Little One in this immersive, musical adventure. In OLD TURTLE AND THE BROKEN TRUTH, a truth falls like a star from the sky and breaks into two pieces. When the villagers discover only half of the truth, it causes so many problems that Little One, a brave young girl, decides to search for the missing half. With the help of Old Turtle, and many animal friends, Little One is able to mend the broken truth and make it whole again — "you are loved…and so are they" — creating a better world for everyone. OLD TURTLE AND THE BROKEN TRUTH is powerful allegory about accepting and welcoming differences, which will resonate with ch... (read more)
Friendly's Fire - 14th Street Y
Through May 19, 2019 - New York
In a cabin in Alaska, Guy Friendly, a Gulf War veteran and bee-herder, has just had a tooth stolen during casual sex. His best friend Todd, a pawn-shop owner dressed as an astronaut, finds Friendly in a fevered state. Trapped by the snow, Todd has little choice but enter Friendly's fevered dream, to unravel the events of the night before – and the events of the Gulf War that led Friendly to becoming a shut-in. An homage to Western movies, He-Man action figures, and the playwright's belief as a child that the Sesame Street Muppet Guy Smiley was in fact God, Friendly's Fire shows us to what lengths one man will go to preserve the sanity of his friend - a veteran who lost his brother in service to our country. Written by John Patrick Bray Directed by Anna Hogan Produced by Rising Sun Performance Company in association with the 14th Street Y The cast features Adeyinka Adebola, Johnny Blaze Leavitt, Ita Korenzecher, Desiree Pinol, Kyle Porter, William Serri, Hannah Taylor, and Matthew Weitz.
Knock It Off!: A Farce - Theater For the New City
Through May 19, 2019 - New York
What do you get when you combine a corrupt gynecologist, plastic surgery look-a-likes, a lascivious surgeon, a jittery liberal engaged to a staunch conservative, a flighty receptionist, a mysterious man hired for his sexual dexterity and a forgetful Holocaust survivor? You get Knock It Off: A Farce!
Knock It Off!: A Farce - Theatre for the New City
Through May 19, 2019 - New York
What do you get when you combine a corrupt gynecologist, plastic surgery look-a-likes, a lascivious surgeon, a jittery liberal engaged to a staunch conservative, a flighty receptionist, a mysterious man hired for his sexual dexterity and a forgetful Holocaust survivor? You get Knock It Off!, a new farce debuting at Theater for the New City starting May 2nd. Karen Lynn Gorney, star of the movie "Saturday Night Fever" and "All My Children" joins the cast as Eyphah along with Peter Zachari, Lori Funk, Joey Mirabile, Nora Falk, Scott Ahearn, Amandina Altomare and Brian Anthony Simmons. Four years ago playwright Peter Zachari mounted the first version of this play, which was titled, Under the Knife. "When I originally presented this show we set the farce in modern day but it always felt like it could work in a different time period," says Zachari. "Dr. Katz is a disgraceful gynecologist who will do anything for a buck so I thought, 'What if we set it in 1973 when the abortion debate was swirling and the play opens on the day of the Roe v. Wade announcement?' Now Katz has been secretly and illegally performing abortions for cash under the table and is dreading the Supreme Court d... (read more)
Rethinking Refugee Trauma and Mental Health - Strand Book Store
May 20, 2019 - New York
Join us as Shawna Potter sits down with fellow musician Meredith Graves to talk about her book, Making Spaces Safer. "Every time someone wants me to prove sexism in the scene exists I am not going to tell them about having beer spat in my face while I'm singing or about men screaming 'shut up' while I'm talking between songs. I'm gonna hand them this book and say 'No more horror stories, here are some solutions.'" —Kathleen Hanna, Bikini Kill, Le Tigre, and The Julie Ruin Shawna Potter, singer for the band War On Women, has tackled sexism and harassment in lyrics and on stage for years. Taking the battle to music venues themselves, she has trained night clubs and community spaces in how to create safer environments for marginalized people. Now she's turned decades of experience into a clear and concise guide for public spaces of all sorts, from art galleries to bagel shops to concert halls, that want to shut down harassers wherever they show up. The steps she outlines are realistic, practical, and actionable. With the addition of personal stories, case studies, sample policies, and no-nonsense advice like "How to Flirt without Being a Creep," she shows why safer spaces are import... (read more)
On 1 Condition: 99 Cents Store - Dixon Place
May 25, 2019 - New York
Choreographers create…on 1 condition: they must abide by the same crazy rule! CHOREOGRAPHERS INCLUDE Adam Fleming Alexandra Miyashiro Teddy Tedholm Florian Fructuoso Amy Connerley Leah Kate Nicoll Andrew Albert Garcia Jenny Efremova Hee Ra Yoo Julie Graff PRODUCED BY Zoe Clayton and Ryan Daniel Beck CONCEPT BY Will Taylor
Asian American Film Festival - Caveat
May 26, 2019 - New York
AN ASIAN AMERICAN FILM THING is celebrating Asian Pacific American Heritage Month by screening short films by Asian-American filmmakers. There will be a discussion with the filmmakers and a musical treat at the end of the event. Hosted by Angel Yau and Hye Yun Park, this night will explore Identity and the power of visual storytelling.
Asssscat 3000 - New York Comedy Club East Village
May 26, 2019 - New York
Performers from The Upright Citizens Brigade Theatre perform longform improv with frequent special guests from your favorite TV shows and movies. The 7:30pm shows cost $12 and tickets go on sale 2 weeks before the show date at 12pm. The 9:30pm show is FREE but you must make a reservation in advance. Reservations become available at 12pm (noon) the day of the show. PLEASE NOTE: The listed cast lineup is subject to change. Our talented performers are very in-demand and although they would like to do so, other obligations prevent them from being able to do ASSSSCAT every week.
24th Annual Lower East Side Festival of the Arts - Theater for the New City
Through May 26, 2019 - New York
Memorial Day weekend kicks off the summer and there's no more exciting way to mark the season than with a visit to the Theater for the New City's 24th Annual Lower East Side Festival of the Arts. This free celebration brings together over 70 groups for more than 270 performances. The shows reflect the neighborhood's heritage and New York City's incredible diversity, with troupes running from Folksbiene to Chinese Theaterworks to the National Yiddish Theater to Art Lillard's Heavenly Big Band to the Thunderbird American Indian Dancers. On Saturday, May 25th, as part of the outdoor portion of the festival, East 10th Street between 1st and 2nd Aves. will be closed to traffic for a Cultural Street Festival. Vendors will sell crafts, goods, food, jewelry, and artwork. There will also be performances in the street. This year's festival theme is 2020 Vision—Save Our Planet, Save Our Country, a call for a green revolution and a more welcoming nation. As Crystal Field, co-founder and Artistic Director, puts it, "Art cannot move mountains, but it can move minds." Friday, May 24 and Saturday, May 25 6pm-midnight; Sunday, May 26 4pm-midnight.
The Theater at the 14th Street Y Announces the 2018-2019 Season Family Series - 14th Street Y
Through May 30, 2019 - New York
The Theater at the 14th Street Y Announces the 2018-2019 Season Family Series NEW YORK - The Theater at the 14th Street Y continues tohonor the edgy, diverse, and rich history of innovative culture-making in the East Village for people of all ages with the 2018-2019 Family Series. The series kicks-off on October 20, 2018 with The Not-So-Spooky Ghost and runs through May 2019. "Ever since I was a child, I can remember sitting in the theater, waiting as the lights went down for the magic to start. From the age of two, my mother would schlep us to see new worlds and experience foreign types of movement, sounds and music. She believed in exposing us to all parts of our imagination, building paths towards new unknowns. Here at the 14the Street Y Theater, we also believe that all children should experience that magic, sit excitedly for unknowns, and meet new characters for their imagination to take into new worlds. We want to create a platform that will enable artists to weave their magic for our kids. That is why we have started incubating and supporting a Theater for Young Audiences series. This year we are launching this series with 5 new plays and events that will shar... (read more)
Vanessa Bayer: How Do You Care for a Very Sick Bear? - Strand Book Store
June 04, 2019 - New York
Pick out your favorite teddy bear and join us for a fun story time event with actress and comedian Vanessa Bayer, who will be in New York City celebrating the release of her debut picture book, How Do You Care For A Very Sick Bear?, a heartwarming story about how to care for a friend in need. In addition to a reading, Vanessa will talk a bit about the personal inspiration behind the book and what she hopes readers will take away from it. Following the story time there will be an opportunity to make get well cards for children at NYC-area hospitals. There will also be a book signing (books only) and posed photo opportunity with Vanessa. Please have your camera ready once you reach the front of the line. You MUST purchase a book in order to get in the signing line. Purchase a copy of HOW DO YOU CARE FOR A VERY SICK BEAR? at the link above to attend this event. Please note that payment is required for all online event orders at the time of checkout. The event will be located in the Strand's 3rd floor Rare Book Room at our store at 828 Broadway at 12th Street. Signing Guidelines: Vanessa will personalize one copy of HOW DO YOU CARE FOR A VERY SICK BEAR? per person and sign the rest... (read more)
Dance Party Cruise NYC feat. Zumba® - Pier 36
June 08, 2019 - New York
ARE YOU READY FOR a Dance Party Cruise?!?! Our first Dance Party Cruise NYC feat. Zumba® was an incredible and memorable experience - we just had to do it again! Only this time, it's BIGGER & BETTER... We've traded in 2018's yacht for the luxurious LIBERTY BELLE - one of the biggest in the fleet. It has four levels and multiple outdoor decks, air conditioning, four cash bars, two large dance floors, plus other luxury amenities. On this twilight cruise, you'll be able to enjoy the gorgeous Manhattan skyline against the backdrop of night, while DJ Raymond and his crew light up the dance floors! Everything that made our first event a sell-out is part of the package again: a 3-hour NYC cruise feat. dance fitness and Zumba® masterclasses packed with all of your favorite rhythms: latin, dancehall, hip-hop, afrobeats and more, a delicious, hot dinner catered to you, four bars with water, soda, and adult beverages available for purchase. ALL 11 instructors from our first cruise are back: Ylliannis "LeLe" Ramirez, Donny Mendez, Kevin Garcia, Anthony Califano, Evelyn Ramos Hernandez, Marissa Tonge, and Alvarito Arguello. Your sponsors and organizers bringing you this 2nd Annual Zumba Ex... (read more)
Art after Stonewall, 1969-1989 - Grey Art Gallery, New York University
Through July 20, 2019 - New York
Coinciding with the 50th anniversary of the Stonewall Uprisings, Art after Stonewall, 1969–1989 is a long-awaited and groundbreaking survey that features over 200 works of art and related visual materials exploring the impact of the Lesbian, Gay, Bisexual, Transgender, and Queer (LGBTQ) liberation movement on visual culture. Presented in two parts—at New York University's Grey Art Gallery and the Leslie-Lohman Museum of Gay and Lesbian Art—the exhibition features artworks by openly LGBTQ artists such as Vaginal Davis, Louise Fishman, Nan Goldin, Lyle Ashton Harris, Barbara Hammer, Holly Hughes, Greer Lankton, Robert Mapplethorpe, Catherine Opie, Joan Snyder, and Andy Warhol. On view at the Grey Art Gallery from April 24 through July 20, 2019 and at the Leslie-Lohman Museum from April 24 through July 21, 2019, the exhibition is organized by the Columbus Museum of Art.
Art After Stonewall, 1969–1989 - Grey Art Gallery
Through July 20, 2019 - New York
Exploring the impact of the Lesbian, Gay, Bisexual, and Transgender (LGBTQ) civil-rights movement on the art world, Art After Stonewall, 1969–1989 will open during the 50th anniversary year of the Stonewall Riots of 1969, a crucial victory in the gay liberation movement. Comprising some 150 artworks and documents, the exhibition focuses on works by such openly LGBTQ artists as Nan Goldin, Holly Hughes, Robert Mapplethorpe, Tim Miller, Catherine Opie, and Andy Warhol. It also examines engagement with the emerging queer subculture in the art of Vito Acconci, Diane Arbus, Jean-Michel Basquiat, Lynda Benglis, and Karen Finley. Comprising performance art, photography, painting, sculpture, film clips, video, and music alongside historical documents, the exhibition will be presented in two venues: the Grey Art Gallery, NYU, and the Leslie-Lohman Museum of Gay and Lesbian Art, New York. Organized by the Columbus Museum of Art, Art After Stonewall is curated by Jonathan Weinberg, Tyler Cann, and Drew Sawyer, and will be accompanied by an illustrated catalogue.
The Infinite Wrench - Kraine Theater
Through March 03, 2020 - New York
The Infinite Wrench is a mechanism that unleashes a barrage of two-minute plays for a live audience. Each play offers something different, be it funny, profound, elegant, disgusting, topical, irrelevant, terrifying, or a song; all are truthful and tackle the here-and-now, inspired by the lived experiences of the performers. With new plays every week, The Infinite Wrench is the Neo-Futurists' ongoing and ever-changing attempt to shift the conventions of live performance and speak to audiences including those unreached or unmoved by traditional theater. The Infinite Wrench runs every weekend (except the last 2 weeks of December). Different show every time! If you've seen the show once, you've seen the show once.
YY Dance Company - Peridance Capezio Theater
Through September 24, 2107 - New York
Dancer/choreographer Yiin Yue presents her YY Dance Company in a program of her explosive works, performed by an ensemble of stellar dancers. The Shanghai native has already received commissions from Hubbard Street 2 in Chicago, and her company has performed at Jacob's Pillow, Dancenow, and the Schrit-tmacher Dance Festival in Germany.
Fine Art Auction October 20 and 27 – Works by Leading Artists of the Salmagundi Club - Salmagundi Club
Through October 28, 2107 - New York
The Salmagundi Club, a leading center for fine artists presents its annual fall auctions. Auctions will be held on October 20 and 27, 2017 at 8:00 p.m., at the Club's historic brownstone mansion at 47 Fifth Avenue, New York City. To view the art online and bid now, visit liveauctioneers.com and search for Salmagundi.