Times Square can be a little overwhelming if you arrive without a game plan. To give you some direction, we've rounded up six fun activities for you to enjoy at "The Crossroads of the World." From getting discount tickets for a Broadway show to checking out the world-famous memorabilia at Planet Hollywood or the Hard Rock, you'll have plenty to see, eat, shop, and explore near the intersection of Broadway and 42nd Street.
Best of NYC Times Square: Get TKTS Discount Tickets for a Broadway Show
If you're working with a flexible schedule, stop by the TKTS Discount Booth in Duffy Square to see what's currently playing on Broadway and score discounted tickets for same-day performances. Depending on which show you choose, you can sometimes reach a discount of up to 50%! The TKTS Booth also offers discounted tickets on Off-Broadway shows, making sure that no matter your budget, you can still catch an out-of-this-world performance during your stay in NYC. Duffy Square, Broadway and 47th St., 212-912-9770, tdf.org
Best of NYC Times Square: Stock Up on Souvenirs at M&M's World

Everybody loves chocolate, which is why M&M's World New York makes for the perfect souvenir shopping experience in the heart of Times Square. This iconic shop features everything from playful apparel and unique drinkware to candy dispensers and, of course, chocolates galore. Along with the typical rainbow of M&M's colors, you'll also find an array of hard-to-find colors of the famed candy, including pastels, neon, and uniquely printed candies. 1600 Broadway, 212-295-3850, mmsworld.com
Best of NYC Times Square: Chow Down at Planet Hollywood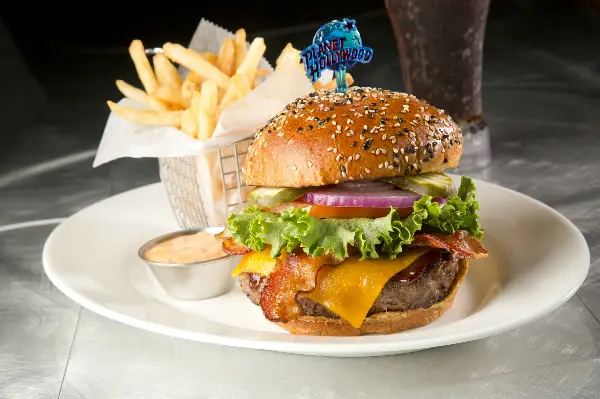 Dining at Planet Hollywood is an experience you'll never forget. Spaceship models from American's biggest blockbusters hang above, while the walls are covered in both costume and prop displays from the likes of Austin Powers, Terminator, and a slew of other big-time movies. As for the menu? Planet Hollywood offers up all your favorites, including burgers, nachos, and fettuccine Alfredo. 1540 Broadway, 212-333-7827, planethollywoodintl.com
Best of NYC Times Square: Visit Madame Tussauds New York
New York City is known for its frequent celebrity sightings, but if you really want to get up close and personal with some of America's biggest names, you're best off heading to Madame Tussauds New York. The replicas you'll find in Madame Tussauds are so life-like that you'll have to do a double take. Morgan Freeman, Taylor Lautner, Sofia Vergara, and Johnny Depp are just some of the famous faces you'll find waiting to join your next selfie. 234 W. 42nd St., 866-841-3505, madametussauds.com
Best of NYC Times Square: See Music History at the Hard Rock Cafe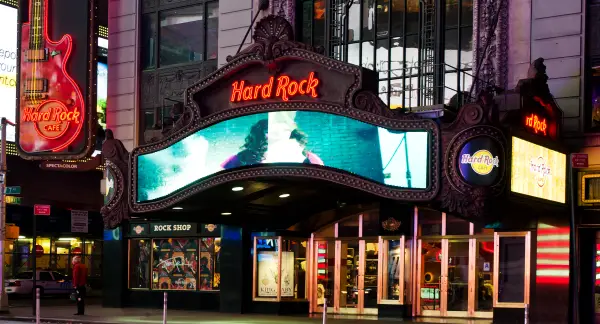 If you want to check out some of New York City's coolest music memorabilia, head over to Hard Rock Cafe on the double. From Gwen Stefani stage costumes to John Lennon, Jimi Hendrix, and Bruce Springsteen artifacts, there's no shortage of things to check out here after you've finished scarfing down a delicious dinner. Their outdoor dining area is also pretty spectacular, situated directly below the restaurant's iconic signage in the heart of Times Square. 1501 Broadway, 212-343-3355, hardrock.com
Best of NYC Times Square: Take a Photo with the Naked Cowboy
Everybody knows who the Naked Cowboy is, and you can almost always find him wandering the streets of Times Square in his cowboy hat and skivvies. This acoustic guitar-playing character is a celebrity of his own making, and you can make an entire evening of tracking him down and getting that perfect picture standing beside him. Who knows, if you tip him he might even play you a song. Get a little risqué, you're in Times Square, after all!