Tour the Town with Uncle Sam's New York
February 20, 2009 - by Ellis Whitman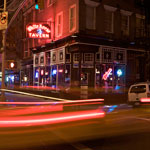 Uncle Sam's New York'
s mission is to provide their customers — both travelers and locals — the essential experiences that impart the history, culture, and glamour that makes New York City the world's greatest city.
Although glamorous, it can be a most bewildering experience for visitors. And those who live in and around New York never take time to sample the rich legacy of the city that makes it so special. The tours are carefully researched, and tell vivid stories that place the history of this city in context.
Uncle Sam's New York caters to those who have a short time window to see the essence of the city. So many tourists fail to venture far from the hotel district around Times Square (except for riding a tour bus that only teases with glimpses of the city). On their tours, you will experience and see the heart of New York: from the historic downtown where every building tells a thousand stories, to the legendary Greenwich Village that has been the home to our country's greatest authors and artists, to the historic Chelsea district that now houses New York's legendary nightlife. Includes are their West and East Village Tour, Hell's Kitchen Pub Crawls, Chelsea Night Club Tour, Frank Sinatra Limo Tour, Edgar Allan Poe Greenwich Village Tour, Alexander Hamilton Financial District Tour and their George M. Cohan Theater District Tour.
At Uncle Sam's New York, they believe that a tour should become a bonding experience for friends, families, and strangers alike — thrown together in an intimate look at the city. Tour groups often take on a chemistry of their own that further enhances the thrill of traveling and exploring. And, whether you are traveling alone or with a large group, their tours offer you a chance to meet and interact with people from all walks of life from across the United States and the world.
For more information, and to book tours, visit
www.unclesamsnewyork.com
or call
917-655-0906
Looking for Free Group Planning Services?
Get free advice on planning your group's trip to New York.
RESTAURANTS

Multi-concept restaurant offering modern Japanese cuisine, a...

THEATER

A new musical following a wannabe rock star who poses as tea...

SHOPPING

PANDORA, one of the leading names in jewelry for more than 3...

SIGHTSEEING

Voted one of New York's most unique attractions, Madame Tuss...