Brooklyn is a great place to go in New York City, and I'm not just saying that because I live there. But it really has a lot to offer. Here are five FREE Brooklyn activities to put on your agenda. They'll save you some money and provide some adventure in this amazing borough.
1. Brooklyn Brewery Tours
This might be one of the top free things to do in Brooklyn—a free Brooklyn Brewery tour! The brewery offers free tours on the weekends-Saturdays (12:30pm-6pm) and Sunday (1pm-4pm). You'll be met by a line outside the brewery, but what can you expect when it's free! 21+
2. A walk through Green-Wood Cemetery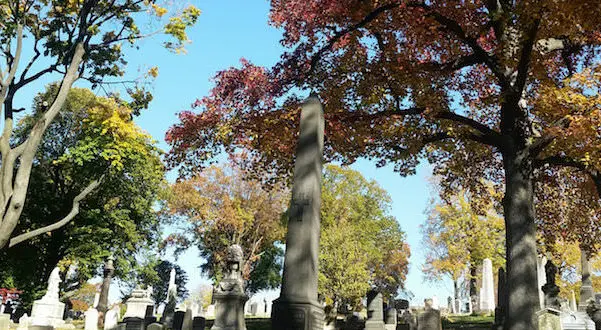 Yes, I am suggesting a walk through a cemetery. However, the 478 acres big Green-Wood Cemetery isn't just an ordinary cemetery. You'll quickly see the beauty that the cemetery holds, in the form of nature and architecture. Green-Wood cemetery is a national historic landmark, established in 1838. Admission is free and there should be free maps at the entrance.
3. Trivia night at Videology
Because why not? Videology, an independent micro-cinema located in Williamsburg, is known for their movie trivia nights. The events are 21 years and over and doors usually open at 7pm. It's a popular event so if you want a seat make sure you and your team (no more than 6 people) get there early. Winners gets a round of free drinks! 
4. Watch a show at Pete's Candy Store
Head on over for the music, not the candy. Established in 1999, the intimate venue Pete's Candy Store in Williamsburg hosts free music shows. Previous performers have included featuring acts such as Will Oldham, Beth Orton, Devendra Barnhart, Rufus Wainwright, and Norah Jones. Every Sunday from 5pm-8pm, it's open mic.
5. Venture into Prospect Park
Prospect Park is the second largest public park in Brooklyn. With its 526 acres, the park holds stunning views. Bring your camera, good company, and a water bottle and spend one afternoon in Prospect Park. Sundays in the fall (11am-6pm), bring your appetite for Smorgasburg, featuring 100+ of the yummiest food vendors from around the world. (Not free, but a great deal for gourmet snacking!)
---
About the author: Nina is the Engagement and Corporate Communications Analyst for RentHop, a national apartment rental site based in New York City. She moved overseas from Norway three years ago and has since been living and working as an expat in New York, enjoying everything the city has to offer.