DUMBO is the perpetually fun neighborhood at the base of the Brooklyn and Manhattan Bridges (the acronym stands for Down Under the Manhattan Bridge Overpass). A former manufacturing area on the East River, it has become a hot spot for fun-loving visitors who want to eat, drink, and be merry—with a fabulous view. From the city's best pizza to an antique carousel to rock-climbing, spend a few hours in DUMBO and find out what makes Brooklyn cool.
What to Do in DUMBO: DUMBO Boulders
If you've ever wanted to climb walls like Peter Parker, you'll have your chance at DUMBO Boulders. The signature blue climbing walls are outdoors and located just below the Manhattan Bridge. For $9, you can scale the walls freehand with no ropes or climbing equipment. They even offer shoes as part of your day pass if you're not in sneakers already. Call ahead or check the website for hours, as they are weather-dependent. 99 Plymouth St, 718-489-8363, dumbo.thecliffsclimbing.com 


What to Do in DUMBO: Brooklyn Bridge Park
Image: John Cunniff/Flickr
This waterfront park extends a mile-and-a-half along the East River, and the section in DUMBO is definitely the most impressive. Impeccably clean and lined with lush greenery, the lawns on the shores of the river are perfect for picture-taking, picnicking, and/or people-watching. The jewel of the park is Jane's Carousel between the two bridges. This carousel, built in 1922 and recently restored, is only $2 to ride. To the south are 6 massive piers with a beach, football and soccer fields, a roller rink, and more. All are free to the public! 334 Furman St., brooklynbridgepark.org
What to Do in DUMBO: Front General Store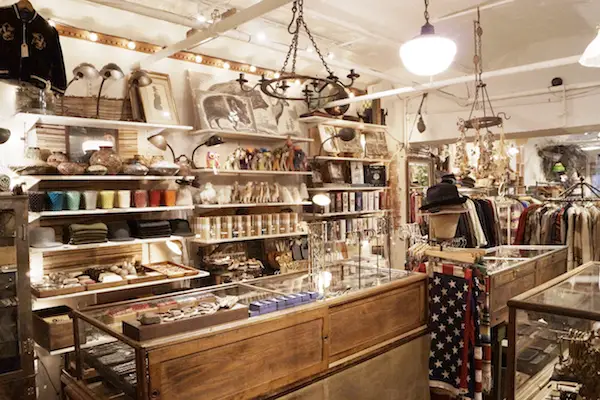 It doesn't get much more Brooklyn-ish than this rustic vintage shop. Filled with throwback Levis, flannels, army-issue jackets and jumpsuits, leather boots and backpacks, Front General can dress you tip to toe like Ernest Hemingway. If you've any flair for novelty, take a walk through and enjoy these higher-end vintage finds. 143 Front St., 646-573-0123, frontgeneralstore.com
What to Do in DUMBO: The powerHouse Arena
PowerHouse is bookstore by day, event space by night. Stop by its Adams Street location to find unique and fascinating books in all genres, along with a curated collection of stationery and gifts. Check its event calendar for literary events featuring names like David Sedaris, in addition to gallery openings and engaging talks. 28 Adams St., 718-666-3049, powerhousearena.com
What to Do in DUMBO: Grimaldi's
Grimaldi's has been serving eye-poppingly good pizza in DUMBO since 1991. The menu is simple: you'll choose a small or large pie (no single slices), either with red sauce or as a white pizza. All other toppings like extra sauce, pepperoni, or olives are a la carte. These are thin-crust pizzas with a smattering of sauce and house-made mozzarella. Don't be intimidated by the line—Grimaldi's is well worth the wait. Pro tip: if the wait time is more than an hour, pop around the corner to Juliana, Grimaldi's sister restaurant. 1 Front St., 718-858-4300, grimaldis-pizza.com
What to Do in DUMBO: Almondine Bakery
A top-notch French bakery near the water? What could be better? Almondine is Zagat-rated for its flaky croissants, gigantic chocolate chip cookie, bread made with organic flour, and much more. Pick a sweet from the varied case and take it to the park. Or come for lunch and chow down on a sandwich or quiche of the day. 85 Water St., 718-797-5026, almondinebakery.com
What to Do in DUMBO: Empire Stores
Inside this beautifully renovated coffee warehouse is a treasure trove of shopping, food, and public space. You might notice the West Elm first from the waterfront. The home goods store is supplied with endless chic coffee tables and ikat pillows, not to mention a Brooklyn Roasting Company coffee counter. On the other side of the complex is Shinola, known for its watches, smart leather goods, and paper products. For food, you have the lunch spot Smile To-Go, the upscale Italian at Cecconi's, and cafes at VHH Foods and FEED. Travel to the top level of Empire Stores and find benches where you can sit, relax, and enjoy the view for free. On Water Street between Dock and Main Streets, empirestoresdumbo.com
What to Do in DUMBO: Brooklyn Bridge 
If you were thinking you'd skip the plug for Brooklyn Bridge, think again. Walking across this national treasure is an irreplaceable experience. Completed in 1883 by a father-and-son team, it was at that time the largest suspension bridge in the world. Today it sees an estimated 100,000 vehicles, 3,500 cyclists, and a staggering 10,000 pedestrians on weekdays. That's your cue to start your walk as early in the day as possible. It's 1.3 miles long and punctuated with informative markers about the bridge's history, to say nothing of the view. Seen up close, the camel-colored stone is awe-inspiring and forever photogenic. Manhattan: Enter boardwalk from Centre St (east of City Hall). Brooklyn: entrances on Washington and Prospect Streets, or on Brooklyn Bridge Promenade at Tillary St.