New York City's High Line is by far one of the coolest city parks that you'll find in Manhattan. Built upon an old freight rail's track, each section of this unique destination took over two years to construct after years of planning, community meetings, and design work — but we can certainly say, without a doubt, it was well worth the efforts. Rounded up below is our bucket list for all first-time visitors to the High Line (and frequent visitors… since it is the type of place you'll want to come back to again and again).
Pershing Square Beams 
Kids and adults alike have a blast on the Pershing Square Beams where the High Line's concrete deck has been stripped away to reveal the original steel beam and girder framework of the train line that once ran through it. The beams have been coated in silicone, making them safe for running, climbing, and playing.


Diller – von Furstenberg Sundeck & Water Feature
Need to cool down while you're touring the High Line? Take off your shoes and dip your feet into the unique water fountain where water flows over the concrete. Next, relax on one of the wooden lounge chairs while you sunbathe and dry off your feet.
Chelsea Thicket
As structurally impressive as the High Line is, it's just as famous for its beautifully curated plant life. Immerse yourself in it by walking through the Chelsea Thicket, which stretches down two-blocks. Wind your way through dogwoods, bottlebrush buckeye, hollies, roses, and all the other plant life that calls the High Line home.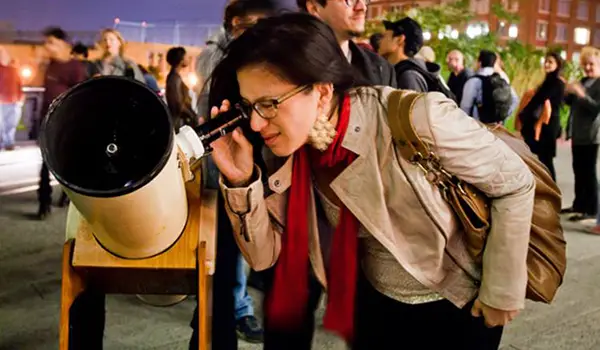 Weekly Stargazing
Stop by the High Line on Tuesdays after dusk to partake some serious stargazing. High-powered telescopes are brought out, and you'll find members of the Amateur Astronomers Association of New York hanging around to provide you with some galactic information. The telescopes remain out until 30 minutes before the park closes.
Food & Drinks
If your appetite starts to kick in while you're walking the nearly one and a half mile long High Line, not to worry! You can grab some homemade empanadas at La Sonrisa, or cool down with ice cream sandwiches, popsicles, paletas, and gelato from Melt, People's Pops, La Newyorkina, and L'Arte del Gelato, respectively.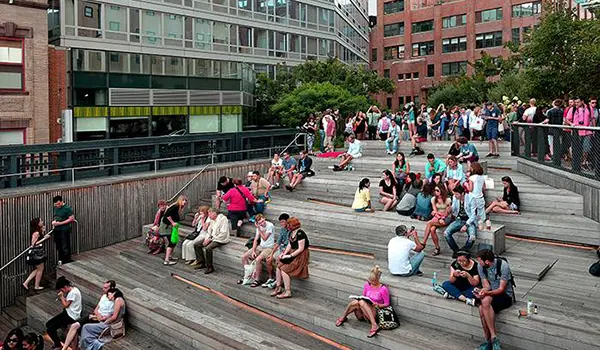 10th Avenue Square and Overlook
New York City is pretty much the mecca of people-watching, and the High Line takes things to the next level with its 10th Avenue Overlook. Tiered wooden benches fill the space, all directed at large windows showcasing 10th Avenue in all its glory. The Overlook is great place to rest while still taking in the many sights and sounds of New York City.
Weekly Tours
A variety of tours are given throughout the spring, summer, and fall months for those interested in the High Line's history, gardens, design, and wildlife. History Tours occur Tuesdays, 6:30pm & Saturdays, 10:00am; Garden Tours occur second Thursdays, 6:00pm; Design Tours occur third Wednesdays, 6:00pm; and Wildlife Tours occur third Saturdays, 8:00am. Check the website's events section to verify months.