Where to Eat Near Rockefeller Center This Holiday Season
November 12, 2018 - by Samantha Aronson
Visitors to New York winter destinations The Rink at Rockefeller Center and The Rockefeller Center Christmas Tree (and year-round thriller Top of the Rock) have some great options for restaurants in the area. After grabbing some great photo ops, you won't have to travel far for a spectacular meal, whether you're up for a special occasion experience, or a casual trip for one of the best burgers in the city.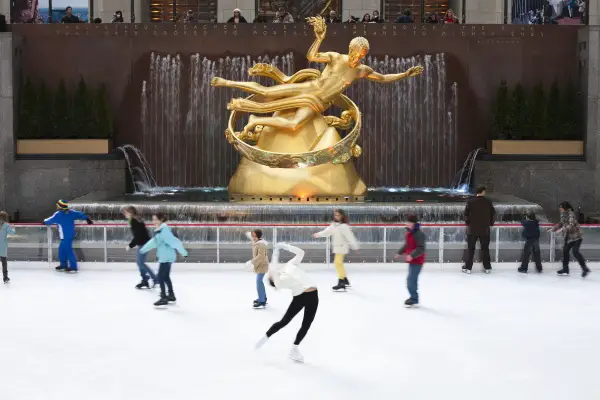 Where to Eat Near Rockefeller Center: Rock Center Cafè

Photo credit: Ghost Media
Enjoy a delicious meal and a glass of rosè rinkside at the Rock Center Café. Stop by for breakfast, lunch, dinner, or brunch and make sure to save space for a house-made dessert! We suggest their New York cheesecake, which includes blueberry sauce and sweet cream: a perfect treat for anyone feeling the NYC vibes. 20 W. 50th St., 212-332-7620, rockcentercafe.com
Where to Eat Near Rockefeller Center: Limani
Experience an upscale Mediterranean dining spectacular at Limani. An onyx reflecting pool and fish on ice set this eatery's aesthetic. We suggest one of their specialties like kolokithi, which is super thinly cut zucchini and eggplant with fried kefalograviera cheese. If that doesn't sound yummy enough wait until you see the dessert menu. Yiaourti is made with Greek yogurt, thyme, honey, and walnut. 45 Rockefeller Plaza, 212-858-9200, limani.com
Where to Eat Near Rockefeller Center: Suzuki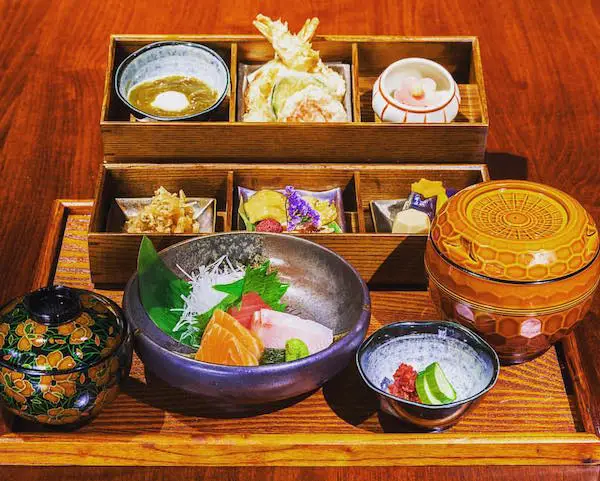 If you're looking for fresh seafood, exquisite presentation, and perfectly soft rice, come to Suzuki and its accompanying sushi bar, Satsuki, which recently received a Michelin star! Kaiseki is a fine-dining tradition in Japanese culinary culture and you can experience it at Suzuki. Typical courses include appetizer, soup, sashimi, a hot dish, and dessert. Chef Takashi Yamamoto alters his recipes monthly, tailoring ingredients with the season for optimum fresh flavor. 114 W. 47th St., 212-278-0010, suzukinyc.com
Where to Eat Near Rockefeller Center: Brasserie Ruhlmann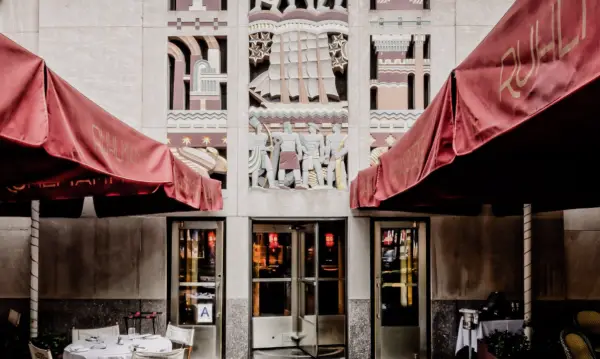 Inspired by legendary French designer Emile-Jacques Ruhlmann, this Parisian brasserie brings elegance to Manhattan's midtown. We are particularly partial to the Parisian steak tartare, which comes with frisee and watercress—order hand-cut fries and a glass of wine and be magically transported to France. 45 Rockefeller Plaza, 212-974-2020, brasserieruhlmann.com
Where to Eat Near Rockefeller Center: Harry's Italian
You can grab a classic slice of pizza at Harry's Italian Pizza Parlor on the concourse level of Rockefeller Plaza. At Harry's Italian proper you can order pizza pies (both classic and specialties) as well as sandwiches and pasta platters. If you're up for an adventure, we suggest ordering a white pie, for a twist on the classic flavor profile. Rockefeller Plaza, 212-218-1450, harrysitalian.com
Where to Eat Near Rockefeller Center: Sea Grill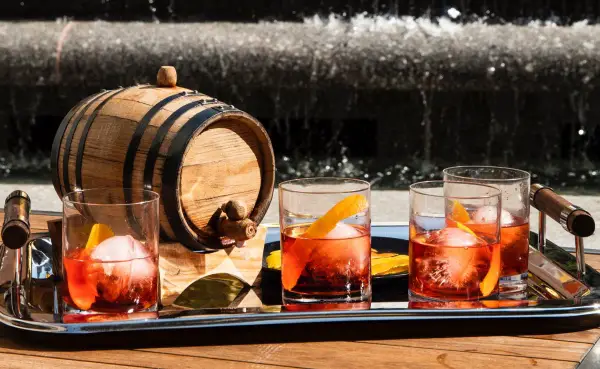 For an immaculate view of the rink try the Sea Grill. Enjoy seafood classics and cocktails: we are currently obsessed with their Barrel-Aged Negroni! Crafted in-house, Plymouth Gin, Campari, and Carpano Antica Sweet Vermouth are combined and aged for 6-7 weeks. When it is ready to be served the barista adds an orange peel as a garnish—the perfect drink to brighten up winter! 19 W. 49th St., 212-332-7610 theseagrillnyc.com
Where to Eat Near Rockefeller Center: Katsu-Hama
Katsu Hama serves up traditional katsu dishes (a delcious Japanese breading style) as well as noodle and curry based dishes. Don't know what to order? We suggest their oroshi pork fillet katsu, which includes grated radishes and scallions in a ponzu sauce. 43-45 W. 55th St., 212-541-7145, katsuhama.com/55th
Where to Eat Near Rockefeller Center: Potbelly Sandwich Shop
Taste a perfectly crafted sandwich at Potbelly Sandwich shop. With 20 sandwiches to choose from, six salads, seven soups, mac 'n' cheese, and 14 sides, you can mix and match to create the perfect meal. Just make sure to order an ice cream sandwich to double the sandwich goodness. 30 Rockefeller Plaza, 646-289-4203, potbelly.com
Where to Eat Near Rockefeller Center: Wu Liang Ye
Chinese restaurant Wu Liang Ye has over 100 menu items to choose from (and that's just their dinner menu). 36 W. 48th St., 212-398-2308, wu-liang-ye.com
Where to Eat Near Rockefeller Center: by Chloe
Did someone say vegan? By Chloe serves up burgers and meals that are 100 percent plant-based, featuring cheeses made from nuts like almonds or cashews, and "meat" created out of staples like mushrooms. You won't be able to tell it isn't the really thing. Order the classic burger and don't forget to get an old-fashioned chocolate chip pecan cookie for dessert! 1 Rockefeller Plaza, 646-453-7181, eatbychloe.com
Where to Eat Near Rockefeller Center: The Modern
If a great meal mixed with modern art sounds like the perfect afternoon to you then you need to go to The Modern. Grand meals are cooked by Chef Abram Bissell with a spectacular view of the Abby Aldrich Rockefeller Sculpture Garden. We recommend beef crusted in aged comte cheese, served with violet mustard and sauce royale. 9 W. 53rd St., 212-333-1220, themodernnyc.com
Where to Eat Near Rockefeller Center: Milk Bar
If you rather have a sweet snack over a dining session, we don't blame you. Milk Bar's treats are so filling they can pass for a meal. Cereal milk ice cream tastes like the leftover milk from a bowl of cornflakes that has been frozen into a soft serve delight. Pair it with a more savory bagel bomb and you can enjoy a breakfast-inspired creation. 15 W, 56th St., 347-577-9504 ext. 5, milkbarstore.com
Where to Eat Near Rockefeller Center: Junior's

Junior's may be the farthest away place on the list but it is worth the hike. Scarf down one of their world-famous cheesecakes—if it's your first time we suggest trying their chocolate swirl cheesecake a la mode, and getting another slice to go, too. 1626 Broadway, 212-365-5900, juniorscheesecake.com
Where to Eat Near Rockefeller Center:
Bill's Bar & Burgers
Enjoy a super juicy burger at America's largest standalone burger spot, Bill's Bar & Burgers, which boasts 400 seats! All of their burgers, shakes, and fries are made fresh daily and taste impeccable. Don't miss the Big Cat, which consists of caramelized onion, American cheese, pulled pork, BBQ bacon, a fried egg, and their special sauce, all on an English muffin. 16 W. 51st St., 212-705-8510, billsbarandburger.com
Looking for Free Group Planning Services?
Get free advice on planning your group's trip to New York.
RESTAURANTS

Multi-concept restaurant offering modern Japanese cuisine, a...

THEATER

In a heartbeat, 38 planes with 6,579 passengers were strand...

SHOPPING

DataVision is redefining retail with their new, fully intera...

SIGHTSEEING

Located in Times Square in the heart of New York City, Riple...