You don't have to be a hardcore, all-stat-knowing fan to appreciate the joy and history the New York Yankees have brought to the Bronx and New York City, winning baseball's title of World Champions a record 27 times. (Of course, if you are, all the better!) Yankee Stadium Tours are offered year round, including the off-season from 11am-1:40pm, running every 20 minutes. Extremely knowledgeable tour guides will give you the inside scoop on highlights like Yankee Stadium's Great Hall, the legends of Monument Park, where the journalists sit in the Press Box, and where the best seats are (Delta Skybox 360, with a private patio, bar, and sushi bar).
One of the main draws of the tour is Yankee Stadium Museum, Presented by Bank of America, where an insane wealth of memorabilia awaits. Photos, individual players' baseballs, pennants, and Thurman Munson's original locker room are all on display. The stadium's outgoing guides are well versed on their players and stats, ready to answer any and all questions.
Once you set foot in Yankee Stadium (built in 2009, just a stone's throw from the original, and blessed with a World Series win its opening year), it casts a kind of magic on folks young and old. For myself, it stirred memories of the Yankees of my youth, especially during their back to back World Series wins in 1977 and 1978. In 1977, #44 Reggie Jackson clinched the World Series with three home runs in game six against the Los Angeles Dodgers. (Does anyone remember Reggie candy bars? I'm dating myself...)
photo: Linda Sheridan
And while this year's season may now be over (congratulations to outfielder #99 Aaron Judge on winning Rookie of the Year!), that doesn't mean the fun has to stop. Yankee Stadium Tours are offered year round, with the exception of during the playoffs, Thanksgiving, Christmas, New Year's, and a brief stretch between spring training and Opening Day. You can easily get to Yankee Stadium by the B, D, or 4 train to 161st Street; the subway lets you off directly across the street from the entrance, where you begin the tour. Tours are handicapped accessible, too.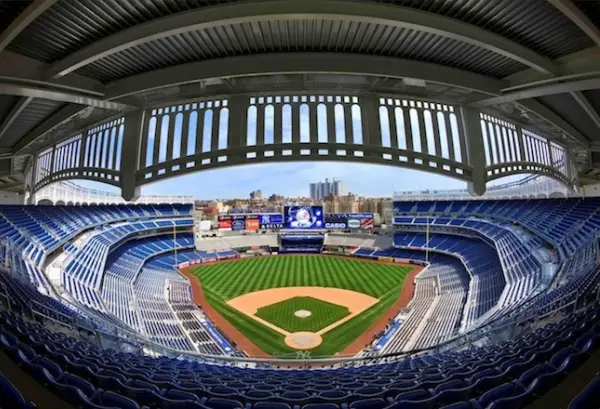 To purchase tickets for a tour of Yankee Stadium, please visit Yankees.com/tours or call 646-977-8687 for more information.